Tour de France Cycling News for July 19, 2005
Edited by John Stevenson
Rest day wrap: Looking good for Armstrong
By Shane Stokes
Lance Armstrong looks likely to pick up more fluffy lions on the way to Paris
Photo ©: Sirotti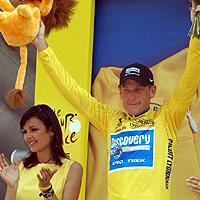 Fifteen down, six to go: This year's Tour de France is entering its crucial final stage and at this point it looks likely that Lance Armstrong will ride off into the sunset with a historic seventh consecutive win in his pocket. Team CSC's Ivan Basso is the only rider within shouting distance of Big Tex; with a long time trial coming on Saturday, he'll need to get serious time back before then.
The past few days have seen some excellent racing, tough, hot stages which have had a real impact on the general classification. Three hours and thirty-three minutes now separates first and last on GC, a spread which shows just what the Alps and the Pyrenees have done to the field. It's been an exciting second week to the Tour; here's hoping that the days ahead will have even more thrills and surprises on offer.
Click here for the full round-up of the last five stages
T-Mobile content as six year duel ends
Armstrong vs Ullrich era draws to a close
By Hedwig Kröner in Pau
A disappointed Jan Ullrich after stage 15
Photo ©: Sirotti

The 2005 Tour de France continues until next Sunday, but realistic Tour-watchers know that once again, Jan Ullrich is extremely unlikely to beat Lance Armstrong - unless the American champion is involved in an accident or gets ill, which certainly nobody wishes for. The German is resigned to trying to improve his position on general classification and finish, once again, on the podium in Paris.
On Monday's rest day in Pau, the T-Mobile team gave the impression of being very satisfied with its performance at the Tour de France 2005, while at the same time knowing that other contenders were simply better, and accepting it. It was a very different attitude from Lance Armstrong's - the American's huge success seems to be the fruit of never even thinking about defeat. For the six-time Tour winner, there is no other option than victory, but for Ullrich, there is, and he is happy with it.
"If you don't win, you'll be criticised," Ullrich said about the media's coverage of his cycling career. "Even over a second placing. When you're the winner, the media makes you the world's greatest hero, and when it doesn't work out, they don't want to see the reasons for it but just put all the blame on you. But I'm over that completely - I don't care about it. I give everything every day, I've prepared for this race to perfection and my form is good," he explained, adding that the two crashes he suffered were not easy to deal with.
"I don't know what would have happened had I not crashed, but I know that the accidents were a handicap, that's for sure, " asid Ullrich. "On the day of the first stage, I was very tired as a result of that first crash. In the Alps, I couldn't even breathe properly because of my affected lung. My ribs still hurt now. Of course I don't know if I could have matched Armstrong without these accidents, but I know that I would have raced a little bit better."
For some, Ullrich's good spirits were certainly surprising, but the German had a different perspective. "I'm really not frustrated at all," he said. "I feel very happy just to still be here, and that I'm not placed 60th but fourth. I got over two very bad crashes, I could have ended up in hospital after each one of them or even worse. But I'm still riding the Tour, and my happiness over that fact is greater than everything else."
Since the big duel between the two champions is over, Ullrich also talked to his arch rival Armstrong yesterday. "He's looking forward to his retirement," the 31 year-old said. "He told me he wouldn't even look at his bike for one year, as it is some torture after all and he wants to do other things."
Asked what realistic goal Ullrich still had for this Tour de France, sitting at almost six minutes behind the Yellow jersey after losing another 1:24 because of a hunger flat on the last climb of stage 15, he replied, "I dream about the podium now, that's for sure. I don't know if that's realistic but I'm not that far away from it. There's still a hard last week to come and I hope that I can keep or even improve my form to get one placing higher."
The one rider that Ullrich has to overtake on the overall classification to hop on the podium is therefore polka dot jersey wearer Michael Rasmussen. "I try to improve my GC time every day, in every moment of the race. If there's something I can do I'll do it," Ullrich said. "I won't concentrate solely on the time trial because even Rasmussen, who's not usually a good time triallist, may be able to increase his performance with the view of the podium."
T-Mobile's management has also accepted the fact that the best riders of this Tour do not belong to the German squad, but they're equally satisfied with the performances of Vinokourov, Klöden and Ullrich. "Armstrong has shown once again that he is the non plus ultra, the one to beat," directeur sportif Mario Kummer said. "We have tried the maximum we could, attacking his team and succeeding in isolating Armstrong three times. Every team member has done his share to make that happen, and therefore we are very satisfied. Now, the fact that Jan couldn't beat Armstrong and Basso in the end is another story. Jan's form is good, and we just have to accept that there are two riders who were just better than him in the mountains."
Hincapie's strategy questioned
By Hedwig Kröner in Pau
George Hincapie (Discovery Channel)
Photo ©: Jon Devich

After Classics specialist George Hincapie's unexpected victory over Phonak's Oscar Periero Sunday on the steep slopes of the Pla d'Adet, Phonak team manager John Lelangue reacted furiously to the racing tactics of the American, saying that the 32 year-old winner should have participated more in the breakaway which gave him the opportunity to score "the biggest race" of his life.
"On a sporting level, I think that if Hincapie was aiming for victory, he should have collaborated with the others," Lelangue said after the stage. "If you want to get into a fight, you have to be a warrior. Either you ride and you're able to win, or you don't ride and you leave the win for others."
But there were good reasons for the New Yorker not to work in the break, as his presence initially served another, higher goal. "In the team meeting in the morning, we decided that if a group of about ten riders would leave, I could jump with them and, in case the break didn't get through, be there for Lance on the last two climbs," explained Hincapie. "That's why I didn't work in front. But we ended up getting 18 minutes and once Johan saw that, he said, 'Listen, George - you're probably not going to come back here now, you can do your own race.'"
In the final ascent, believing in his chances against the Spanish climber, Hincapie effectively chose to stay on Oscar Pereiro's wheel to save his strength for the last 100 metres of sprint, rather than collaborating with the Phonak rider to make sure they stayed clear of the chasing Caucchioli and Boogerd. Visibly disappointed after the race, Pereiro was also angry at Hincapie's behaviour. "I worked all day for nothing. With three kilometres to go, I asked him to take turns so that we would stand a chance of winning the stage," Pereiro told L'Equipe. "He told me he would pass but never did. The cars and spectators made so much noise that I couldn't hear the gaps of our chasers through my earset. I lost my morale when Hincapie went past me in the final kilometre. On a sporting level, his victory is correct but it doesn't mean anything on an ethical level - he didn't stick to the rules."
The stage winner, meanwhile, said that his lack of participation was due to the narrow path the frenzied crowd left the struggling riders. "I told Pereiro we needed to work together to go away, but you couldn't even go past him there was so many people, there was no room to go. So I just stayed behind him and in the last k, I knew that I could outsprint him, for sure," he said.
In the end, it seems as though Pereiro was the victim of strategic advantage, intelligent calculation and unfavourable conditions. Unfortunately for him, these 'road chess' parameters are as much part of bicycle racing as the will to succeed and the strength of your legs - making one cheer, and the other sad.
New "explosive" EPO driving TdF speed? UCI doc doubts it
By Tim Maloney, European Editor
Could a new anemia drug called Cera from Swiss pharmaceutical giant Roche could be replacing EPO in the peloton? Recently, Roche announced that an extension of a continued Phase II trial, which was a year-long study of 61 patients, showed Cera could be used in one dose every four weeks to control hemoglobin levels in patients undergoing dialysis. Hemoglobin is the protein that binds with oxygen in red blood cells. Cera works by stimulating red blood cell production, which is lower than normal in anemia sufferers. Francaise des Jeux team doctor Gerard Guillame gave an interview to Le Figaro where he talked about a new type of "explosive" EPO that passes through the system in only 24 hours.
Some new drug may be an easy answer for the reason for the record speed of this year's Tour de France, but Dr. Mario Zorzoli of the UCI is skeptical. "I wouldn't say that there's anything to suspect in this year's Tour", Zorzoli told Italian sports newspaper La Gazetta dello Sport. "It's actually the contrary. It's not that the riders [blood] parameters are at the limits; we've seen a general lowering of the values of many values, like haemoglobin, and haematocrit."
Regarding the supposed existence of a new, explosive EPO and the UCI doctor said "We've heard of EPO of human origin, but that's nothing new. There's a new protein called Cera that attaches to the receptors of EPO and has the same effect. It's not on the [pharmaceutical] market yet and it's not on the banned list yet, but in any case, we have the means to detect [it]. We've even tested for it, but have not found any."
Zorzoli concluded by debunking the idea of a new "explosive" EPO that passes through the system in 24 hours, saying "any kind of EPO, no matter how fast it passes through the system, changes other blood parameters. So it's detectable."
O'Grady & McEwen aim for Paris
For Australian sprinters Stuart O'Grady (Cofidis) and Robbie McEwen (Davitamon-Lotto), the rest day was a much-needed chance to do just that.
O'Grady echoed the general sentiment that this has been an unusually tough Tour. "It's been pretty tiring the last couple of days and the rest day is very well deserved," he said. "It's been flat out for the first couple of weeks and it's been the fastest and hardest Tour that I've done.
"Come the rest day everything goes into shutdown mode so I had a pretty good sleep, woke up about 9.00 am to Whitey making a racket - he woke me up as usual. He reckons he is quiet but he wakes up at the crack of dawn and then you hear his Nokia phone clicking away.
"We went for an hour and a half ride, had a coffee and then rolled back. Had a laid back lunch then a massage, a bit of physio and then a big relax. I might have a cold beer later on."
As well as the speed of racing, the weather has been affecting the riders recent. "The last couple of days have been pretty full on and the heat and humidity have been as bad as out the back of Adelaide in January. Seriously hot," said O'Grady. "The roads have been melting and it's been so hard for the team cars to keep up bidons to us. At times we've had to get bottles of water from other cars."
Like most of the sprinters, O'Grady finished stage 14 in the 'autobus', the group of non-climbers that works together every day to stay within the time limit. The bus arrived just over 44 minutes behind George Hincapie, and O'Grady's long day in the saddle was made even harder by transport hassles before and after the stage.
"e had to go one and a half hours in the bus to the start, race seven hours, then two hours in the bus home," said O'Grady. "Didn't start dinner until after 9.00pm then massage and then try and get some sleep.
"I was cursing Jean Marie up the last climb because seriously it is getting to the limits of what a person can do."
Afterwards O'Grady knew he was tired. "Lying in bed before and my heart rate is clicking over at 35 bpm. For me, that means I need a good rest. Whereas most riders heart rate goes up when they need a break mine is the opposite."
O'Grady is 14 points behind leader Thor Hushovd in the sprinters' green jersey points contest, and eight points ahead of Robbie McEwen. Intermediate sprints between here and Paris may make the difference in who wears green on the final podium.
"I suppose I will need to go for the first intermediate sprint but it's hard to beat Robbie at the start of the day," said O'Grady. "Well it's pretty hard to beat him anytime but I need to concentrate on my game plan and take each day as it comes. I hope that in a couple of the stages coming up, I can stay with the leaders and Thor and Robbie will miss the move."
O'Grady's rival Robbie McEwen didn't get as mush rest as he'd hoped for on the rest day. "I would have liked to at least have a sleep in on the rest day but no, I was woken up at 8.00 am for a spot drug control," said McEwen. "I don't mind the tests, actually the more the better, but after the hardest day of the Tour that consisted of seven hours on the bike and nearly four hours in the team bus, well I think a bit more thought could go into it."
After the rest, McEwen is looking forward to Paris. "I'm feeling a lot better and although I don't think there will be another bunch sprint before Paris I will have to be prepared," he said. "I would dearly love to top off the Tour with a win on the Champs Elysees. It would make it a sensational Tour with or without the green jersey."
Follow the Tour - on your mobile
Cyclingnews is now presenting live coverage of races such as the Tour de France on handheld devices that are GPRS-compatible. Now, even if you have to leave home or the office, you can still follow the action of your favourite races. The mobile devices can display the latest updates coming in at the same time as the main site. For the past 12 months, Cyclingnews has been providing this service in beta mode, but now, it's time to go public.
If you are already familiar with GPRS - i.e., if you can get email on your handset, then you have GPRS - so start surfing straight away! Just enter this URL into your device's browser and you'll be cruising. It's live.cyclingnews.com/wap/.
If not, then the following backgrounder goes into more detail about WAP, GPRS, CN, and many other acronyms.
The Tour de France of give-aways and competitions
Don't miss out at Tour time!
Resident freebies expert, Rufus Staffordshire, sniffs out some competitions where up to $1 million in prizes are on offer as manufacturers clamber for your eyeballs. Woof!
Lucky 7 Sweepstakes'
Photo ©: Trek

The Tour de France is not only a reasonably popular bike race, ahem, it's also a great opportunity to win an incredible range of prizes and competitions on offer from manufacturers, publishers and distributors.
Many of our sponsors are offering Cyclingnews readers a schwag-fest of give-aways during the lap-around-France. The prizes on offer range from Volkswagens and vaccuum cleaners through to trips to Paris for the 2006 TdF, as well as actual kit being ridden by top pros in the Tour - including top bikes from Trek, Cervelo, and Avanti.
So that you don't have to go hunting around the Internet for all these goodies, we've assembled the Cyclingnews complete guide to Tour freebies and competitions.
(All rights reserved/Copyright Knapp Communications Pty Limited 2005)