Tour de France Cycling News for July 17, 2005
Edited by Jeff Jones and Shane Stokes
Stage 14 wrap up
213 km break succeeds for Totschnig
Georg Totschnig (Gerolsteiner)
Photo ©: Jon Devich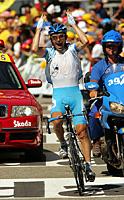 34 year-old Georg Totschnig (Gerolsteiner) has won the first Pyrenean stage of the Tour, which finished in the ski station of Ax-3 Domaines after 220.5 hot, hard kilometres. The Austrian crossed the line with 56 seconds to spare over maillot jaune Lance Armstrong (Discovery Channel), who left Ivan Basso (CSC) and Jan Ullrich (T-Mobile) behind on the final slopes of the climb to claim second. Michael Rasmussen (Rabobank) finished 8th at 1'47 and lost a minute to Armstrong on the general classification, but held onto his second place overall.
Totschnig's win came out of a long breakaway, which started with 10 riders at kilometre 7. In the break with Totschnig were Nardello (T-Mob), Moos (Phonak), Garate (Saunier), Garzelli (Liquigas), Beneteau (Bouygues), Da Cruz and Gilbert (FDJ), Grivko (Domina Vacanze) and Krivtsov (Ag2r). On the day's first major climb of the Port de Pailhères (km 191), Totschnig, Garzelli, and Beneteau rode away from the rest, with Totschnig going over the top with a minute's advantage over Garzelli and 3'47 over the groupe maillot jaune, which had split under the impetus of some aggressive racing by T-Mobile and contained just Armstrong, Basso, Ullrich and Landis.
Totschnig descended like a stone and came to the foot of the final climb with an extra minute's bonus on the Armstrong group, which reformed then broke up again as Armstrong, Basso, and Ullrich dropped the rest. Totschnig had enough to survive to the top and win the stage, while Armstrong gapped Ullrich and Basso in the final kilometres to show that he is indeed the strongest rider in the race, even if his team were not with him today.
Also see:
Stage 14 full results, report & photos
Live report
Complete stage maps & profiles
Start list
Stages
News
Photos
An interview with Georg Totschnig
His greatest sporting moment
Georg Totschnig (Gerolsteiner)
Photo ©: AFP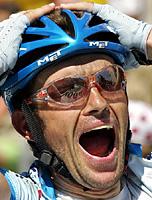 Gerolsteiner has been knocking on the door for a stage win in this year's Tour, without quite getting there. But today's solo performance by Austrian climber George Totschnig to win Stage 14 was right up there with Rasmussen's fine win in Stage 9 last week, as Hedwig Kröner reports from Ax-3-Domaines.
Gerolsteiner's Georg Totschnig experienced the "greatest day" in his life on stage 14, "on a sporting level", of course. The Austrian broke away from the bunch very early in the stage today, totaling over 200 kilometres in front, of which the last 35 were on his own. Stefano Garzelli, the only one left from his break companions on this terribly hot day, had to let go of his wheel halfway through the Port de Pailhères, and Totschnig stayed almost four minutes clear of Armstrong et al. on top of the Hors Catégorie climb. In the final ascent to Ax-3-Domaines, the Gerolsteiner rider continued his bid for victory with a clearly painful pedal stroke, but managed to stay clear of Armstrong's last accelerations.
Totschnig collapsed after rolling over the finish line, where he banged his helmet in disbelief. The emotion was just too strong, and the Austrian lay down on the ground before being helped up to go the podium, where he burst into tears of happiness. "I never would have thought I could win a stage like this," he said in the post-race interview. "I knew I had to break away early to stand a chance against the likes of Armstrong, but I was also lucky. It's the most beautiful day of my life on a sports level, but I have two children, Emma and Maximilian, and that's more important than sports..."
Click here for the full interview
Impressive performance by Basso
Ivan Basso (CSC)
Photo ©: Roberto Bettini

Although he was unable to take any time out of race leader Lance Armstrong, making overall victory in this year's race an increasingly unlikely prospect, CSC team manager Bjarne Riis was upbeat about Ivan Basso's performance today. The Italian rode aggressively throughout the stage, going clear in the final stages with Lance Armstrong and Jan Ullrich, staying in touch when the German was dropped and then taking third.
"It was exactly what we'd hoped for," said Riis afterwards on team-csc.com. "We knew that Basso has been doing well for the last couple of days, and maybe we've underplayed our role a bit, to take off some of the pressure. We tried to attack Lance, but as always he's very strong."
Basso moved from fourth to third today as a result of the pressure put on Frenchman Christophe Moreau. He starts the 15th stage 2'46 behind Armstrong. While he will aim to attack again in the mountains tomorrow, the evidence of today's stage suggests that it will be a tough task to distance the Texan. Getting time out of TT powerhouse Jan Ullrich may be his primary aim; as thing stands, the German is just 1'48 off Basso's podium place. While the CSC rider has made improvements against the clock this year, he will be keen to build a bigger buffer between himself and the former world time trial champion.
Riis told Belgian TV1 that they hope for good things tomorrow. "We'll see (how it goes). I hope Ivan will be good then, we'll try. You can see he was good today. We will stay calm and try to attack at the right moment."
Bruyneel gives brownie points to Lance
Lance Armstrong (Discovery Channel)
Photo ©: Roberto Bettini

Discovery Channel team director Johan Bruyneel would certainly have liked to have someone like Yaroslav Popovych at Armstrong's side going into the final climb, but T-Mobile's aggressive tactics on the Port de Pailhères prevented that from happening. But Bruyneel was happy with the way Armstrong rode under pressure, as he told Belgian TV1 post-stage.
"Lance rode very intelligently and was very strong. The aim of T-Mobile was to break our team, and that worked. But Lance was very strong today and rode the perfect race. Rasmussen is perhaps eliminated now, yes."
But Bruyneel, cautious as always, added, "The Tour is over in Paris."
Godefroot satisfied
T-Mobile manager Walter Godefroot was happier with his magenta troupe in today's 14th stage, as once again they managed to put Lance Armstrong's Discovery Channel team under pressure on the penultimate climb, leaving their captain isolated. Although Lance was more than up to the task against Ullrich and Basso, if anything had gone wrong like a crash or a mechanical, it could have been a different story in Ax-3-Domaines.
"Today there was nothing more to do," Godefroot told Belgian TV1. "We tried to break Armstrong's team, and that worked. If you wait for Lance to control things, then certainly you don't have a chance. I'm not disappointed. Armstrong is simply the best. Tactically, it couldn't be better, all the comments count as rubbish, we do what we can. Attack tomorrow? That's possible."
Evans philosophical about debut Tour performance
First-time Tour rider Cadel Evans (Davitamon Lotto) finished 14th today, 4'03 back. He suffered during the stage but dug deep to post a respectable ride. He told Cyclingnews' John Trevorrow what it was like after the finish.
"I got dropped on the final climb," he said. "I was on the limit for almost the entire previous climb. We chased back and just got back on at the bottom of the decent, then they hit it again."
"The guys in the front group are two or three levels higher than me. I did what I could. I rode conservatively. As soon as the moves started going above my limit, I rode at my own tempo. Before the stage, I thought if there was going to be a day (to do well), today was the day. It is a bit steeper, smaller roads, a change of gradient. But I am not of the level of the best guys here and that is the way it is. So you do what you can."
Evans went on to describe what he has learned on this year's race. "It's that the Tour is pretty hard," he stated. "It is my first Tour - remember, I didn't even get selected last year. I found a good group. I followed the moves when Lance went across and that put me at my limit. So at that point I came back, and then a group of riders came back and then Kashechkin. Then a group came back with Menchov. He set a good tempo."
"I seem to be on the level of fifth to 10th of this Tour on my best days. I said from the start I want to come here and see what I can do. I don't care what people think I might do. At the moment I seem to be able to climb with the first 10. I didn't make it on the last climb (today). Somewhere around there seems to be my limit ... at the moment."
Saying he will ride conservatively tomorrow, Evans states that Lance Armstrong is far ahead of the remainder of the field in the race. He feels that this makes things easier for him as the days mount up. "He is a level above, at least one maybe two," he stated. "When he gets pushed and someone attacks him, then he has another level he can ump to. When you are at that level you are not forcing your limits. You don't have to recover from as much effort day to day. It all accumulates to the end and you get stronger from it."
" Lance is the strongest Tour rider in the history of the Tour and he has the strongest Tour team. I've no idea how someone could beat him. No-one has been able to work it out yet, anyway."
"As regards how we got on, he says hello to me every day, how are you going and such. But everyone wants to talk to him, so I try and leave him alone as much as I can. I asked him a little bit today about some tactics, this and that and what might work for me and him. But I didn't have the legs. I had a bit of problem with my stomach."
Evans starts tomorrow's stage in twelfth place overall.
Jörg Jaksche up to 11th overall
Jorg Jaksche (Liberty)
Photo ©: Sirotti

Jörg Jaksche and his Liberty Seguros team manager Manolo Saiz both reported themselves as being content with the German's performance on the first Pyrenean stage today.
Jaksche fought back from being in difficulty on the Port de Pailhères, regaining contact with the Maillot Jaune group on the descent and then finishing thirteenth at the summit finish of Ax-3 Domaines. He crossed the line just ahead of Australian Cadel Evans (Davitamon Lotto), 4'03 after stage winner Georg Totschnig (Gerolsteiner) but, importantly, moved one place to 11th overall. He is now getting close to his aim of a top ten place in GC.
"I felt very bad at the beginning of the Port de Pailhères, but then I managed to recover and felt much better at the end. I went flat out on the descent to try to catch the front group but didn't manage to do so until the beginning of the final climb, Ax 3 Domaines. It was hard for me to get my rhythm again on that mountain but I am satisfied with how I did. All that said, it is too early to speak about the final result because a very difficult stage will take place tomorrow and everything will depend on what T-Mobile does. If attack like that again the stage will be very hard."
"I am very satisfied with the performance of Jörg Jaksche," said Saiz. "He was very very good and I am equally happy with the work done by Contador and Serrano, who helped him when they could. For us, the question is what would have happened if Heras was good, because the rest of the team is working at a good level. The young riders, Contador, Luis León and Davis, have been having a good race."
"From this point on we are going to think more about the future! Robert is not at his best, that's true, but one cannot fault him because he was very motivated coming into the Tour and he had prepared well for the Tour. What happened is that he has simply not been able to be up front."
Löwik goes home
Gerben Löwik (Rabobank) was forced to leave the Tour de France before the start of Stage 14, suffering from a saddle sore. His team decided on the evening of the 13th stage that it would not be sensible to ride through the Pyrenees with the injury, and Löwik was already on his way home on Saturday morning. Rabobank can still count on eight riders, including second on GC Michael Rasmussen, even if former captain Denis Menchov is still suffering from a sore throat.
Zampieri OK
Phonak's Steve Zampieri, who abandoned the Tour on Stage 7, has been given a clear bill of health after undergoing blood tests to try to determine the cause of his tiredness. "I was so tired that I was afraid of an unfavourable diagnosis," said the 28 year-old, who will be back in action for the second half of the season. "I'm motivated to do my best again."
Stage 14 communique medical
Marcos Serrano (Liberty Seguros): lung problem
Stephan Schreck (T-Mobile): Digestive troubles
Juan Manuel Garate (Saunier Duval): Ongoing pain in right knee
Magnus Bäckstedt (Liquigas): Major digestive troubles
Stéphane Augé (Cofidis): injury on left hip
Benjamin Noval (Discovery Channel): Minor digestive troubles
Joost Posthuma (Rabobank): Injury on left elbow
Daniel Becke (Illes Balears): Injury on left elbow
The Tour de France of give-aways and competitions
Don't miss out at Tour time!
Resident freebies expert, Rufus Staffordshire, sniffs out some competitions where up to $1 million in prizes are on offer as manufacturers clamber for your eyeballs. Woof!
Lucky 7 Sweepstakes'
Photo ©: Trek

The Tour de France is not only a reasonably popular bike race, ahem, it's also a great opportunity to win an incredible range of prizes and competitions on offer from manufacturers, publishers and distributors.
Many of our sponsors are offering Cyclingnews readers a schwag-fest of give-aways during the lap-around-France. The prizes on offer range from Volkswagens and vaccuum cleaners through to trips to Paris for the 2006 TdF, as well as actual kit being ridden by top pros in the Tour - including top bikes from Trek, Cervelo, and Avanti.
So that you don't have to go hunting around the Internet for all these goodies, we've assembled the Cyclingnews complete guide to Tour freebies and competitions.
(All rights reserved/Copyright Knapp Communications Pty Limited 2005)