Tour de France Cycling News for July 16, 2005
Edited by Jeff Jones and Shane Stokes
Stage 13 wrap up
Third stage win for McEwen; Horner and Chavanel go close
By Shane Stokes
McEwen and Rodriguez
Photo ©: Roberto Bettini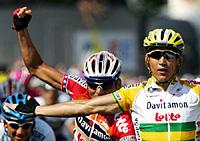 Aussie Rocket Robbie McEwen thundered to a third stage win in this year's Tour de France today, benefiting from a last-gasp chasedown of breakaways Chris Horner (Saunier Duval) and Sylvain Chavanel (Cofidis) to sweep by before the line. The Davitamon-Lotto rider hit the front with about 100 metres to go, galloping in ahead of Stuart O'Grady (Cofidis) and his own team-mate Fred Rodriguez. Guido Trenti (Quick.Step) was fourth while, crucially, green jersey Thor Hushovd (Credit Agricole) could only finish fifth, losing points to challengers McEwen and O'Grady.
The day's action was dominated by a long range breakaway group of five riders, Carlos Da Cruz (Francaise des Jeux) instigating it when he attacked at km 15. Together with Horner, Thomas Voeckler (Bouygues Telecom), Ludovic Turpin (Ag2R-Prévoyance) and Juan Antonio Flecha (Fassa Bortolo), they opened up a maximum advantage of over nine minutes with 125 kilometres to go. However, the Lotto-Davitamon chase took chunks out of this lead and the break was barely hanging on with 15 kilometres remaining.
Chavanel cannoned out of the bunch to bridge the gap, then attacked with Horner for company. They had eight seconds with one kilometre to go, but any chance they had of staying clear went kaput when the American (understandably) refused to come through. The bunch duly gobbled them up with about 150 metres left, McEwen tearing by to take his third stage win of the race.
Thomas Voeckler (Bouygues Telecom)
Photo ©: Roberto Bettini
"It was a gamble not to go after them ourselves (at the very end)," he said. "We did all the work today. Those two guys were away at the end but the speed of the bunch is going to take back a lot of time on a breakaway like that. I wasn't too worried. I still had Fred Rodriguez in front of me."
"The thing about today is that it is not about a third win, it is not about me taking another stage. It is a about Davitamon-Lotto. You saw how my team worked today...it is maybe hard to appreciate it just looking at the screen but what my team-mates did today was truly incredible. To bring back nine minutes on day 13 of the Tour is just an incredible effort."
Despite the win, McEwen is still not optimistic about taking a third green jersey. "I took back a couple of more points today but I am still a long way behind," he stated. "I said before that I am more interested in winning stages. I am just over the moon to have win number three."
Also see:
Stage 13 full results, report & photos
Live report
Complete stage maps & profiles
Start list
Stages
News
Photos
Armstrong "might be able to follow"
By Hedwig Kröner in Montpellier
Lance Armstrong
Photo ©: Roberto Bettini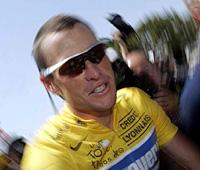 The yellow jersey wearer Lance Armstrong was in good spirits at the finish in Montpellier, and looking forward to some further mountain action after today's flat sprinter's passage. The "shorter, yet steeper" Pyrenees are calling, and the Discovery leader knows that this mountain range favours more explosive riders.
"Regardless of what happens tomorrow or on the next day, we still have the advantage of knowing that there's a long time trial in the end," he said post-race. "But if somebody is having a great day and I can't follow the explosive riders and their accelerations...who knows what will happen? But, I might be able to follow," he added.
In the summer heat of these Southern stages, Armstrong also took special care in hydration. He learned about this crucial factor the hard way in 2003, when his performance was significantly reduced in the time trial to Cap Découverte. "Everybody's performance suffers in the heat. Some riders, of course, deal with it better than others. But it doesn't have to do that much with what happens in the race or with physical make-up, but with how you hydrated yourself the night before and in the morning, as hydration is critical. As soon as you start to get behind on that, then your performance starts to evaporate. Tomorrow's going to be 40 degrees, so I have to be careful," he said.
Asked about the climbs on Saturday, he explained, "The Pailhères is not one of the more famous climbs from the Tour de France, but in recent years we've been there a lot. It's very long, very steep, and incredibly narrow at the top in 2000 metres, so it's difficult to move out into a good position if you're not." The final climb to Ax-3-Domaines is less long, and also a little less steep. As for the stage on Sunday, "It's the hardest day of the Tour," Armstrong believed. "It's actually a stage that we do almost every year, except they change the final climb. Portet d'Aspet, Peyresourde, all of these climbs... they're almost in the same order, and the amount of elevation gain for that day is just the hardest thing."
Of course, stage 15 will be a special day of remembrance for Armstrong, too, as it marks the 10th anniversary of his former Motorola teammate Fabio Casartelli's death. "It feels almost like yesterday when we were descending the Portet d'Aspet and I saw him there, which just goes to show how time flies...," a touched Armstrong said. "It's always a tough moment to pass that point, also in training. His wife, his son and his parents will be here, and it's added motivation for me. When he died, his son was just born, and to see him now as a ten year-old boy, and a carbon copy of Fabio is a pretty special sight. He was a great guy, and he left a little baby so it's a tough situation. I'll ride with his memory on Sunday for sure," he concluded, also explaining that his visits to the Casartelli family on his trips to Italy were very private. Armstrong plans to attend a small remembrance ceremony on rest day in Pau.
Horner happy, despite loss
Chris Horner (Saunier Duval)
Photo ©: Luc Claessen

Chris Horner went into his first Tour de France this year with the high ambition of a top ten result. When a sluggish performance on the road to Briançon put paid to that ambition, he set about executing plan B - a stage win in the race.
Horner went frustratingly close to that goal today, being caught and passed by the bunch with just 200 metres to go. He has been clear as part of a five man breakaway group for most of the 173.5 kilometre stage, then raced on ahead with Sylvain Chavanel (Cofidis) after the Frenchman bridged across. The two worked well together to try to stave off the fast-closing peloton, but when the American stopped riding inside the final kilometre, their fate was sealed.
Despite being so near to a career-best result, he was surprisingly upbeat at the finish. "It has not been a disappointment, just to be here at the Tour is great," he cheerfully told Belgian TV1. "Like I said, I thought we would get caught sooner. To make it that far was spectacular and to be so close...I've seen it happen many times to other riders and I knew it would happen to me, sooner or later. Unfortunately it had to come at the Tour. But it was a spectacular day, so I will take it."
With Chavanel leading in the final kilometre and looking back continuously to check where Horner was, it was clear that the break was losing necessary momentum. The bunch was hurtling along behind them, with green jersey contenders desperate to scrap it out for the win. But, despite getting caught, the Saunier Duval rider feels he did the right thing. "We both hesitated a little bit, and I needed him to lead it out to beat him," he told Cyclingnews. "I just didn't have fresh legs to lead out from a k [to go]. He wanted me to pull through at 800, 700 metres, but I knew if I pulled through, I would have to lead it out from there. So it wasn't an option for me to lead it out for the win. I was in the break all day so if he can't win from leading it out, it is not my fault."
Horner clearly enjoyed the experience, saying that it was fantastic to be part of the Tour. He had planned on taking it a bit easier, though. "I wanted to get a little recovery in today and that (being in the break all day) is just not quite the best way to recover. I was the Saunier Duval rider there, and I saw Flecha go, and you know if you see Flecha go, you've got to cover it. Our guys had covered all the moves before I covered that one, so it was not necessarily my turn, but it just needed to be done and I was in the move, so what are you going to do? (laughs)
"But it wasn't so bad really. It was steady up there, the pulls were steady and everything was smooth. I thought it was easier to be up there than back (in the bunch). We will find out tomorrow how much it affected me. But I'll take it, you can't turn down an opportunity like that. It was great to be up there."
So does he think he will still have the legs for Sunday? "I hope so, but I can't guarantee anything at the moment - everything's a little new to me."
The battle for the Maillot Vert
Sprinters play down chances for green
Can anyone beat Thor?
Photo ©: Sirotti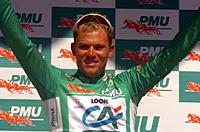 Tom Boonen's withdrawal from the Tour and, by default, the points competition, has more than one sprinter licking their lips at the thought of wearing the maillot vert in Paris. But the two Australians behind de-facto points leader Thor Hushovd (Credit Agricole) aren't showing their excitement just yet, knowing that there's still plenty of work to do, as Anthony Tan reports from Montpellier.
"I think it's going to be a hard competition; the Pyrenées is going to be very hot and very hard, and there's a lot of tired guys out there," said Cofidis' Stuart O'Grady at the start of the thirteenth stage in Miramas Friday afternoon. "I think it's going to be the best of us that passes the mountains."
At the conclusion of today's stage, 31 year-old O'Grady currently lies in second place behind Hushovd, the powerful Norwegian 14 points clear of the South Australian, while Robbie McEwen (Davitamon-Lotto), who, after his third stage win of the race, is only eight points behind his fellow countryman in third spot.
Click here for the full story
The Tour de France of give-aways and competitions
Don't miss out at Tour time!
Resident freebies expert, Rufus Staffordshire, sniffs out some competitions where up to $1 million in prizes are on offer as manufacturers clamber for your eyeballs. Woof!
Lucky 7 Sweepstakes'
Photo ©: Trek

The Tour de France is not only a reasonably popular bike race, ahem, it's also a great opportunity to win an incredible range of prizes and competitions on offer from manufacturers, publishers and distributors.
Many of our sponsors are offering Cyclingnews readers a schwag-fest of give-aways during the lap-around-France. The prizes on offer range from Volkswagens and vaccuum cleaners through to trips to Paris for the 2006 TdF, as well as actual kit being ridden by top pros in the Tour - including top bikes from Trek, Cervelo, and Avanti.
So that you don't have to go hunting around the Internet for all these goodies, we've assembled the Cyclingnews complete guide to Tour freebies and competitions.
(All rights reserved/Copyright Knapp Communications Pty Limited 2005)