Tour de France Cycling News for July 15, 2005
Edited by Jeff Jones & Shane Stokes
Alpine analysis: Armstrong firmly in charge at Tour de France
By Tim Maloney, European Editor
Armstrong in control
Photo ©: Luc Claessen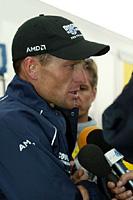 As soon as the Tour de France hit the Alps, Lance Armstrong (Discovery Channel) took back the maillot jaune. For the 72nd time in his career, the tough Texan donned his favourite colour on the podium in Courchevel. The last time Armstrong raced up Courchevel was in 2000, when he was 4th on the stage, 0'55 behind a brilliant Marco Pantani who won his last ever bike race that July 18th. On Stage 9, as the Alps began, as he has in his previous six Tour wins, Armstrong and his Discovery Channel team tackled the first real climb of the Tour with the intention of doing as much damage as possible to his adversaries. And once again, his tough guy tactics worked to perfection.
Armstrong is always prepared for the first mountain stage at the Tour de France, and as in Sestrières in 1999, Hautacam in 2000, l'Alpe d'Huez in 2001 and La Mongie in 2002 and 2004, Armstrong took major time from his closest adversaries. T-Mobile's Jan Ullrich, Andreas Klöden and Alex Vinokourov and CSC's Ivan Basso all lost time to Armstrong on Stage 10. On the road to Courchevel, Armstrong simply mopped-up his key competitors in a grande lessive (big washing), putting him firmly in the driver's seat to win his seventh consecutive Tour de France.
After a superb solo win in the Vosges Mountains on Stage 9 to Mulhouse, maillot a pois Rasmussen had another super day in the mountains on Stage 10 in the Alps, The Rabobank climber finished third in Courchevel and moved up to 2nd on GC, just 0'38 behind Armstrong. CSC's Ivan Basso hung tough on Stage 10 after coming off the Armstrong's group with 8km to go, losing 1'02 and finishing 5th, but the Italian moved up to 3rd on GC. T-Mobile's Jan Ullrich lost 2'14 and dropped to 8th on GC at 4'02, just 0'14 ahead of his teammate Klöden. Vinokourov had a bad day on Stage 10, dropping off the pace of the front group halfway up the Courchevel ascent and ended up losing 5'18 and dropped out of the top 10 on GC. Levi Leipheimer (Gerolsteiner) was 6th on the stage and rode with intelligence to maintain his contender status on GC.
Alejandro Valverde (Illes Balears)
Photo ©: Roberto Bettini

25 year old phenom Alejandro Valverde (Illes Balears) took his 6th race win of the 2005 season, on Stage 10 in Courchevel, his biggest career win ever. Nicknamed l'Imbattito (unbeatable) since he terrorized junior cycling in his native Murcia region of Spain, Valverde showed superb climbing skills to go with his blazing sprint.
Stage 11 to Briançon was featured a long break containing two GC contenders, Kazakhi cruncher Alexandre Vinokourov (T-Mobile Team) and Colombian Santi Botero (Phonak Hearing Systems). They were the one-two in Briançon; after a bad day to Courchevel like Vino, Botero counterattacked and moved to 11th to 6th, while Vino regained some of the time he lost the day before and moved into 12th, 4'47 behind Lance Armstrong.
Thus, after the two major Alpine stages, Lance Armstrong put time into his two main rivals for the 2005 Tour title, Basso and Ullrich. Ullrich was one and a half minutes behind Armstrong going into Stage 10 and 4 minutes behind coming out, even if he did not lose any more time in Stage 11. Ivan Basso (CSC), third in last year's Tour de France, has managed to limit his damage to Armstrong and only lost his third place on GC when Christophe Moreau (Credit Agricole) took a time bonus in Briançon to move ahead of the Italian talent.
There was no change in the Tour GC after Stage 12 to Digne-les-Bains, so any change in the status of the 2005 Tour's GC will only come after Saturday's first Pyrenean Stage 14 to Ax-3-Domaines atop the Plateau de Bonascre.
O'Grady happy with teammate's win
By John Trevorrow in Digne-les-Bains
Stuart O'Grady (Cofidis) was very satisfied with his teammate David Moncoutié's win in Digne-les-Bains. "It worked perfectly - mission accomplished," O'Grady said. "Moncoutié out the front, he was pretty motivated this morning. I knew it was going to be hard day and my objective is to win a stage and any bonuses will be good for me.
"It was always going to be a case of hanging around in the bunch or try and go with the break. Sometimes you've gotta take it by the horns."
Also see: Stuart O'Grady/Matt White diary
CSC holds on thanks to Lombardi
Illes Balears rider José Luis Arrieta finished fifth on today's 12th stage of the Tour, moving the squad closer to leaders CSC in the team classification. However Bjarne Riis' squad stayed on top due to the presence of Giovanni Lombardi in the same break. Although Lombardi lost his place in the lead group when eventual stage winner David Moncoutié (Cofidis) attacked on the second-last climb, he hung on to finish 13th into Digne-les-Bains.
Lombardi's effort was an important one. The former Cipollini lead-out man was 2 minutes and 24 seconds behind Arrieta at the line, but this enabled CSC stay ahead of their Spanish rivals by a slender 1 minute and 30 seconds. Bjarne Riis was happy with the Italian's effort. "We had Lombardi in the break, but the last climb was a bit too hard for him," he said. "Still, I'm glad we were represented in the break away and thereby retained the overall lead in the teams competition. Our riders are still very motivated, although we're obviously saddened by the fact we have to do without Jens Voigt for the rest of the Tour."
Fritsch out with fever
Nicolas Fritsch (Saunier Duval) climbed off his bike in the 12th stage today. He had to abandon the race due to a fever. He joined Manuel Beltran (Discovery Channel), who crashed on his head, was knocked unconscious for a short period, and was prevented by the race doctor from continuing, Robert Hunter (Phonak), and Angelo Furlan (Domina Vacanze) as riders who pulled out in stage 12.
Tour anti-doping controls clean so far
The UCI Anti-doping commission has reported that all urine and blood samples taken during the Tour up to July 9, 2005, have been analysed by the Châtenay-Malabry laboratory. There have been no infringements to the UCI anti-doping regulations, nor on the 2005 prohibited list.
Despite this, there have been two riders who have been ejected from the Tour for doping/health reasons. Evgeni Petrov (Lampre) had a high hematocrit before stage 10 and was prevented from starting, while Dario Frigo was taken away by police before stage 11, after his wife Susanna was found with a quantity of EPO and HGH in her car. Allegedly, she initially argued that the drugs were for Botox treatment, but after she was placed in police custody and interrogated for two days, she admitted that the drugs were for Dario.
Pre-stage 12 comments
By John Trevorrow in Briançon
Thor Hushovd (Credit Agricole)
Now that Boonen is out of the race, how much does it change things for you? "Yes of course Boonen is a very strong sprinter and was riding well but for the last few days he has been in a lot of pain. Now Stuart O'Grady and Robbie McEwen are my main rivals.
Stuart O'Grady (Cofidis)
"I think it was going to be a pretty interesting battle as it was because I can't see any more bunch sprints until Paris. Now that's Boonen's out it opens the comp even more."
Today looks the perfect profile for you. "Normally I would agree 100 percent with you. Today I would like to try and get in a breakaway, but now I am second for the maillot vert, no one is going to let me go up the road. There is no way Lotto and Credit Agricole will let me go.
"I have just gotta hope for a stage like a few days ago where it is tough enough, when the other sprinters get dropped and I can hang in there and pick up some points."
Matt White (Cofidis)
"Just heard the news Tom Boonen is out, that's gonna open the sprint comp right up. You've got Thor now in the lead and he is definitely not the fastest one here. Definitely Robbie is the fastest sprinter and Stuey is in front of Robbie, so it's gonna make it real interesting, especially at the start and those first couple of sprints. I was talking about this with Stuey the other night, and in past years Stuey was saying it was won with between 200 and 300 points. This year it looks like it will be won with 160 to 170 points. It just shows you the sprint competition has changed."
Robbie McEwen (Davitamon-Lotto)
Robbie McEwen
Photo ©: Roberto Bettini
How are the pins? "Don't know yet, we will see when we get started."
You said you have had a rough couple of days: "Yeah I have. We have just come through a rough couple of stages, especially the one yesterday. I made it through inside the limit OK, but I still have to suffer like a dog to do that. We came in 40 minutes down, I felt pretty good all day except for the last five or six km of the Galibier.
"I don't know I think I might have had something a bit off at breakfast this morning, I feel a bit crook, we will see how it goes for the rest of the day.
You know that Boonen's out - how does that change things for you. "It doesn't change things a lot because Hushovd was only 5 points behind Boonen, it means instead of chasing 37 points to Tom I am chasing 32 points to Thor.
"It's still a long way to go to Paris and a lot can happen, but I am still at the point where I am saying it's a hell of a lot to make up, we will just see what happens. Sure Hushovd can have a shocker but I know from past experiences, like last year when Hushovd had an 11 point lead and that was hard enough to bring back, let alone take 32 points of someone in the last 10 days of the race.
"The chances of getting a bunch sprint before Paris are pretty much zero, especially without Boonen's team riding with us, so it means you can only take two points here, one point there. So to take back 32 will take a hell of a long time.
"This has been the hardest tour I have ridden so far. This is my eighth tour and I can't remember it ever being this intense every day and the speed so high. We have had some really hard stages with a really high average speed. I don't know what the Tour average is at the moment. I could look in the paper but I can't be bothered."
Simon Gerrans (Ag2r)
How did you pull up after yesterday's monster climbs? "Pretty well actually, I struggled a lot more the day before. I went in a bit hunger flat and finished the stage a bit cross-eyed. Yesterday I got through alright but I was crapping myself before the start. I found a good group, rode a good tempo, and got through without too much drama so that was good."
The Tour de France of give-aways and competitions
Don't miss out at Tour time!
Resident freebies expert, Rufus Staffordshire, sniffs out some competitions where up to $1 million in prizes are on offer as manufacturers clamber for your eyeballs. Woof!
Lucky 7 Sweepstakes'
Photo ©: Trek

The Tour de France is not only a reasonably popular bike race, ahem, it's also a great opportunity to win an incredible range of prizes and competitions on offer from manufacturers, publishers and distributors.
Many of our sponsors are offering Cyclingnews readers a schwag-fest of give-aways during the lap-around-France. The prizes on offer range from Volkswagens and vaccuum cleaners through to trips to Paris for the 2006 TdF, as well as actual kit being ridden by top pros in the Tour - including top bikes from Trek, Cervelo, and Avanti.
So that you don't have to go hunting around the Internet for all these goodies, we've assembled the Cyclingnews complete guide to Tour freebies and competitions.
(All rights reserved/Copyright Knapp Communications Pty Limited 2005)