Tour de France Cycling News for July 14, 2005
Edited by Jeff Jones and Shane Stokes
Stage 11 wrap up: Vino bounces back
By Shane Stokes
Alexandre Vinokourov (T-Mobile)
Photo ©: Roberto Bettini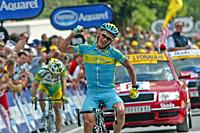 Kazakh hardman Alexandre Vinokourov bounced back from a disappointing ride yesterday with a stomping performance on today's 11th stage of the Tour de France. Showing great determination plus a complete recovery from his problems 24 hours earlier, the T-Mobile rider reached the line 1 minute 15 seconds clear of the Lance Armstrong group, outsprinting Phonak's Santi Botero for his second-ever stage win in the race.
Armstrong's Discovery Channel teammates drove hard in the closing kilometres, trying to reduce the time gap and to also set the Discovery leader up for the time bonus. However his efforts to take third on the stage were frustrated when Frenchman Christophe Moreau (Credit Agricole) burst from the group to grab the eight seconds. Bobby Julich (CSC) continued his good Tour by taking fourth, with Eddy Mazzoleni (Lampre) fifth and Armstrong sixth.
Vinokourov and Botero were part of a small breakaway which went clear on the first climb of the day, the Hors Categorie Col de la Madeleine. The group had attacked in pursuit of two early leaders, green jersey contender Thor Hushovd (Credit Agricole) and Samuel Dumoulin of Ag2R-Prévoyance. Vino, Botero and Phonak teammate Oscar Pereiro were the strongest in the group, pressing on ahead over the summit, with the first two staying clear until the end.
Lance Armstrong retains his comfortable lead over the other contenders, although Christophe Moreau's third place moves him up into the same position overall. Botero is up to sixth while Vinokourov is now twelfth.
"Once we were clear, today was about getting as much time as possible," the Kazakh national champion said, "although we did concentrate on the stage result at the end.
"I had a bit of cramp near the finish. But I know Santi, he is not really a rider for the sprint. I realised I had a good chance for the victory. As regards the rest of the race, the Tour is not finished. There are some important stages left. My morale is good after this stage win."
One who will not be continuing is former race leader Jens Voigt, who was eliminated today. His CSC team said this evening that he has been ill for the past few days.
Also see:
Stage 11 full results, report & photos
Live report
Complete stage maps & profiles
Start list
Stages
News
Photos
An interview with Alexandre Vinokourov
No gifts at the Tour: Mission accomplished
Alexandre Vinokourov showed his guts and class by attacking a long way from home to win the 11th stage of the Tour de France. For the Kazakh champion who lost five minutes the day before, it was the best way to bounce back as Cyclingnews' Anthony Tan reports from Briançon.
Alexandre Vinokourov
Photo ©: Sirotti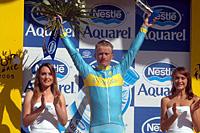 When the winner of the eleventh stage of the Tour de France was asked if his victory today was a 'gift' from Lance Armstrong, the softly spoken Kazakh was a little taken aback.
"Well... I think you have to ask that to Lance," muttered Vino, who told French sports newspaper L'Equipe a few days ago that the only other team he'd consider riding for in 2006 would be Discovery Channel.
Armstrong's response: "Our main concern was to keep the team together. He was six and a half minutes behind on GC and we can't chase down everybody who's at 5, 6, 7 minutes - we have to prioritise. And he was not on our list of priorities, so we let him out there and controlled the pace. If his objective was to win a stage - mission accomplished. If his objective was to blow up the Discovery team - mission not accomplished."
Click here for the full interview
Frigo and wife implicated in serious doping situation
By Tim Maloney, European Editor
Dario Frigo of the Fassa Bortolo pro cycling team was sitting in 52nd place on GC in the Tour de France, but didn't take the start on Stage 11 in Courchevel Wednesday, as he was taken from the Hotel Mercure Wednesday morning around 8am by the Gendarmes of Chambery. Frigo's wife Susanna was stopped Tuesday afternoon in a supposedly routine road patrol on her way to Courchevel to meet her husband. French customs agents searched Susanna Frigo's vehicle on the A43 autoroute near Chambery and allegedly found ten ampoules of doping products, allegedly EPO and HGH hidden in a thermos bottle packed with ice stored in the trunk.
Dario and Susanna Frigo were interrogated in the gendarmerie of Chambery, then transported to Albertville where the Fasso Bortolo rider and his wife appeared before a judge. In the court appearance, the French prosecutor Henri-Michel Perret charged the couple with the "importation and trafficking of prohibited substances, a crime that has the maximum penalty of three years in jail. French authorities didn't request detention for the Frigos, but released them under judicial control. However, it's still uncertain whether the court will allow the couple to return to their home near Biella, Italy until formal charges are filed.
Frigo has been implicated in doping before, as four years ago, the icy blonde rider was implicated in the Giro d'Italia San Remo doping blitz, where he was fired and then rehired by Fassa Bortolo. In a bizarre interview with RAI Sport TV, Fassa Bortolo team manager Giancarlo Ferretti attacked Frigo, saying "Frigo is garbage...our team policy is to put the rider out, to fire the rider, so that's that for his. We had this happen once with Frigo and we gave him a second chance. But with his face of an angel and his disingenuous way, we were fooled. Yes, it was his wife who was caught, but he was behind it. I think we should change the (ProTour) rules so that riders have to pay damages to the team when this type of thing happens (to their team)."
Luckily for Ferretti, according to an official TDF communique', the Tour de France direction acknowledges that the Fassa Bortolo team isn't involved in the Frigo family doping affair and the team can stay in the race, despite the doping situation.
Boonen injured, participation uncertain
By Hedwig Kröner in Briançon
Tom Boonen (Quick.Step)
Photo ©: Luc Claessen

The wearer of the Green jersey might not be able to take the start of stage 12. Tom Boonen crashed on the very first descent of today's race to Briançon after only 12 kilometres. He injured his right knee, but was able to continue and finish today's stage within the time limit. Later during the evening, his knee was reported to be seriously swollen, endangering his departure to Digne-les-Bains tomorrow.
Ludewig eyes stage 12
By Hedwig Kröner in Briançon
At the start of stage 11 from Courchevel to Briançon, Cyclingnews intercepted Domina Vacanze's Jörg Ludewig on his way to signing in. It was a beautiful sunny day, so the tall German was in good spirits. Looking back on the difficult climb to Courchevel, though, he sighed.
"I'm actually stronger than in the last years but there were still 50 or 60 guys in front of me in that climb," he said. "That's frightening - the level is just incredibly high. And when you see the guys in front, you just don't know what to say anymore. The pedal stroke of some people is so easy! It's just a different league.
"I just couldn't hold on with that pace yesterday, but I can't stand to fall back into the gruppetto either," Ludewig continued. "So I rode steadily looking at my heart-rate in order not to get to the anaerobic level. I didn't want to exhaust myself for nothing as my plan is to try and attack tomorrow."
Stage 12 of this year's Tour is hilly, not too hard, and the main GC contenders will keep the bunch together. "I think tomorrow is the first realistic chance of a break actually getting through to the finish - and I would like to be in it," he continued. "Just once, you know, at least try to go for a stage win. We'll see if I can make it."
Jaksche up in captain's position
There has been a switch of team leaderships at Liberty Seguros. The German Jörg Jaksche has moved up from helper to captain after his teammate Roberto Heras did not perform well enough in the mountains in the last couple of days. The former US Postal rider finished more than 17 minutes down of today's winner Alexandre Vinokourov, whereas Jaksche was able to hold on to Armstrong's group, placing 13th on GC at the moment, 5'33 minutes away from the Yellow jersey.
"I've been in the mountains all the time since I live there now. So I trained in the mountains...," Jaksche explained his improved climbing. "I hope I will get support from my team now. A top ten placing on the overall classification would be nice, and maybe I can be in front on a stage as well," he added, when asked about his further goals.
The Tour de France of give-aways and competitions
Don't miss out at Tour time!
Resident freebies expert, Rufus Staffordshire, sniffs out some competitions where up to $1 million in prizes are on offer as manufacturers clamber for your eyeballs. Woof!
Lucky 7 Sweepstakes'
Photo ©: Trek

The Tour de France is not only a reasonably popular bike race, ahem, it's also a great opportunity to win an incredible range of prizes and competitions on offer from manufacturers, publishers and distributors.
Many of our sponsors are offering Cyclingnews readers a schwag-fest of give-aways during the lap-around-France. The prizes on offer range from Volkswagens and vaccuum cleaners through to trips to Paris for the 2006 TdF, as well as actual kit being ridden by top pros in the Tour - including top bikes from Trek, Cervelo, and Avanti.
So that you don't have to go hunting around the Internet for all these goodies, we've assembled the Cyclingnews complete guide to Tour freebies and competitions.
(All rights reserved/Copyright Knapp Communications Pty Limited 2005)