Tour de France Cycling News for July 11, 2005
Edited by Jeff Jones
An interview with Jens Voigt
A training ride in yellow?
I'm the new maillot jaune!
Photo ©: Sirotti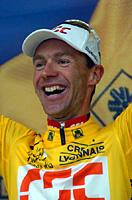 In Stage 9 yesterday, Jens Voigt (CSC) took the treasured maillot jaune away from Lance Armstrong and the Discovery Channel team, after two days of relentless attacking in the Vosges mountains. Voigt finished third in the stage behind Michael Rasmussen and Christophe Moreau, but had more than enough time in hand at the finish to take the overall lead. As Hedwig Kröner reports, he doesn't expect to have it for long, but he is more than happy to wear it.
Picture German Jens Voigt, a tall, lean and focused adult, grinning like a school boy: that's the image the enthusiastic crowd in front of the podium in Mulhouse took home from their Tour de France experience. The 33 year-old offered himself the maillot jaune on what was, according to him, the last day this would have been possible at this year's Tour. Voigt was very happy about this achievement, for which the otherwise relentless character had to hold his horses and actually show some patience.
"I'm very happy that I succeeded, because some people were starting to question me - and now I've shown that the old wolf still has teeth...," he said after the stage. "This morning in the team bus Bjarne allowed me to attack, and I was really pleased with that decision because I had asked him every morning: ' Can I go?' and Bjarne said: 'No.', and then again: 'Can I go?' - Bjarne: 'No.', and again... That went on for a week. And today finally, he set me free to do what I wanted to do and that worked out perfect!"
Click here for the full interview
Rasmussen: culmination of a dream
Michael Rasmussen (Rabobank)
Photo ©: Sirotti

Michael Rasmussen's big dream came through on Stage 9 of the Tour, as he crossed the finish line alone as stage winner wearing the polka-dot jersey after a 168 km breakaway. In that way he marked the 100th anniversary of the implementation of mountain climbs in the Tour de France. Today's last climb was in fact Ballon d'Alsace, the first mountain that was included in the Tour in 1905.
For Michael Rasmussen himself it was the culmination of a life long dream, not to mention a culmination of a year totally dedicated to peaking at the Tour. "It is totally beyond description," he wrote in his diary on www.feltet.dk/michaelrasmussen. "I've been riding a bike for 23 years, and since I was six years old I have dreamed about winning a stage in the Tour. And when it happens wearing the polka-dot jersey is absolutely fantastic."
After the stage Michael Rasmussen couldn't help shedding a tear, a thing he hasn't done since he won the 1999 mountain bike World Championship. "This is even bigger, definitely," he added.
Not only did he win the stage, but he also increased his lead in the mountain competition now having 88 points, while Christophe Moreau and Jens Voigt who chased him all day have 40 and 37 points. In addition to that he is now placed fourth in the overall classification, and that has lead to questions as to a possible focus on this as well
"Is it wisest to go after the polka-dot jersey and perhaps win another stage or should I try to see how far I can make it in the overall? That's some of the things I will now have to get a good night's sleep to consider, as well as having a discussion with the team management to hear what they think."
Ullrich OK
Jan Ullrich, who crashed at 60 km/h at the start of yesterday's ninth stage, is OK after X-rays taken on Monday morning in Grenoble revealed no broken bones. Ullrich does have bruises and abrasions on his head, shoulder, back, and ribs, but nothing that will prevent him from starting tomorrow's 10th stage.
O'Grady looking to fire in final weeks
By Anthony Tan in Grenoble
O'Grady
Photo ©: Sirotti
Stuart O'Grady didn't plan on being there at the finish of the ninth stage to Mulhouse. Compared to the previous year, where he came into the Tour de France absolutely flying, the 31 year-old tough-as-nails Aussie isn't planning on being at his best until the second and third weeks of the race.
But on the previous stage to Gérardmer, O'Grady began to find his legs, and was still in the front group on the final climb until four kilometres to the summit, at which point he let go and eventually finished three minutes behind Pieter Weening. The next day, behind breakaway riders Rasmussen, Moreau and Voigt, he held his position up the last climb of the Ballon d'Alsace, and then marshaled his troops to set him up for the sprint finish, where he won the bunch kick for fourth place.
"I'm just feeling better and better each day, and obviously, the longer, tougher stages suit me better," he said to Cyclingnews. "My sprinting has been consistent, but not on the same level as McEwen and Boonen; obviously, I've shown I'm a bit stronger than them in the harder stages, so we'll just see how we go."
Asked if there were any concerns about his form coming into the race, Stuey said he wasn't worried at all. "I did a very different program this year. I've done a lot more racing. I've done about 50-odd days before the Tour this year - last year I did about 30 - and basically every race has been a ProTour event - they're big and hard races.
"This year, I came into [the Tour] probably not as well as I was going last year; last year, I was really flying after the Dauphiné. But maybe it's better this way - maybe it's better to come into the Tour and actually ride into it instead of coming out all guns blazing; hopefully, they'll be firing in the last week as well."
With talk still centred on Discovery's wake-up call on Stage 8, how did O'Grady feel they fared on Stage 9? "There wasn't the panic compared to the day before; I mean, Rasmussen was absolutely piloting out there - that was just amazing - and it was up to Discovery as to what they wanted to do - they choose who stays away and who doesn't. They controlled it...but I think there's a few cracks in the paint."
The young one in white
A preview of the best young rider competition
Vladimir Karpets (Illes Balears)
Photo ©: Sirotti

Of all the jerseys available during the Tour de France, the white jersey of best young rider is perhaps the least-known amongst the prizes available overall at the Tour. Riders such as Ivan Basso, Vladimir Karpets and Denis Menchov have won this jersey in recent years, and most go on to become riders that perform in the 'senior' classifications. Les Clarke looks at the riders to watch in 2005.
The basic premise of the best young rider classification is that the rider under the age of 25 with the lowest cumulative time (like general classification) is declared the best young rider and wears the white jersey. It's an opportunity to showcase youthful talent in a separate competition that retains prestige in its own right.
Some riders, such as Thomas Voeckler in 2004, can lead the best young rider classification while leading on general classification - this is unusual and it's normally the more senior riders that are able to tough it out for the full three weeks in order to remain high on the GC leaderboard.
Two teams field most of the contenders for this year's competition - Liberty Seguros-Wurth and Francaise des Jeux. They have young squads with plenty of talent, and both directeur sportifs (Manolo Saiz and Marc Madiot) have said in the past they are always looking to develop young talented riders. What better way to blood these riders than to race them in the Tour de France? And this competition encourages more participation by young riders.
Click here for the full feature
Pre-stage 9 quotes
By John Trevorrow in Gérardmer
Allan Davis (Liberty Seguros)
How is the corked leg feeling today? "It's a bit sore but it's alright. It gave me hell yesterday, but I just have to get through today and there is the rest day tomorrow."
Simon Gerrans (Ag2r)
"Yesterday, it was very hard. The stage was just flat out right from the start. I managed to stay there for 150km, but with the last climb they sprinted into it, and I just found my group, and just did what I had to do to get in without going too far into the red zone. Today is going to be much the same. It is a matter of finding the right level and getting in within the time limit."
Robbie McEwen (Davitamon-Lotto)
"I have got some pain in my knee; some 'fat pads' and I went through 100km of pain yesterday. I got myself into a good group and that wasn't too bad. I felt fine in every other way."
Thor Hushovd (Credit Agricole)
How is the Tour panning out for you? "Yes, okay, my goal was to win a stage, or at least one stage win, which I haven't done yet. I am only 5 points behind Boonen for the green jersey and of course this is a big objective."
Is Robbie McEwen out of the race for the green jersey? "Oh no, Robbie is too fast a sprinter to count out, but he will need Boonen or myself to have some bad luck. At this stage I am racing Boonen for the green jersey."
Tom Boonen (Quick.Step)
How are you feeling after your crash? "Yesterday was one of the worst days of my life. I was in a lot pain and I could only ride at 20 percent of my ability. I have had to bring my chiropractor over from Belgium and he worked on me last night and this morning. Now it's supposed to get better and I just hope I can get in on time today and not suffer too much, then after the rest day I can resume the battle for the maillot vert."
Matt White (Cofidis)
"Gee, I nearly started in the wrong shirt today. In the Giro d'Italia our shirts were the same design, but with some Italian writing and an Italian phone number. I must have had one sitting in the bottom of my bag and I put it on. Just before the start, one of the team officials noticed...a good thing. I would have got disqualified for that!"
As Matthew rode away to join the bunch on the start line, the crowd broke into a loud roar and Mattie gave them all a wave, knowing full well that the commotion was all for Lance, who was signing on behind him.
Fred+Fred=Floyd
By Tim Maloney, European Editor in Mulhouse
Freds in arms
Photo ©: Tim Maloney
With the reorganization of its team earlier this year, Team Phonak gained a few new faces in the staff. Long time pro mechanic Fred Bessy came over from CSC, while super-experienced soigneur Freddy Viane (Motorola, Cofidis, USPS) made the move from US Postal. For Bessy, it was his first time working with American Floyd Landis and he found a good vibe with Landis. "Floyd an excellent guy. He's usually really calm and professional and has a good sense of humour."
As for his material choice, Bessy says that Landis likes light material. "Floyd has one of our new BMC carbon fibre bikes and he loves it...he's easy on material."
Viane made the move to Phonak with Floyd and told Cyclingnews, "Phonak has a good structure with the new management and this year, I see Floyd very relaxed. Plus he is in the best form of his life!"
For his part, Landis echoes the affection from his wrench and go-to guy Viane. "Ha! Those guys are great", chortled Floyd.
Previous News Next News
(All rights reserved/Copyright Knapp Communications Pty Limited 2005)