Tour de France Cycling News for July 11, 2005
Edited by Jeff Jones
Stage 9 wrap up
Rasmussen achieves his ambition as Voigt takes yellow
Michael Rasmussen (Rabobank)
Photo ©: Sirotti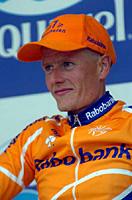 Attacking Danish climber Michael Rasmussen (Rabobank) has achieved his goal of winning a stage of the Tour in the polka-dot jersey, putting in an impressive ride between Gérardmer and Mulhouse to finish over three minutes clear of Christophe Moreau (CA) and Jens Voigt (CSC), and over six minutes ahead of the yellow jersey peloton. That meant also that Voigt, who started the day second on GC, took over the overall lead with Moreau moving up to second ahead of Armstrong, taking the pressure of the Discovery team's shoulders for at least a day.
Rasmussen made his winning move on the first climb of the day after 4 km, crossing the summit alone, before being joined by Dario Cioni (Liquigas) at the 13 km mark. Behind them, a counter attacking group formed with Voigt, Moreau, Vicioso (Liberty), Landaluze (Euskaltel), Zandio (Illes Baleares), and Moos (Phonak). But it never saw Rasmussen again. Cioni let go of Rasmussen on the Cat. 3 Col de Bussang after 98 km, and Rasmussen soloed away for the stage win and a secure lead on the mountains jersey. Moreau and Voigt dropped everyone on the Ballon d'Alsace (km 115) and worked together until the finish, ending three minutes behind the winner.
Also see:
Stage 9 full results, report & photos
Live report
Complete stage maps & profiles
Start list
Stages
News
Photos
CSC had a feeling
Bjarne Riis (CSC manager)
Photo ©: Sirotti

The CSC squad took advantage of Discovery Channel's tiredness to go on the attack today, with Jens Voigt being rewarded with the yellow jersey in Mulhouse. "We had a feeling, that the Discovery Channel riders wanted to save their strength after yesterday's tough stage, so Jens was going to make an attempt if his legs were up for it," said Bjarne Riis on the team's website, team-csc.com. "We've been very keen to recapture the jersey, especially for Dave's sake, and this proves we're a team, and that we keep on fighting and don't give up. This is extremely important for the morale and the atmosphere ahead of tomorrow's rest day."
But it wasn't all good news for Team CSC, when the Tour's first maillot jaune Dave Zabriskie, had to abandon the race due to the injuries he sustained in his crash during the team time trial. "My body's not working well enough to be able to compete at this level," a disappointed Zabriskie said. "It's unfortunate, but there's nothing you can do about it."
Team CSC also increased its lead in the teams competition and now has 2'35 on Rabobank in second place and 4'50 on T-Mobile in third.
Pevenage: "Tour wide open"
By Hedwig Kröner in Mulhouse
Rudy Pevenage
Photo ©: Sirotti

Jan Ullrich's personal advisor, Rudy Pevenage, was happy at the start of today's stage from Gérardmer to Mulhouse. Yesterday's stage outcome and the good appearance of T-Mobile have made him more than hopeful for the coming days. "Stage eight was a good day for T-Mobile, but also a good day for the whole of cycling," he told Cyclingnews. "The Tour has now really started. A lot of people thought that the Tour was over after the team time trial, but we saw yesterday that it's wide open."
T-Mobile's Andreas Klöden and Alexandre Vinokourov both rode aggressively against Lance Armstrong, who was left without teammates on the final climb of the Col de la Schlucht. How surprised was Pevenage at the fact that Armstrong was left alone? "That was quite surprising," he said. "We'll see how Discovery goes today - maybe they just had a bad day but it's definitely not normal. It's never been like this before. And I don't think that it's possible to play at 'make believe' that much," Pevenage added, implicitly responding to the rumour that Discovery Channel had been bluffing to save their riders from wasting energy too soon in the race.
Another fright for Ullrich
By Hedwig Kröner in Mulhouse
The fortunes of T-Mobile turned quickly today when Jan Ullrich, designated race captain, crashed on the descent of the very first climb on his way to Mulhouse. "I was on a pretty sharp twist of the road, doing about 60 km/h, when I caught a gust of wind which brought me to the right hand side," Ullrich related post-stage. "So I went off into this ditch and somersaulted three or four times. I have a couple of bruises but I'm fine." Team doctor Lothar Heinrich is also "95 percent" sure that Ullrich has suffered no broken bones, but will nevertheless take the 31 year-old to hospital for x-rays.
Ullrich was brought back by his teammates after the crash, and it appears that Lance Armstrong's group also slowed to for him to be able to come back. The two rivals then courteously exchanged some words on the finish line. "We said we'll see each other after tomorrow, and I told him to enjoy the rest day, which he also wished to me," Ullrich said. "Other than that, I think Discovery rode really well today. And Jens Voigt got the jersey - he's one of the friendliest guys in the peloton so I'm happy for him. I don't think he'll be someone for the General Classification in Paris, but he always attacks, always fights, and today he did it again and got rewarded with the yellow. He deserves it."
Asked how he would spend his rest day, Der Kaiser replied, "I'm looking forward to the rest day to recover from my crash. Of course I'll train a little bit, too, but mainly try to recover from my wounds. That rest day comes in handy."
Vinokourov looking forward to Alps
By Hedwig Kröner in Mulhouse
The other T-Mobile captain, Alexandre Vinokourov, got through today's stage without any problems. At the finish, the Kazakh explained why he had not made it a spectacular one, saying, "It was a hard stage. I had good legs in that last climb but I wouldn't have attacked as they were still 50 kilometres to go with a headwind, which wouldn't have been easy. I will save my strength for the Alps, for next week."
Vinokourov also had a better impression of the Discovery team than yesterday. "They put a tempo on today, so they were doing much better than yesterday. In the end, I think they were 'ŕ bloc' [flat out] though."
Asked whether the Yellow jersey change from Discovery to CSC made a difference to T-Mobile, Vino replied, "Not really. We will be attacking, be it Voigt or Armstrong. CSC will of course have to control the race now - that's all it changes."
We're only human: Hincapie explains Stage 8 Discovery Channel "bad day"
By Tim Maloney and Hedwig Kröner in Mulhouse
Discovery better today
Photo ©: Jon Devich

Cyclingnews caught up with George Hincapie before the start of Stage 9 in Gérardmer, and we asked Big George about the surprising team performance on the final climb of Stage 8 yesterday. Hincapie told Cyclingnews, "I was supposed to be with Lance on that last climb yesterday; it was a bad day for me and for the other guys on the team. We didn't expect it. Possibly I spent too much energy in the beginning, because I was in the break and we were going really hard the first sixty kilometres. But at the same time, I should have been there and you know, it was a bad day for us. I know we are going to get criticised a lot; we're only human and it's not the end of the world if we have a bad day."
Hincapie explained, "We weren't expecting (the attacks)...I was pretty far back, thinking that was the best place to be. Balears was doing the work, then once the attacks started, that probably wasn't the best place for me to be. Hopefully we can put it behind us and get better today so when we are in the Alps, the situation will be back to normal."
Hincapie's teammate Yaro Popovych told Cyclingnews before stage 9, "The pace was really high yesterday and we just didn't expect it. We didn't have our legs that day so it turned into a bad day. We're hoping that it won't happen again."
After Stage 9, Discovery showed that it was back on track. Hincapie commented post-stage to Cyclingnews, "We're still the same team. I've been saying earlier that we did a great time trial in the first stage, then we win the team time trial, and nobody even says 'congratulations, the team's good'... They expect it. But if we have a bad day then everybody writes about it. It's upsetting, but it motivates us to hear we're a bad team."
Discovery lost the yellow jersey today, but Hincapie did not seem too worried. "We'll just keep working hard, we're here to win the race and have the yellow jersey on the 24th. I think it's better that we don't have it now, as it makes the next couple of days easier."
Injury update
Igor Gonzalez de Galdeano (Liberty Seguros)
Photo ©: Luc Claessen

Two riders had to abandon during stage 9 after crashing: Gonzalez de Galdeano and Jose Angel Gomez Marchante. The former was taken out when Bernhard Eisel (FDJ) hit the deck after four kilometres, with Galdeano's teammate Alberto Contador also coming down. The crash happened at 50 km/h and Galdeano landed on his back. He tried to continue, but the pain forced him to stop after only a few kilometres.
Igor was taken to hospital in Remiremont where he underwent X-ray and ultrasound scans, the results of which were negative for broken bones or injuries to his internal organs. But a big bruise on his back prevented him from walking, and he will travel by car to Grenoble tomorrow before returning home to Vitoria.
"I feel very bad, not only because of the bruise on the back, but because of the bad luck that I have had," said Gonzalez de Galdeano. "In the last two years, I have not managed to reach my level, and already I don't know what to do. I was very disillusioned by this Tour because I started very well. The first day I did a good time trial and I was thinking that finally I coming back, but two days ago I had troubles with my right knee and that caused me to lose time yesterday. I was waiting to be able to recover, but I haven't had time, because I crashed at the beginning the stage. The only thing that I still have is patience and trust that some day this bad luck will end."
Contador's injuries were not as serious: contusions and abrasions to both elbows and his left shoulder, as well as a bruise on his left thigh.
Jose Angel Gomez Marchante became Saunier Duval's second abandonment when he crashed in the feed zone after 88 km and broke his collarbone. He was taken to hospital in Mulhouse but should be able to fly back home tonight. Gomez Marchante was in his first Tour and was one of the team's biggest hopes in the mountains.
Whose shoes?
The Tour's excursion into Germany was almost too much for Gerolsteiner's Robert Förster - he didn't even know whose equipment he was wearing! "The start in Pforzheim was an exciting big crowd," he wrote in his diary on radsport-news.com. "I went to sign in and stayed to hang around a little, to chat with fans and colleagues a little, sign autographs. Then I took my time going back to the bus. There they were all excited to see me. Where were you, where were you? Funny, why are they all so happy to see me again? Turns out, that I had put on Beat Zberg's shoes and he wanted to have them back. I hadn't even noticed."
(All rights reserved/Copyright Knapp Communications Pty Limited 2005)