Tour de France Cycling News for July 10, 2005
Edited by Jeff Jones
Stage 8 wrap up: Win for Rabobank; Discovery under pressure
Weening and Kloden
Photo ©: Roberto Bettini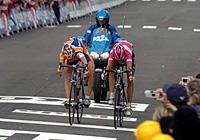 24 year-old Tour rookie Pieter Weening has given Rabobank its first stage win in this year's race, in a very close two man sprint against T-Mobile's Andreas Klöden. Weening was the sole survivor of an early breakaway, and was caught by Klöden at the top of the day's final climb, the Col de la Schlucht. The pair held a slender lead over a group of 32 riders containing Lance Armstrong (Discovery Channel), who was surprisingly isolated from his teammates after Alexandre Vinokourov (T-Mobile) stirred things up on the climb. But the chase was disorganised and the leaders gained nearly half a minute by the finish. Weening won the sprint by less than a tyre width from Klöden, while Alejandro Valverde (Illes Balears) took third place.
After the Discovery riders were dropped en masse on the Col de la Schlucht, the general classification changed somewhat, with Jens Voigt (CSC) moving into second overall at 1'00, ahead of Vinokourov (T-Mob). CSC and T-Mobile riders occupy most of the top 10, with George Hincapie (8th) as Discovery's second best rider.
Also see:
Stage 8 full results, report & photos
Live report
Complete stage maps & profiles
Start list
Stages
News
Photos
An interview with Pieter Weening
0.0002 seconds
Pieter Weening (Rabobank) took his first professional win today in the eighth stage of the Tour de France, in a desperately close two man sprint with 2004 Tour runner-up Andreas Klöden (T-Mobile). But in the end, Weening was awarded the win by just 0.0002 seconds, which has to be one of the smallest winning margins ever. Cyclingnews' Anthony Tan reports from Gérardmer.
Pieter Weening (Rabobank)
Photo ©: Sirotti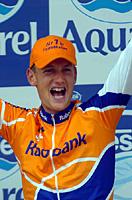 Until today, Pieter Weening had come close to victory on several occasions, but lacked the luck or the legs to make it happen. At the third stage of the 2004 Tour of Germany, on a similarly difficult course to the one he conquered today, he beat Andreas Klöden and Igor Gonzalez de Galdeano in a three-man sprint to place third. Two months later and also in Germany, he finished second in a 23 kilometre time trial to Davide Rebellin at the Sachsen-Tour International.
This year, on the day he turned 24, the lanky Dutchman came within three kilometres of giving himself a birthday present in the form of a ProTour stage win on the second stage of the Tour of the Basque Country (Vuelta al Pais Vasco). So a win was always on the cards - it was just a matter of time. "When Klöden caught me [at the top of the Col de la Schlucht], I said to myself: 'The same thing can't happen to me again.'"
Click here for the full interview
T-Mobile on the rise
By Hedwig Kröner in Gérardmer
T-Mobile
Photo ©: AFP

Stage 8 was a good one for the German T-Mobile team. Starting in home country with millions of spectators in Karlsruhe and on the way to France, the German squad was forced on the defensive early on as Jens Voigt and George Hincapie escaped, but once they were back in the fold, the magenta team could wait patiently for the last Cat. 2 ascent some 30 kilometres from the finish in Gérardmer.
The race tactics had been made clear before the start: Attempt to attack on that final climb - and the day worked out fine for the T-Mobile trident, with Alexandre Vinokourov being the first to do just that. Vinokourov tried a few times, forcing Lance Armstrong to chase. Then, his teammate Andreas Klöden broke free four kilometres from the summit, and caught the race leader Pieter Weening at the top of the Col de la Schlucht. The two of them descended fast, and even though the peloton was moving up on them, they took a 27 second lead into the finish.
"Andreas' race was great today," said the T-Mobile captain Ullrich, who moved from 13th to 6th place on GC today. "We put our plan into practise perfectly. My task was to stay with Lance and watch him. Andreas tried and got away instantly; I'm happy for him. It's fun, 'cause we're finally in the mountains."
His directeur sportif, Mario Kummer, was equally satisfied with the accomplishment. "This gives us morale for the coming days," he said. Klöden, who wasn't sure about the stage win as he crossed the line almost in the same time as Rabobank's Weening, was exhausted but happy in the finish. "It was a good race," he said, after getting a well deserved drink from his soigneur.
"We had said that if we have good legs, we'd attack. And my legs were OK, so I did. Now, I'm finished," Klöden said between two sips. Vinokourov came in at this moment, and the two tapped each other's backs as true comrades, the Kazakh congratulating him. It was clear that Klöden was relieved to have been able to show his class again today after his form had been ordinary, to say the least, leading up to the Tour. "I hope that my problems are gone for good now and that I can be a good helper to my team in the mountains," he said.
Meanwhile, Ullrich has made another entry in his personal homepage, where he thanked his German fans for their support and great welcome of the Tour de France in Germany, and concluded, "Now, the Tour is really getting under way, and we are really determined to go for it!"
Gerolsteiner bubbling away
By Anthony Tan in Gérardmer
Before the start of the seventh stage of the Tour de France in Pforzheim, Cyclingnews caught up with Gerolsteiner directeur sportif Christian Henn, who was more than happy to talk in his native Germany.
"It's the same every year when the Tour's not in France and comes to Germany or Belgium," said Henn about the massive crowds on the road to Karlsruhe yesterday. "It was really, really full of people yesterday when the Tour came over the border to Germany...it was a great feeling."
Team Gerolsteiner has enjoyed a solid Tour so far, the obvious highlights being Fabian Wegmann's newfound polka-dot jersey he picked up after yesterday's stage, Peter Wrolich's second place on Stage 3 to Tours, and a decent team trial performance the following day, where the team finished seventh-best.
"Yesterday was a really great day for us, for the Gerolsteiner team," Henn added. "With Fabian, we are really happy, but really the whole week - we did a good team time trial; we've had second place, third place and fourth place, so yeah, it's been good."
About today's stage, Henn correctly predicted a breakaway of around eight or ten riders, and said one of their riders would try and be in it, which also turned out to be true, with Ronny Scholz part of the eventual seven-man move. "The first 40 or so kilometres are very hilly, and to control the race will be difficult; it's almost sure [a break] is possible today, also because of the hills in the final.
"Not Levi or Totsch, but we have to look at the breakaway - Fabian Wegmann, Ronny Scholz, Sebastian Lang, Peter Wrolich - we have to look at the breaks for sure, because today, the sprinters' teams don't control the race."
However, Henn didn't think the Cat 2 climb of the Col de la Schlucht would be decisive for riders aiming high on the overall classification, and said the team will wait until the first real mountain stage to Courchevel before deciding on their race strategy for the classement general. Regardless, one rider each from their team had been designated to protect their GC riders Georg Totschnig and Levi Leipheimer until the foot of the final climb today. "The hill is not so hard for the general [classification] riders; probably, you will see about 40 or 50 riders [at the finish], so it's not a problem [for Totschnig and Leipheimer]," he said.
Asked if its an advantage having these two cards to play, and their chances of a high overall finish, Henn said: "Yes, we have these two riders for the general classification, but to win the Tour is not possible. However, the team can play with these two riders: one can go earlier when the hilly stages come, or on the final climbs, Georg or Levi can attack to try and win a stage - so we can play a little bit with these two guys."
Finally, does the 41 year-old former pro miss riding the bike for a living? "No," he said without hesitating, before launching into a barrel of chuckles. "The first two years, yeah - 2000 and 2001 - but now, it's OK. I'm really 100 percent a directeur sportif now; it's gone, behind me."
Fantasy Le Tour - last day to join in, more tips!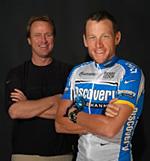 Specialized shades
©: Specialized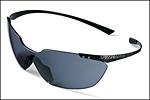 fi'zi:k saddles
©: fi'zi:k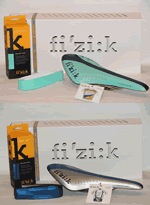 The Trek Madone 5.9
©: Zapata Espinoza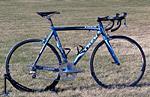 Bontrager wheels
©: Bontrager

Speedplay pedals
©: Speedplay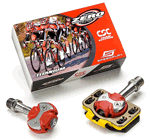 Fassa Bortolo Giro helmet
©: Giro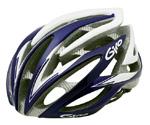 DMT shoes
©: DMT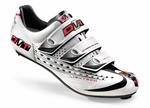 Only hours left to join the game here at Fantasy Cyclingnews. You've only got until Sunday morning 0800 GMT/UTC to enter your teams. Play to win the grand prize, a TREK Madone Discovery Team bike worth $7700 USD, or play to win a daily prize of one of the 21 pairs of Specialized's eyewear worth $240 USD each. There are 49+ prizes in total up for grabs in this year's Fantasy Le Tour. These are just some of the great prizes on offer in this year's game.
You can still join up until Stage 9. There is NO tactical disadvantage in joining after the Tour has begun. There are some great prizes on offer and its FREE until stage 9 begins. You don't need to pay to play in the first 8 stages, fantasy.cyclingnews.com, try it out and see if you too could be in the running for some of the 49 prizes on offer this year.
Top tips
Here's some top tips on your selections for this year's game from Gianmarco (USA) who won the 4th prize of a pair of Bontrager Race X lite wheels in last year's game:
I have always used the formula of 10 GC men and 5 sprinters. If I can't fit in 10 solid GC riders, then I start looking for guys who don't cost a lot of points and have already scored points. With eight stages of racing before you have to finalize your team, you should have a pretty good idea of who is out of the GC already and who is sprinting well. It's easy to find guys who have already scored.

The difference between the winners and the losers can be as few as 1-3 riders. There will be the guys that everyone picks (Armstrong, Ullrich, Boonen, etc) but it's the less obvious ones that will determine the fate of your team. A lot of that selection is just luck. There's always a surprise in the GC, there's always someone who will get hurt and have to abandon, and there's always someone who will suddenly pop and lose tons of time. People like me who picked Klöden last year got really lucky. He was on the cheap for points, and then he finished second overall. I picked him as a space filler who happened to be the German road race champ. He's probably not such a good pick this year because he costs a lot more points and his form is questionable...

Best of luck! Gianmarco
Read more of Gianmarco's tips and tips from some of the other winners from last year's game at Fantasy Cyclingnews.
Prize list
There are over 49 prizes in this year's game. Be a professional team manager for the 2005 Tour de France. Based on the live racing action, you will take up the challenge of using your knowledge and tactical skill as a race team manager to compete with managers from around the world. Follow the races live and use your skill and knowledge to win prizes.
First prize - a TREK Madone Discovery Team bike worth $7700 USD.
Stage by stage prizes - Specialized - 21x pairs of sunglasses
Runner-up prizes
- Bontrager - 2x pairs Bontrager Race X-Lite Aero wheels, 1x Race X Lite OS handlebars, 1x Race XXX Lite OS carbon stem, and 1x Race X Lite Pro saddle.
- DMT - 3x pairs of Flash shoes
- Speedplay - 4x pairs of CSC pedals
- CTS - Signature coaching package
- fi'zi:k - 5x Team issue Arione saddles
- Giro - 9x Atmos Helmets in Discovery, Rabobank & Fassa Bortolo team colours
Tactics
Read some of our previous Le Tour game winners recommendations for your team selection strategy. Go to the downloads section to find out more.
How to play
You can begin creating your team/s now. You can play the first 8 stages for FREE! We will be adding additions to the startlist on a daily basis. The Tour games are easy to play, all you need to do to manage your own team is select 15 riders from the live start list then select 9 of these riders to race each day throughout the Tour. You score points according to how well each of the riders place each day in the Tour. So try your team today and see if it's for you. It's a great way to follow the Tour. Create your teams now at fantasy.cyclingnews.com
Good luck!
The Fantasy Cyclingnews Team
(All rights reserved/Copyright Knapp Communications Pty Limited 2005)