Tour de France Cycling News for July 9, 2005
Edited by Jeff Jones & Hedwig Kröner, assisted by Sabine Sunderland
Stage 7 wrap up: McEwen does it again
Robbie McEwen (Davitamon-Lotto)
Photo ©: Roberto Bettini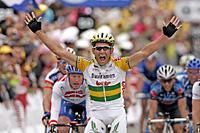 Robbie McEwen (Davitamon-Lotto) has taken his second stage win in three days, beating Magnus Bäckstedt (Liquigas-Bianchi) in a wild bunch sprint in Karlsruhe. After being brought towards the front by his teammate Fred Rodriguez, McEwen took the option of a long sprint on the right hand side, overtaking Baden Cooke (FDJ) who had gone from 300m out and powering away to win. Third place went to a fast finishing Bernhard Eisel (Francaise des Jeux), who managed to find a way through the other side of the bunch.
There was a crash with 200m to go when Allan Davis (Liberty Seguros) changed his line and Isaac Galvez (Illes Balears) and Angelo Furlan (Domina Vacanze) both hit the deck. Davis was relegated to last position in the bunch as a result. The general classification riders all got through unscathed and there were no changes to the top 10.
Today's stage travelled 228 km from Lunéville to Karlsruhe, in Germany, and was marked by a long, solo breakaway from Fabian Wegmann (Gerolsteiner). Wegmann attacked to take the points on the first climb the day after 45 km, then just continued - for a while with Robbie McEwen, who dropped back - then on his own. He reached a maximum lead of 8'30 before the sprinters teams got together and pulled him back with just over 20 km to go.
Also see:
Stage 7 full results, report & photos
Live report
Complete stage maps & profiles
Start list
Stages
News
Photos
LA keepin' the pressure down
By Anthony Tan in Karlsruhe
Lance Armstrong (Discovery Channel)
Photo ©: Sirotti
Compared to last year, defending champ Lance Armstrong says the pressure he feels on himself is a little less than 2004. "I'm a little relieved that I don't have that pressure of trying to win a sixth Tour that nobody thought could come, so this one feels different in that regard," he said after the finish of the seventh stage in Karlsruhe today.
"But also the race is about to start," cautioned Armstrong, making sure the press knew he or his Discovery Channel team wasn't letting his guard down. "We've made it through the first week, there's been no crashes [in our team], so it's been a pretty good first week. Of course, these stages are always scary, trying to stay out of trouble."
One of these scary stages happened only yesterday, where a mass pile-up in the closing kilometres saw Alexandre Vinokourov and Lorenzo Bernucci gain a few valuable seconds on the rest of the peloton; however, the 33 year-old Texan downplays the significance of what has largely been a over-hyped set of circumstances. "I have to be honest and say that there's been too much made about 'a' move," said Armstrong.
"There was a large crash, so he [Vinokourov] was perfectly placed, staying at the front, staying out of trouble - when 50 guys crash behind you, you're in the front. I think we all know that had the corner been dry, being in second position with 900 metres to go, you wouldn't have been second in the stage. So, to me, it was a rider who stayed in the front, stayed out of trouble, he's a great bike handler and he was in the perfect place. But with three or four k to go, I don't think Vino was going, 'I'm going for the stage win' - I think Vino was thinking: 'I'm going to stay out of trouble and stay up front.'
"But whatever we say, it's seven seconds on the line, 12 second in bonifications... 19 seconds is not a lot of time, in fact - but he's keeping us in check, I guess."
That was interesting
Photo ©: Sirotti

What he did observe about the Vinokourov's move, however, was the obvious motivation showed by the Kazakhstan rider. Said Armstrong: "Vino's always aggressive, he's always ready to attack - he's a great rider, and I think he's especially motivated for this Tour."
Speaking about the stages this weekend, the six-time winner admitted he hadn't reconnoitred the parcours for Saturday or Sunday, but if a rider from another team goes on the offensive, he'll welcome it. "I have to confess I don't know these stages, I don't know the climbs - only what I've seen on paper as to the length and the gradient of it - but I feel certain that my condition's getting up to following some attacks... I mean, some attacks would be nice, so we don't have a field sprint in the end," he said.
Post-stage comments
Robbie McEwen (Davitamon-Lotto), stage winner
Robbie McEwen (Davitamon-Lotto)
Photo ©: Sirotti

"I kept hidden behind all the rest on purpose. I told my guys to take it easy. Van Bon and Rodriguez were still sitting with me in those last kilometres. Freddie took me up to the seventh position, a bit far maybe but we gambled and went to the right side. It all opened up in front of me and I got through no problem. We gambled and I won.
"I took it easy in the peloton all day. It's true that I might have been the freshest in the final sprint but on this level it's in the details. When you're riding strong you get the right openings at the right time."
"I needed that little bit of luck to go with the great efforts of my teammates. They did the work at the front again. Freddie put himself in the wind and I came through the gap easily and went for a long one as things were closing down. Possibly the responsibility of the green has taken the edge off Tom Boonen; I know what it takes to defend it, I have done it before in previous years.
"I don't need a green jersey to prove I'm the fastest sprinter here! I'm not even thinking about the jersey anymore, I'm only going for some more stage wins.
"I've got the luxury now to just sit back and let the other guys go for the intermediate sprints, I go for the win. It felt great especially after what happened yesterday. It's nice to end the first week in this way."
Tom Boonen (Quick.Step), 7th in today's stage
A battered Tom Boonen
Photo ©: Sirotti

"It was a good day, really! I took a lot of points back on Hushovd; I'm still wearing the green, that's all that matters. I'm quite sore after the crash, but points wise I had a good day."
On his crash at km 23: "It was a shit day for crashes (jokingly). I have to laugh about it but it was pretty serious really; my back was really killing me, I couldn't get up at first after that crash, it was a lot more serious than yesterday. Anyway, I got another bike and tried to go in the intermediate sprints, I took points but I really didn't have any feeling of power in my legs. Think I put my back out big time. I died about ten times today, but I didn't give it away. I still took those points; so that makes up for a lot. The coming days I'll have to go in the intermediate sprints as much as possible, there's no time for recuperation for me!"
"And the finish, well that was just one big gamble, some guys were sitting completely out of the wind completely protected, I wasn't; I gambled and went to the left, and lost, nothing more to it."
Marc Sergeant (Davitamon-Lotto team director)
"We know that after today, there's only little chance for another mass sprint - two maximum with Paris included. According to me Robbie's riding his best Tour ever condition wise. Today he really waited, my heart almost stopped. It was really super cool. Robbie made mistakes the first two days. He started riding his own sprint like before. He kept his cool while all the rest were extremely nervous already.
"Boonen fell again huh? Well, everyone crashes in the Tour. Robbie fell badly last year too but he still wore the green jersey on the podium in Paris. It might not look good for Robbie now but the Tour isn't a normal race. Our mission so far has succeeded; now it's up to the other guys to show themselves on different terrain. Everyone in the team is very willing to work hard.
"There's a couple of chances for a mass sprint; but until then we have Evans, Aerts and the others to show something in the mountains."
Davis relegated
A crash with 200m to go
Photo ©: Jon Devich

Allan Davis (Liberty Seguros) was relegated in today's stage classification because of an irregular sprint in the finish in Karlsruhe. Davis tried to follow the wheel of Kirsipuu, according to a team statement, and changed his line, which caused the crash of Isaac Gálvez (Illes Balears). The Australian rider asked the Spaniard how he was and apologised for causing his crash.
Davis himself crashed in the stage, when the peloton crossed over some old, slippery train lines.
Spezialetti abandons after crash
Alessandro Spezialetti (Lampre) crashed after 50 km of racing. Tour de France doctor Gérard Porte immediately told team director Giuseppe Martinelli to take Spezialetti to hospital because the wound he had on his lip looked to be serious. Spezialetti had to abandon the race but, in the hospital of Epinal, he did not need stitches. He came back to the team hotel in the evening with doctor Marco Pallini and will be back in Italy tomorrow.
Steve Zampieri (Phonak) was another rider who abandoned today, suffering the effects of an earlier crash.
Pre-stage quotes
Walter Godefroot, T-Mobile team manager
T-Mobile's team manager Walter Godefroot was interviewed on Belgian TV Sporza before today's seventh stage. In particular, he was asked about Vinokourov's late move yesterday that succeeded in gaining time on Lance Armstrong.
"The seconds Vino gained are not as important," said Godefroot. "It's only 19 seconds; that's not decisive at the end of the Tour, but morally it's a good thing. Sometimes Vino gets the comment that he does stupid things in the race. But now he's playing it smart. He attacked with a lot of power. He is really strong. When you look at the times, there's a 34 seconds difference between Vino and Jan, so Jan is still leader of the team, Vino is a solid back-up. I don't see the slightest problem.
"We don't have sprinter here, and it's a flat stage today. It's a stage like any other for us, whether it's in Germany or not."
Philippe Gilbert (Francaise des Jeux)
"My injuries are not bad, the legs are still good. There won't be a problem during the race I think. I just hope it's not raining too much today. I think it'll be a mass sprint again, Lotto and Quick.Step will try to make sure of that."
(All rights reserved/Copyright Knapp Communications Pty Limited 2005)