Tour de France Cycling News for July 7, 2005
Edited by Jeff Jones
An interview with Patrice Clerc
ProTour storm clouds brewing
By Tim Maloney, European Editor in Chambord
Patrice Clerc
Photo ©: Tim Maloney/CN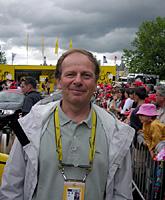 Cyclingnews had a chance to interview Chairman and Managing Director of the Tour de France Patrice Clerc on Wednesday in Chambord. A former director of Roland Garros Tennis (French Open), Clerc is a savvy marketer who has brought focus and structure to the Tour de France since he came on board in 2000. Late last year, the organizers of the three Grand Tours, ASO (Amaury Sports Organization-Tour de France), RCS (Rizzoli-Corriere della Sera-Giro d'Italia) and Unipublic (Vuelta a España) signed a provisional agreement with the Union Cycliste Internationale to allow their races to be included on a one year basis, and that a working group of key race organizers, UCI ProTour and ProTour teams would be formed to address and resolve the key points that have impeded a final agreement to be made.
With the beautiful Chateau de Chambord as backdrop, we asked Clerc if he could update Cyclingews on the status of the negotiations and he was eager to respond, telling us that, "The problem is very simple. We (GT organizers) are still in disagreement with the UCI ProTour on fundamental questions. I think the way that things have been conducted from the beginning are wrong. When you want to enter into a new era, to make a major change in the organization of a sport, you need to have a consensus. Everybody knows that in a consensus, a compromise, you don't get everything you want. And when there are some disagreements, it means you cannot get everything you want. We (GT organisers) cannot get everything we want, and the UCI cannot get everything they want, nor can the teams cannot get everything they want. Either we are part (of the ProTour), and in that case we need to negotiate with the UCI to find a solution. But we see the way that discussions have gone and it's either we are in or we're out. In that case, the answer is obviously, we are out.
We asked Clerc about the possibility of a ProTour without the races of Grand Tour race organizers in 2006 and he frankly replied "Of course, it's always been clear that we have made a special agreement with the UCI for 2005 based on our proposal to study the future in order to find that compromise. I'm sorry to see that at this point, no discussion has been possible. It's very simple; we expected this year to be a year of discussions, to try and find a basis for compromise. And the answer we've gotten from the UCI is that "either you're in or you're out". No discussion is possible when one party takes that stance. We don't want to enter into polemics and a personalization of this argument. The Tour de France does not belong to me; it's a major world event. I'm the one speaking for the Tour de France today, but it could be someone else tomorrow's. It's nonsensical to personalize these issues."
As for the issues, Clerc outlined one key matter. "I think that there is some kind of respect that is due because of the history of this event (TDF) and the others. There are people who have continuously worked on an idea that was born in 1903 since then. We have developed this idea over the years, and professional cycling has been built on those events. Not just on the Tour de France, but many others; Tour of Flanders, Milano-Sanremo, Liege-Bastogne-Liege, Giro d'Italia...the history of cycling has been built on the ideas and work of those people, so I don't see why, now, that our voice doesn't count."
Also see: March 25, 2005: An interview with Patrice Clerc - "The ProTour has nothing to do with magic"
Ullrich recovering
Jan Ullrich (T-Mobile)
Photo ©: Sirotti

Despite a disastrous start to the Tour when he crashed into the back of the team car the day before the first stage, Jan Ullrich (T-Mobile) is getting better again as the race progresses. In his diary on the team's website t-mobile-team.com, Ullrich re emphasised his satisfaction with the team's performance to place third in the team time trial, only 35 seconds behind Discovery Channel.
"Basically, we're still happy that we put in such a good performance yesterday and that, personally, I also felt good. I experienced great sensations in my legs. It was something completely different than in the first stage, and I don't even want to think what I could have achieved there if I had had the legs as good as yesterday. But, that's water under the bridge now and I'm just happy that I've got over the effects of my crash in training. That's largely thanks to the help of my physiotherapist Birgit Krohme and our two doctors Lothar Heinrich and Stefan Voigt.
"Tomorrow [Stage 6] should be fairly similar to today, but we're slowly starting to build up to the stages in Germany and the following stages in the Vosges and Alps. We're looking forward to it!"
Robbie made the right choice
According to his father Ken, Robbie McEwen has the athletic abilities and the fighter's spirit from his mother Jackie. "I like it. I love the atmosphere," Jackie McEwen told the VUM papers yesterday. "Our Robbie has made a good life for himself. We weren't happy when he decided to become a professional cyclist three months before finishing his teacher's training. But he made the right decision. Some chances you have to grab because they don't come back" said Ken.
According to Sport.be, Robbie McEwen hasn't given up all hope that he can wear the green on the podium in Paris. "The battle for the green jersey won't be stopped now. When I fell in Angers last year and wasn't able to grab any points, everyone thought that I had to give up my dreams for a second green jersey. But I was on the podium in Paris, even though the consequences of that fall were not minor. That's why I keep believing in it now also."
A former winner of the green jersey, Eddy Planckaert, commented on Belgian TV last night that he believed Tom Boonen was the man to do it. "To win the green jersey you can't just be another sprinter. Erik Zabel was a fantastic winner of that points jersey, a truly complete cyclist, and so is Tom Boonen. He'd be a worthy winner of that jersey."
Courtesy of Sabine Sunderland
Davis getting closer
Liberty Seguros sprinter Allan Davis is getting closer to a top three finish in the Tour's hectic bunch sprints, but things didn't quite go according to plan for Davis in Montargis yesterday, where he finished sixth.
"I recovered well after the time trial effort and did very well the last kilometre, but coming out of the last corner with 600 metres to go, the leadout man for Credit Agricole scraped a pedal and made me lose speed and position. Then I managed to get towards the front, but already I was a long way from the front guys to be able to do something extra. t was a shame, because before the corner, I almost got Tom Boonen's wheel, who was going for the left side. It was the best option today and because of that I looked for him, but then I was unlucky. I have to continue trying."
Cancellara crashes
Fassa Bortolo strongman Fabian Cancellara came down towards the finish of the fifth stage yesterday, but fortunately wasn't seriously injured. The crash happened with a couple of kilometres to go, as the peloton was winding up for the sprint. "Bernucci and I crashed into a Francaise des Jeux rider who had missed a corner," said Cancellara. "Fortunately I didn't do any damage, save for some skin off on my right hand."
Lorenzo Bernucci commented, "I saw the rider from the French team slide out and I ended up in the barriers. I threw the bike down and I managed to stay on my feet. Fortunately I didn't do myself any harm."
Eisel's bad day
Francaise des Jeux sprinter Bernhard Eisel had a bad day all around yesterday. The team prepared the sprint perfectly, but it didn't work out. "Everybody rode all out," he said. "We made our impression on the finale. I wanted to pass Baden Cooke on the right, in order to use his protection better. But I couldn't use my full power, the gear was too high. This kind of sprint is usually my specialty, but today I simply miscalculated. I'm satisfied with my form, but not with this sprint. It was the worst of the year." He was probably even less satisfied later, when the race jury fined both him and Cooke 10 seconds for "pushing among teammates" after Cooke gave him a nudge on the back with 200m to go.
But that wasn't all the only thing that went wrong for Eisel. "I bumped into two spectators and fell off my bike. I was ok, but one of the bystanders apparently isn't. I heard that he had to be taken to hospital. I hope it's not bad."
Courtesy of Susan Westemeyer
Steinhauser: "That can't be true"
Tobias Steinhauser couldn't believe it when he had to drop out of the T-Mobile train 20 km before the end of the team time trial Tuesday. "That just can't be true," he said. Looking back, he said, "Actually, I feel fit, there's nothing wrong. I just couldn't do it."
Team manager Olaf Ludwig said that the team's plan was for Steinhauser to go with full power for the first part of the race and keep the speed up for as long as he could. He did that for 48 km, but "then I had to pay the price." Was he asked to drop out, so that he wouldn't slow the others down? "There was nothing left to decide," according to Steinhauser. "I was totally flat."
Courtesy of Susan Westemeyer
Fantasy Le Tour - enter your teams now!
21 pairs of Specialized Optics to give away
Specialized shades
©: Specialized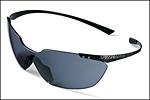 fi'zi:k saddles
©: fi'zi:k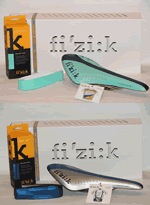 The Trek Madone 5.9
©: Zapata Espinoza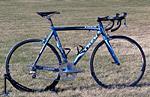 Bontrager wheels
©: Bontrager

Speedplay pedals
©: Speedplay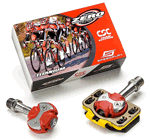 Fassa Bortolo Giro helmet
©: Giro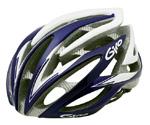 DMT shoes
©: DMT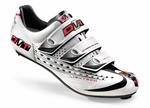 This year we are giving away a pair of glasses to the manager with the highest stages points every day of the Tour. Five have been won so far. Watch the Tour de France this summer and you won't see Specialized sponsored racers like Gerolsteiner's Levi Leipheimer or Davitamon-Lotto's Fred Rodriguez spinning up Alpine ascents with their glasses tucked in the front of their helmets or wrapped around their necks. Nope, in the 16 gram Arc model, Specialized engineers have created a pair of glasses so light and, thanks to their Adaptalite lenses, so versatile, that the world's top racers usually forget they even have them on. These are just some of the great prizes on offer in this year's game.
Prize list
There are over 49 prizes in this year's game. Be a professional team manager for the 2005 Tour de France. Based on the live racing action, you will take up the challenge of using your knowledge and tactical skill as a race team manager to compete with managers from around the world. Follow the races live and use your skill and knowledge to win prizes.
First prize - a TREK Madone Discovery Team bike worth $7700 USD.
Stage by stage prizes - Specialized - 21x pairs of sunglasses
Runner-up prizes
- Bontrager - 2x pairs Bontrager Race X-Lite Aero wheels, 1x Race X Lite OS handlebars, 1x Race XXX Lite OS carbon stem, and 1x Race X Lite Pro saddle.
- DMT - 3x pairs of Flash shoes
- Speedplay - 4x pairs of CSC pedals
- CTS - Signature coaching package
- fi'zi:k - 5x Team issue Arione saddles
- Giro - 9x Atmos Helmets in Discovery, Rabobank & Fassa Bortolo team colours
Tactics
Read some of our previous Le Tour game winners recommendations for your team selection strategy. Go to the downloads section to find out more.
How to play
You can begin creating your team/s now. You can play the first 8 stages for FREE! We will be adding additions to the startlist on a daily basis. The Tour games are easy to play, all you need to do to manage your own team is select 15 riders from the live start list then select 9 of these riders to race each day throughout the Tour. You score points according to how well each of the riders place each day in the Tour. So try your team today and see if it's for you. It's a great way to follow the Tour. Create your teams now at fantasy.cyclingnews.com
Good luck!
The Fantasy Cyclingnews Team
(All rights reserved/Copyright Knapp Communications Pty Limited 2005)