Tour de France Cycling News for July 6, 2005
Edited by John Stevenson & Jeff Jones, assisted by Sabine Sunderland
Stage 4 wrap up: Armstrong gets yellow in dramatic stage
A happy Lance Armstrong
Photo ©: Sirotti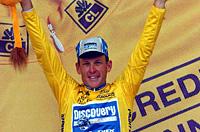 As predicted, the team time trial between Tours and Blois came down to a close battle between Team CSC and Discovery Channel, with the latter prevailing by just 2 seconds over Bjarne Riis' team, which had led at every intermediate time check. But in the most dramatic of circumstances, yellow jersey wearer Dave Zabriskie crashed with just over 1 km to go, destroying the rhythm of his team and very likely costing it the stage win and the yellow. CSC didn't wait for Zabriskie, as it was concerned with Ivan Basso's GC chances as well as the stage win, but in the end the red, white, and black riders had to be content with second place.
The result meant that Lance Armstrong took over the yellow jersey with a 55 second gap to his chief henchman George Hincapie, and CSC's Jens Voigt now in third at 1'04. Discovery Channel rode a great TTT to clinch the win, coming from behind: third at the first time check (25 km), second at the next two checks (45.8 km and 61.5 km), then first at the finish, when it counts. The tailwind assisted average speed of 57.324 km/h blitzed Gewiss-Ballan's old record of 54.930 km/h set way back in 1995. Now the blue and white train will have to decide whether to defend the jersey, or let another team take it before the Alps.
In third place today was T-Mobile, which rode an excellent second half to finish the day 35 seconds behind Discovery, which scales back to 30 seconds under the new team time trial rules for maximum time loss. Although both Alexandre Vinokourov and Jan Ullrich dropped a few places on GC, they are now level with Basso as Armstrong's main challengers, between 1'21 and 1'36 behind the American.
Also see:
Stage 4 full results, report & photos
Live report
Complete stage maps & profiles
Start list
Stages
News
Photos
Zabriskie not seriously injured
The face of Zabriskie
Photo ©: Roberto Bettini

CSC's Dave Zabriskie was not seriously injured in the disastrous stage 4 crash that robbed him and his team of the yellow jersey. CSC team media officer Brian Nygaard said that Zabriskie had been cleared of any serious injury after the fall and would continue in the race.
"We have just got the results of the X-rays and nothing is broken," he said. "He's still got some pain in his right knee which we'll look at tomorrow (Wednesday) but he will start the stage."
"I'm really disappointed because it was looking good. We were very very close to winning the stage and keeping the yellow jersey," Zabriskie said. "I am not happy with what happened but that's life."
Will Discovery defend the jersey?
If the shirt fits
Photo ©: Roberto Bettini

Lance Armstrong's Discovery Channel team battled all along the 67.5km parcours from Tours to Blois with maillot jaune David Zabriskie's CSC team, but it was Armstrong and Discovery who had all the luck and Dave Z's CSC squad that lost out. Although they were a few seconds ahead of Discovery entering the final 3km, an unexpected crash by Zabriskie in the final 1,300m lost the stage for CSC by two seconds and ended Zabriskie's maillot jaune run. After narrowly winning the stage, Armstrong put on the 67th yellow jersey of his career in Blois. The result was a new record speed for a team time trial, as Discovery Channel posted an average speed of 57.32 km/hr, besting Gewiss-Ballan's ten year record speed of 54.930 km/hr.
Discovery Channel team manager Johan Bruyneel was delighted at the result, the team's third straight TTT win in the Tour de France. "We knew it was going to be a really close match today; that's what we wanted and expected," said Bruyneel. "We knew that CSC started faster than us, because I sent someone out on the parcours early [Trek's Scott Daubert] to take a time split. I told the guys 'keep the rhythm going and stay together' and at the end, that worked. Our team was like a beautiful machine out there and we made up the difference in the end. I'm really happy the way the things turned out."
His team's discipline and CSC's bad luck were the crucial factors in Discovery Channel's victory. "We were able to keep our team together, CSC weren't, they lost a guy, Zabriskie," Bruyneel told Belgium's TV1. "That's probably what made the difference; but ifs and whens don't buy anything.
Hincapie and Armstrong
Photo ©: Sirotti

"It is important for a team to win today. You can only gain a maximum of 20 seconds on your competition, so you don't really need to win it for the time gain. But, we've won the TTT three years in a row now and it makes all the difference to the atmosphere in the team. This evening, at the table the atmosphere is fantastic."
An obviously chuffed Lance Armstrong said with a smile, "Yeah, it was probably the plan today to take the maillot jaune today. And it's always nice to have the maillot jaune. But I don't know if we'll defend it. We'll just have to sit down with Johan tonight and see what he thinks. There are three or four flat stages to go, so it won't be that easy. Maybe we'll get a little help from the sprinter's teams like Quick.Step, Davitamon-Lotto and Crédit Agricole."
Bruyneel added, "We have the yellow jersey and we're going to think about it tonight. We're here to try and win the Tour de France and we're going to find out the best strategy. We have a great team, with a great friend like George (Hincapie) or a young guy like Popovych, but Ekimov isn't here today so I want to dedicate this win today to him. Always nice to win this event to show that the team is complete, strong and well balanced, and more importantly, to give the first maillot jaune to the Discovery Channel, a company that came in and supported us for a long time, with a three year commitment. I'm honored to be with these guys and it's nice to give them their first yellow."
But Armstrong may not be looking to try and keep the jersey, saying "There's still a lot of racing to go before we get to Paris; a lot of nervous days... it'll be tricky."
Speaking later from the team hotel, Bruyneel told TV1 "I don't know if Zabriskie would still be wearing yellow if he hadn't crashed. You can say he wouldn't have been in yellow in the first place if Lance hadn't pulled his foot in the first TT; so maybe it just evens out. A fact is a fact, our team won today and Lance is in yellow. It's a real pity for Zabriskie that he crashed."
"It would have still been a good result if Discovery got second with five seconds," added Bruyneel. "But people would wonder then: what happened? So it's great that we did win this TTT a third time in a row."
Sheryl Crow congratulates the new yellow jersey
Photo ©: AFP

The time trial victory has put five Discovery Channel riders in the top ten on general classification and boosted team morale. "The atmosphere is good in the team," said Bruyneel. "Everyone feels like they have been part of it. Some of our guys were a bit worried about today, but we finished with nine riders so the morale is very good.
"Lance feels good too; he was the strongest in the team today. The minute and a half he's got now is good; it's better to have this lead than to have lost a minute an 30 seconds."
As at the Dauphine, Armstrong is accompanied on this Tour by his girlfriend, singer Sheryl Crow. "Sheryl is really interested in what Lance and the team do," said Bruyneel. "She's gotten really involved and is getting more and more knowledgeable. She reads up on everything concerning the cycling, checks the Internet. She knows so many names too; I think she actually knows more names than Lance!"
Fantasy Le Tour - still time to play
fi'zi:k saddles
©: fi'zi:k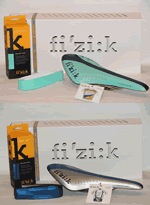 The Trek Madone 5.9
©: Zapata Espinoza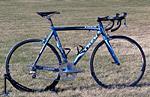 Bontrager wheels
©: Bontrager

Speedplay pedals
©: Speedplay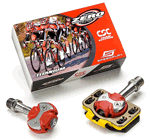 Fassa Bortolo Giro helmet
©: Giro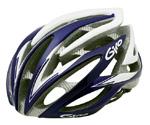 DMT shoes
©: DMT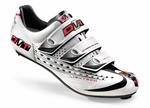 Four managers have won pairs of Specialized sunglasses in the daily prizes already! There are 49+ prizes up for grabs in this year's Fantasy Le Tour. You can still join up until Stage 9. There is NO tactical disadvantage in joining after the Tour has begun. There are some great prizes on offer and its FREE until stage 9 begins. You don't need to pay to play in the first 8 stages, try it out and see if you too could be in the running for some of the 49 prizes on offer this year.
Team issue Arione saddles from fi'zi:k
fi'zi:k is offering three of a limited number of Team Issue Arione saddles to the Fantasy Tour prize list with complementary coloured microtex bar tape honoring their sponsored UCI Pro Tour Italian teams participating in this year's Tour: Lampre-Caffita (silver) and Team Liquagas (celeste). Included in the prizes this year is the team issue saddle of Pro Continental Team Barloworld- Valsir (coloured metal blue). Winners of these can choose which edition saddle they would like. Have look at the prizes in full.
Prize list
There are over 49 prizes in this year's game. Be a professional team manager for the 2005 Tour de France. Based on the live racing action, you will take up the challenge of using your knowledge and tactical skill as a race team manager to compete with managers from around the world. Follow the races live and use your skill and knowledge to win prizes.
First prize - a TREK Madone Discovery Team bike worth $7700 USD.
Stage by stage prizes - Specialized - 21x pairs of sunglasses
Runner-up prizes
- Bontrager - 2x pairs Bontrager Race X-Lite Aero wheels, 1x Race X Lite OS handlebars, 1x Race XXX Lite OS carbon stem, and 1x Race X Lite Pro saddle.
- DMT - 3x pairs of Flash shoes
- Speedplay - 4x pairs of CSC pedals
- CTS - Signature coaching package
- fi'zi:k - 5x Team issue Arione saddles
- Giro - 9x Atmos Helmets in Discovery, Rabobank & Fassa Bortolo team colours
Tactics
Read some of our previous Le Tour game winners recommendations for your team selection strategy. Go to the downloads section to find out more.
How to play
You can begin creating your team/s now. You can play the first 8 stages for FREE! We will be adding additions to the startlist on a daily basis. The Tour games are easy to play, all you need to do to manage your own team is select 15 riders from the live start list then select 9 of these riders to race each day throughout the Tour. You score points according to how well each of the riders place each day in the Tour. So try your team today and see if it's for you. It's a great way to follow the Tour. Create your teams now at fantasy.cyclingnews.com
Good luck!
The Fantasy Cyclingnews Team
(All rights reserved/Copyright Knapp Communications Pty Limited 2005)