Tour de France Cycling News for July 5, 2005
Edited by John Stevenson
Dekker almost does it
By Anthony Tan in Tours
Erik Dekker (Rabobank)
Photo ©: AFP

Some may have thought Erik Dekker's motivation for going in the early break on Stage 3 of the Tour was to take the mountains jersey, but one of cycling's most cunning riders only had one thing on his mind when he left the peloton 24 kilometres into the stage. "It's the only reason I'm here - to win a stage," he said at the finish when asked about his motives.
Together with Rubens Bertogliati (Saunier Duval) and Nicolas Portal (Ag2r), the trio's lead never got into dangerous figures to threaten the maillot jaune of David Zabriskie (Team CSC), reaching a maximum of 5'40 after 100 km, but when you have a man like Dekker in the break, you just never know.
The 34 year-old, who started his career back in 1992 with Buckler, then Novell, then WordPerfect and then Rabobank - where he's stayed the last ten years - has won just about everything a pure Classics specialist dreams of winning; San Sebastian, Amstel Gold, Paris-Tours, the World Cup, national championships in the time trial and the road, and four stages of the Tour de France to name just a few. Maybe the only must-have missing from his palmarès is the Ronde van Vlaanderen, although he came ever so close in 2001, where he was beaten by Gianluca Bortolami in an eight-man sprint.
Dekker's also shown his versatility as a week-long stage racer. Three victories in the Ronde Van Nederland (1997, 2000, 2004), wins at the 2001 Ruta del Sol and GP Erik Breukink, and perhaps his finest stage-race accomplishment coming in 2002, where he captured overall honours in Tirreno-Adriatico.
After 13 years in the peloton, this man has ridden virtually every race he's wanted to do as professional, but he's also seen his share of setbacks. However, an incredible ability to read a race as he were the author and his never-say-die attitude have never eluded him - just like today. Even when Bertogliati dropped off and it was just he and Portal in the final kilometres, his face never resembled one of lost hope, and not until he knew for sure they would be caught did he look behind.
True to his style, there's every chance he'll try again tomorrow. "I think I was the strongest, but you need the right circumstances. You need to have the cooperation of the peloton - you can't fight against three, four, five sprinters' teams. It was hard, but we almost did it.
"Today was the first attempt; we still have 19 days to go... " he said.
Lombardi On Zabriskie
Bobby Julich is tipping him as the next big thing, and maillot jaune Dave Zabriskie has already earned the respect of his other team-mates too. At 36, CSC's Giovanni Lombardi is one of the most experienced riders in the peloton. The Italian sprinter, who is in his 13th year as a pro told Cyclingnews about his perception of Zabriskie.
"He's a really down to earth guy; very simpatico," said Lombardi. "Zabriskie has fit in really well with our team and I think he has found people that want to see him do well on CSC. Me, David, Basso and Piil just did a training camp together in Tuscany and we really worked well together. He likes to joke around, but when he's on the bike he's a very serious professional."
Team time trial shapes up as Discovery vs CSC show-down
CSC on the way to third in the proTour time trial in June
Photo ©: Christine Grein

Today's team time trial will be a 67.5km test of discipline, endurance and determination that's likely to at least partially affect the outcome of the race. The team TT won't have as great an effect as it might, as Tour rules limit the amount a team can lose to three minutes, preventing a team that's weak in this discipline from getting knocked right out of the running this early in the Tour. Nevertheless, any team with serious ambitions for the general classification has to ride well today.
CSC boss Bjarne Riis sees the team TT as a chance to defend Dave Zabriskie's yellow jersey. "We're one of the strongest teams, but it doesn't hurt that we're starting last," Riis said on CSC's website. "We'll have a strong base with Bobby, Jens, Luke and Dave. I think we'll be among the best."
"It's our goal to win this time trial," Riis added in a Belgian TV interview.
In its former guise as US Postal, Lance Armstrong's Discovery Channel team blew the opposition into the weeds in last year's team time trial, grabbing the leader jersey for Lance Armstrong. Riis knows what his team has to do today. "To keep the jersey, we have to beat Discovery," he said. "They're the strongest team, along with us and Phonak. I think it will be close."
Dave Zabriskie is realistic about the possibility of seeing his three-day run in the yellow jersey come to an end. "It would be nice to keep the jersey," he said. "Two seconds isn't a lot. We'll really have to go 100 percent to beat Discovery."
Zabriskie's team-mate Jens Voigt hinted jokingly at one possible 'problem' for the team. Asked how long Zabriskie could stay in yellow, he said, "Well, if he doesn't shake us off and if he let's us ride a little with him tomorrow... if we can keep it tomorrow we could still have it in Germany. But it could be that we make another decision to keep our energy and look good again in the Alps!"
"I'm not going to say that we want to finish 8th or something like that," said Voigt. "I think we are amongst the favourites and it's not arrogant to say it."
The Discovery Channel crew at Eindhoven
Photo ©: AFP Photo

Discovery Channel general manager Dan Osipow believes there are only two likely yellow jersey riders after the team time trial: Zabriskie and Lance Armstrong. "One of the Tour's most crucial days is upon us, tomorrow's 67.5 kilometer time trial," Osipow writes on thepaceline.com. "The winner of the event the past two years, the team has taken yellow following both victories (with Victor Hugo Pena in 2003 and Lance last year) and could very well do the same tomorrow should the team make it three-for-three."
Osipow acknowledges that Tour team time trial rules limit the advantage to be gained today, but says, "there is a strong chance Lance Armstrong can take the lead from CSC's Dave Zabriskie should the Discovery Channel team defeat CSC. With the larger gaps to the next highest placed riders - Credit Agricole's Lazlo Bodrogi is third at 47 seconds with T-Mobile's Vino in fourth at 53 seconds - it appears the jersey will either stay with Zabriskie or be taken away by Armstrong."
After the opening time trial Lance Armstrong said chasing rival Jan Ullrich was an advantage. In the team time trial, that advantage will lie with CSC. "They are leading the team GC through three stages - by four seconds - [so] they will start last tomorrow, thus having the advantage of knowing our time splits," said Osipow.
As the ONCE team, Liberty Seguros-Würth was a pink-clad team time trial powerhouse in the Tour for many years, and its win in the 2002 stage put Igor Gonzales de Galdeano into the yellow jersey. The team hasn't been as strong in recent years, but manager Manolo Saiz believes it can still make a mark today. "I have confidence in my team, though others are more favorite than us to win," said Saiz in a team statement. "Our strength is that we can do this type of race, be among the top finishers and be in a good position to tackle the mountains."
Gonzalez de Galdeano describes his 2002 stint in yellow as, "the best souvenir I have as cyclist" but knows it cannot be repeated this year because of the time gaps established on the first day. "With the adjusted times that exist now, it is a question of not losing more than of winning," he said, "because the differences will not be very wide. Of course, we all want to win because this is where the team's image is shaped and also where people can see what sort of form each one is in at the moment."
Unlike 2004, where some teams had already lost riders in the treacherous Belgian opening stages, all teams should start this year's time trial with a full complement of nine men.
"We are lucky because we have not lost any riders in the first two stages and the team will be complete," says Gonzalez de Galdeano. "To have nine riders is fundamental for a better recovery between [stints on the front]. A man less is a big lack, because here the strongest rider does not win, but the team. Armstrong cannot win alone tomorrow, he needs his team-mates too."
Discovery is the favourite, "because it won last year," says Gonzalez de Galdeano. "But we are at the same level as they are, as CSC, Gerolsteiner and Phonak. Anyone can win."
Rabobank manager Theo de Rooij has been coming in for some flak in the Dutch media for his team's lack of success in recent Tours. He told Sporza radio that things are not going to change in the time trials.
"We have to be realistic," said de Rooij. "We don't have a team here selected for the TT. We need to try and [win] in breaks, like Erik did today, because we have no sprinter here. We have to get through this first week the best way we can and wait for the mountains."
Speedplay pedals ©: Speedplay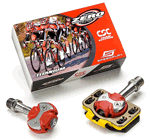 The Trek Madone 5.9 ©: Zapata Espinoza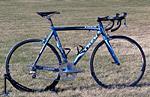 Bontrager wheels ©: Bontrager

Fassa Bortolo Giro helmet ©: Giro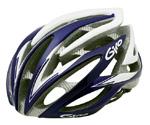 DMT shoes ©: DMT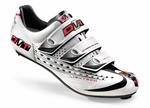 fi'zi:k saddles ©: fi'zi:k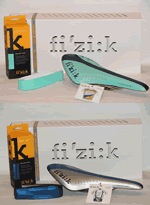 Fantasy Le Tour - not too late to join
There are 49+ prizes up for grabs in this year's Fantasy Le Tour. You can still join up until Stage 9. There is NO tactical disadvantage in joining after the Tour has begun. There are some great prizes on offer and its FREE until stage 9 begins. You don't need to pay to play in the first 8 stages. fantasy.cyclingnews.com: try it out and see if you too could be in the running for some of the 49 prizes on offer this year.
CSC Team Edition pedals from Speedplay
Adding to the Tour 2005 Fantasy Game prize roster, we have four sets of CSC Team Edition pedals, but that's not all! The suggested retail for the pedals is US $195.00, but we are also including a pair of coffee shop caps with each pair (the cleat protectors). The pedals come from the Californian company that has been making major inroads into the professional peloton for several years, and the pedals on offer are based on what are being used in this year's Tour by Team CSC.
"We were very pleased that Speedplay produced a special red pedal for the team when we asked," said CSC Team manager Bjarne Riis. "And because of so many inquiries from followers of the team, it is important that Speedplay will now produce this pedal for consumers."
The CSC Team Edition is the Speedplay Zero. This pedal allows riders to choose either a fixed position or up to 15 degrees of float. Zero pedals maintain the traditional feel of a fixed system while incorporating the advantages of Speedplay X Pedal Systems. Dual-sided Zero pedals offer light weight, easy engagement and disengagement, a low 11.5mm stack height and extra cornering clearance. The engagement mechanism does not rely on spring tension for retention, so you don't have to crank down a tension adjuster just to prevent inadvertent release.
Have look at the prize list in full.
Prize list
There are over 49 prizes in this year's game. Be a professional team manager for the 2005 Tour de France. Based on the live racing action, you will take up the challenge of using your knowledge and tactical skill as a race team manager to compete with managers from around the world. Follow the races live and use your skill and knowledge to win prizes.
First prize - a TREK Madone Discovery Team bike worth $7700 USD.
Stage by stage prizes - Specialized - 21x pairs of sunglasses
Runner-up prizes
- Bontrager - 2x pairs Bontrager Race X-Lite Aero wheels, 1x Race X Lite OS handlebars, 1x Race XXX Lite OS carbon stem, and 1x Race X Lite Pro saddle. - DMT - 3x pairs of Flash shoes - Speedplay - 4x pairs of CSC pedals - CTS - Signature coaching package - fi'zi:k - 5x Team issue Arione saddles - Giro - 9x Atmos Helmets in Discovery, Rabobank & Fassa Bortolo team colours
Tactics
Read some of our previous Le Tour game winners recommendations for your team selection strategy. Go to the downloads section to find out more.
How to play
You can begin creating your team/s now. You can play the first 8 stages for FREE! We will be adding additions to the startlist on a daily basis. The Tour games are easy to play, all you need to do to manage your own team is select 15 riders from the live start list then select 9 of these riders to race each day throughout the Tour. You score points according to how well each of the riders place each day in the Tour. So try your team today and see if it's for you. It's a great way to follow the Tour. Create your teams now at fantasy.cyclingnews.com
Good luck!
The Fantasy Cyclingnews Team
Previous News Next News
(All rights reserved/Copyright Knapp Communications Pty Limited 2005)