Tour de France Cycling News for July 5, 2005
Edited by John Stevenson & Jeff Jones, assisted by Sabine Sunderland
Stage 3 wrap up
Another big win for Boonen
Tom Boonen (Quick.Step)
Photo ©: Sirotti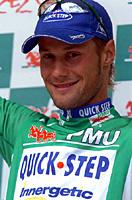 Green-clad Belgian Tom Boonen (Quick.Step) has claimed his second successive Tour stage win on the famous Avenue de Grammont in Tours, winning a peloton sprint ahead of Peter Wrolich (Gerolsteiner) and Stuart O'Grady (Cofidis). Boonen looked to be a little far back with 500m to go, but then got on Robbie McEwen's wheel as he was being led out by Fred Rodriguez. Boonen slightly anticipated McEwen's jump and powered away from the rest to finish clearly in front. Wrolich came in on Boonen's left for second place, while McEwen and O'Grady clashed head and shoulders for third, with McEwen getting it initially before the jury relegated him to 186th for hindering O'Grady.
The day was dominated by a three man break containing Erik Dekker (Rabobank), Rubens Bertogliati (Saunier Duval), and Nicolas Portal (Ag2r), which went clear after 24 km and built up a maximum lead of 5'40 after 100 km, before it was brought back through the work of CSC, Bouygues Telecom, Quick.Step, and Davitamon-Lotto. Dekker won enough points for the mountains jersey, and he and Portal stayed away until 3 km to go when the peloton swept them up.
Boonen's victory gave him a 20 point lead over O'Grady in the points classification, while McEwen lost a bucketful after his relegation. In the overall classification for the yellow, David Zabriskie (CSC) kept his 2 second lead over Lance Armstrong (Discovery Channel), and his CSC team will have the luxury of starting last in tomorrow's team time trial from Tours to Blois.
Also see:
Stage 3 full results, report & photos
Live report
Complete stage maps & profiles
Start list
Stages
News
Photos
An interview with Floyd Landis
Just another race
Cyclingnews' Tim Maloney took a few moments to visit with Phonak's Floyd Landis before the start of Stage 2 of the 2005 Tour de France, where his best friend and roommate Dave Zabriskie was 100 meters away surrounded by the chaos of the media scrum that comes with being the maillot jaune. It was Landis who convinced his Girona, Spain flatmate DaveZ that he could win the Tour's first stage and Landis was happy to share his friend's incredible accomplishment as we spoke to him.
Floyd Landis (Phonak)
Photo ©: AFP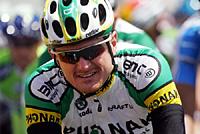 CN: How was the build up to the Tour de France on your new team Phonak?
FL: It was a little up and down at first, but the last few months have been good. The atmosphere is good; everybody is friendly and there's no animosity anywhere. That goes a long way to have a stress free training and racing environment.
CN: I understand that you had a little cold just before the Tour?
FL: Yes, but it didn't effect me. I just had to take a couple of extra naps and I feel good now.
CN: You like taking those naps...
FL: (Laughs) Yeah! My cold was just an excuse to take some more naps.
Click here for the full interview
Stage 3 comments
Boonen relaxed, Nuyens confident, McEwen angry, O'Grady unsurprised, Hulsmans happy, Zabriskie mellow, Wrolich super, Roberts awesome, Davis closer
Tom Boonen (Quick.Step)
Photo ©: Sirotti

You'd think Tom Boonen (Quick.Step) would be excited at winning two stages in a row of the Tour de France, but when Belgian TV's VRT show caught up with him after stage three, the boy wonder was taking it all in his stride. "I prepared myself well for this Tour," he said. "I did everything I should have done; there was only a slight panic with that toothache. "This tour is not comparable to the Classics. This has a bigger impact because it's a tour, not one day. It's constant attention from the press, so it's very different.
"It's a day like any other day. I'm going to have dinner now, play some Playstation and go to sleep. Tomorrow it's ŕ bloc from the gun."
In an echo of another famous Belgian Eddy Merck's maxim ('Ride your bike, ride your bike, ride your bike'), Boonen puts his success down to preparation. "I'm very happy that all my hard preparation has paid off," he said. "The whole year has been like that. I can't quite grasp it myself. I must have a fantastic guardian angel; everything I work hard for is granted to me.
"I again rode my own sprint. When I saw Fred Rodriguez came I went too."
Guesting on the VRT show, Nick Nuyens was confident in his team-mate's chances. "When Tom started to sprint, he secured the win right away," he told VRT. "The fight for the green jersey looks good for Tom; but the battle isn't over yet. There's a lot that can happen in the coming weeks; but it definitely looks good."
Nuyens thought that the judges made the right call in disqualifying Robbie McEwen for bouncing off Stuart O'Grady in the finale. "O'Grady and McEwen must like each other a lot," he said. "I think it's completely justified for McEwen to be DQ'd, if you see the dangerous stunts he pulls!"
Robbie McEwen (Davitamon-Lotto), on the other hand, has been protesting his innocence. "I feel shitty; and justified," he told VRT in response to Nuyens comments. "I looked at the images again. You have to look at the images taken from the front, then you can see that I didn't do anything wrong. I only reacted to what O'Grady did; I've really been flicked big time. I didn't bump him that hard; I only tried to get my arm from underneath his. I've fallen far behind now for the Green; I don't even think about winning it anymore. My advice to Nick: you should have a good look at the images!"
Previously, McEwen had criticized the race judges for disqualifying him. "The race judges have made a mistake," said McEwen after watching footage of the altercation with O'Grady. "If you look at the video replay you can see that it was O'Grady who started things by leaning on me. He put his elbow out and I had to lean on him to stop myself from falling."
McEwen has been accused of head-butting O'Grady, but denies the charge. "I didn't butt him. If you look at the video very closely you can see that my arm was trapped under O'Grady's elbow. That twisted my body and pulled my head towards him."
It's not the first time McEwen and O'Grady have crossed swords. "It was a bit too much really, too aggressive," said Stuart O'Grady (Cofidis). "I was heading towards the line and then I suddenly saw Robbie McEwen's head on my shoulder."
"All I could concentrate on was making sure I stayed on my bike," O'Grady said. "I need a beer to calm my nerves. That's not how I saw today concluding… although I must admit that I'm not surprised by Boonen. He's pure class. As for Robbie, I can understand that he was desperate but he shouldn't make it dangerous."
Kevin Hulsmans (Quick.Step) had a better day of it in stage 3, working for team leader Tom Boonen. "I wasn't happy about the work I was able to do for Tom yesterday," he said. "Today I did do my job properly. Tom told me today he wasn't good; so I said, 'ah well congratulations then' - because he wasn't good yesterday either and he won anyway. We were just joking around and stuff. Tom is not just our team mate, he's a friend. He is so casual and he's is concerned about how everybody else is feeling, he simply is a great guy."
Mellow in yellow
Dave Zabriskie (CSC)
Photo ©: Sirotti

Race leader Dave Zabriskie (CSC) is still a bit surprised to be wearing the yellow jersey. "It's not that I am getting used to it, but once the race starts, I am finding my rhythm," he said Zabriskie, after finishing safely in the bunch in stage three. "It was nice to keep the jersey another day."
Being an American in yellow in the fourth of July was also poignant for Zabriskie, though the fireworks were a long way away yesterday. "It's nice to have the yellow jersey on the Fourth of July," he said. "Maybe they can save some fireworks for me when I get back to the States. Maybe I can have a barbecue and drink that drink that everyone likes to drink."
Zabriskie's team-mate Jens Voigt would like to see him and the team hang on to the jersey. "If I was captain, I'd never let it go," he said. "But we'll see what Bjarne has in mind. It depends on what happens tomorrow - maybe we don't have to think about this anymore if we lose the jersey, but if we still have it tomorrow evening, I could imagine that because we've already had a stage win, the Yellow for three days... And we do have a higher goal where we want to put somebody up on the podium in Paris, so we might have to say 'OK, we can't have everything so we need to make little sacrifices.'"
Stage three's second placed rider Peter "Paco" Wrolich (Gerolsteiner) is usually the lead-out man for the team's sprinter Robert "Frösi" Förster, but found himself, "super positioned, it couldn't have been better," in the finish. "The Australians are riding a very hot tyre [really going for it - Ed], we saw that in the finish. Frösi lacked that final touch today, but if he stays on my wheel he can beat Boonen."
"I turned around all the time, and looked under my shoulder to see the bike behind me and thought 'that's not a Specialized fork' so I just continued and had to take Boonen's wheel who was right in front of me. That of course was the right wheel and the two Aussies beside me hindered each other - which was in my favour - that's how I got second."
CSC's young Australian rider Luke Roberts is having trouble believing it's all really happening. "It is just unbelievable - first year pro in a major team, getting a ride in the Tour de France, riding on the front defending the maillot jaune. I just have to keep pinching myself," said Roberts before stage 3.
"The crowds have been awesome and plenty of Aussies screaming out for me - it just doesn't get much better than this.
"Today I am to rest as much as possible seeing as I spent 140 km on front yesterday. I will only be called on to drive on the front if required as they want me as fresh as possible for the team TT tomorrow."
Liberty Seguros sprinter Alan Davis was fifth in stage three, but is still getting to grips with the mayhem of the Tour's sprint finishes. "I got myself a bit too far back and it was a tough battle to get near the front," he said of the finale of stage 2. "I was happy with how I felt and I just need to be a bit closer to the action in the closing kms. I know the finish [of stage 3] well from Paris Tours and it is a bit deceiving. A lot of guys will go early and it's just a matter of timing it right."
There's life left in Cedric yet
By Anthony Tan in Tours
Popular French rider Cedric Vasseur may be celebrating his 35th birthday a few weeks after the conclusion of this year's Tour de France, but hopes he's also toasting a stage win at La Grand Boucle sometime before then.
When Cyclingnews caught up with the Cofidis pro at yesterday's Stage 2 start in Challans, he said he'd had no intention of riding 'ŕ bloc' (all out) in the opening time trial. As a professional of 12 years, he knows what his limitations are, and on Saturday, that result was limited to 176th place.
"Ah, I can not go ŕ bloc in the prologue," laughed Vasseur, "it's not my specialty, I have nothing to win. I just did the time trial like normal and I will do the same in the second time trial in St. Etienne [Stage 20]. My aim here is to win a stage; I cannot win a time trial, so it's stupid for me to waste energy."
Nor was he prepared to waste energy the following day on the road to Les Essarts: "It will really hard for an escape to go," he said before the stage. "I mean, there's something like a five percent chance of succeeding... not a lot."
Apart from a third place at the Tour du Haut Var and sixth at the Etoile de Besseges in February, Vasseur's had a pretty quiet year up till now. 2003 was his best year, where he won six races including overall victories in Paris-Correze and Hessen Rundfahrt and a stage of the Dauphiné Libéré, but in 2004, things got much leaner, even though he still managed a stage victory at the Tour du Limousin and the Tour de l'Ain. To make matters worse, he was suspended from racing for almost a month due to a doping investigation led by a French judge in early April, but was later cleared of any doping offences - although the same couldn't be said for a few of his previous team-mates.
While Vasseur has essentially centered his season around the Tour in years past, this year he also decided to ride the Giro d'Italia for the first time. "I just wanted to have a look, and for me, it's the first time I'm doing the Tour with another big tour behind, so I'm discovering how my body will react to that," he said.
So when will Cedric take his chances?
"For me, the Tour starts on Thursday [Stage 6 from Troyes to Nancy - ed.]. By then, we will have had five days behind us and normally, there is some opportunity for a stage [win]. Until Thursday, I'll work for the team - for Stuart [O'Grady], to keep [David] Moncoutié in good position - and after that, I'll have an opportunity [for myself] on Thursday, Friday, Saturday.
"I should be okay in the middle[-sized] mountain stages; the one from Gérardmer to Mulhouse [Stage 9] should be a good one for me. I think as soon as the road starts to climb a little - not the big mountains, because I'm not a climber - I will have 100 percent of my form. And after the [first] mountains in the Alps, the stages in the Massif Central will be important. So until then, nothing - just wait."
Armstrong fined
Lance Armstrong (Discovery Channel)
Photo ©: Sirotti

Stage 3 didn't go quite according to plan for Lance Armstrong. He started the day without signing in and ended up with a 100 Swiss Franc fine when the Jury of Commissaires caught up with him.
The six-time Tour champ, who is one step closer to knocking on seven's door, seemed relieved to get the stage over with today. "I was glad nobody fell in front of me in the finale...then there was just 3k straight in to the finish."
(All rights reserved/Copyright Knapp Communications Pty Limited 2005)