Tour de France Cycling News for July 4, 2005
Edited by Jeff Jones
An interview with Tom Boonen
The Big Boonen cometh
By Anthony Tan in Les Essarts and Gabriella Ekström
After a superb Classics campaign and a solid buildup to the Tour de France, Tom Boonen has continued where he left off during the big one-day races and taken a commanding win in Stage 2 of the Tour. It's the continuation of an amazing year, where some things have changed but others have stayed the same - and that's the way he likes it.
There's a feeling
Photo ©: Sirotti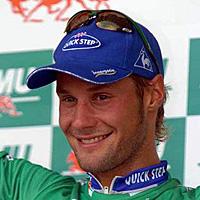 When one saw Tom Boonen at the Tour de Suisse two weeks ago, he was a very different man. On the first stage, he was second to Française des Jeux's Bernhard Eisel, and then three days later, in the first real bunch sprint of the race, with an uphill finish like the one today, he finished fourth.
"Actually, I felt better at the Tour de Suisse than today," he said to Cyclingnews with a smile. "I just wasn't motivated. We rode for Michael [Rogers] all week, so for me, it was training."
That fourth stage was won by defending Tour de France green jersey champion Robbie McEwen, the Australian winning the stage with apparent ease as he steadily began working his way back to top form after a very successful Giro d'Italia, which saw him bag three stage wins in the space of a fortnight.
But back to Boonen. People began asking the question: can a man who has already won two of cycling's greatest monuments in one year re-motivate himself for what is according to most Belgians a lesser achievement - that being a stage win at the Tour de France?
It would appear the answer is a resounding 'yes'.
Click here for the full interview
More post-stage 2 quotes
By John Trevorrow in Les Essarts
Tom Boonen (Quick.Step, 1st)
"It is very important to win the first day for the trust of the team and for the green jersey."
Robbie McEwen (Davitamon-Lotto, 2nd)
"I just went too early. I hit the front 250 out and it was just too far. I tried to go as soon as we straightened up and I had a little problem with the gear sticking in the 11. It was a bit of a tactical mistake, but I virtually gave the other guys a lead out. I'll have to do better next time.
Cadel Evans (Davitamon-Lotto, 101st)
"I was fine in the bunch, I am a bit worried that there will be a time gap because the bunch split in the last kilometre. It was caused by a crash but it depends on how they interpret the rule I think. I was pretty happy with the stage, I managed to stay out of trouble, I was only in two crashes, nothing serious, so it wasn't a bad day." (laughing)
Simon Gerrans (Ag2r, 122nd, sporting new scar on left knee)
"I got caught up in a fall about 40 km to go. Actually I nearly avoided it and almost stopped just before the crash and then another guy ran into me from behind. I was pretty nervous out there today and the bunch was very skittish, but I feel pretty good and am looking forward to tomorrow."
Bleu bands "Race against cancer"
Tom Boonen's wrist has been sporting yellow and red wristbands and a yellow sweatband in the past. At the medical check and in the first stages of the Tour, Tom was wearing a blue wristband. "I got this from Nick Nuyens," Tom told the VUM papers.
By wearing it, Boonen is supporting the charity organisation "No Limits". Former pro and current Team CSC director sportif Scott Sunderland is the front man of their Race against Cancer campaign. Virtually the complete Belgian peloton was wearing a bleu wristband at the Belgian National Championships, and now plenty of them are to be spotted in the Tour peloton.
"The co-operation from the riders in the peloton has been absolutely awesome," said Sunderland. "Especially Serge Baguet and Kevin Van Impe have been very active bringing the bands into the peloton; unfortunately neither of them is in the Tour. But it's great to see that the other riders aren't oblivious to this initiative either and the bands are hot items right now.
"The Belgian Charity No Limits is an organisation which has as its main activity the fulfillment of the special wishes of terminally ill children. For example they arranged for one ill boy to meet the Pope. Being a father of two myself, I immediately agreed to help them out when they came to ask for me to be "godfather" of this initiative. In August, a group of people will ride from Faro (Portugal) via Santiago de Compostella and Lourdes back to Belgium to raise money and make people aware of what they can do for the kids. It's a daunting ride of 4000km. One of the participants has just finished her last chemotherapy in January. It is a small gesture to support these people."
Race against Cancer website: www.racetegenkanker.be/missie.htm
VZW No Limits website: www.kinderkanker.be
Steels on that winning feeling
Tom Steels (Davitamon-Lotto) was interviewed by Karl Vannieuwkerke on VRT's Tour show after Stage 2, and talked about Tom Boonen's victory in Les Essarts. "Tom would feel really happy now," said Steels. "To win that first mass sprint in the Tour is something special. I know the feeling of winning a stage in the Tour de France and it's something exceptional. The tension is building throughout the whole stage. Even with still 20km to go the pushing and shoving starts. There are no friendly gestures, everyone wants to sit in the best possible position."
"Boonen won this sprint already way before he crossed the line. There was no beating him today. He had all the time in the world to raise his hands in victory.
"I think that this sort of sprinting is the hardest discipline in racing, technically. The emotions are so close together too; happiness and disappointment. In our team the level of frustration will be considerable, although the guys should be satisfied as they did their job as was expected. They should sleep easily. For McEwen it might be different; maybe Robbie started his sprint a bit too early, but he is no rookie, he knows what to do and how to deal with it. This is a three week battle, and tomorrow the fight goes on."
QuickStep's PR officer Johan Museeuw commented that, "Tom Boonen is Mario Cipollini and Johan Museeuw in one rider."
Eisel upset
Francaise des Jeux sprinter Bernhard Eisel was upset with his team management after the stage yesterday. "I had envisioned it otherwise," said Eisel. "On Friday my team director assured me again, that the team would ride for me today. But before the start Madiot suddenly changed his mind and switched over to Baden Cooke. I'll see what happens tomorrow. It's not a question of who is captain, our team manager is destroying the entire team structure. The finale today was so turbulent, no one could keep track of what was happening. Will they ride now for Cooke or for me? I can only hope that the situation will change in the next few days. Madiot must decide for one of us and inform everybody of his decision. As it is, we are all hanging in the air."
Courtesy of Susan Westemeyer
Liberty Seguros rider comments
Davis wants a bit of luck
Liberty Seguros-Würth sprinter Allan Davis finished Stage 2 in 10th position but described himself as satisfied with his feelings. "The sprint was very dangerous and I started a bit behind. Everyone went their own way and I wasn't in a good position, but the best thing is that I had very good sensations during the stage. From what I have seen today, I think that I have a chance of winning a stage, the only thing I need now is luck."
Davis added that he thought Tom Boonen was very strong. "He did a very good sprint and took advantage of McEwen's work, he used him as a lead out, because then he got around him very easily."
Vicioso bides his time
Ángel Vicioso, another fast man together with Davis, did not try to get into the Stage 2 sprint. He is not a pure sprinter and is looking for an opportunity in a small group. Until that comes, he is concentrating on the team time trial. "Now, the most important thing for us is to get to Tuesday without accidents or falls," he said. "In these first stages, there is a lot of danger, and for time trial it is fundamental that we are all there, because losing a man is a big handicap".
Liberty will be up against the very strong teams of Discovery, CSC and Phonak, but a good ride in the team time trial would leave Roberto Heras in a good position before the mountains, and the team hopes to lose the minimum amount of time.
Sanchez amazed
Another Liberty rider who was happy at the end of the stage was Luis León Sanchez, who after his debut in time trial, survived his first road stage in the Tour de France. "For me it was a very fast stage, with a lot of tension and nerves, but I have tried to do it as best I could. Everyone has told me about the danger of the Tour, but what impressed me the most was the number of people who are watching the race. It is amazing, I think I didn't see one area without the public on the sides of the road, it is spectacular.
"I have had very good sensations and this is the most important thing, because my dream was to be here with the team and to try stay with them until Paris."
Le Tour tidbits
By Anthony Tan in Les Essarts
The pre-race medical check-up that each of the 189 riders went through before the 2005 Tour de France got under way on Saturday revealed some interesting factual tidbits about this year's peloton...
At 35 beats per minute (BPM), Chris Horner (Saunier Duval) and Laurent Lefevre (Bouygues Telecom) both have the lowest resting heart rates.
And at 7.66 litres, two riders also have the largest lung capacity: Christophe Moreau (Credit Agricole) and Mikel Astarloza (Ag2r-Prevoyance).
The heaviest rider? No prizes for guessing here: it's big Maggie Bäckstedt from Liquigas-Bianchi - all 95 kilos of him!
The lightest? This one's a little trickier: it's Horner's team-mate, Leonardo Piepoli, weighing in at a featherweight 57 kilograms.
The tallest? The long and lanky Johan Van Summeren, who falls just two centimetres shy of the two-metre mark.
The shortest? I am Sam, Ag2r-Prevoyance's Samuel Dumoulin.
The average rider: 1.79 metres tall, weighing 71 kilograms, with a resting heart rate of 50 BPM and a lung capacity of 5.69 litres. The average rider, but by no means average figures!
Fantasy Le Tour - first prizes awarded
The Trek Madone 5.9
©: Zapata Espinoza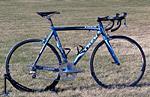 Bontrager wheels
©: Bontrager

Speedplay pedals
©: Speedplay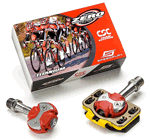 Fassa Bortolo Giro helmet
©: Giro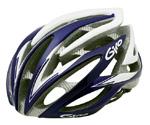 DMT shoes
©: DMT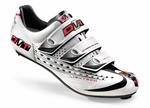 fi'zi:k saddles
©: fi'zi:k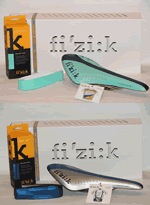 Two pairs of Specialized sunglasses have been awarded to the winners of the Daily Stages competition in our Fantasy Le Tour game already. You can take part in this for FREE for the first 8 stages. Specialized is giving away a pair of its sunglasses every day to the manager with the highest stage points.
There is still time to join this year's game. You can join up until Stage 9. There is NO tactical disadvantage in joining after the Tour has begun. There are some great prizes on offer and its FREE until stage 9 begins. You don't need to pay to play in the first 8 stages. fantasy.cyclingnews.com: try it out and see if you too could be in the running for some of the 50 prizes on offer this year.
Giro Atmos Helmets
Win the helmet that graces the heads of some of the best riders and teams in this year's Tour. You can win the same Giro Atmos Discovery Team Issue helmet as worn by Lance Armstrong. We are pleased to confirm that Giro is providing nine helmets in total, three of each in team Discovery, Rabobank, and Fassa Bortolo colours.
The Atmos is the most aggressive silhouette Giro has ever created; a state of the art cycling helmet equipped with cutting-edge features. In-mold shell and carbon fiber reinforcements, as well as Super Fit Sizing, a Roc Loc4 adjustable fit system, 26 vents with Giro's proprietary Wind Tunnel internal channels and the full internal Roll Cage reinforcement. With all of these features, the Giro Atmos Fassa Bortolo Team Issue helmet weighs in at an incredible 240 grams. No wonder it's worn by the best. Have look at the prizes in full.
Prize list
There are over 49 prizes in this year's game. Be a professional team manager for the 2005 Tour de France. Based on the live racing action, you will take up the challenge of using your knowledge and tactical skill as a race team manager to compete with managers from around the world. Follow the races live and use your skill and knowledge to win prizes.
First prize - a TREK Madone Discovery Team bike worth $7700 USD.
Stage by stage prizes - Specialized - 21x pairs of sunglasses
Runner-up prizes
- Bontrager - 2x pairs Bontrager Race X-Lite Aero wheels, 1x Race X Lite OS handlebars, 1x Race XXX Lite OS carbon stem, and 1x Race X Lite Pro saddle.
- DMT - 3x pairs of Flash shoes
- Speedplay - 4x pairs of CSC pedals
- CTS - Signature coaching package
- fi'zi:k - 5x Team issue Arione saddles
- Giro - 9x Atmos Helmets in Discovery, Rabobank & Fassa Bortolo team colours
Tactics
Read some of our previous Le Tour game winners recommendations for your team selection strategy. Go to the downloads section to find out more.
How to play
You can begin creating your team/s now. You can play the first 8 stages for FREE! We will be adding additions to the startlist on a daily basis. The Tour games are easy to play, all you need to do to manage your own team is select 15 riders from the live start list then select 9 of these riders to race each day throughout the Tour. You score points according to how well each of the riders place each day in the Tour. So try your team today and see if it's for you. It's a great way to follow the Tour. Create your teams now at fantasy.cyclingnews.com
Good luck!
The Fantasy Cyclingnews Team
(All rights reserved/Copyright Knapp Communications Pty Limited 2005)