Tour de France Cycling News for July 4, 2005
Edited by Hedwig Kröner
Stage 2 wrap up
Score 1 for Boonen
Tom Boonen (Quickstep)
Photo ©: Jon Devich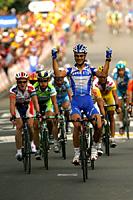 Tom Boonen (Quick.Step) rode an impressive sprint to win the second stage of the Tour de France in Les Essarts, powering past Robbie McEwen in the last 100 metres to cross the line with over a bike length to spare. The Belgian, who was suffering from a severe toothache yesterday that needed urgent dental work, shrugged off the pain and achieved his main goal of the Tour: to win a stage. He also took the green points jersey, but it's too early to speculate about winning it yet.
The flat stage between Challans and Les Essarts in the Vendée region was ridden at a fast average speed of 47.04 km/h, and after approximately 20 km, a breakaway of four riders got clear: Laszlo Bodrogi (Credit Agricole), David Canada (Saunier Duval-Prodir), Thomas Voeckler (Bouygues Telecom), and Sylvain Calzati (Ag2r-Prevoyance). Although Bodrogi was well place on GC (in fifth), David Zabriskie's CSC team didn't panic and allowed the quartet a maximum advantage of 4'30, before the sprinters' teams of Quick.Step, Davitamon-Lotto, and Francaise des Jeux hauled them back with 6 km to go.
The sprint was hectic, with no team really able to control it. Robbie McEwen led out on his own from a long way, but in the end Boonen overhauled him easily to win, while Thor Hushovd (CA) passed McEwen to take second. Zabriskie finished 71st and kept his yellow jersey, while none of the other main contenders lost time.
Also see:
Stage 2 full results, report & photos
Live report
Complete stage maps & profiles
Start list
Stages
News
Photos
Post-stage comments
Tom Boonen (Quick.Step), stage winner
Tom Boonen (Quick.Step)
Photo ©: Sirotti

On Belgian radio Sporza right after the finish: "It was a sprint for me after all. I spoke to Philippe Gilbert, and he said it was a bit uphill. Wilfried said it was something for me too. I didn't know what to expect. I took the turn on the left, Robbie took it on the right. It was very exciting, a very difficult finale and it was hard really for the team to organize the lead-out. But they did it. I hope I can keep that Green Jersey."
In an interview with Het Nieuwsblad, Boonen was asked 'What makes the sprints in the Tour different to all the other mass sprints?' "The nervousness starts 100 km from the finish. If you look at the last straight line on TV, it's like an ants' nest, but when you're in the midst of things it feels completely different. Even though it is still dangerous; but descending a col is that also. In cycling everything is dangerous; all those wars going on behind your back; you don't see them. You follow someone's wheel. In the best case, you see what goes on the left and on the right maybe.
"Knowing yourself, human psychology and the ability to assess the situation: those are the three main aspects for a sprinter. You have to be able to predict a sprint. How is the finish? The last kilometre? Who will do what? How is your competition moving around? Who's following who? If you have got all those things under control, you have a few minutes time to adjust your own position maybe. After that you have a hundred scenarios going through your head still during those last few minutes. But only one is the right one, only one makes you win or lose."
Wilfried Peeters (Quick.Step directeur sportif)
"Today we beat Davitamon, tomorrow it might be the other way around. In the Tour you can't stand still too long by the fact you win one day. Today we have our first win and we're extremely happy with that, especially with the way we got it.
"The weight is taken off our shoulders. It gives confidence to win that first stage; especially in this way. It's very important. It's incredible to win the first stage in this way. Everything seems okay now with Tom; the gum infection seems under control and that's very important.
"The Green is on Tom's shoulders now but we try to stay calm about it. We have to take it day by day. The stress which is brought on by the Green Jersey is mainly there for the intermediate sprints. Today it was an ideal situation, with the men in the break. If the Green Jerseycandidates would have sprinted for the points today, Tom would have had to go for them too."
About Tom's train: "I heard from Stefano Zanini that he's not quite happy with how he went in the last kilometre. But that's normal as he didn't race since the Tour of Italy. I've got confidence in Zanini and in Trenti. They give Tom confidence and calm.
"Before, few were able to beat McEwen the way he went with 200m to go. For Tom it's important that he came out of McEwen's wheel in such a way; and then go on to win with two bike lengths. When you are 24 and you can handle the pressure like he does;from the start of the season, winning all the way. There's nothing but praise for Tom.
"Tonight we have that Green jersey. Now it's important to secure it with the least possible stress. Tomorrow we'll see what the competition does for the Green Jersey. If they don't chase the points, neither will we."
Jan Ullrich (T-Mobile, 19th
Jan Ullrich (T-Mobile)
Photo ©: Sirotti

"Today was very good, I could just roll with them. It was very steady racing as everal teams set the pace and the sprint duel happened as foreseen. It was pretty hectic again in the finale, and there was also a crash on my left hand side. But I gout through it okay - knock on wood."
Do you still feel something from that crash on Friday? "No, I don't feel anything. But I do think it was a little handicap yesterday because I felt much better today. Yesterday I was tired all day - the more alert I was right after the crash, the more tired I felt yesterday. But it's over now, I've forgotten about it and I want to continue to fight."
Robert Förster (Gerolsteiner), 50th
"800 metres before the finish there was a crash right in front of me, and I had to stop or nearly stop to not fall myself. That's how this gap was opened and there was no way I could have gotten back to the front. It's so fast here. I'm a bit disappointed but that's the sport... Sometimes you win, sometimes you lose. We still have some opportunities ahead of us."
"The Tour is of course a lot faster than other races. All these roundabouts get on your nerves and in your legs too. If you don't ride inside the first 50, you've got all that dust up in the air at the back and you have to speed up all the time... it's hard."
Rolf Aldag (T-Mobile), acting as TV commentator on Jan Ullrich
"Yes, he's fighting, he's trying, we never saw him in the back today, he was always in front, all day. And that's the right spirit: he wants to get that lost time back and if he can do it somehow, he will and we will see him in Yellow in Paris."
Bobby Julich (Team CSC), 61st, on his team mate David Zabriskie
"As far as I can see, Dave's it. There's no one else that's impressed me in the European scene. He's the future of American cycling. I'm glad he's on my team and I can show him my experience. I can show him how he can avoid my mistakes. I'm looking forward to racing with him until I'm put out to pasture."
Jens Voigt (Team CSC), 90th
"Well, it wasn't such a hard day for us. We set the tempo, but because the break was small it wasn't too hard. And then the sprinter's teams joined us fairly soon in the chase. It was a pretty relaxed day all in all. In the end, there was a little hiccup, as there was the usual crash in the last kilometre and the peloton was torn in two. I couldn't see if it came back together. I any case, we defended the jersey, because Lance was only five places ahead of David Zabriskie. It was a nice day: Defended the jersey without using a lot of energy."
Did it get any faster in the end towards the sprint? "No, I was surprised to see that it went pretty calm and straightforward. Of course we had one or two crashes but nothing of the kind that we've had during previous years."
Patrick Lefévère (Quick.Step team manager) after the finish
"This is unbelievable. I scouted the last kilometres of the course and I saw all the turns in the finale. I told Wilfried (DS in the team car - ed.] to keep the team alert. It was hard and they even lost each other a bit in the last kilometres. Tom was so strong he went over McEwen without problems. He had been a bit worried by the problems his teeth caused earlier but it seems to be okay."
"He has a lot of self-confidence. We got new jerseys made and I handed them out. Tom's didn't really fit him but he said 'Don't worry about it, I'll be wearing Green tomorrow.' I thought, 'wow, he's confident.' We'll take it day by day. I'm more than happy already with this first win, anything added to this is simply fantastic. We'll see about the Green."
Patrik Sinkewitz (Quick.Step), 76th, on the anger his move to T-Mobile has caused Patrick Lefévère
"My manager has indeed arranged that I will ride for T-Mobile. I would have been happy to stay with Quick.Step for the next three years. It's a pity that the team won't support me here, I'm going to try my best for the team anyway. I understand they're upset. I have to thank the team for the time I've had with them. I'm sorry it's happened like this, but that's why I'm paying a manager: to help me in this sort of contract situations. I have to have faith in my manager Tony Rominger."
Discovery Channel satisfied with stage one result
By Chris Brewer, thepaceline.com
Lance Armstrong
Photo ©: Roberto Bettini

Despite a two second loss by Lance Armstrong to CSC's Dave Zabriskie yesterday, the overall feeling from behind the blue curtain is one of optimism and a strong look ahead to the team time trial on Tuesday. Assistant Director Sportif Dirk Demol called it "a dream start", evidenced by very strong showings by team leader Lance Armstrong and George Hincapie. "It felt great - a better start is hard to imagine. It would have been nice to have had the yellow jersey, but we can't complain," said the team's Director, Johan Bruyneel, before the start of stage two today.
One of the more dramatic moments of the day was Lance passing rival Jan Ullrich, a definite mental message but one not reserved just for the T-Mobile leader. "I think psychologically it was a big blow to them," said team Communications Director Dan Osipow. "Of their nine riders who started ahead of us, we caught and passed six of them, including Jan."
Assistant DS Sean Yates noted that stage one was a day when bad things could indeed happen. "In a normal short prologue you can have a bad day and get away with it. But we knew that yesterday it was imperative to be firing on all cylinders right from the start," he said. "If you're a little bit tired you can lose some significant time, and that's what happened to Ullrich. He had that crash the day before and that certainly didn't help. And to have Jan in front of Lance, well that's a big carrot for him. We know what Lance's like, if there's something there in front of him to chase, he's going to go after it, and if it's Ullrich he's going to try even harder."
Another dramatic moment was when Lance's shoe came out of his pedal just a few strokes into his run. After some review of the day's work, Lance thinks he may have pulled his shoe cover on too tight and that caused a small gap between the cleat and pedal, hence the pull-out.
With eight Discovery Channel riders in the top 34 GC standings, the team is primed and ready to do well in the TTT in just two days time. "For sure we want to win the Yellow jersey, but we also want to put time into our main rivals," Yates added. Those two main rivals appear to be teams CSC and Phonak, the latter having said they intend to win the TTT. Team Discovery Channel will do its best to make it 3-in-a-row, plus there's a significant chance that an American could be in yellow for the first 10 days of the Tour de France, something that's never been accomplished to date.
Pre-stage quotes
By John Trevorrow in Challans
Matt White (Cofidis)
CN: You have finally got that first stage of a Tour de France under your belt, but I did have a chuckle when you were the only rider to walk up the start ramp.
MW: "I wasn't taking any risks, it looked pretty steep. But it's great to finally get into it. I am sure it will be a bit stressful out there today with 200 riders all with first day nerves.
"I really am pretty relaxed about it all, I just needed to get that start out of the way. It was pretty cool to see the time-keeper hold out that last finger and get it all under way.
"I reckon it's going to be a hot one. Europe has had a pretty nast winter and the predictions are that we will be in for a few scorchers, especially as we head towards Germany."
Baden Cooke (Française Des Jeux)
CN: How was the prologue?
BC: "I was pretty happy with how it went. I felt good and didn't have to dig too deep. I was surprised at some of the time gaps. I reckon there might have been some riders who got a lot better wind conditions. Although there were times in the middle that would have had an advantage with the wind, I was a little bit disappointed with Brad's ride but he was happy with how he felt only he was surprised at his deficit.
"Yesterday I was quite relaxed but I am getting a bit more nervous about today. The first road stage is always hectic. Everyone wants to be up the front and it will be dangerous. There will be lots of crashes and I will just hopefully stay out of trouble, stay up the front and cross the line first."
It is a shame they have changed the rules on wearing helmets as it would be great for the fans to see that hairstyle?
"It probably wouldn't stand up in the wind anyway."
Simon Gerrans (Ag2r-Prevoyance)
CN: How are you settling in for your first Tour?
SG: "Guess I am a little bit nervous. The first day is always supposed to be a bit frantic and the field races very nervously. Today we are going through a lot of little towns and that sought of thing. I didn't do a great time yesterday but I didn't expect to. The legs feel good and I'm ready for today."
Mick Rogers (Quick.Step)
CN: How have you come up after yesterday?
MR: "I just had a really bad day. I just couldn't get on top of things and I'm really disappointed. But at the end of the day the 1.53 that I lost won't have too big an impact on the final classification.
"When I analyze the race I'm only a minute from third so that's not too bad. It's just that them two went very quick but that's life. It can all change in the first day in the Alps. Maybe my time trialling is down but I am climbing is definitely improved."
Cadel Evans (Davitamon-Lotto)
CN: Are you happy with your first Tour de France stage?
CE: "Yeah, it wasn't a great ride yesterday but it wasn't too bad either. I feel like I'm coming better all the time so I am actually pretty happy at this stage. I was pretty surprised at just how passionate the fans are, wanting autographs and such."
How good where the top two?
"Incredible, incredible, incredible."
What is the plan for today?
"Stay out of trouble, don't waste any energy and hope for the best for Robbie!"
Brad McGee (Française Des Jeux)
CN: First day didn't pan out as planned?
BM: "I don't know that disappointed is the word, more disillusioned. I thought I had a really good performance. I knew I wasn't on a blinder to win the stage but good enough to be in the mix. But when I look at the people in the group I am with, I am not going to lose my head.
"Zabriskie may have had a bit of an advantage with the wind but Armstrong was awesome.
"Today we have a plan to set it up for Cookie and Eisel and although I might not be leading them out, I will have a role in it."
(All rights reserved/Copyright Knapp Communications Pty Limited 2005)