Recently on Cyclingnews.com
92nd Tour de France - GT
France, July 2-24, 2005
Main Page Results Overall standings Stage Details Live report Previous Stage Next Stage
Stage 10 - Tuesday, July 12: Brignoud - Courchevel, 181 km
Once again, Armstrong on top of things
Valverde surprises as Illes Balears becomes the #1 threat to Discovery
By Anthony Tan in Courchevel, with additional reporting from Tim Maloney
Alejandro Valverde (Illes Balears)
Photo ©: Roberto Bettini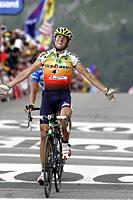 Last Saturday's crisis is now all but forgotten as Lance Armstrong and his Discovery Channel team were once again on top of things in the first and decisive mountain stage of the 2005 Tour de France.
Unconcerned by the early break of seven riders, the new, improved Blue Train rode their hearts out for their number one man, and when his last rider Yaroslav Popovych dropped him off with 10 kilometres to go, just seven other riders remained. From there on in, Armstrong was all might and power, and his repeated accelerations halved that number yet again to a fearsome foursome - mountains leader Michael Rasmussen (Rabobank) and the Illes Balears pair of Alejandro Valverde and Francisco Mancebo tagging on for the ride. Just before the finish line at Courchevel 2000, the American all-star attacked again but he couldn't flick Valverde, who was a strong though surprise winner and the day's big mover, shooting up the leaderboard from 24th to a top-five position on GC.
"I would like to find a word to express what I'm feeling inside, but it's just impossible," said the highly-emotional stage winner. "It's just the greatest thing that's happened in my life.
"Before I came here, I had a dream to win a stage and today I've realised that dream. So now I'll go on working for the team, because Mancebo is the leader of the team and he is very strong too. But it will be difficult, because they are so many good riders and Armstrong is as good as he was in the past, so it will be difficult to beat him," said the 25 year-old Valverde.
Lance Armstrong
Photo ©: Sirotti

With the worst yet to come, question marks now loom large over the T-Mobile camp. Throughout the final climb, '97 champ Jan Ullrich's face was contorted in pain, shepherded virtually the whole way by loyal lieutenant Andreas Kl÷den, while Alexandre Vinokourov experienced his worst day on the bike so far in this year's race, losing almost five and half minutes by the finish line.
Said the dazed and confused champion of Kazakhstan at the finish line: "I lost a lot of time on GC today, but I hope I will be better tomorrow. I will attack again. It's hard, but I don't think we've lost the Tour now. I hope that Jan and Kl÷di were better today... I don't know anything yet. Who won?"
"I'm not sure what happened in the mountains," Vinokourov told Reuters a little later on. "It's been a very bad day for me. The first climb was tough, but we got over that. On the second one, I completely lost it."
T-Mobile's team doctor believed he was the victim of hunger-flat, but the 31 year-old denied it. "This wasn't the Vino we all know," was all team director Mario Kummer could say.
Andreas Kloden (T-Mobile)
Photo ©: Sirotti

"It was the first big day for our team," admitted Armstrong. "They're a super team and set a great pace for me at the front of the climb. I had good legs today, but I want to say thanks to Rasmussen, Valverde and Mancebo - without them I might not have got the result I wanted."
Asked if the somewhat over-hyped rivalry between Discovery and CSC motivated him, partially in reference to comments made by CSC team manager Bjarne Riis, the 33 year-old Texan said he's tried to stay out of the past week's frenzy concerning the two teams - or any other team, for that matter - saying it's neither respectful nor honest to diss another side.
"And that's not reality," he added. "So do you read those things and save them on the hard drive? Of course. But at the end of the day, we have to race against the riders - not the director. But for sure... I save them on the hard drive when I read it."
So is this a maillot jaune Armstrong plans on keeping? "Well, I have to talk to Johan about that," he said diplomatically. "Now, we're in a good position with regards to some of the main rivals, so we'll have to protect that and that might mean protecting the jersey. But we'll have to see how it goes - a team can only do so much in a Tour like this."
Armstrong
Photo ©: Luc Claessen

While Mancebo's performance wasn't so much of a surprise, the 29 year-old Spaniard now lying seventh overall, Armstrong did have something to say about the other two riders with him in those final six kilometres. "Anybody who was in the front of this climb today has to be considered a contender for the overall victory, a contender for the podium," he said.
"What we saw today was confirmation. No more seven-minute breakaways for Michael Rasmussen; he's a damn good climber and we have to watch him now. Valverde was impressive... I was surprised to see him there," admitted Armstrong.
"He's a difficult rider to classify, because he's also very fast and he's also very strong. A guy like him - and I'm not blowing smoke - could be the future of cycling, because he's a complete rider and he's always been good. Valverde was good from the first day he showed up and he's proven it here. The only thing he would have to work on for this race is his time trial, but I suspect he'll do it [in the future]."
How it unfolded
Jens Voigt
Photo ©: Luc Claessen

After a early Tuesday morning test of 33 riders from Lampre-Caffita, AG2R, CSC and Discovery Channel, one rider was found unfit to work and didn't start today: 2003 double world U23 champ Evgeni Petrov (Lampre-Caffita). Originally slated for 192.5 km, Stage 10 was shortened by 11.5km due to a farmers' protest and officially started nineteen minutes late after being delayed by the protest at 12:34 in Brignoud on a warm, sunny morning.
After a series of early attacks, a group of riders got away after 6km near Goncelin, including '05 Paris-Nice stage winner Posthuma, mullet man Broche Brochard (Bouygues Telecom), Krivtsov (Ag2r), 2005 Jacob's Creek Tour Down Under winner Sanchez (Liberty Seguros), Bortolami (Lampre-Cafitta), Isasi (Euskaltel) and Facci (Fassa Bortolo). As none of these riders were a threat on GC, maillot jaune Voigt's CSC squad let them ride away and already after 29km at the first intermediate sprint in Detrier (km 29), Bortolami took the sprint as the race entered the Savoie region.
There was a demonstration
Photo ©: Luc Claessen

At the feed zone in Grignon after 65km, break rider Bortolami's Lampre-Cafitta teammate Glomser abandoned, with the break now nine minutes up the road. Then it was through the streets of winter Olympics city Albertville and up to the first slopes of the first climb of the day, Credit Agricole was leading the chase with the ambition of local lad Christophe Moreau taking over the maillot jaune from Voigt. Brochard was maillot jaune virtuel and he and big Posthuma were riding the tempo.
Just after Beaufort, the 20.1 km ascent of Cormet de Roselend began, a Cat 1 ascent with an average gradient of 6.1%. Brochard was still maillot jaune virtuel, while five minutes behind, Garzelli (Liquigas-Bianchi), Jaksche (Liberty Seguros), Pereiro (Phonak), Mancebo and Valverde (Illes Balears), Sevilla (T-Mobile) and Sastre (CSC) went on the attack, while Credit Agricole was riding chase and Iban Mayo was dropped. This dangerous group came back after a short chase but the acceleration split the peloton, with maillot jaune Voigt hanging on to the back of the main 60 man group. Azevedo and Rubiera (Discovery Channel) were riding at the front of this group along with Sevilla, but no hard chase was underway. Voigt was struggling mightily to get back on the main peloton as Discovery Channel was up front in control of the situation. 2km from the top of Roselend, Pereiro attacked again, followed by Jaksche.
Lunch time
Photo ©: Luc Claessen

At the summit of the Cormet de Roselend with 63km to go, Brochard, Posthuma, Sanchez and Facci passed over 0'50 ahead of Bortolami and Krivtsov, with Pereiro and Jaksche at 3'19 and the peloton at 3'30. As the Tour began the long 20km descent to Bourg-Saint-Maurice, black storm clouds were swirling around la Saulire, a thousand meters above the ski station of Courchevel across the Isere River valley. Brochard decided to attack on the descent and left his three companions behind. The Discovery Channel team was on the front slowing the pace for Popovych, who had crashed and had to chase back on.
At the second intermediate sprint in Bourg-Saint-Maurice with 54km to go, Bouygues man Brochard boogied through to take the points 20 ahead of chasing Sanchez and the now four chasers, as Bortolami and Isasi had bridged back up to Posthuma and Krivstov. Pereiro and Jaksche were at 2'40 and closing fast with the peloton at 4'55, where maillot jaune Voigt and Popovych was back, the Ukrainian giving a thumbs-up with his left side covered in dirt and blood streaming from his left elbow. With less than 30km to go to the base of the Courchevel ascent, Discovery Channel hit the front of the groupe maillot jaune, flexing their muscles before the main battle began. Pereiro and Jaksche caught the four chasers with 40km to go and the now nine man break had Sanchez and Pereiro doing most of the work.
On the long gradual downhill along the windy Isere River Valley along the N90 to the base of the final climb to Courchevel, Discovery Channel's Noval, Beltran and Padrnos were pounding away, with the break of now just 3'30 up the road. At Moutiers, 6km from the 22.2km 6.2%. average gradient Cat.1 ascent to the mountaintop finish in Courchevel, the situation was stable; Pereiro was powering the break, while Sanchez sat up after riding hard on the front for his teammate Jaksche. Facci cracked suddenly and there were just seven riders up front now with the groupe maillot jaune 2'55 behind.
Jorg Jaksche
Photo ©: Luc Claessen
Since Bourg-Saint-Maurice, Discovery Channel had gradually cranked up the pace and as the Courchevel ascent approached, maillot jaune Voigt began to lose ground. Up front, Krivtsov flatted out of the break, while Pereiro and Jaksche dropped Brochard and the peloton had closed to 2'00 as Chechu, Savoldelli, Hincapie, Popovych and Azevedo were just ahead of a determined looking Lance Armstrong, shadowed by Vinokourov.
4 km into the Courchevel ascent, Jaksche made a solo attack and dropped Pereiro, with the Discovery Channel led chase group at 1'55, while the group of maillot jaune Voigt was at 3'50, so Frenchman Moreau became maillot jaune virtuel . Totschnig, McGee, Zubeldia, Heras, Beloki and Menchov were some of the big names that had come out the back under the infernal rhythm imposed by Armstrong's army. Sastre tried an attack, but Savoldelli rode him down. The pace increased behind Sastre, putting Garzelli, Karpets, Horner, Julich, Botero.
Lance Armstrong (Discovery Channel)
Photo ©: Roberto Bettini

After his effort, Savoldelli peeled off, and Azevedo and Hincapie hit the front, Leipheimer, Basso, Sastre, Ullrich, Vino, Mazzoleni, Rasmussen, Mancebo, Valverde were left with 13km to go, Jaksche was 1'09 up the road as a magnificent George Hincapie pounded on the front with Popo behind and Armstrong sitting third wheel and maillot a pois Rasmussen just behind, waiting for the right time to attack. There were just a dozen riders left up front with 11.5km to go when Popo attacked hard for 300m, then peeled off. This acceleration exploded the front group, as Vino, Ullrich, Kl÷den, Landis, Leipheimer, Piepoli and Mazzoleni couldn't keep the pace.
A six man group had formed, with Armstrong, Basso, Rasmussen, Evans, Valverde and Mancebo, with Landis, Piepoli and Mazzoleni chasing behind. The tortured visage of Paco Mancebo was forcing and his acceleration dropped Evans. The now five riders rode away as Leipheimer struggled to get back on but couldn't. With 10km to go, Jaksche was caught, while Ullrich was at 0'53, breathing heavily as he suffered from a bruised rib from Sunday's crash. Armstrong attacked with 8km to go, dropping Basso and Mancebo, while an amazing Valverde and maillot a pois Rasmussen hung on. Mancebo came back with 5.5km to go, in the same spot where Marco Pantani had attacked to win in Courchevel five years ago, while Ullrich was at 1'20, with Moreau at 1'48. Armstrong was now maillot jaune virtuel as Mancebo hammered hard on the front.
Armstrong and Valverde
Photo ©: Roberto Bettini

Kl÷den and Ullrich were trying to limit their damage 1'30 behind, as Armstrong accelerated again with 4km to go at Courchevel 1800. Basso was dangling there just 0'20 back hoping the front riders would slow so he could get back on. Leipheimer had dropped and was in no-mans land 1'00 behind, while Jaksche was absorbed by the Ullrich group. With 2km left, Basso was at 0'30, while Leipheimer had closed to 0'40, well ahead of the Ullrich group at 1'45. Entering the last kilometre as they came out of the tunnel to the Altiport, the front quintet was watching each other carefully. Rasmussen tried a few accelerations, but with 450m to go, Armstrong jumped between the Danish rider and the barriers on the right, hoping to catch Valverde by surprise. But the Spanish rider covered Armstrong's move and sprinted home to victory, while Armstrong was second and took the race lead.
Stage 11 - Wednesday, July 13: Courchevel-Brianšon, 173 km
It's a downhill plunge from Stage 11's start in Courchevel to La Lechere, where the fearsome 25km ascent of the Col de la Madeleine commences, then to Saint-Michel-de-Maurienne at the base of the monster double ascent of the Col du Telegraphe and Col du Galibier. After passing the highest point of the 2005 Tour De France at 2645m. and the monument of Tour founder Henri Desgranges, it's a 40km plunge through the Hautes Alpes to a finish in Brianšon where Santi Botero (Phonak) will look to repeat his breakthrough win of five years ago.
Stage 11 rated climbs:
Col de la Madeleine (km 55, HC climb, 2000m, 25.4km at 6.1%)
Col du Telegraphe (km 110, Cat. 1 climb, 1566m, 12km at 6.7%)
Col du Galibier (km 133, HC climb, 2645m, 17.5km at 6.9%)
Photography
For a thumbnail gallery of these images, click here
Images by Jonathan Devich/epicimages.us
Images by Luc Claessen/www.actiefotos.be
Images by Roberto Bettini/www.bettiniphoto.net
Images by Fotoreporter Sirotti
Results
1 Alejandro Valverde (Spa) Illes Balears-Caisse d'Epargne              4.50.35 (36.65 km/h)
2 Lance Armstrong (USA) Discovery Channel                                     
3 Michael Rasmussen (Den) Rabobank                                        0.09
4 Francisco Mancebo (Spa) Illes Balears-Caisse d'Epargne                      
5 Ivan Basso (Ita) Team CSC                                               1.02
6 Levi Leipheimer (USA) Gerolsteiner                                      1.15
7 Eddy Mazzoleni (Ita) Lampre-Caffita                                     2.14
8 Cadel Evans (Aus) Davitamon-Lotto                                           
9 Andreas Kl÷den (Ger) T-Mobile Team                                          
10 Andrei Kashechkin (Kaz) Credit Agricole                                    
11 Floyd Landis (USA) Phonak Hearing Systems                                  
12 Leonardo Piepoli (Ita) Saunier Duval-Prodir                                
13 Jan Ullrich (Ger) T-Mobile Team                                            
14 J÷rg Jaksche (Ger) Liberty Seguros-WŘrth                               2.19
15 Santiago Botero (Col) Phonak Hearing Systems                           2.50
16 Christophe Moreau (Fra) Credit Agricole                                2.58
17 Stefano Garzelli (Ita) Liquigas-Bianchi                                3.44
18 Kim Kirchen (Lux) Fassa Bortolo                                        3.59
19 Yaroslav Popovych (Ukr) Discovery Channel                                  
20 Chris Horner (USA) Saunier Duval-Prodir                                    
21 Haimar Zubeldia (Spa) Euskaltel-Euskadi                                4.04
22 Michael Rogers (Aus) Quick.Step                                        4.27
23 Carlos Sastre (Spa) Team CSC                                           4.49
24 Alexandre Vinokourov (Kaz) T-Mobile Team                               5.18
25 Bobby Julich (USA) Team CSC                                                
26 Joseba Beloki (Spa) Liberty Seguros-WŘrth                              5.36
27 Mikel Astarloza (Spa) Ag2r-Prevoyance                                      
28 Georg Totschnig (Aut) Gerolsteiner                                     6.38
29 Sandy Casar (Fra) Franšaise Des Jeux                                       
30 David MoncoutiÚ (Fra) Cofidis, Le Credit Par Telephone                     
31 StÚphane Goubert (Fra) Ag2r-Prevoyance                                     
32 Maxim Iglinski (Kaz) Domina Vacanze                                        
33 Vladimir Karpets (Rus) Illes Balears-Caisse d'Epargne                      
34 Alberto Contador (Spa) Liberty Seguros-WŘrth                               
35 Giuseppe Guerini (Ita) T-Mobile Team                                       
36 Oscar Sevilla (Spa) T-Mobile Team                                          
37 Oscar Pereiro Sio (Spa) Phonak Hearing Systems                         7.29
38 Axel Merckx (Bel) Davitamon-Lotto                                      8.07
39 Laurent Brochard (Fra) Bouygues Telecom                                9.07
40 J÷rg Ludewig (Ger) Domina Vacanze                                          
41 Marcos Serrano (Spa) Liberty Seguros-WŘrth                             9.49
42 Roberto Heras (Spa) Liberty Seguros-WŘrth                                  
43 Pietro Caucchioli (Ita) Credit Agricole                                    
44 CÚdric Vasseur (Fra) Cofidis, Le Credit Par Telephone                      
45 Patrice Halgand (Fra) Credit Agricole                                      
46 Sylvain Chavanel (Fra) Cofidis, Le Credit Par Telephone               10.02
47 George Hincapie (USA) Discovery Channel                               10.16
48 Jose Azevedo (Por) Discovery Channel                                       
49 Thomas L÷vkvist (Swe) Franšaise Des Jeux                              11.51
50 Christophe Brandt (Bel) Davitamon-Lotto                                    
51 Paolo Savoldelli (Ita) Discovery Channel                                   
52 JÚr˘me Pineau (Fra) Bouygues Telecom                                       
53 Xabier Zandio (Spa) Illes Balears-Caisse d'Epargne                         
54 Denis Menchov (Rus) Rabobank                                               
55 Michael Boogerd (Ned) Rabobank                                        12.30
56 Iker Camano (Spa) Euskaltel-Euskadi                                   14.04
57 Egoi Martinez (Spa) Euskaltel-Euskadi                                      
58 Gorazd Stangelj (Slo) Lampre-Caffita                                       
59 Tobias Steinhauser (Ger) T-Mobile Team                                     
60 Yuriy Krivtsov (Ukr) Ag2r-Prevoyance                                       
61 Bradley McGee (Aus) Franšaise Des Jeux                                     
62 Nicolas Fritsch (Fra) Saunier Duval-Prodir                            14.21
63 Joost Posthuma (Ned) Rabobank                                         14.24
64 Gianluca Bortolami (Ita) Lampre-Caffita                               16.28
65 Walter BÚnÚteau (Fra) Bouygues Telecom                                16.31
66 Pierrick FÚdrigo (Fra) Bouygues Telecom                                    
67 Massimo Giunti (Ita) Fassa Bortolo                                         
68 Patrik Sinkewitz (Ger) Quick.Step                                          
69 JosÚ Luis Arrieta (Spa) Illes Balears-Caisse d'Epargne                     
70 Manuel Beltran (Spa) Discovery Channel                                     
71 David Arroyo (Spa) Illes Balears-Caisse d'Epargne                          
72 Jose Enrique Gutierrez (Spa) Phonak Hearing Systems                        
73 Alexandre Moos (Swi) Phonak Hearing Systems                                
74 Nicolas Portal (Fra) Ag2r-Prevoyance                                       
75 Stephan Schreck (Ger) T-Mobile Team                                        
76 Daniele Nardello (Ita) T-Mobile Team                                       
77 Dario Frigo (Ita) Fassa Bortolo                                       17.18
78 Matthias Kessler (Ger) T-Mobile Team                                  19.54
79 Angel Vicioso (Spa) Liberty Seguros-WŘrth                                  
80 Beat Zberg (Swi) Gerolsteiner                                         21.31
81 Fabian Wegmann (Ger) Gerolsteiner                                          
82 Didier Rous (Fra) Bouygues Telecom                                         
83 Alessandro Cortinovis (Ita) Domina Vacanze                                 
84 Dario Cioni (Ita) Liquigas-Bianchi                                         
85 Lorenzo Bernucci (Ita) Fassa Bortolo                                       
86 Volodimir Gustov (Ukr) Fassa Bortolo                                       
87 David Canada (Spa) Saunier Duval-Prodir                                    
88 Alessandro Vanotti (Ita) Domina Vacanze                                    
89 Nicki S÷rensen (Den) Team CSC                                              
90 Ronny Scholz (Ger) Gerolsteiner                                            
91 Juan Manuel Garate (Spa) Saunier Duval-Prodir                              
92 Sebastian Lang (Ger) Gerolsteiner                                          
93 Pavel Padrnos (Cze) Discovery Channel                                      
94 Inaki Isasi (Spa) Euskaltel-Euskadi                                        
95 Franco Pellizotti (Ita) Liquigas-Bianchi                                   
96 Matthieu Sprick (Fra) Bouygues Telecom                                     
97 Iban Mayo (Spa) Euskaltel-Euskadi                                          
98 Francis Mourey (Fra) Franšaise Des Jeux                                    
99 Stuart O'Grady (Aus) Cofidis, Le Credit Par Telephone                      
100 Jose Luis Rubiera (Spa) Discovery Channel                                 
101 Benjamin Noval (Spa) Discovery Channel                               22.09
102 Juan Antonio Flecha (Spa) Fassa Bortolo                              24.39
103 Luis Leˇn Sanchez (Spa) Liberty Seguros-WŘrth                        28.03
104 Pieter Weening (Ned) Rabobank                                        28.41
105 Daniele Righi (Ita) Lampre-Caffita                                        
106 Giovanni Lombardi (Ita) Team CSC                                     31.29
107 Jens Voigt (Ger) Team CSC                                                 
108 Mauro Facci (Ita) Fassa Bortolo                                           
109 Inigo Landaluze (Spa) Euskaltel-Euskadi                              32.26
110 Carlos Da Cruz (Fra) Franšaise Des Jeux                              32.40
111 Marcus Ljungqvist (Swe) Liquigas-Bianchi                                  
112 Wim Vansevenant (Bel) Davitamon-Lotto                                33.51
113 Mario Aerts (Bel) Davitamon-Lotto                                         
114 Johan Vansummeren (Bel) Davitamon-Lotto                                   
115 FrÚdÚric Bessy (Fra) Cofidis, Le Credit Par Telephone                     
116 Thierry Marichal (Bel) Cofidis, Le Credit Par Telephone                   
117 Rubens Bertogliati (Swi) Saunier Duval-Prodir                             
118 David Loosli (Swi) Lampre-Caffita                                         
119 Matthew White (Aus) Cofidis, Le Credit Par Telephone                      
120 Allan Davis (Aus) Liberty Seguros-WŘrth                                   
121 Alessandro Bertolini (Ita) Domina Vacanze                            35.47
122 Erik Dekker (Ned) Rabobank                                           36.22
123 Michael Rich (Ger) Gerolsteiner                                      38.11
124 Robert Hunter (RSA) Phonak Hearing Systems                                
125 David Herrero (Spa) Euskaltel-Euskadi                                     
126 Janek Tombak (Est) Cofidis, Le Credit Par Telephone                       
127 Robbie McEwen (Aus) Davitamon-Lotto                                       
128 Servais Knaven (Ned) Quick.Step                                           
129 Mauro Gerosa (Ita) Liquigas-Bianchi                                       
130 Robert F÷rster (Ger) Gerolsteiner                                         
131 Peter Wrolich (Aut) Gerolsteiner                                          
132 StÚphane AugÚ (Fra) Cofidis, Le Credit Par Telephone                      
133 Thomas Voeckler (Fra) Bouygues Telecom                                    
134 Bert Grabsch (Ger) Phonak Hearing Systems                                 
135 Guido Trenti (USA) Quick.Step                                             
136 Michael Albasini (Swi) Liquigas-Bianchi                                   
137 Laszlo Bodrogi (Hun) Credit Agricole                                      
138 Bernhard Eisel (Aut) Franšaise Des Jeux                                   
139 Fabian Cancellara (Swi) Fassa Bortolo                                     
140 SÚbastien Hinault (Fra) Credit Agricole                                   
141 Manuel Quinziato (Ita) Saunier Duval-Prodir                               
142 Tom Boonen (Bel) Quick.Step                                               
143 Daniel Becke (Spa) Illes Balears-Caisse d'Epargne                         
144 Magnus Backstedt (Swe) Liquigas-Bianchi                                   
145 Kevin Hulsmans (Bel) Quick.Step                                           
146 Baden Cooke (Aus) Franšaise Des Jeux                                      
147 Philippe Gilbert (Bel) Franšaise Des Jeux                                 
148 Bram Tankink (Ned) Quick.Step                                             
149 Anthony Geslin (Fra) Bouygues Telecom                                     
150 Rafael Nuritdinov (Uzb) Domina Vacanze                                    
151 Nicolas Jalabert (Fra) Phonak Hearing Systems                             
152 Kurt-Asle Arvesen (Nor) Team CSC                                          
153 Kjell Carlstr÷m (Fin) Liquigas-Bianchi                                    
154 Ludovic Turpin (Fra) Ag2r-Prevoyance                                      
155 Samuel Dumoulin (Fra) Ag2r-Prevoyance                                     
156 Andrei Grivko (Ukr) Domina Vacanze                                        
157 Gerben L÷wik (Ned) Rabobank                                               
158 Marc Wauters (Bel) Rabobank                                               
159 Wilfried Cretskens (Bel) Quick.Step                                       
160 Simon Gerrans (Aus) Ag2r-Prevoyance                                       
161 Salvatore Commesso (Ita) Lampre-Caffita                                   
162 Luke Roberts (Aus) Team CSC                                               
163 Jose Vicente GarcÝa Acosta (Spa) Illes Balears-Caisse d'Epargne           
164 Laurent LefŔvre (Fra) Bouygues Telecom                                    
165 Thor Hushovd (Nor) Credit Agricole                                        
166 Unai Etxebarria (Ven) Euskaltel-Euskadi                                   
167 SÚbastien Joly (Fra) Credit Agricole                                      
168 Stefano Zanini (Ita) Quick.Step                                           
169 Iker Flores (Spa) Euskaltel-Euskadi                                       
170 Angelo Furlan (Ita) Domina Vacanze                                        
171 Fred Rodriguez (USA) Davitamon-Lotto                                      
172 Jean-Patrick Nazon (Fra) Ag2r-Prevoyance                                  
173 Karsten Kroon (Ned) Rabobank                                              
DNS Evgeni Petrov (Rus) Lampre-Caffita                                        
DNF Gerrit Glomser (Aut) Lampre-Caffita                                       
 
Points
 
1 Alejandro Valverde (Spa) Illes Balears-Caisse d'Epargne                   20 pts
2 Lance Armstrong (USA) Discovery Channel                                   17
3 Michael Rasmussen (Den) Rabobank                                          15
4 Francisco Mancebo (Spa) Illes Balears-Caisse d'Epargne                    13
5 Ivan Basso (Ita) Team CSC                                                 12
6 Levi Leipheimer (USA) Gerolsteiner                                        10
7 Eddy Mazzoleni (Ita) Lampre-Caffita                                        9
8 Cadel Evans (Aus) Davitamon-Lotto                                          8
9 Andreas Kl÷den (Ger) T-Mobile Team                                         7
10 Andrei Kashechkin (Kaz) Credit Agricole                                   6
11 Floyd Landis (USA) Phonak Hearing Systems                                 5
12 Leonardo Piepoli (Ita) Saunier Duval-Prodir                               4
13 Jan Ullrich (Ger) T-Mobile Team                                           3
14 J÷rg Jaksche (Ger) Liberty Seguros-WŘrth                                  2
15 Santiago Botero (Col) Phonak Hearing Systems                              1
 
Mountains
 
Cormet-de-Roselend - Cat. 1, km 107.5
1 Laurent Brochard (Fra) Bouygues Telecom                                   15 pts
2 Joost Posthuma (Ned) Rabobank                                             13
3 Yuriy Krivtsov (Ukr) Ag2r-Prevoyance                                      11
4 Luis Leˇn Sanchez (Spa) Liberty Seguros-WŘrth                              9
5 Mauro Facci (Ita) Fassa Bortolo                                            8
6 Gianluca Bortolami (Ita) Lampre-Caffita                                    7
7 Inaki Isasi (Spa) Euskaltel-Euskadi                                        6
8 J÷rg Jaksche (Ger) Liberty Seguros-WŘrth                                   5
 
Courchevel (Altiport) - km 181
1 Alejandro Valverde (Spa) Illes Balears-Caisse d'Epargne                   30 pts
2 Lance Armstrong (USA) Discovery Channel                                   26
3 Michael Rasmussen (Den) Rabobank                                          22
4 Francisco Mancebo (Spa) Illes Balears-Caisse d'Epargne                    18
5 Ivan Basso (Ita) Team CSC                                                 16
6 Levi Leipheimer (USA) Gerolsteiner                                        14
7 Eddy Mazzoleni (Ita) Lampre-Caffita                                       12
8 Cadel Evans (Aus) Davitamon-Lotto                                         10
 
Sprints
 
Detrier - km 28.5
1 Gianluca Bortolami (Ita) Lampre-Caffita                                    6 pts
2 Mauro Facci (Ita) Fassa Bortolo                                            4
3 Yuriy Krivtsov (Ukr) Ag2r-Prevoyance                                       2
 
Bourg-Saint-Maurice - km 127
1 Laurent Brochard (Fra) Bouygues Telecom                                    6 pts
2 Luis Leˇn Sanchez (Spa) Liberty Seguros-WŘrth                              4
3 Gianluca Bortolami (Ita) Lampre-Caffita                                    2
 
Young rider
 
1 Alejandro Valverde (Spa) Illes Balears-Caisse d'Epargne              4.50.35
2 Andrei Kashechkin (Kaz) Credit Agricole                                 2.14
3 Yaroslav Popovych (Ukr) Discovery Channel                               3.59
4 Maxim Iglinski (Kaz) Domina Vacanze                                     6.38
5 Vladimir Karpets (Rus) Illes Balears-Caisse d'Epargne                       
6 Alberto Contador (Spa) Liberty Seguros-WŘrth                                
7 Thomas L÷vkvist (Swe) Franšaise Des Jeux                               11.51
8 JÚr˘me Pineau (Fra) Bouygues Telecom                                        
9 Joost Posthuma (Ned) Rabobank                                          14.24
10 Patrik Sinkewitz (Ger) Quick.Step                                     16.31
11 David Arroyo (Spa) Illes Balears-Caisse d'Epargne                          
12 Fabian Wegmann (Ger) Gerolsteiner                                     21.31
13 Alessandro Vanotti (Ita) Domina Vacanze                                    
14 Matthieu Sprick (Fra) Bouygues Telecom                                     
15 Francis Mourey (Fra) Franšaise Des Jeux                                    
16 Luis Leˇn Sanchez (Spa) Liberty Seguros-WŘrth                         28.03
17 Pieter Weening (Ned) Rabobank                                         28.41
18 Mauro Facci (Ita) Fassa Bortolo                                       31.29
19 Johan Vansummeren (Bel) Davitamon-Lotto                               33.51
20 David Loosli (Swi) Lampre-Caffita                                          
21 Allan Davis (Aus) Liberty Seguros-WŘrth                                    
22 Michael Albasini (Swi) Liquigas-Bianchi                               38.11
23 Bernhard Eisel (Aut) Franšaise Des Jeux                                    
24 Fabian Cancellara (Swi) Fassa Bortolo                                      
25 Tom Boonen (Bel) Quick.Step                                                
26 Philippe Gilbert (Bel) Franšaise Des Jeux                                  
27 Anthony Geslin (Fra) Bouygues Telecom                                      
28 Samuel Dumoulin (Fra) Ag2r-Prevoyance                                      
29 Andrei Grivko (Ukr) Domina Vacanze                                         
30 Simon Gerrans (Aus) Ag2r-Prevoyance                                        
 
Most combative
 
1 Laurent Brochard (Fra) Bouygues Telecom                                     
 
Teams
 
1 Illes Balears-Caisse DĺEpargne                                      14.38.32
2 T-Mobile Team                                                           2.59
3 Team Csc                                                                4.22
4 Phonak Hearing Systems                                                  5.46
5 Discovery Channel Team                                                  7.28
6 Liberty Seguros - WŘrth Team                                            7.46
7 Credit Agricole                                                         8.14
8 Saunier Duval - Prodir                                                 13.47
9 Davitamon - Lotto                                                      15.25
10 Rabobank                                                              17.43
11 Ag2R Prevoyance                                                       19.31
12 Cofidis Credit Par Telephone                                          19.42
13 Gerolsteiner                                                          22.37
14 Euskaltel - Euskadi                                                   25.25
15 Francaise Des Jeux                                                    25.46
16 Lampre - Caffita                                                      25.59
17 Domina Vacanze                                                        30.29
18 Bouygues Telecom                                                      30.42
19 Fassa Bortolo                                                         31.01
20 Liquigas - Bianchi                                                    39.59
21 Quick Step - Innergetic                                               52.22
 
General classification after stage 10
 
1 Lance Armstrong (USA) Discovery Channel                             37.11.04 (44.934 km/h)
2 Michael Rasmussen (Den) Rabobank                                        0.38
3 Ivan Basso (Ita) Team CSC                                               2.40
4 Christophe Moreau (Fra) Credit Agricole                                 2.42
5 Alejandro Valverde (Spa) Illes Balears-Caisse d'Epargne                 3.16
6 Levi Leipheimer (USA) Gerolsteiner                                      3.58
7 Francisco Mancebo (Spa) Illes Balears-Caisse d'Epargne                  4.00
8 Jan Ullrich (Ger) T-Mobile Team                                         4.02
9 Andreas Kl÷den (Ger) T-Mobile Team                                      4.16
10 Floyd Landis (USA) Phonak Hearing Systems                                  
11 Santiago Botero (Col) Phonak Hearing Systems                           5.20
12 J÷rg Jaksche (Ger) Liberty Seguros-WŘrth                               5.33
13 Cadel Evans (Aus) Davitamon-Lotto                                      5.55
14 Yaroslav Popovych (Ukr) Discovery Channel                              6.25
15 Andrei Kashechkin (Kaz) Credit Agricole                                6.32
16 Alexandre Vinokourov (Kaz) T-Mobile Team                                   
17 Bobby Julich (USA) Team CSC                                            6.37
18 Carlos Sastre (Spa) Team CSC                                               
19 Stefano Garzelli (Ita) Liquigas-Bianchi                                8.04
20 Kim Kirchen (Lux) Fassa Bortolo                                        8.15
21 Joseba Beloki (Spa) Liberty Seguros-WŘrth                              8.31
22 Eddy Mazzoleni (Ita) Lampre-Caffita                                    8.46
23 Vladimir Karpets (Rus) Illes Balears-Caisse d'Epargne                  9.03
24 Chris Horner (USA) Saunier Duval-Prodir                                9.05
25 Michael Rogers (Aus) Quick.Step                                        9.10
26 Haimar Zubeldia (Spa) Euskaltel-Euskadi                               10.07
27 Alberto Contador (Spa) Liberty Seguros-WŘrth                          10.23
28 Oscar Pereiro Sio (Spa) Phonak Hearing Systems                        10.35
29 Oscar Sevilla (Spa) T-Mobile Team                                     11.00
30 Georg Totschnig (Aut) Gerolsteiner                                    11.43
31 Mikel Astarloza (Spa) Ag2r-Prevoyance                                 12.02
32 George Hincapie (USA) Discovery Channel                               12.15
33 Giuseppe Guerini (Ita) T-Mobile Team                                  12.19
34 Sandy Casar (Fra) Franšaise Des Jeux                                  12.47
35 David MoncoutiÚ (Fra) Cofidis, Le Credit Par Telephone                12.59
36 Roberto Heras (Spa) Liberty Seguros-WŘrth                                  
37 Jose Azevedo (Por) Discovery Channel                                  13.03
38 Maxim Iglinski (Kaz) Domina Vacanze                                   13.08
39 StÚphane Goubert (Fra) Ag2r-Prevoyance                                13.45
40 Leonardo Piepoli (Ita) Saunier Duval-Prodir                           14.09
41 Axel Merckx (Bel) Davitamon-Lotto                                     14.42
42 Laurent Brochard (Fra) Bouygues Telecom                               14.53
43 Marcos Serrano (Spa) Liberty Seguros-WŘrth                            15.24
44 Paolo Savoldelli (Ita) Discovery Channel                              16.06
45 Denis Menchov (Rus) Rabobank                                          16.16
46 Pietro Caucchioli (Ita) Credit Agricole                               16.23
47 J÷rg Ludewig (Ger) Domina Vacanze                                     16.25
48 Michael Boogerd (Ned) Rabobank                                        17.55
49 JÚr˘me Pineau (Fra) Bouygues Telecom                                  18.14
50 Bradley McGee (Aus) Franšaise Des Jeux                                18.28
51 Jose Enrique Gutierrez (Spa) Phonak Hearing Systems                   19.41
52 Dario Frigo (Ita) Fassa Bortolo                                       20.32
53 Manuel Beltran (Spa) Discovery Channel                                21.25
54 Xabier Zandio (Spa) Illes Balears-Caisse d'Epargne                    21.44
55 Gorazd Stangelj (Slo) Lampre-Caffita                                  21.54
56 Thomas L÷vkvist (Swe) Franšaise Des Jeux                              22.13
57 Patrik Sinkewitz (Ger) Quick.Step                                     22.30
58 CÚdric Vasseur (Fra) Cofidis, Le Credit Par Telephone                 22.52
59 Patrice Halgand (Fra) Credit Agricole                                 23.14
60 Angel Vicioso (Spa) Liberty Seguros-WŘrth                             24.17
61 Jose Luis Rubiera (Spa) Discovery Channel                             25.27
62 Franco Pellizotti (Ita) Liquigas-Bianchi                              25.51
63 Alexandre Moos (Swi) Phonak Hearing Systems                           26.13
64 Lorenzo Bernucci (Ita) Fassa Bortolo                                  27.09
65 Nicolas Portal (Fra) Ag2r-Prevoyance                                  27.14
66 Iban Mayo (Spa) Euskaltel-Euskadi                                     27.31
67 Dario Cioni (Ita) Liquigas-Bianchi                                         
68 Stuart O'Grady (Aus) Cofidis, Le Credit Par Telephone                 28.36
69 Didier Rous (Fra) Bouygues Telecom                                    28.49
70 Juan Antonio Flecha (Spa) Fassa Bortolo                               28.58
71 Christophe Brandt (Bel) Davitamon-Lotto                               29.22
72 Jens Voigt (Ger) Team CSC                                             29.23
73 Nicki S÷rensen (Den) Team CSC                                         29.54
74 Matthias Kessler (Ger) T-Mobile Team                                  30.03
75 Beat Zberg (Swi) Gerolsteiner                                         30.23
76 Egoi Martinez (Spa) Euskaltel-Euskadi                                 30.33
77 David Arroyo (Spa) Illes Balears-Caisse d'Epargne                     30.54
78 Massimo Giunti (Ita) Fassa Bortolo                                    31.18
79 JosÚ Luis Arrieta (Spa) Illes Balears-Caisse d'Epargne                32.13
80 Nicolas Fritsch (Fra) Saunier Duval-Prodir                            32.33
81 Sylvain Chavanel (Fra) Cofidis, Le Credit Par Telephone               32.34
82 Ronny Scholz (Ger) Gerolsteiner                                       32.46
83 Sebastian Lang (Ger) Gerolsteiner                                     33.12
84 David Canada (Spa) Saunier Duval-Prodir                               33.40
85 Pieter Weening (Ned) Rabobank                                         33.41
86 Daniele Nardello (Ita) T-Mobile Team                                  33.57
87 Joost Posthuma (Ned) Rabobank                                         34.17
88 Pierrick FÚdrigo (Fra) Bouygues Telecom                               34.39
89 Stephan Schreck (Ger) T-Mobile Team                                   35.38
90 Walter BÚnÚteau (Fra) Bouygues Telecom                                35.56
91 Juan Manuel Garate (Spa) Saunier Duval-Prodir                         37.50
92 Volodimir Gustov (Ukr) Fassa Bortolo                                  38.28
93 Luis Leˇn Sanchez (Spa) Liberty Seguros-WŘrth                         38.31
94 Pavel Padrnos (Cze) Discovery Channel                                 38.57
95 Benjamin Noval (Spa) Discovery Channel                                39.19
96 Tobias Steinhauser (Ger) T-Mobile Team                                40.22
97 David Loosli (Swi) Lampre-Caffita                                     42.31
98 Gianluca Bortolami (Ita) Lampre-Caffita                               42.34
99 Inigo Landaluze (Spa) Euskaltel-Euskadi                               44.42
100 Iker Camano (Spa) Euskaltel-Euskadi                                  45.48
101 Philippe Gilbert (Bel) Franšaise Des Jeux                            46.46
102 Alessandro Cortinovis (Ita) Domina Vacanze                           46.55
103 Yuriy Krivtsov (Ukr) Ag2r-Prevoyance                                 48.33
104 Anthony Geslin (Fra) Bouygues Telecom                                50.27
105 Fabian Wegmann (Ger) Gerolsteiner                                    50.51
106 Bert Grabsch (Ger) Phonak Hearing Systems                            52.20
107 Kurt-Asle Arvesen (Nor) Team CSC                                     52.27
108 Giovanni Lombardi (Ita) Team CSC                                     53.08
109 Inaki Isasi (Spa) Euskaltel-Euskadi                                  54.04
110 Rubens Bertogliati (Swi) Saunier Duval-Prodir                        54.19
111 Mario Aerts (Bel) Davitamon-Lotto                                    54.46
112 Luke Roberts (Aus) Team CSC                                          56.11
113 Francis Mourey (Fra) Franšaise Des Jeux                              58.55
114 Bram Tankink (Ned) Quick.Step                                        59.33
115 Marcus Ljungqvist (Swe) Liquigas-Bianchi                           1.01.02
116 Matthieu Sprick (Fra) Bouygues Telecom                             1.01.57
117 Andrei Grivko (Ukr) Domina Vacanze                                 1.02.02
118 Fred Rodriguez (USA) Davitamon-Lotto                               1.02.45
119 Allan Davis (Aus) Liberty Seguros-WŘrth                            1.02.59
120 Salvatore Commesso (Ita) Lampre-Caffita                            1.03.16
121 Thierry Marichal (Bel) Cofidis, Le Credit Par Telephone            1.04.00
122 Mauro Facci (Ita) Fassa Bortolo                                    1.04.29
123 Matthew White (Aus) Cofidis, Le Credit Par Telephone               1.04.52
124 Alessandro Vanotti (Ita) Domina Vacanze                            1.05.14
125 Thomas Voeckler (Fra) Bouygues Telecom                             1.05.40
126 Laszlo Bodrogi (Hun) Credit Agricole                               1.06.36
127 Nicolas Jalabert (Fra) Phonak Hearing Systems                      1.06.40
128 Daniele Righi (Ita) Lampre-Caffita                                 1.06.56
129 Ludovic Turpin (Fra) Ag2r-Prevoyance                               1.09.32
130 Michael Rich (Ger) Gerolsteiner                                    1.10.15
131 StÚphane AugÚ (Fra) Cofidis, Le Credit Par Telephone               1.10.28
132 Erik Dekker (Ned) Rabobank                                         1.10.51
133 Fabian Cancellara (Swi) Fassa Bortolo                              1.11.09
134 Tom Boonen (Bel) Quick.Step                                        1.11.40
135 Carlos Da Cruz (Fra) Franšaise Des Jeux                            1.11.53
136 Thor Hushovd (Nor) Credit Agricole                                 1.11.59
137 Robbie McEwen (Aus) Davitamon-Lotto                                1.12.00
138 Alessandro Bertolini (Ita) Domina Vacanze                          1.12.08
139 Magnus Backstedt (Swe) Liquigas-Bianchi                            1.12.10
140 Mauro Gerosa (Ita) Liquigas-Bianchi                                1.12.51
141 Bernhard Eisel (Aut) Franšaise Des Jeux                            1.13.37
142 David Herrero (Spa) Euskaltel-Euskadi                              1.14.07
143 SÚbastien Joly (Fra) Credit Agricole                               1.14.36
144 Baden Cooke (Aus) Franšaise Des Jeux                               1.15.13
145 Angelo Furlan (Ita) Domina Vacanze                                 1.15.14
146 Wim Vansevenant (Bel) Davitamon-Lotto                              1.15.45
147 Marc Wauters (Bel) Rabobank                                        1.15.52
148 Johan Vansummeren (Bel) Davitamon-Lotto                            1.16.32
149 Kjell Carlstr÷m (Fin) Liquigas-Bianchi                             1.17.07
150 Michael Albasini (Swi) Liquigas-Bianchi                            1.17.46
151 Gerben L÷wik (Ned) Rabobank                                        1.17.54
152 Manuel Quinziato (Ita) Saunier Duval-Prodir                        1.17.57
153 Unai Etxebarria (Ven) Euskaltel-Euskadi                            1.18.05
154 Guido Trenti (USA) Quick.Step                                      1.18.08
155 SÚbastien Hinault (Fra) Credit Agricole                            1.18.10
156 Wilfried Cretskens (Bel) Quick.Step                                1.18.20
157 Robert Hunter (RSA) Phonak Hearing Systems                         1.18.30
158 Karsten Kroon (Ned) Rabobank                                       1.18.42
159 Simon Gerrans (Aus) Ag2r-Prevoyance                                1.18.45
160 Peter Wrolich (Aut) Gerolsteiner                                   1.18.54
161 Samuel Dumoulin (Fra) Ag2r-Prevoyance                              1.18.58
162 Robert F÷rster (Ger) Gerolsteiner                                  1.19.39
163 Laurent LefŔvre (Fra) Bouygues Telecom                             1.21.15
164 Servais Knaven (Ned) Quick.Step                                    1.21.34
165 Kevin Hulsmans (Bel) Quick.Step                                    1.22.09
166 Jose Vicente GarcÝa Acosta (Spa) Illes Balears-Caisse d'Epargne    1.22.17
167 Rafael Nuritdinov (Uzb) Domina Vacanze                             1.23.17
168 Stefano Zanini (Ita) Quick.Step                                    1.23.44
169 FrÚdÚric Bessy (Fra) Cofidis, Le Credit Par Telephone              1.23.52
170 Daniel Becke (Spa) Illes Balears-Caisse d'Epargne                  1.27.01
171 Janek Tombak (Est) Cofidis, Le Credit Par Telephone                1.29.31
172 Jean-Patrick Nazon (Fra) Ag2r-Prevoyance                           1.39.56
173 Iker Flores (Spa) Euskaltel-Euskadi                                1.48.30
 
Points classification
 
1 Tom Boonen (Bel) Quick.Step                                              133 pts
2 Thor Hushovd (Nor) Credit Agricole                                       128
3 Stuart O'Grady (Aus) Cofidis, Le Credit Par Telephone                    109
4 Robbie McEwen (Aus) Davitamon-Lotto                                       96
5 Robert F÷rster (Ger) Gerolsteiner                                         75
6 Angelo Furlan (Ita) Domina Vacanze                                        73
7 Jens Voigt (Ger) Team CSC                                                 70
8 Bernhard Eisel (Aut) Franšaise Des Jeux                                   69
9 Peter Wrolich (Aut) Gerolsteiner                                          60
10 Baden Cooke (Aus) Franšaise Des Jeux                                     59
11 Gianluca Bortolami (Ita) Lampre-Caffita                                  58
12 Allan Davis (Aus) Liberty Seguros-WŘrth                                  58
13 Michael Rasmussen (Den) Rabobank                                         56
14 Laurent Brochard (Fra) Bouygues Telecom                                  56
15 Juan Antonio Flecha (Spa) Fassa Bortolo                                  55
16 JÚr˘me Pineau (Fra) Bouygues Telecom                                     53
17 Alexandre Vinokourov (Kaz) T-Mobile Team                                 51
18 Magnus Backstedt (Swe) Liquigas-Bianchi                                  49
19 Kim Kirchen (Lux) Fassa Bortolo                                          41
20 Anthony Geslin (Fra) Bouygues Telecom                                    41
21 Alejandro Valverde (Spa) Illes Balears-Caisse d'Epargne                  40
22 Christophe Moreau (Fra) Credit Agricole                                  39
23 Oscar Pereiro Sio (Spa) Phonak Hearing Systems                           37
24 Lorenzo Bernucci (Ita) Fassa Bortolo                                     35
25 Jan Ullrich (Ger) T-Mobile Team                                          32
26 Lance Armstrong (USA) Discovery Channel                                  30
27 Pieter Weening (Ned) Rabobank                                            29
28 Andreas Kl÷den (Ger) T-Mobile Team                                       29
29 Philippe Gilbert (Bel) Franšaise Des Jeux                                29
30 Daniel Becke (Spa) Illes Balears-Caisse d'Epargne                        29
31 Cadel Evans (Aus) Davitamon-Lotto                                        27
32 Jean-Patrick Nazon (Fra) Ag2r-Prevoyance                                 27
33 Sebastian Lang (Ger) Gerolsteiner                                        25
34 Laszlo Bodrogi (Hun) Credit Agricole                                     24
35 Erik Dekker (Ned) Rabobank                                               24
36 Robert Hunter (RSA) Phonak Hearing Systems                               24
37 Chris Horner (USA) Saunier Duval-Prodir                                  24
38 Fabian Cancellara (Swi) Fassa Bortolo                                    24
39 Manuel Quinziato (Ita) Saunier Duval-Prodir                              24
40 Maxim Iglinski (Kaz) Domina Vacanze                                      23
41 Kurt-Asle Arvesen (Nor) Team CSC                                         22
42 Guido Trenti (USA) Quick.Step                                            21
43 Stefano Garzelli (Ita) Liquigas-Bianchi                                  20
44 Mauro Gerosa (Ita) Liquigas-Bianchi                                      19
45 Massimo Giunti (Ita) Fassa Bortolo                                       19
46 Salvatore Commesso (Ita) Lampre-Caffita                                  18
47 Egoi Martinez (Spa) Euskaltel-Euskadi                                    18
48 George Hincapie (USA) Discovery Channel                                  17
49 Fabian Wegmann (Ger) Gerolsteiner                                        16
50 David Loosli (Swi) Lampre-Caffita                                        15
51 Inaki Isasi (Spa) Euskaltel-Euskadi                                      15
52 Rubens Bertogliati (Swi) Saunier Duval-Prodir                            14
53 Levi Leipheimer (USA) Gerolsteiner                                       14
54 Yuriy Krivtsov (Ukr) Ag2r-Prevoyance                                     14
55 Daniele Righi (Ita) Lampre-Caffita                                       14
56 Francisco Mancebo (Spa) Illes Balears-Caisse d'Epargne                   13
57 Fred Rodriguez (USA) Davitamon-Lotto                                     13
58 Ivan Basso (Ita) Team CSC                                                12
59 Nicolas Portal (Fra) Ag2r-Prevoyance                                     11
60 Eddy Mazzoleni (Ita) Lampre-Caffita                                      11
61 Dario Frigo (Ita) Fassa Bortolo                                          11
62 Xabier Zandio (Spa) Illes Balears-Caisse d'Epargne                       11
63 StÚphane AugÚ (Fra) Cofidis, Le Credit Par Telephone                     10
64 Floyd Landis (USA) Phonak Hearing Systems                                10
65 Bobby Julich (USA) Team CSC                                              10
66 J÷rg Jaksche (Ger) Liberty Seguros-WŘrth                                  9
67 Franco Pellizotti (Ita) Liquigas-Bianchi                                  9
68 Gerben L÷wik (Ned) Rabobank                                               9
69 SÚbastien Hinault (Fra) Credit Agricole                                   9
70 Andrei Kashechkin (Kaz) Credit Agricole                                   8
71 Janek Tombak (Est) Cofidis, Le Credit Par Telephone                       8
72 Christophe Brandt (Bel) Davitamon-Lotto                                   7
73 Dario Cioni (Ita) Liquigas-Bianchi                                        6
74 Bert Grabsch (Ger) Phonak Hearing Systems                                 6
75 Kjell Carlstr÷m (Fin) Liquigas-Bianchi                                    6
76 Bradley McGee (Aus) Franšaise Des Jeux                                    5
77 Leonardo Piepoli (Ita) Saunier Duval-Prodir                               4
78 Angel Vicioso (Spa) Liberty Seguros-WŘrth                                 4
79 Nicki S÷rensen (Den) Team CSC                                             4
80 Joost Posthuma (Ned) Rabobank                                             4
81 Luis Leˇn Sanchez (Spa) Liberty Seguros-WŘrth                             4
82 Mauro Facci (Ita) Fassa Bortolo                                           4
83 Thomas Voeckler (Fra) Bouygues Telecom                                    4
84 Georg Totschnig (Aut) Gerolsteiner                                        3
85 Michael Boogerd (Ned) Rabobank                                            3
86 Matthew White (Aus) Cofidis, Le Credit Par Telephone                      3
87 Santiago Botero (Col) Phonak Hearing Systems                              2
88 Vladimir Karpets (Rus) Illes Balears-Caisse d'Epargne                     2
89 Michael Rogers (Aus) Quick.Step                                           2
90 Sandy Casar (Fra) Franšaise Des Jeux                                      2
91 CÚdric Vasseur (Fra) Cofidis, Le Credit Par Telephone                     2
92 David Canada (Spa) Saunier Duval-Prodir                                   2
93 Alessandro Cortinovis (Ita) Domina Vacanze                                2
94 Walter BÚnÚteau (Fra) Bouygues Telecom                                   -5
95 Pavel Padrnos (Cze) Discovery Channel                                    -5
96 Inigo Landaluze (Spa) Euskaltel-Euskadi                                  -5
97 Simon Gerrans (Aus) Ag2r-Prevoyance                                      -5
 
Mountains classification
 
1 Michael Rasmussen (Den) Rabobank                                         110 pts
2 Christophe Moreau (Fra) Credit Agricole                                   40
3 Jens Voigt (Ger) Team CSC                                                 37
4 Dario Cioni (Ita) Liquigas-Bianchi                                        34
5 Alejandro Valverde (Spa) Illes Balears-Caisse d'Epargne                   30
6 Lance Armstrong (USA) Discovery Channel                                   26
7 Andreas Kl÷den (Ger) T-Mobile Team                                        20
8 Alexandre Moos (Swi) Phonak Hearing Systems                               20
9 Francisco Mancebo (Spa) Illes Balears-Caisse d'Epargne                    18
10 Angel Vicioso (Spa) Liberty Seguros-WŘrth                                18
11 Pieter Weening (Ned) Rabobank                                            18
12 Santiago Botero (Col) Phonak Hearing Systems                             17
13 Inigo Landaluze (Spa) Euskaltel-Euskadi                                  17
14 Laurent Brochard (Fra) Bouygues Telecom                                  16
15 Ivan Basso (Ita) Team CSC                                                16
16 Levi Leipheimer (USA) Gerolsteiner                                       14
17 Joost Posthuma (Ned) Rabobank                                            13
18 Xabier Zandio (Spa) Illes Balears-Caisse d'Epargne                       13
19 Jan Ullrich (Ger) T-Mobile Team                                          12
20 Eddy Mazzoleni (Ita) Lampre-Caffita                                      12
21 Yuriy Krivtsov (Ukr) Ag2r-Prevoyance                                     11
22 Fabian Wegmann (Ger) Gerolsteiner                                        10
23 Cadel Evans (Aus) Davitamon-Lotto                                        10
24 Bobby Julich (USA) Team CSC                                              10
25 Andrei Kashechkin (Kaz) Credit Agricole                                  10
26 Luis Leˇn Sanchez (Spa) Liberty Seguros-WŘrth                             9
27 StÚphane AugÚ (Fra) Cofidis, Le Credit Par Telephone                      8
28 Mauro Facci (Ita) Fassa Bortolo                                           8
29 Karsten Kroon (Ned) Rabobank                                              7
30 Thomas Voeckler (Fra) Bouygues Telecom                                    7
31 Gianluca Bortolami (Ita) Lampre-Caffita                                   7
32 Erik Dekker (Ned) Rabobank                                                6
33 Inaki Isasi (Spa) Euskaltel-Euskadi                                       6
34 George Hincapie (USA) Discovery Channel                                   6
35 J÷rg Jaksche (Ger) Liberty Seguros-WŘrth                                  5
36 Rubens Bertogliati (Swi) Saunier Duval-Prodir                             5
37 Laszlo Bodrogi (Hun) Credit Agricole                                      3
38 Ronny Scholz (Ger) Gerolsteiner                                           3
39 Mauro Gerosa (Ita) Liquigas-Bianchi                                       3
40 Michael Boogerd (Ned) Rabobank                                            2
41 Beat Zberg (Swi) Gerolsteiner                                             2
42 David Canada (Spa) Saunier Duval-Prodir                                   2
43 Kjell Carlstr÷m (Fin) Liquigas-Bianchi                                    2
44 Nicolas Portal (Fra) Ag2r-Prevoyance                                      2
45 Stefano Garzelli (Ita) Liquigas-Bianchi                                   1
46 Salvatore Commesso (Ita) Lampre-Caffita                                   1
 
Young rider classification
 
1 Alejandro Valverde (Spa) Illes Balears-Caisse d'Epargne             37.14.20
2 Yaroslav Popovych (Ukr) Discovery Channel                               3.09
3 Andrei Kashechkin (Kaz) Credit Agricole                                 3.16
4 Vladimir Karpets (Rus) Illes Balears-Caisse d'Epargne                   5.47
5 Alberto Contador (Spa) Liberty Seguros-WŘrth                            7.07
6 Maxim Iglinski (Kaz) Domina Vacanze                                     9.52
7 JÚr˘me Pineau (Fra) Bouygues Telecom                                   14.58
8 Thomas L÷vkvist (Swe) Franšaise Des Jeux                               18.57
9 Patrik Sinkewitz (Ger) Quick.Step                                      19.14
10 David Arroyo (Spa) Illes Balears-Caisse d'Epargne                     27.38
11 Pieter Weening (Ned) Rabobank                                         30.25
12 Joost Posthuma (Ned) Rabobank                                         31.01
13 Luis Leˇn Sanchez (Spa) Liberty Seguros-WŘrth                         35.15
14 David Loosli (Swi) Lampre-Caffita                                     39.15
15 Philippe Gilbert (Bel) Franšaise Des Jeux                             43.30
16 Anthony Geslin (Fra) Bouygues Telecom                                 47.11
17 Fabian Wegmann (Ger) Gerolsteiner                                     47.35
18 Francis Mourey (Fra) Franšaise Des Jeux                               55.39
19 Matthieu Sprick (Fra) Bouygues Telecom                                58.41
20 Andrei Grivko (Ukr) Domina Vacanze                                    58.46
21 Allan Davis (Aus) Liberty Seguros-WŘrth                               59.43
22 Mauro Facci (Ita) Fassa Bortolo                                     1.01.13
23 Alessandro Vanotti (Ita) Domina Vacanze                             1.01.58
24 Fabian Cancellara (Swi) Fassa Bortolo                               1.07.53
25 Tom Boonen (Bel) Quick.Step                                         1.08.24
26 Bernhard Eisel (Aut) Franšaise Des Jeux                             1.10.21
27 Johan Vansummeren (Bel) Davitamon-Lotto                             1.13.16
28 Michael Albasini (Swi) Liquigas-Bianchi                             1.14.30
29 Simon Gerrans (Aus) Ag2r-Prevoyance                                 1.15.29
30 Samuel Dumoulin (Fra) Ag2r-Prevoyance                               1.15.42
 
Teams classification
 
1 Team Csc                                                           109.22.46
2 T-Mobile Team                                                           3.27
3 Illes Balears-Caisse DĺEpargne                                          3.54
4 Phonak Hearing Systems                                                  7.26
5 Discovery Channel Team                                                  8.04
6 Liberty Seguros - WŘrth Team                                            9.46
7 Credit Agricole                                                        11.49
8 Rabobank                                                               15.56
9 Saunier Duval - Prodir                                                 22.55
10 Gerolsteiner                                                          28.28
11 Davitamon - Lotto                                                     28.54
12 Ag2R Prevoyance                                                       32.47
13 Cofidis Credit Par Telephone                                          33.08
14 Fassa Bortolo                                                         35.03
15 Francaise Des Jeux                                                    35.56
16 Euskaltel - Euskadi                                                   37.06
17 Lampre - Caffita                                                      37.49
18 Bouygues Telecom                                                      40.33
19 Liquigas - Bianchi                                                    47.25
20 Domina Vacanze                                                        58.48
21 Quick Step - Innergetic                                             1.13.54