Tour de France Cycling News for July 2, 2005
Edited by Jeff Jones & Hedwig Kröner
7 threats for Armstrong's 7
An interview with Marcel Wüst
Marcel Wüst
Photo ©: AFP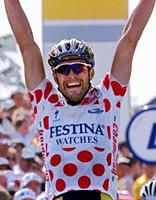 With less than a day to go before the start of a hopefully epic 92nd Tour de France, everybody asks the same questions: What will this year's race bring? How will the story unfold? Who will win which stage, who will end up in Yellow, Green and Polka Dots? At the Tour's mobile HQ in Challans, Cyclingnews Hedwig Kröner caught up with a guy who once won a bunch sprint in front of the likes of Erik Zabel and Tom Steels, but wearing the Polka Dot mountain jersey: Marcel Wüst.
That was back in 2000, and in that same summer the former pro sprinter was forced to quit his job when a bad crash almost cost him his life, but definitely took away the sight in one of his eyes, making further racing impossible even after his recovery. Nonetheless, Wüst remained inside the pro cycling circus, using his countless contacts to work for various teams as a press officer, as well as expert commentator for German TV broadcaster ARD.
CN: Marcel, who's your favourite for tomorrow's time trial?
Marcel Wüst: Michael Rich. I'm convinced he can pull it off, and I would really be happy for him. Gerolsteiner deserves a big win like that. But of course, the usual suspects like Ullrich, Armstrong, Cancellara, maybe Botero and the other time trial specialists will also be there. But it's hard to say as we haven't seen them seriously race against each other just before the Tour. There will definitely be big time differences with the head- and side wind coming from the sea, so it will surely reveal who's hot and who's not...
Click here for the full interview.
Team presentation a spectacular affair
By Jon Devich in Challans
Euskaltel-Euskadi
Photo ©: Jon Devich

Thousands turned out for the Tour de France team presentation on Friday in Challans. Cloudy skies and threats of showers didn't deter eager fans from lining the 1km parade lap. This year Tour organizers debuted a different format to the presentation compared to previous years when a simple stage and roll-up showcased each team. Always trying to outdo itself, the Tour presented each team on an elaborate stage with spectacular lighting and even a low hanging fog. After a team rolled up and each rider was presented, the group exited the Parc des Sports to be escorted by young riders holding Tour and country flags. Fans could then get a close up look at their favourites as they made their way around the loop. Supplementing the 21 teams was a recreation of a turn of the century race caravan made up of riders and historical vehicles.
The riders seemed to really enjoy their time under the lights, and every team rolled into the streets with wide smiles on their faces. Lance Armstrong looked laid back and relaxed as usual, fielding a couple of questions while on stage. Main rival Jan Ullrich looked equally relaxed, even though he was sporting a bandage on his neck which covered up the minor cuts from his crash while training earlier in the day.
Thomas Voeckler (Bouygues Telecom)
Photo ©: Jon Devich

The hero of the evening had to be Thomas Voeckler. Voeckler and his Bouygues Telecom team brought the loudest cheers from the audience who kept clapping well after the team got in place on the stage. Director Sportif Christian Guiberteau became heartwarmingly emotional during his thank you words to the Tour organization. Voeckler's welcome was then just as loud outside the Parc des Sports as the team came into the street for the parade.
The evening ended as teams completed the loop and headed back to the buses. Fans crowded behind the barriers for a better view but with a big day tomorrow their was no lingering by the riders. Today kicks off at 15:40 with the last rider, Lance Armstrong, leaving the start house at 18:48. With high winds along the coast it should prove to be an exciting race.
Photography
For a thumbnail gallery of these images, click here
Images by Jonathan Devich/epicimages.us
Relentless Ullrich looking forward to party
In his last pre-Tour 2005 press conference in Challans on Thursday, Jan Ullrich looked pretty relaxed. The T-Mobile star was able to prepare the biggest event of the year without interferences, and is convinced that his form is just right for July - not just for the mountain stages starting the second Tour week, but also for the first time trial today. "I believe I can perform well at the time trial," he said. "I haven't really got the Yellow jersey in mind, because that would put a lot of pressure on the team right away. But I will give everything of course and see what I can pull off."
"Der Kaiser" also talked about Lance Armstrong, who will be the one to beat once again, but for the last time. "I think he will be very strong again this year," Ullrich said. "Otherwise, he wouldn't have lined up at the start. But he, too, has weaknesses, and if he shows them, we will use it. Another year, another opportunity," he optimistically added. Ullrich knows it's his last chance to beat the Texan after so many attempts - but he hasn't really imagined life without Armstrong yet.
Asked if he would miss his rival after this year's Tour, he replied, "I haven't thought about that yet. But the whole cycling world will miss him, because he dominated it during the last years. If there is a big farewell party, I sure hope I'll be invited. There might be a tear or two..."
Basso optimistic
Ivan Basso (CSC) is tipped as being one of Lance Armstrong's most dangerous challengers during this year's Tour. After finishing third last year, Basso has improved another notch this year, even if he couldn't completely demonstrate it during the Giro. But coming into the Tour, Basso is confident that he is up to the task.
"I don't know where I'm at in comparison with Ullrich or Armstrong," he told L'Equipe. "But I know that I've done everything to be ready and that I'll attack Armstrong when I can."
Basso recalled his race last year, where he performed well but suffered in the mountain time trial on l'Alpe d'Huez. "Until L'Alpe d'Huez, I felt as though I could make that Tour explode, and that euphoric feeling never left me," he said. He has trained all winter on the Düsseldorf, Germany track to improve his time trialling. "I think I've shown at the Giro that I improved with regard to that, without losing my capabilities in the mountains."
Basso reconnoitred the final ascent to Courchevel, today's time tiral and the Blois time tiral, "but not more," he added.
He learned a lot at this year's Giro, mainly about himself. "Ít was important for me to prove to myself that I was able to overcome the worst moments of crisis." A similar attitude to that of his biggest Tour rival, Lance Armstrong.
Riis downplays Ullrich
CSC team manager Bjarne Riis knows what it takes to win the Tour, having done it himself in 1996 and being by the side of Jan Ullrich when the young German did it in 1997. But in 2005, eight years after Ullrich's victory, Riis doesn't believe that Jan can dethrone Lance, and feels the greater challenge will come from elsewhere. "After what I saw of Jan during the Tour de Suisse, I can't say that I'm impressed," said Riis to Dutch newspaper AD. "In the big mountains, he comes too short, certainly in comparison with Vinokourov. I consider him as a much more dangerous customer.
As far as Basso's chances go, Riis believes that he will recover from his bad Giro. "Ivan is no Simoni," said Riis. "To ride a second Grand Tour is a question of motivation, of mentality, and of thorough, sophisticated preparation. I can say that these elements are present to a large degree. Ivan is ready for the Tour.
New sponsor
Italian company, Nobili, will become a new sponsor for Team CSC starting with this year's Tour de France. Nobili, which produces water taps and tap fittings, will have a prominent spot on the Team CSC jersey both front and back. The deal is for one year, initially.
"We see this sponsorship deal with Team CSC as a unique opportunity to get exposure for our brand internationally, and we are happy to have found a strong partner in Riis Cycling," said Nobili's export manager Carlo del Negro. "We have commercial interests all over Europe, and that is why this sponsorship works for us. We have very good experiences with cycling via other sponsorship agreements, but the deal with Team CSC is at a much higher level."
Riis Cycling's sales and marketing manager, Lars Gjøls-Andersen, expressed his pleasure with the deal, and hoped it would "open the door to a more lengthy agreement."
Lefévère angry at Sinkewitz
Bad vibes have been reported inside the Quick.Step team bus. Team manager Patrick Lefévère spoke out to Belgian media sportwereld.be about his anger at Patrik Sinkewitz' announcement to leave the squad for T-Mobile next year. "If I could replace Sinkewitz in our Tour team, I would do it immediately," the Belgian said. "He broke his word. The German is a false player all the way. I have an agreement with his manager Tony Rominger and e-mails from Sinkewitz himself saying that he would sign a new two-year contract at the Tour. He just used me to get on the Tour roster. [...] He shouldn't expect any support from our team. He's only 25, so he will still be around for some years if he's not suspended or victim of a crash. The wheel is round and continues to spin and it's only a small world. I'll get him sooner or later."
No rain today, but... sardines?
Just in time for the Tour de France, the French will not miss out on the opportunity to show their discontent over national matters. Using the media coverage, the "Grande Boucle" is a perfect occasion for the country's typical protests. Unhappy about new governmental restraints, the sardine fishermen of the Atlantic Ocean have therefore threatened to throw fish on the parcours of the time trial today. Weather forecasts have not predicted any rain for today, fortunately, so let's hope the riders won't slide over wet sardines...
Weather update
It should be a dry, but windy day for the 189 riders taking part in the first stage of the Tour de France between Fromentine and Noirmoutier. After a cloudy morning, it's supposed to clear more towards the afternoon and evening as the weather front moves east. The wind direction may change from northwest and switch around to the west, meaning it will be a head/crosswind, blowing at 10-20 km/h. The temperature will be 17 degrees in the morning, rising to 25 in the afternoon.
(All rights reserved/Copyright Knapp Communications Pty Limited 2005)