92nd Tour de France - July 2-24, 2005
An interview with Inigo Landaluze, July 8, 2005
Orange crusader
After his resounding win in the Dauphiné Libéré, the name Iñigo Landaluze is on the lips of many a Tour observer. Stars of Euskaltel-Euskadi's squad, Iban Mayo and Haimar Zubeldia, appear to have top-quality climbing company in this 28-year-old from Getxo. He is part of the 100% Basque outfit looking to demonstrate its power throughout the three weeks of the Tour de France, and Cyclingnews' Hernan Alvarez Macias caught up with the rider likely to come through as a dark horse at this year's edition.
Relaxing before stage 5
Photo ©: Sirotti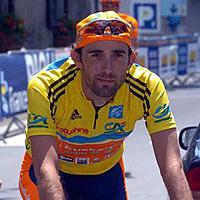 It was surprising to see a little-known rider beating giants of the mountains such as Phonak's Santiago Botero or Gerolsteiner's Levi Leipheimer on the last day of Dauphiné in Sallanches. The Tour's king, Lance Armstrong (Discovery Channel) ended up fourth. It was his first and only race victory, but it wasn't a minor championship win, as many of the riders at this year's Tour were there on the French Alps, trailing the Orange crusader.
Cyclingnews: How was that triumph in Dauphiné Libéré?
Iñigo Landaluze: I got in a breakaway and we made a gap. It was a mountain stage, a tough stage; we made the gap and I was able to maintain that lead over the final days.
CN: It was a bit unexpected for you, right?
IL: Yes, it was unexpected. The truth is that I didn't go to that race with the intention of fighting for the general victory; I went with the intention of fighting for the stage so I got in a breakaway. I'm neither a time trial specialist nor a climber. I'm a rider for the medium-mountain stages, not the high-mountain stages. It followed that pattern and I became the leader - I was feeling very good and was able to stay with the leaders.
CN: The victory would have more value for you, considering you beat riders as good as Armstrong, Botero or Leipheimer?
Riding hard on stage 6
Photo ©: AFP

IL: Yes, the truth is that it was a Dauphiné raced at a high standard. There were many riders who will race the Tour. The day I got the leader's jersey nobody expected that I would be able to keep that lead. But I felt good, and with some smart riding I was able to maintain that advantage to the finish.
CN: Why do you think you performed better in the Dauphiné than in other races that you took part in this year like Flèche Wallonne or Gent-Wevelgem?
IL: I truly expected to perform well in the classics, but...I rode those classics like Gent for the first time. They are races where experience is really important. I think that we'll see in the future how I do in those races - I raced them with the intention of learning overall. On the other hand, in Dauphiné I ended up tenth on the general classification last year and I was familiar with it.
CN: How are you feeling going into the Tour de France?
Looking fatigued but contented
Photo ©: Sirotti

IL: Excitement in the team is high after having a bad start to the season for the team in general. We will see how we do there. Iban Mayo is our team leader and we'll be there to protect him. I think we have a team with more experienced riders than in previous years and we make it a good race.
CN: Your team leader will be Iban Mayo, no doubt about it. But will you, and possibly Haimar Zubeldia go for something else other than protecting your leader? What do you think?
IL: Yes, we have a team, as I told you before, with plenty of experience...Zubeldia, Martinez, or Camaño, who rode a good Tour last year in his debut. And myself also. I think we are able to be there. The goals with which we start the competition are very clear: be with Iban and see how he is feeling; we will try to protect him. Then, we'll see what happens.
CN: Do you have any special stages marked out to attack where you could have a chance of victory?
IL: There are the same medium-mountain stages as last year. I will see how my strengths are. It's obvious that if in any day there's a chance to get in a breakaway, I will go forward. I haven't marked a precise stage at all. After Dauphiné we didn't have time to see the route. Now that we are amongst the Tour we'll have time to see which stages could fit our characteristics. Before the Alps, there are some medium-mountain stages, close to Germany, around there. I think that from the Tours I rode, this year is one with more medium-mountain stages.
CN: There you have some chances...
Cool, calm and composed
Photo ©: Sirotti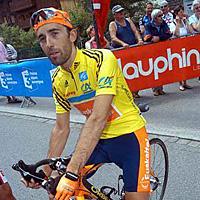 IL: Yes, like in the Dauphiné when I became leader. The Grenoble stage was a stage with some category 2 climbs, one category 1 climb, category 3 climbs - that type of stages really suit me well.
CN: In your first Tour in 2003 you ended 101st in the general classification, last year 52nd. Do you think you can improve on this?
IL: It's not actually a goal for me. It's the same for me to finish 40th, 30th or 60th in the Tour. I would have been satisfied last year finishing in last position on general classification and winning the ninth stage [St Leonard de Noblat - Guéret] when I was caught on the finish line. There are not many Tour stage winners. Personally, I prefer to win one stage.
CN: Winning one stage in the Grande Boucle is not the same is in any other race, is it?
IL: I think that winning one stage in the Tour is equalvalent to doing very good in the general classification. There are some riders who prefer to finish sixth, seventh...winning one stage would be my most important personal and sporting joy.
CN: Who do you see as the overall winner in Paris?
Clearly delighted with his win
Photo ©: Sirotti

IL: I think I see Armstrong; it's rather clear. He's the winner of the last six editions and is in very good condition. In Dauphiné I saw that he's looking well. And his team has good riders for this season; it's a very good team. The rest are all candidates, but they are two steps behind him.
CN: So, you think the real fight will be for the second place as has happened over the last few years...
IL: Yes, I think so. I'm sure about it. Watching how he won his last Tour, and I'm certain.
CN: And apart from Armstrong, who do you see as some other strong riders?
IL: There are lot of strong riders. Riders like Andreas Klöden and also Ivan Basso will be up the front. Also, Botero has been very strong, but we'll see if he maintains his consistency throughout the three weeks. Francisco Mancebo is always there too. I can't see why this couldn't be the year Mancebo gets on the podium?
CN: What are the advantages, if any, of riding for a team from your own region full of people from your region, the Basque Country?
Who's a happy boy then...?
Photo ©: Sirotti

IL: It's very nice, especially thinking of the Pyrenees stages where the Basque fans go. The Pyrenees are very close to the Basque Country, so the fans help make those stages really beautiful. This excites me a lot because you see how much people are supporting the team.
CN: The fact that all the riders from the Basque Country makes you a more solid team, right?
IL: Yes, for sure. In the end, we are like a family. For good and for bad. It's certain that the fact of being friends, or being from the same region is an advantage, compared to other teams where everyone is from different regions and countries.
CN: Do you think the Pro Tour structure will change anything for the Tour de France?
IL: I don't think so. There are other races that can change with the Pro Tour but not the Tour de France. Races like the Tour de Romandie or Dauphiné were altered, where this year the level was superior to last year's. Or the Giro, as some teammates told me that, where the race was ridden very differently. It wasn't just a case of riding it the 'Italian' way where most riders are Italian anyway. In the end, however, the Tour always attracts the best riders and the best teams, so the it shouldn't change with the Pro Tour system.