Barclay's Global Investors Grand Prix - 1.HC
USA, September 4, 2005
Wegmann pounces on late-race win in San Fran
Lieswyn and McCartney left holding second and third
By Mark Zalewski, North American Editor in San Francisco
Fabian Wegmann (Gerolsteiner)
Photo ©: Jon Devich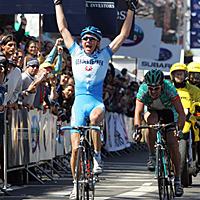 Gerolsteiner's team leader Levi Leipheimer knew that he and the other race favourites would have a tough time slipping away from the field at the Barclays Global Investors Grand Prix, so he tipped a teammate to take advantage of being a less-known rider in the American peloton. "It's tough for guys like George, Horner and me to do anything because everybody watches us," Leipheimer told Cyclingnews after the race. "But I told Fabian for the last three weeks that San Francisco has got your name written all over it!" If it didn't before, it does now - on a check for fifteen thousand dollars as Wegmann out-sprinted John Lieswyn (Health Net-Maxxis) and Jason McCartney (Discovery Channel) for a calculated win.
Up until the final Taylor Street climb, it was the former teammates Lieswyn and McCartney riding together ahead of the rest. But waiting patiently was Wegmann and his teammate Andrea Moletta who had been chasing thirty seconds behind for much of the final laps. On the final ascent up Taylor Wegmann used the last of Moletta's energy to launch himself the rest of the way. "The hill is very hard," Moletta said. "I worked for Fabian and on the last lap I gave it all!"
"Without [Moletta] I couldn't do this," Wegmann admitted. "He was really strong today and he gave much. He went full from the climb and then I went full and catch them." The twenty-five year old winner of the 2004 Giro d'Italia KOM jersey then used the final descent down the water to rest and plan his attack. Half-way down his face showed the pain of the race, but he quickly turned that around and attacked.
John Lieswyn (Health Net)
Photo ©: Michael David Murphy

"I was watching John, I thought he was the strongest," McCartney explained. "The Gerolsteiner rider... I think he was playing! I just raced with him in Germany where he had the King of the Mountains for a day or two. I know it was touch-and-go and I know his teammate was working hard. We had been out there a long time."
Responding to Wegmann's attack was Lieswyn, who was in his final race as a professional and wanting to go out on a high note. "I got his wheel and I was looking for J to fly by at that moment," said Lieswyn. "If J had... and I'll be second guessing this for the rest of my life because it's my last major race, if he had hit it down the hill it would have forced Wegmann to go and lead it out. I should have just waved him by. I was coming back on and [Wegmann] sat-up."
Rounding the corner the trio began playing with Lieswyn being forced to lead the long sprint. All three were hurting and not wanting to have to lead as well. "I'm a good sprinter but normally I want to go earlier on the hill and ride away from them. It was not possible so I had to sprint. I know that they were good riders but they did a long time in front." Wegmann jumped at the last possible moment and got enough of a gap to hold off Lieswyn and McCartney, who had to settle for second and third.
Jason McCartney (Discovery Channel)
Photo ©: Jon Devich

The race is a bitter pill for the two former teammates and friends, with Lieswyn retiring and McCartney finishing high most years but not winning. "I've been close a number of times here - to get so close and... I guess I was watching the wrong guy for the sprint," said McCartney. "It was great riding with John. I wish it could have been just me and him for the sprint. I'm sorry I let the team down today - I know it's a big race for them. I'll just keep coming back next year."
"I'm pretty disappointed," Liewsyn told Cyclingnews after the race. "I knew [McCartney] was going to do everything he could to win, but at the same time he wasn't going to screw around with me because I helped him win the Olympic trials last year and we're good friends. I was doing everything I could to keep us away from the Gerolsteiner guys and I thought that guy wasn't going to make it back. We messed around a bit - maybe a little too much. I was trying to play a tactical game out there and it came back to get me."
How it unfolded
It has to be San Fran
Photo ©: Jon Devich

None of the pre-race favourites had a chance to really shine today with big moves going early. Fred Rodriguez was riding for the U.S. National Team and had his now usual run of bad luck racing on home soil. "I got something caught in my wheel, I think it was my radio wire, and I stopped to take it out," Rodriguez explained. "Then I looked up and a motorcycle was coming straight at me! I jumped out of the way and it ran over my bike!" Freddie got a spare bike from Mavic, but then had even more troubled near the finale. "I got [the Mavic bike] then my chain got caught up on the last hill."
George Hincapie was absent from the front due to the fact that three of his teammates were up the road in the breaks - McCartney, Ryder Hesjedal and Michael Creed. Creed, who had had a rough year on Discovery fighting illness and was in his last race with the team. The young rider was extra-motivated to prove that he deserved to be here. "It's my final race with Discovery," Creed said. "I was sick in the beginning of the year and I never felt like I had a chance - or maybe I did have that chance, and I didn't take advantage of it, so maybe I was a little mad at myself. I don't blame Discovery and have no ill will but it doesn't mean I'm not disappointed. Today was about showing them and proving something to them and mostly to me that I am a good bike racer."
The young rider attacked out of a large breakaway just forty kilometres into the race in a solo effort. While some riders attempted to bridge Creed just kept his head down and drove the pace, even though his director suggested he wait. "One time they told me to wait for the two guys behind me, but I didn't," Creed admitted. "If they could catch me then they should catch me. Another time the director rode up next to me and said, 'Man, you look pissed!' I just looked at him and said, 'Yeah. I am pissed!'"
Michael Creed (Discovery Channel)
Photo ©: Jon Devich

Creed stayed away for the majority of the large laps which included the scary climb up Filmore Street - and every time he made it over a climb he thrust his fist in the air in triumph. Even when the chase group behind massed forty riders, he held his advantage of nearly 45 seconds. When the officials told him his time gap, he joked, "What, forty guys and they still can't catch me?"
Eventually, Lieswyn, McCartney, Ryder Hesjedal and Kodak Gallery-Sierra Nevada's Glen Mitchell organized themselves out of numerous chase groups to join the lone leader. Creed hung on for a short while then sat-up and waited for one of the chase groups. The next time cresting the Taylor Street climb Creed dismounted his Trek and raised it in the air to salute the huge crowds.
At this point in the race the peloton was replaced by a number of chase groups, ranging from two to forty. In the lead group it was Discovery Channel with the numeric advantage. However, this was soon negated when Hesjedal was dropped on the Taylor Street climb. Back in the chase groups it was Gerolsteiner and Colavita-Sutter Home taking up much of the responsibility. Wegmann and Moletta rode a two-man pursuit followed by Davide Frattini on a solo attempt.
Lieswyn and McCartney work together
Photo ©: Jon Devich

Glen Mitchell eventually succumbed to the steep pitches and left Lieswyn and McCartney alone with the Gerolsteiner duo inching closer and closer. On the five short final laps the gap between the two hovered around thirty seconds. Up Taylor Street for the final time the chasing pair of Wegmann and Moletta could see McCartney and Lieswyn half-way up the climb. Moletta gave it everything he had and launched Wegmann up to the final steep section. Wegmann took over and pulled the leading two back, rounding the corner together.
Down Broadway towards the waterfront McCartney and Lieswyn led the way while keeping an eye on their new problem. Wegmann recovered down the descent and even bluffed a bit by showing the pain of catching the leaders, and then launching an attack around the two. Lieswyn responded and McCartney followed. Again Wegmann attacked but the two were tired from the effort of leading and a ten meter gap opened between them all. Near the bottom Lieswyn reached Wegmann's wheel and McCartney followed. Wegmann sat-up and waited for the final corner and the sprint.
Down the long straightaway the crowds were on their toes. Lieswyn was forced to lead, and near the line Wegmann jumped with enough energy saved to create the winning gap. Lieswyn was close behind in second and McCartney in third. For his efforts, McCartney was rewarded with the Master of the Mountain award after taking many second places behind Creed and first places in the closing laps.
Photography
For a thumbnail gallery of these images, click here
Images by Jonathan Devich/epicimages.us
Images by Michael David Murphy/www.whileseated.org/photo
Images by Russ and Nancy Wright/www.abbiorca.com
Images by Joe Gross/www.sfcycling.com
Results

1 Fabian Wegmann (Ger) Gerolsteiner                            4.27.20
2 John Lieswyn (USA) Health Net pb Maxxis                             
3 Jason McCartney (USA) Discovery Channel                             
4 Andrea Moletta (Ita) Gerolsteiner                               0.27
5 Glen Mitchell (NZl) Kodak Gallery - Sierra Nevada               1.58
6 Mike Sayers (USA) Health Net pb Maxxis                          2.56
7 Mark McCormack (USA) Colavita Olive Oil - Sutter Home           3.12
8 Luke Roberts (Aus) Team CSC                                         
9 Danny Pate (USA) Jelly Belly - Pool Gel                         3.21
10 Dominique Perras (Can) Kodak Gallery - Sierra Nevada           3.41
11 Davide Frattini (Ita) Colavita Olive Oil - Sutter Home         4.43
12 Mark Walters (Can) Navigators Insurance Cycling Team           4.57
13 Doug Ollerenshaw (USA) Health Net pb Maxxis                        
14 Tim Johnson (USA) Jittery Joe's - Kalahari                     5.02
15 David O'Loughlin (Irl) Navigators Insurance Cycling Team           
16 Eric Wohlberg (Can) Symmetrics                                     
17 Rubens Bertogliati (Swi) Saunier Duval - Prodir                    
18 Chris Wherry (USA) Health Net pb Maxxis                        5.09
19 Benjamin Brooks (Aus) Jelly Belly - Pool Gel                       
20 Aaron Olsen (USA) Colavita Olive Oil - Sutter Home                 
21 Fred Rodriguez (USA) Davitamon - Lotto                         5.17
22 Daniele Righi (Ita) Lampre - Caffita                           5.20
23 Gregory Henderson (NZl) Health Net pb Maxxis                   8.57
24 Peter Wrolich (Aut) Gerolsteiner                                   
25 Enrico Franzoi (Ita) Lampre - Caffita                              
26 Stirling Magnell (USA) Monex                                       
27 Jose Manuel Garcia (Mex) Mexican National Team                     
28 Kari Menzies (Aus) Advantage Benefits - Endeavour                  
29 Alex Candelario (USA) Jelly Belly - Pool Gel                       
30 Neil Shirley (USA) Team Seasilver                                  
31 Frank Hoj (Den) Gerolsteiner                                       
32 Glen Fant (USA) Monex                                              
33 Burke Swindlehurst (USA) Team Seasilver                            
34 Garrett Peltonen (USA) Advantage Benefits - Endeavour              
35 Josh Hall (Can) Jet Fuel Coffee                                    
36 Jake Rytlewski (USA) Advantage Benefits - Endeavour                
37 Charles Dionne (Can) Webcor                                        
38 Jacob Erker (Can) Symmetrics                                       
39 Todd Cornelius (USA) Subway                                        
40 Kyle Gritters (USA) Team Seasilver                                 
41 James Mattis (USA) Webcor                                          
42 Frank Schleck (Lux) Team CSC                                       
43 Cameron Hughes (Aus) Subway                                        
44 Jonathan Sundt (USA) Jittery Joe's - Kalahari                      
45 George Hincapie (USA) Discovery Channel                            
46 Kyle Wamsley (USA) Snow Valley - Seal-On                           
47 Ted Huang (USA) Webcor                                             
48 Esad Hasanovic (SCG) Aerospace Engineering - VMG                   
49 Scott Moninger (USA) Health Net pb Maxxis                          
50 Kirk Albers (USA) Jelly Belly - Pool Gel                           
51 Pavel Padrnos (Cze) Discovery Channel                              
52 Peter Luttenberger (Aut) Team CSC                                  
53 Andrew Randell (Can) Jet Fuel Coffee                               
54 Jeff Louder (USA) Navigators Insurance Cycling Team                
55 Levi Leipheimer (USA) Gerolsteiner                                 
56 Marco Rios (Mex) Mexican National Team                             
57 Colby Pearce (USA) TIAA-CREF                                       
58 Ivan Stevic (SCG) Aerospace Engineering - VMG                      
59 Andy Bajadali (USA) US national team                               
60 Volodymyr Bileka (Ukr) Discovery Channel                           
61 John Kelly (USA) Webcor                                            
62 Tyler Wren (USA) Colavita Olive Oil - Sutter Home              9.15
63 Benjamin Haldeman (USA) Webcor                                     
64 Eddy Hilger (USA) Advantage Benefits - Endeavour                   
65 Jackson Stewart (USA) Kodak Gallery - Sierra Nevada                
66 Predrag Prokic (SCG) Aerospace Engineering - VMG                   
67 Arquimedes Lam (Mex) Mexican national team                         
68 Stefano Barberi (USA) TIAA - CREF                                  
69 Caleb Manion (Aus) Jelly Belly - Pool Gel                          
70 Francesco Gavazzi (Ita) Lampre Caffita                         9.22
71 Scott Zwizanski (USA) Kodak Gallery - Sierra Nevada            9.27
72 Roman Kilun (USA) McGuire - Langdale                               
73 Bernard Van Ulden (USA) Webcor                                 9.41
74 Hugh Moran (USA) Aerospace Engineering - VMG                   9.47
75 Andrew Pinfold (Can) Symmetrics                               10.05
76 Kirk O'Bee (USA) Navigators Insurance Cycling Team            10.39
DNF Marc Collard (USA) Webcor                                         
DNF Andy Jacques-Maynes (USA) Webcor                                  
DNF Tony Cruz (USA) Discovery Channel                                 
DNF Ryder Hesjedal (Can) Discovery Channel                            
DNF Fumiyuki Beppu (Jpn) Discovery Channel                            
DNF Michael Creed (USA) Discovery Channel                             
DNF Ivan Basso (Ita) Team CSC                                         
DNF David Zabriskie (USA) Team CSC                                    
DNF Chris Horner (USA) Saunier Duval - Prodir                         
DNF Nicolas Fritsch (Fra) Saunier Duval - Prodir                      
DNF Manuele Mori (Ita) Saunier Duval - Prodir                         
DNF Manuel Quinziato (Ita) Saunier Duval - Prodir                     
DNF Juan Carl Dominguez (Spa) Saunier Duval - Prodir                  
DNF Arkaitz Duran Aroca (Spa) Saunier Duval - Prodir                  
DNF Samuele Marzoli (Ita) Lampre - Caffita                            
DNF Alessandro Spezialetti (Ita) Lampre - Caffita                     
DNF Ivan Dominguez (Cub) Health Net pb Maxxis                         
DNF Gordon Fraser (Can) Health Net pb Maxxis                          
DNF Jonathon Page (USA) Colavita Olive Oil - Sutter Home              
DNF Gustavo Artacho (Arg) Colavita Olive Oil - Sutter Home            
DNF Todd Herriot (USA) Colavita Olive Oil - Sutter Home               
DNF Cesar Augusto Grajales (Col) Navigators Insurance Cycling Team    
DNF Nathan O'Neill (Aus) Navigators Insurance Cycling Team            
DNF Russell Hamby (USA) Kodak Gallery - Sierra Nevada                 
DNF Ben Jacques-Maynes (USA) Kodak Gallery - Sierra Nevada            
DNF Tim Larkin (USA) Kodak Gallery - Sierra Nevada                    
DNF Peter Lopinto (USA) Team Seasilver                                
DNF Nathan Mitchell (USA) TIAA - CREF                                 
DNF Chad Hartley (USA) TIAA - CREF                                    
DNF Michael Lange (USA) TIAA - CREF                                   
DNF Blake Caldwell (USA) TIAA - CREF                                  
DNF Denis Robin (Fra) Agritubel                                       
DNF Zachary Grabowski (USA) TIAA - CREF                               
DNF Brice Jones (USA) Jelly Belly - Pool Gel                          
DNF Matt Rice (Aus) Jelly Belly - Pool Gel                            
DNF Mariano Friedick (USA) Jelly Belly - Pool Gel                     
DNF Curtis Gunn (USA) Team Seasilver                                  
DNF Jason Bausch (USA) Team Seasilver                                 
DNF Ryan Yee (USA) Team Seasilver                                     
DNF Daniel Ramsey (USA) Team Seasilver                                
DNF Adam Livingston (USA) Team Seasilver                              
DNF Thad Dulin (USA) Jittery Joe's - Kalahari                         
DNF Evan Elken (USA) Jittery Joe's - Kalahari                         
DNF Craig Wilcox (USA) Jittery Joe's - Kalahari                       
DNF Richard England (Aus) Advantage Benefits - Endeavour              
DNF Frank Pipp (USA) Advantage Benefits - Endeavour                   
DNF Nicholas Reistad (USA) Advantage Benefits - Endeavour             
DNF Brian Sheedy (USA) Advantage Benefits - Endeavour                 
DNF Chris Frederick (USA) Aerospace Engineering - VMG                 
DNF David Richter (USA) Subway                                        
DNF Ryan McKenzie (Can) Subway                                        
DNF Peter Femal (USA) Subway                                          
DNF Omer Kem (USA) Subway                                             
DNF Remi McManus (USA) Subway                                         
DNF Svein Tuft (Can) Symmetrics                                       
DNF Christian Meier (Can) Symmetrics                                  
DNF Will Routley (Can) Symmetrics                                     
DNF Jeff Sherstobitoff (Can) Symmetrics                               
DNF Marsh Cooper (Can) Symmetrics                                     
DNF Zach Bell (Can) Jet Fuel Coffee                                   
DNF Mark Pozniak (Can) Jet Fuel Coffee                                
DNF Kevin Miller (Can) Jet Fuel Coffee                                
DNF Erik Saunders (USA) McGuire - Langdale                            
DNF Jason Allen (USA) McGuire - Langdale                              
DNF Zachary Walker (USA) McGuire - Langdale                           
DNF Colin Beardsley (USA) McGuire - Langdale                          
DNF Devon Vigus (USA) McGuire - Langdale                              
DNF Geoff Rapoport (USA) McGuire - Langdale                           
DNF Pat Dunaway (USA) McGuire - Langdale                              
DNF Jon Wirsing (USA) Snow Valley - Seal-On                           
DNF Joshua Taylor (USA) Snow Valley - Seal-On                         
DNF Peter Baker (USA) Snow Valley - Seal-On                           
DNF Ryan Dewald (USA) Snow Valley - Seal-On                           
DNF Russ Langley (USA) Snow Valley - Seal-On                          
DNF Christopher Herby (USA) Snow Valley - Seal-On                     
DNF John Delong (USA) Snow Valley - Seal-On                           
DNF Drew Miller (USA) US national team                                
DNF Todd Terlecki (USA) US national team                              
DNF Jim Miller (USA) US national team                                 
DNF Chuck Coyle (USA) US national team                                
DNF Roberto Gaggioli (Ita) Monex                                      
DNF Nathan Miller (USA) Monex                                         
DNF Josh Goodwin (USA) Monex                                          
DNF Domingo Gonzalez (Mex) Mexican National Team                      
DNF Emmanuel Suarez (Mex) Mexican National Team                       
 
Mountains
 
1 Jason McCartney (USA) Discovery Channel                           55 pts
2 John Lieswyn (USA) Health Net pb Maxxis                           27
3 Doug Ollerenshaw (USA) Health Net pb Maxxis                       18
4 Glen Mitchell (NZl) Kodak Gallery - Sierra Nevada                 18
5 Tim Johnson (USA) Jittery Joe's - Kalahari                         5
6 Andrea Moletta (Ita) Gerolsteiner                                  2
7 Aaron Olsen (USA) Colavita Olive Oil - Sutter Home                 1
 
Teams
 
1 Health Net / Maxxis                                         13.29.53
2 Gerolsteiner                                                    1.31
3 Colavita - Sutter Home                                          5.11
4 Kodak - Sierra Nevada                                           7.01
5 Jelly Belly - Pool Gel                                          9.34
6 Discovery Channel                                              10.01
7 Navigators Insurance                                           11.03
8 CSC                                                            13.13
9 Lampre Caffita                                                 15.46
10 Symmetrics                                                    16.11
11 Advantage Benefits Endeav                                     18.58
12 SEASILVER                                                          
13 Webcor                                                             
14 Mexican National Team                                         19.16
15 Aerospace Engineering                                              
 
Timing and Results by AGR Technology