An interview with Fred Rodriguez, September 4, 2005
Getting the many jobs done
It's been a busy year for Davitamon-Lotto rider Fred Rodríguez; there's not much time for a break in Fast Freddie's world right now, but he's back in the US for the Barclay Global Investments Grand Prix, in San Francisco. Cyclingnews' Les Clarke caught up with the fast one for a quick rundown of what's going on.
Waiting for the start
Photo ©: Garrett Lau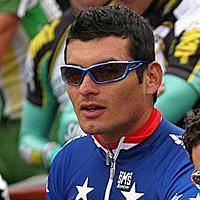 Rodriguez will contest another San Francisco Grand Prix this weekend, a race he and his fans alike enjoy. After last year's second place, he'd definitely enjoy a small hop onto the top step of the podium in 2005. And after a year at the pointy end of the European pro peloton, the Colombian-born sprinter will definitely be a marked man - but he's got plenty of marking to do himself. A field full of European-based American pros, one of the toughest races in the US will be even tougher.
Fast Freddie has become a major factor in the success of his Davitamon-Lotto squad; brought into the Belgian team as a leadout man for Australian sprinter Robbie McEwen, the 32-year-old did his job to perfection during the Tour de France and "got Robbie to the line for three wins." Rodriguez believes only bad luck prevented McEwen from winning the green jersey at the Tour, saying, "Robbie took three wins, [Thor] Hushovd took none. It was a bit of bad luck that stopped Robbie taking the green jersey." His response to the question of whether the incident between McEwen and Stuart O'Grady on the stage to Tours cost the Australian national champion his chance at the sprinters prize is a definite 'yeah'.
Warming up for San Fran
Photo ©: David Wood

When asked about his view of the incident, which saw McEwen relegated to 186th place on the stage, Rodriguez said "Robbie's made out to be the bad guy in it, but as far as I could see he was holding his line and O'Grady was moving to the left. The rules of cycling say you have to stay on your line and stay straight, and Robbie had his line and was staying straight. I think that relegation cost him a green jersey."
So when the stakes are this high you've got to lead out for one of the world's best sprinters without fear, day after day; which takes it's toll - how did Rodriguez's legs hold up for the three weeks?
Rodriguez is smiling in Europe in 2005
Photo ©: Mark Hazelton

"I felt pretty strong. I mean, I had a job to do and I did it one hundered per cent. I wouldn't be keen to do another three-week tour this year, and besides, we've got Tom Steels at the Vuelta anyway. I could probably get a couple of wins there, but we'd be sharing the sprints. And I'm riding San Fran anyway..."
After the Tour there was the birth of Rodriguez's son, Aidan Alexander, an event he just got home in time to see. "I was out training and got the call from my wife that her waters had broken; I had to wait to get the soonest flight home, and in the meantime they put off inducing the birth to wait for me to arrive. I just made it." As we talk, little Aidan can be heard making some noise in the background. "He's a noisy little fella - he's a bit sick at the moment and not too happy." And will dad be getting his son on a bike sometime? "I hope so" replies Rodriguez.
Rodriguez riding the Tour de France this year
Photo ©: Luc Claessen

After taking second in San Francisco last year and missing out on the Olympics, this year could see Fast Freddie win San Fran and do very well at the World Championships in Madrid. "In San Fran I'm riding as part of a US National team; a team sponsored by the race sponsor with some employees from the company in it - lower key, but it should be great." He'll have plenty of riders marking him, but the riders to look out for according to Fred are "guys like George [Hincapie], [Charles] Dionne [last eyar's winner] and [Chris] Horner. Stage racer guys like Levi [Leipheimer] will be there, but they're not as suited to this kind of race. The local guys like [Chris] Wherry will be keen to make things happen, but it really comes down to who's having a good day."
Getting a couple of kisses
Photo ©: Costinha

This is very much the formula for the World Championships race, where the strongest rider on the day can take the prize. "This year the team will be working for me; I see guys like Boonen, McEwen Petacchi, Hushovd and Bettini as big threats for this race. I'll use Paris-Brussels and the Tour of Poland as preparation for the race in Madrid."
While the World Championships should be the end of his season, off the road, Rodriguez has been busy developing his 'Fast Freddie' coffee and the launch of his coffee-flavoured Clif Shot energy gel. "The new one [energy gel] is stronger and more potent. And we've been working on distribution of our coffee through local distributors and bike shops. The quality is top notch and has received plenty of really great reviews from food and wine critics."
Rodriguez has found a good team
Photo ©: Daniel McMahon
And then there are the foundations he's set up to assist high school kids develop their cycling while receiving an education in an attempt to build up the number of cyclists coming through the ranks in the sport via the educational route. "There are two programmes - the Northern California MTB High School League and Team Swift, where kids are selected from these leagues to receive a scholarship which enables them to juggle studies and cycling, so that both are developed at the same time. That means they won't just have a focus on cycling; they can get an education too. They have to maintain high average grades to keep their scholarship, and it's a way of teaching them that there's life after sport."
So it seems Rodriguez is going to need all his speed, living up to his nickname, just to keep up with everything going on right now - with worlds, a baby son, business and philanthropic interests all ahead of him, he's got plenty on his plate. And don't forget San Fran!