Rund um die Nürnberger Altstadt - CDM/1.1
Germany, September 11, 2005
Main Page Results World Cup standings Race Details Previous Race
Race 2 - September 11: Women's World Cup final, 117km
Wood wins World Cup Battle
Bronzini takes the day
By Kristy Scrymgeour
Giorgia Bronzini (USC Chirio Forno d'Asolo)
Photo ©: Hennes Roth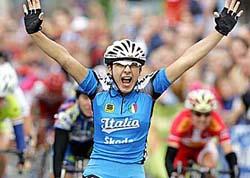 The final World Cup played out well for Australian Oenone Wood and the Nürnberger team in the team's home town today. Mirroring the events of last year when Wood was in the same situation going into the final round, she didn't win the race, but her third place finish was enough for her to confirm her overall lead to take out the World Cup series for the second year running. Instead it was Italian sprinter Giorgia Bronzini (USC Chirio Forno d'Asolo) who came out of top to take the win on the day.
On a city course that consisted of laps of a 13km circuit in the town of Nürnberg, the battle between the Nürnberger team and the Buitenpoort Flexpoint team eventually came down to a bunch sprint. Susanne Ljungskog and Mirjiam Melchers-Van Poppel, both of the Buitenpoort team, were in a position to take the overall series win from Wood if they were able to beat her within the top ten finishers of the day.
It was expected that there would be a lot of attacking from the Ljunskog and Melchers to put Nürnberger on the defensive, but the race was fast, averaging 43km/h and all attempted breaks were reeled in very quickly. "Melchers and Ljunskog were in a few moves but they didn't look like they were really giving it 100%," explained Wood. "I expected them to be one-twoing me all day but perhaps they wanted to put everything into the bunch sprint at the end." The Nürnberger team worked well to keep Wood safe and to prevent Buitenpoort from getting away and in the end they put the team on the front for the lead out.
Oenone Wood (Nürnberger)
Photo ©: Hennes Roth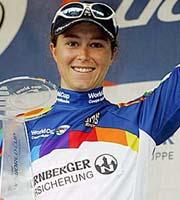 Wood went a little early in the sprint and Bronzini and Rochelle Gilmore (Safi Pasta Zara Manhattan) were able to come around her to take first and second place. Her World Cup rival Ljunsgkog took 13th place, giving Wood the Series win.
Bronzini, who also won three stages of the Giro d'Italia Femminile this year and took home the points jersey, was very happy with her win. "I felt very good so early in the race I asked my team to work for me," she said after the race. She now heads back to Italy for Giro della Toscana before World Championships.
Gilmore was also pleased with her performance, which came a few days too late in her eyes. "" I just learned three days ago that I haven't been selected for Worlds. It is my biggest disappointment the year and I was very motivated today to show my best to the Australian Federation and prove that I am one of the fastest Australian girls. Me and Oenone could both have done very well in Madrid"
Giorgia Bronzini (USC Chirio Forno d'Asolo)
Photo ©: Hennes Roth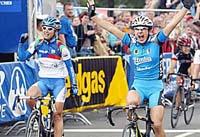 Wood was both happy and relieved when Cyclingnews caught up with her after the race. "I was nervous before the start," she explained. "This is such a big event for us. We've been going to these races all year and it's been a battle. I had the jersey, and then Melchers took it, I took it back, then Ljunsgkog and me again. It's nice to be able to say finally that we have the jersey. Now I can relax and think about World Championships."
Of the race Wood said her team did an "awesome job. There were heaps of attacks but nothing got more than 30 seconds. A lot of sprinters lined up today, so a lot of the teams had motivation to chase things down.
"My team was great at keeping things under control and at the end they did an awesome lead out," she added. "At one point Mirjam [Melchers] came up next to be and there were some elbows, as she wanted to get on Trixi's [Worrack] wheel. I nearly went into the barricades which was a bit sketchy, but it all worked out."
With Worlds only a couple of weeks away, Wood now heads to the Australian National Team base in Novellara to train for a week before heading to Madrid. "I think we can win," she said. "We have a really strong team. Germany will also have an unbelievable team there and there will be a lot of individuals who can win too. I'm looking forward to seeing the course though. They say it's a sprinters course, but it can be different for the women."
Photography
For a thumbnail gallery of these images, click here
Images by Hennes Roth/www.roth-foto.de
Images by Catherine Marsal
Images by CJ Farquharson/www.WomensCycling.net
Images by Mario Stiehl/www.world-of-cycling.com
Results
Top 10 results
1 Giorgia Bronzini (Ita) Italian National Team                    2.45.23
2 Rochelle Gilmore (Aus) Safi - Pasta Zara Manhattan
3 Oenone Wood (Aus) Equipe Nürnberger Versicherung
4 Katia Longhin (Ita) S.C. Michela Fanini Record Rox
5 Ina Teutenberg (Ger) German National Team
6 Dorte Rasmussen (Den) Team S.A.T.S
7 Suzanne De Goede (Ned) Van Bemmelen - AA Drink
8 Priska Doppmann (Swi) Univega
9 Sarah Düster (Ger) Therme Skin Care
10 Joanne Kiesanowski (NZl) Nobili Rubinetterie - Menikini - Cogeas
11 Mirjam Melchers (Ned) Buitenpoort - Flexpoint
12 Veronique Belleter (Bel) Vlaanderen - Capri Sonne - T Interim
13 Susanne Ljungskog (Swe) Buitenpoort - Flexpoint
14 Tanja Hennes (Ger) Buitenpoort - Flexpoint
15 Corine Hierckens (Bel) Therme Skin Care
16 Emma Rickards (Aus) Univega Pro
17 Bettina Kuhn (Swi) Swiss National Team
18 Marina Janautre (Fra) French National Team
19 Isabella Wieser (Aut) ELK Haus Tirol Noe
20 Andrea Graus (Aut) ELK Haus Tirol Noe
21 Diana Ziliute (Ltu) Safi - Pasta Zara Manhattan
22 Monika Krawczyk (Pol) Polish National Team
23 Malgorzta Jasinska (Pol) Polish National Team
24 Annette Beutler (Swi) S.C. Michela Fanini Record Rox
25 Miho Oki (Jpn) Nobili Rubinetterie - Menikini - Cogeas
26 Daniela Fusar Poli (Ita) Nobili Rubinetterie - Menikini - Cogeas
27 Malgorzata Wysocka (Pol) S.C. Michela Fanini Record Rox
28 Birgit Söllner (Ger) Toyota Motor Company
29 Mette Fischer (Den) Team S.A.T.S.
30 Debby Mansveld (Ned) Vlaanderen - Capri Sonne - T Interim
31 Luisa Tamanini (Ita) Team Bianchi - Aliverti
32 Zita Urbonaite (Ltu) Safi - Pasta Zara Manhattan
33 Audrey Lemieux (Can) Canadian National Team
34 Monica Holler (Swe) ELK Haus Tirol Noe
35 Trine Hansen (Den) Team S.A.T.S.
36 Laura Yoisten (Can) Canadian National Team
37 Andrea Knecht (Swi) Swiss National Team
38 Nicole Cooke (GBr) Safi - Pasta Zara Manhattan
39 Rachel Heal (GBr) Team S.A.T.S
40 Elodie Touffet (Fra) French National Team
41 Magali Le Floch (Fra) French National Team
42 Sara Carrigan (Aus) Van Bemmelen - AA Drink
43 Linda Serup (Den) Buitenpoort - Flexpoint
44 Erinne Willock (Can) Canadian National Team
45 Gessica Turato (Ita) Safi - Pasta Zara Manhattan
46 Trixi Worrack (Ger) Equipe Nürnberger Versicherung
47 Anna Zugno (Ita) Safi - Pasta Zara Manhattan
48 Erika Vilunaite (Ltu) Team Bianchi Aliverti
49 Theresa Senff (Ger) Van Bemmelen - AA Drink
50 Arenda Grimberg (Ned) Therme Skin Care                            0.09
51 Bianca Knöpfle (Ger) German National Team
52 Patricia Schwager (Swi) Swiss National Team
53 Sophie Creux (Fra) French National Team
54 Sabine Fischer (Ger) German National Team
55 Claudia Häusler (Ger) ELK Haus Tirol Noe
56 Marlen Jöhrend (Ger) German National Team
57 Sarah Grab (Swi) Univega
58 Monika Furrer (Swi) Swiss National Team
59 Moniek Rotmensen (Ned) Therme Skin Care
60 Ine Wannijn (Bel) Vlaanderen - Capri Sonne - T Interim
61 Monia Baccaille (Ita) Italian National Team
62 Alisha Lion (USA)  Team S.A.T.S.
63 Laure Werner (Bel) Vlaanderen - Capri Sonne - T Interim
64 Elke Gebhardt (Ger) Toyota Motor Company
65 Sharon Van Dromme (Bel) Vlaanderen - Capri Sonne - T Interim
66 Ellen Heiny (Ger) Team Stuttgart
67 Silvia Parietti (Ita) Italian National Team
68 Lise Christensen (Den) Team Bianchi Aliverti
69 Noemi Cantele (Ita) Italian National Team
70 Magal Finot Laivier (Fra) French National Team
71 Christiane Soeder (Aut) Univega
72 Anna Skawinska (Pol) Polish National Team
73 Katharina Blum (Ger) Team Stuttgart
74 Barbara Cazzaniga (Ita) Team Bianchi - Aliverti
75 Patricia Hempel (Ger) ELK Haus Tirol Noe
76 Claudia Stumpf (Ger) German National Team
77 Madeleine Sandig (Ger) German National Team
78 Sandra Rombouts (Ned) Buitenpoort - Flexpoint
79 Paulina Brzezna (Pol) Polish National Team                        0.22
80 Alessandra d'Ettorre (Ita) Italian National Team                  0.27
81 Laura Bozzolo (Ita) Italian National Team
82 Susanne Beyer (Ger) Toyota Motor Company                          0.31
83 Daniela Pintarelli (Aut) Austrian National Team
84 Milena Pirola (Ita) Nobili Rubinetterie - Menikini - Cogeas
85 Bernadette Schober (Aut) Austrian National Team
86 Nicole Kampeter (Ger) Toyota Motor Company
87 Monika Schachl (Aut) ELK Haus Tirol Noe
88 Nathalie Bates (Aus) Van Bemmelen - AA Drink
89 Alessandra Borchi (Ita) S.C. Michela Fanini Record Rox
90 Letizia Giardinelli (Ita) S.C. Michela Fanini Record Rox
91 Birgit Hollmann (Ger) Toyota Motor Company
92 Edwige Pitel (Fra) French National Team
93 Claudia Hecht (Ger) Toyota Motor Company                          0.35
94 Anke Wichmann (Ger) Equipe Nürnberger Versicherung                0.59
95 Regina Schleicher (Ger) Equipe Nürnberger Versicherung
96 Madeleine Lindberg (Swe) Equipe Nürnberger Versicherung           1.08
97 Olivia Gollan (Aus) Equipe Nürnberger Versicherung                1.15
98 Sandra Missbach (Ger) Van Bemmelen - AA Drink
99 Claudia Meyer (Ger) Team Cube Feminin                             5.05

World Cup Final Standings

1 Oenone Wood (Aus) Equipe Nürnberger Versicherung                         378 pts
2 Susanne Ljungskog (Swe) Buitenpoort - Flexpoint                          299
3 Mirjam Melchers (Ned) Buitenpoort - Flexpoint                            255
4 Giorgia Bronzini (Ita) USC Chirio Forno d'Asolo                          185
5 Judith Arndt (Ger) Equipe Nürnberger Versicherung                        184
6 Rochelle Gilmore (Aus) Safi - Pasta Zara Manhattan                       181
7 Suzanne De Goede (Ned) Van Bemmelen - AA Drink                           167
8 Ina Teutenberg (Ger) T-Mobile                                            129
9 Nicole Cooke (GBr) Safi - Pasta Zara Manhattan                           125
10 Trixi Worrack (Ger) Equipe Nürnberger Versicherung                       99
11 Andrea Graus (Aut) ELK Haus Tirol Noe                                    95
12 Joanne Kiesanowski (NZl) Nobili Rubinetterie - Menikini - Cogeas         81
13 Edita Pucinskaite (Ltu) Nobili Rubinetterie - Menikini - Cogeas          76
14 Noemi Cantele (Ita)                                                      75
15 Geneviève Jeanson (Can)                                                  75
16 Anita Valen (Nor) Vlaanderen - Capri Sonne - T Interim                   72
17 Nicole Brändli (Swi) Bigla                                               72
18 Dorthe Lohse (Den) Team S.A.T.S                                          68
19 Monica Holler (Swe) ELK Haus Tirol Noe                                   68
20 Katia Longhin (Ita) S.C. Michela Fanini Record Rox                       67
21 Sigrid Corneo (Ita) Nobili Rubinetterie - Menikini - Cogeas              64
22 Luisa Tamanini (Ita) Team Bianchi - Aliverti                             58
23 Marina Gloria Chirio (Ita) USC Chirio Forno d'Asolo                      56
24 Modesta Vzesniauskaite (Ltu) Nobili Rubinetterie - Menikini - Cogeas     56
25 Theresa Senff (Ger) Van Bemmelen - AA Drink                              55
26 Alessandra d'Ettorre (Ita)                                               54
27 Linda Serup (Den) Buitenpoort - Flexpoint                                52
28 Annette Beutler (Swi)                                                    51
29 Katherine Bates (Aus) Van Bemmelen - AA Drink                            50
30 Sarah Düster (Ger) Therme Skin Care                                      46
31 Priska Doppmann (Swi) Univega                                            44
32 Tina Mayolo Pic (USA)                                                    41
33 Anna Zugno (Ita) Safi - Pasta Zara Manhattan                             37
34 Tatiana Guderzo (Ita) Top Girls Fassa Bortolo Hausbrandt Caffé           37
35 Erinne Willock (Can)                                                     36
36 Monia Baccaille (Ita)                                                    35
37 Amber Neben (USA) Buitenpoort - Flexpoint                                34
38 Sofie Creux (Fra)                                                        31
39 Regina Schleicher (Ger) Equipe Nürnberger Versicherung                   30
40 Marina Janautre (Fra)                                                    29
41 Tanja Schmidt-Hennes (Ger) Buitenpoort - Flexpoint                       29
42 Silvia Parietti (Ita) SS Lazio Ciclismo Team Ladispoli                   27
43 Jenny Macpherson (Aus)                                                   27
44 Sara Carrigan (Aus) Van Bemmelen - AA Drink                              27
45 Sharon Van Essen (Ned) Vrienden Van Het Platteland                       24
46 Magali Le Floch (Fra)                                                    24
47 Melissa Holt (NZl) Team S.A.T.S                                          24
48 Elisabeth Chevanne-Brunel (Fra) Pruneaux D'Agen                          24
49 Susan Palmer-Komar (Can)                                                 23
50 Eneritz Iturriaga (Spa)                                                  21
51 Edwige Pitel (Fra) Univega                                               21
52 Madeleine Sandig (Ger)                                                   19
53 Veronique Belleter (Bel) Vlaanderen - Capri Sonne - T Interim            18
54 Olivia Gollan (Aus) Equipe Nürnberger Versicherung                       18
55 Christine Thorburn (USA)                                                 18
56 Joane Somarriba (Spa)                                                    18
57 Sabrina Emmasi (Swi) Bigla                                               18
58 Barbara Lancioni (Ita)                                                   17
59 Svetlana Bubenkova (Rus)                                                 16
60 Audrey Lemieux (Can)                                                     15
61 Katie Brown (Aus) SS Lazio Ciclismo Team Ladispoli                       13
62 Lynn Gaggioli (USA)                                                      13
63 Corine Hierckens (Bel) Therme Skin Care                                  12
64 Bettina Kuhn (Swi)                                                       12
65 Sofie Goor (Bel) Vlaanderen - Capri Sonne - T Interim                    12
66 Sharon Van Dromme (Bel) Vlaanderen - Capri Sonne - T Interim             11
67 Emma Rickards (Aus)                                                      11
68 Gunn-Rita Dahle (Nor) Safi - Pasta Zara Manhattan                        10
69 Tatiana Shishkova (Mda) P.M.B. Fenixs                                    10
70 Kate Nichols (Aus)                                                       10
71 Olga Slyussareva (Rus)                                                   10
72 Sarah Grab (Swi) Univega                                                  9
73 Verena Joos (Ger)                                                         9
74 Maja Adamsen (Den) S.C. Michela Fanini Record Rox                         8
75 Trine Hansen (Den) A.S. Team F.R.W                                        8
76 Tammara Boyd (NZl)                                                        8
77 Michelle Hyland (NZl)                                                     7
78 Dorothy Cowden (USA)                                                      7
79 Loes Gunnewijk (Ned) Vrienden Van Het Platteland                          7
80 Veerle Ingels (Bel) Vlaanderen - Capri Sonne - T Interim                  7
81 Patricia Schwager (Swi)                                                   6
82 Marianna Lorenzoni (Ita) A.S. Team F.R.W                                  6
83 Fabiana Luperini (Ita) A.S. Team F.R.W                                    6
84 Lada Kozlikova (Cze) Buitenpoort - Flexpoint                              5
85 Evy Van Damme (Bel) Vlaanderen - Capri Sonne - T Interim                  5
86 Isabella Wieser (Aut) ELK Haus Tirol Noe                                  4
87 Teodora Ruano Sanchon (Spa) USC Chirio Forno d'Asolo                      4
88 Rosa Maria Bravo (Spa)                                                    4
89 Nathalie Bates (Aus) Van Bemmelen - AA Drink                              4
90 Laure Werner (Bel) Vlaanderen - Capri Sonne - T Interim                   3
91 Lyne Bessette (Can)                                                       3
92 Josephine Groenveld (Ned) Van Bemmelen - AA Drink                         3
93 Elodie Touffet (Fra) Pruneaux D'Agen                                      2
94 Julia Martissova (Rus) P.M.B. Fenixs                                      2
95 Daniela Fusar Poli (Ita) Nobili Rubinetterie - Menikini - Cogeas          2
96 Monika Krawczyk (Pol)                                                     1
97 Ana Paola Madrinan Villegas                                               1
98 Natalya Kachalka (Ukr) A.S. Team F.R.W                                    1
99 Helen Kelly (Aus)                                                         1