Trust House Women's Tour - 2.2
New Zealand, March 2-4, 2005
Main Page Results Stage Details Previous Stage Next Stage
Stage 3 - March 3: Masterton Criterium, 45km
Break barely holds on
By Jim Robinson
Swedish national champ Susanne Ljungskog (Buitenpoort-Flexpoint Team)
Photo ©: Mike Heydon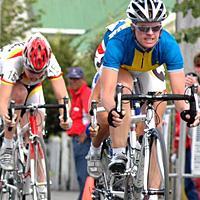 A blistering last two laps saw the main field almost haul in a long-standing break of five in this afternoon's criterium stage of the Trust House Women's Cycle Tour of New Zealand.
Almost, but not quite.
On the line the break still held an advantage of four seconds ­ down from 30 seconds with two laps to go. That saw an all-European podium with Susanne Ljungskog of Sweden besting Germans Trixi Worrack and Sarah Duster for the top three places.
The break had maintained a steady lead of 30-40 seconds, or half the winding circuit, since the mid-point of the hour-long race. Bearing in mind the speed at which the gap was shut down, there were obviously plenty of riders happy to let the five burn off steam - and contest the sprints.
Break rider Susie Wood, representing the Mizone New Zealand B team, collected enough points to jump into second spot in the final sprints classification. Fellow kiwi Melissa Holt wasn't in the break but won the classification anyway, having taken one point in the early laps of the race.
Thanks to the speed of the final laps, the morning's breakaways Nicole Freedman, Katie Brown and Miho Oki held onto their top three places on GC with virtually no change to their time buffer.
Photography
For a thumbnail gallery of these images, click here
Images by Mike Heydon/www.jetphotography.co.nz
Images by Joel Roberts
Results
1 Susanne Ljungskog (Swe) Buitenpoort-Flexipoint Team             1.09.17
2 Trixi Worrack (Ger) Equipe Nurnberger Versicherung                     
3 Sarah Duster (Ger) German National Team                                
4 Susie Wood (NZl) Mizone New Zealand B                                  
5 Sally Cowman (Aus) Queensland Academy Of Sport                         
6 Oenone Wood (Aus) Equipe Nurnberger Versicherung                   0.04
6 Judith Arndt (Ger) Equipe Nurnberger Versicherung                      
6 Olivia Gollan (Aus) Equipe Nurnberger Versicherung                     
6 Rochelle Gilmore (Aus) Australian National Team                        
6 Amy Gillett (Aus) Australian National Team                             
6 Katie Brown (Aus) Australian National Team                             
6 Madeleine Sandig (Ger) German National Team                            
6 Verena Joos (Ger) German National Team                                 
6 Edwige Pitel (Fra) Univega Pro Team                                    
6 Tri Kusuma Santia (Ina) Indonesian National Team                       
6 Miho Oki (Jpn) Japan National Team                                     
6 Miyoko Karami (Jpn) Japan National Team                                
6 Akemi Morimoto (Jpn) Japan National Team                               
6 Mirjam Melchers Van Poppel (Ned) Buitenpoort-Flexipoint Team           
6 Tanja Hennes-Smidt (Ger) Buitenpoort-Flexipoint Team                   
6 Linda Serup (Den) Buitenpoort-Flexipoint Team                          
6 Suzanne De Goede (Ned) Inexa/Cathy Watt Cycling Team                   
6 Claire Baxter (Aus) Inexa/Cathy Watt Cycling Team                      
6 Emma Rickards (Aus) Inexa/Cathy Watt Cycling Team                      
6 Jo Ryder (Aus) Inexa/Cathy Watt Cycling Team                           
6 Natalie Bates (Aus) Samsung Team                                       
6 Kirsty Bortolin (Aus) Samsung Team                                     
6 Emma Mackie (Aus) Samsung Team                                         
6 Keren Van Der Boom (NZl) Tait Communications Team                      
6 Carly Hibberd (Aus) Queensland Academy Of Sport                        
6 Sara Carrigan (Aus) Queensland Academy Of Sport                        
6 Jenny Macpherson (Aus) Queensland Academy Of Sport                     
6 Melissa Holt (NZl) New Zealand A                                       
6 Catherine Sell (NZl) New Zealand A                                     
6 Toni Bradshaw (NZl) New Zealand A                                      
6 Brei Gudsell (NZl) Mizone New Zealand B                                
6 Tammy Boyd (NZl) Mizone New Zealand B                                  
6 Amy Mosen (NZl) Mizone New Zealand B                                   
6 Robyn Wong (NZl) Trust House New Zealand C                             
6 Vicki Burr (NZl) Trust House New Zealand C                             
6 Carissa Wilkes (NZl) Trust House New Zealand C                         
6 Olga Slyusareva (Rus) Nobili Rubinetterie - Menikini Cogeas            
6 Sigrid Corneo (Ita) Nobili Rubinetterie - Menikini Cogeas              
6 Daniela Fusa Poli (Ita) Nobili Rubinetterie - Menikini Cogeas          
6 Silvia Valsecchi (Ita) Nobili Rubinetterie - Menikini Cogeas           
6 Joanne Kiesanowski (NZl) Nobili Rubinetterie - Menikini Cogeas         
6 Modesta Vzesnihuskaite (Lit) Nobili Rubinetterie - Menikini Cogeas     
6 Meredith Miller (USA) Avery Ford                                       
6 Lynn Gaggioli (USA) Avery Ford                                         
6 Helen Kelly (Aus) Avery Ford                                           
6 Tina Mayolo-Pic (USA) Avery Ford                                       
6 Frith Brown (NZl) Star & Garter Wheelers                               
6 Nicole Freedman (Isr) Western Australia                                
6 Kerry Cohen (Aus) Western Australia                                    
6 Kele Hulser (USA) Western Australia                                    
6 Caroline Jackson (GBr) Western Australia                               
57 Waibl Gina (NZl) Tait Communications Team                         0.22
58 Carolyn Jenkins (NZl) Star & Garter Wheelers                      0.26
59 Nathalie Laurendeau (Aus) Western Australia                       0.40
60 Muzizah Uyun (Ina) Indonesian National Team                       0.54
61 Emma James (Aus) Avery Ford                                       1.39
61 Serena Sheridan (NZl) Star & Garter Wheelers                          
63 Charlotte Becker (Ger) German National Team                       2.15
64 Louise Yaxley (Aus) Australian National Team                      4.30
64 Claudia Hecht (Ger) German National Team                              
64 Bianca Knopfle (Ger) German National Team                             
64 Bernadette Schoeber (Aut) Univega Pro Team                            
64 Karen Fulton (NZl) Trust House New Zealand C                          
64 Stacy Sims (NZl) Star & Garter Wheelers                               
70 Rosyida Dahlina (Ina) Indonesian National Team                    6.45
70 Jane Williams (NZl) Avery Ford                                        
70 Sandy Kunz (NZl) Star & Garter Wheelers                               
73 Richelle Marshall (NZl) Star & Garter Wheelers                    9.00
DNF Kerryn Charman (Aus) Inexa/Cathy Watt Cycling Team                   
DNF Judith May (Aus) Samsung Team                                        
DNF Candice Sullivan (Aus) Queensland Academy Of Sport                   
DNS Diana Rast (Swi) Univega Pro Team                                    
DNS Vonika Kriea Ros (Ina) Indonesian National Team                      
DNS Sri Suyamti (Ina) Indonesian National Team                           
DNS Anna Miyazaki (Jpn) Japan National Team                              
DNS Nichola Wilson (NZl) Tait Communications Team                        
DNS Nicola Johnson (NZl) Tait Communications Team                        
DNS Heidi-Jane Humphries (NZl) Tait Communications Team                  
DNS Lauren Rosborough (NZl) Tait Communications Team                     
 
General classification after stage 3
 
1 Nicole Freedman (Isr) Western Australia                         4.54.27
2 Katie Brown (Aus) Australian National Team                         0.02
3 Miho Oki (Jpn) Japan National Team                                 0.04
4 Catherine Sell (NZl) New Zealand A                                 0.06
4 Daniela Fusa Poli (Ita) Nobili Rubinetterie - Menikini Cogeas          
6 Susanne Ljungskog (Swe) Buitenpoort-Flexipoint Team                3.39
6 Tina Mayolo-Pic (USA) Avery Ford                                       
8 Trixi Worrack (Ger) Equipe Nurnberger Versicherung                 3.41
9 Sarah Duster (Ger) German National Team                            3.43
9 Oenone Wood (Aus) Equipe Nurnberger Versicherung                       
11 Susie Wood (NZl) Mizone New Zealand B                             3.45
11 Sally Cowman (Aus) Queensland Academy Of Sport                        
11 Joanne Kiesanowski (NZl) Nobili Rubinetterie - Menikini Cogeas        
14 Judith Arndt (Ger) Equipe Nurnberger Versicherung                 3.49
14 Rochelle Gilmore (Aus) Australian National Team                       
14 Amy Gillett (Aus) Australian National Team                            
14 Madeleine Sandig (Ger) German National Team                           
14 Edwige Pitel (Fra) Univega Pro Team                                   
14 Tri Kusuma Santia (Ina) Indonesian National Team                      
14 Miyoko Karami (Jpn) Japan National Team                               
14 Akemi Morimoto (Jpn) Japan National Team                              
14 Mirjam Melchers Van Poppel (Ned) Buitenpoort-Flexipoint Team          
14 Tanja Hennes-Smidt (Ger) Buitenpoort-Flexipoint Team                  
14 Linda Serup (Den) Buitenpoort-Flexipoint Team                         
14 Suzanne De Goede (Ned) Inexa/Cathy Watt Cycling Team                  
14 Claire Baxter (Aus) Inexa/Cathy Watt Cycling Team                     
14 Emma Rickards (Aus) Inexa/Cathy Watt Cycling Team                     
14 Jo Ryder (Aus) Inexa/Cathy Watt Cycling Team                          
14 Natalie Bates (Aus) Samsung Team                                      
14 Kirsty Bortolin (Aus) Samsung Team                                    
14 Emma Mackie (Aus) Samsung Team                                        
14 Keren Van Der Boom (NZl) Tait Communications Team                     
14 Carly Hibberd (Aus) Queensland Academy Of Sport                       
14 Sara Carrigan (Aus) Queensland Academy Of Sport                       
14 Jenny Macpherson (Aus) Queensland Academy Of Sport                    
14 Melissa Holt (NZl) New Zealand A                                      
14 Toni Bradshaw (NZl) New Zealand A                                     
14 Brei Gudsell (NZl) Mizone New Zealand B                               
14 Tammy Boyd (NZl) Mizone New Zealand B                                 
14 Amy Mosen (NZl) Mizone New Zealand B                                  
14 Robyn Wong (NZl) Trust House New Zealand C                            
14 Vicki Burr (NZl) Trust House New Zealand C                            
14 Carissa Wilkes (NZl) Trust House New Zealand C                        
14 Olga Slyusareva (Rus) Nobili Rubinetterie - Menikini Cogeas           
14 Sigrid Corneo (Ita) Nobili Rubinetterie - Menikini Cogeas             
14 Silvia Valsecchi (Ita) Nobili Rubinetterie - Menikini Cogeas          
14 Modesta Vzesnihuskaite (Lit) Nobili Rubinetterie - Menikini Cogeas    
14 Meredith Miller (USA) Avery Ford                                      
14 Lynn Gaggioli (USA) Avery Ford                                        
14 Helen Kelly (Aus) Avery Ford                                          
14 Frith Brown (NZl) Star & Garter Wheelers                              
14 Kerry Cohen (Aus) Western Australia                                   
14 Kele Hulser (USA) Western Australia                                   
14 Caroline Jackson (GBr) Western Australia                              
55 Waibl Gina (NZl) Tait Communications Team                         4.07
56 Carolyn Jenkins (NZl) Star & Garter Wheelers                      4.11
57 Nathalie Laurendeau (Aus) Western Australia                       4.25
58 Verena Joos (Ger) German National Team                            4.29
59 Muzizah Uyun (Ina) Indonesian National Team                       4.39
60 Emma James (Aus) Avery Ford                                       5.24
60 Serena Sheridan (NZl) Star & Garter Wheelers                          
62 Olivia Gollan (Aus) Equipe Nurnberger Versicherung                5.31
63 Charlotte Becker (Ger) German National Team                       6.00
64 Louise Yaxley (Aus) Australian National Team                      8.15
64 Claudia Hecht (Ger) German National Team                              
64 Karen Fulton (NZl) Trust House New Zealand C                          
64 Stacy Sims (NZl) Star & Garter Wheelers                               
68 Bianca Knopfle (Ger) German National Team                        11.37
68 Bernadette Schoeber (Aut) Univega Pro Team                            
70 Rosyida Dahlina (Ina) Indonesian National Team                   13.52
71 Jane Williams (NZl) Avery Ford                                   17.14
71 Sandy Kunz (NZl) Star & Garter Wheelers                               
73 Richelle Marshall (NZl) Star & Garter Wheelers                   18.06
 
Sprints classification
 
1 Melissa Holt (NZl) New Zealand A                                     10 pts
2 Susie Wood (NZl) Mizone New Zealand B                                 7
3 Joanne Kiesanowski (NZl) Nobili Rubinetterie - Menikini Cogeas        4
4 Natalie Bates (Aus) Samsung Team                                      3
5 Katie Brown (Aus) Australian National Team                            3
6 Susanne Ljungskog (Swe) Buitenpoort-Flexipoint Team                   2
7 Sarah Duster (Ger) German National Team                               2
8 Sally Cowman (Aus) Queensland Academy Of Sport                        2
9 Madeleine Sandig (Ger) German National Team                           2
10 Miho Oki (Jpn) Japan National Team                                   2
11 Tri Kusuma Santia (Ina) Indonesian National Team                     2
12 Michelle Hyland (NZl) New Zealand A                                  2
13 Tina Mayolo-Pic (USA) Avery Ford                                     2
14 Tammy Boyd (NZl) Mizone New Zealand B                                2
15 Daniela Fusa Poli (Ita) Nobili Rubinetterie - Menikini Cogeas        1
16 Serena Sheridan (NZl) Star & Garter Wheelers                         1
17 Catherine Sell (NZl) New Zealand A                                   1
 
Teams classification
 
1 Australian National Team                                       14.51.05
2 Japan National Team                                                    
3 New Zealand A                                                          
4 Nobili Rubinetterie - Menikini Cogeas - Italy                          
5 Western Australia                                                      
6 Buitenpoort-Flexipoint Team                                        3.39
7 Equipe Nurnberger Versicherung                                         
8 German National Team                                                   
9 Mizone New Zealand B                                                   
10 Queensland Academy Of Sport                                           
11 Avery Ford                                                        3.43
12 Inexa/Cathy Watt Cycling Team                                         
13 Samsung Team                                                          
14 Trust House New Zealand C                                             
15 Star & Garter Wheelers                                            5.40
16 Indonesian National Team                                         14.36