7th Jacob's Creek Tour Down Under - 2.HC
Australia, January 18-23, 2005
Interview for January 21, 2005
Consuming passion
Phil Zajicek, now in the driver's seat
Photo ©: Anthony Tan/CN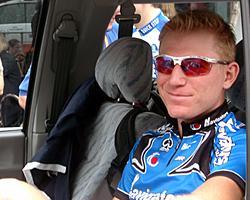 Stripped from a career-defining win at the Tour of Qinghai Lake after testing positive to a drug he claims was used to fight off a cold, Phil Zajicek went to hell and back in the months following in an attempt to rediscover his passion for a sport that almost consumed him. Cyclingnews' Anthony Tan caught up with him at the Jacob's Creek Tour Down Under, and discovered that passion is still very much alive.
July 25, 2004 was a very special day for Phil Zajicek and the Navigators Insurance cycling team. Their sprinter, Viktor Rapinski, had just won the final stage of the Tour of Qinghai Lake, a lung-busting, nine-day stage race in China held at high altitude. The Russian's win was his fourth in the race and the fifth for the team, contributing to a clean sweep of all of the major classifications by Navigators, including the overall classification won by Zajicek.
"In terms of our team really dominating an event over nine days at such a consistently high level, I can't think of any other time that they've delivered that," said Navigators team manager Ed Beamon to Cyclingnews after the event, sounding as proud as a father watching his son score his first goal in soccer.
Naturally, the blue crew celebrated well into the night, and 25 year-old Zajicek reflected on taking the biggest win of his career.
"If I can achieve half of what Danielson or Cunego has done, I'd be very happy," he said at the time, asked if his path would follow the upward trajectory of the race's previous two winners. "I would love to ride in Europe more, but right now I'm really content with the way things are going - I couldn't ask for anything more."
Unbeknown to Zajicek, things were about to turn sour. Very sour indeed.
During the race, he had been taking Sudafed to combat an occasional allergy. Although containing the once-banned substance pseudoephedrine, it has now been deemed safe for competition and does not hold any performance-enhancing properties.
However, a few months later, sometime around in early September, Zajicek received a note from the United States Anti-Doping Agency (USADA). In the letter, USADA told him that he had tested positive for cathine on July 22, on the morning on the sixth stage of the Tour of Qinghai Lake.
Cathine, a banned metabolite of norpseudoephedrine - which happens to be legal - is prohibited above a concentration in urine of 5mcg/ml. In his body, there were levels of just over 6mcg/ml.
According to Zajicek, he tested negative both the day before as well as the day after the test in question - even though a published study indicates that Cathine remains in one's system for 48 hours.
"In six tests that I had that week, only one showed the presence of norpseudoephedrine," he wrote in a statement following the release of his infringement by the US Anti-Doping Agency. "In addition, it is also found in plants indigenous to the region where I was racing (Northern China), and is quite common in tea and food from that area."
Upon learning of the violation, Zajicek was faced with two options: fight the case through the Court of Arbitration for Sport (CAS) in the small hope of having it overturned (which also bears significant cost and time), or accept the warning from USADA and be done with it. He chose the latter.
Said Zajicek in his statement: "I have chosen to accept a warning from USADA and would like to continue dialogue with the anti-doping agencies to ensure that this type of situation will not arise again. Although I am completely innocent in this case, it is with great reluctance that I am accepting their warning."
Pledging him and his team's support for the fight against doping in sport, Zajicek voluntarily pulled himself out of competition. But the damage had already been done.
"Relieved that was all over with, because it had pretty much been six weeks of hell," he says about his reaction at the time, now looking much happier and healthier before the start of the fourth stage of the Jacob's Creek Tour Down Under.
"On the other hand, I was incredibly upset with the way they [USADA] went about things and how wrong the rules were."
"You [Cyclingnews] saw it yourselves that they were wrong - that's why they gave me a warning," he says. "If they thought it was a serious doping infraction, they would of pursued a long suspension.
While Zajicek doesn't blame anyone in particular for the way the situation was handled, he is annoyed at a rule that he clearly believes is wrong - but closer to his heart, the fact that he can't change the mark against his name.
"Y'know, I understand US Anti-Doping has rules and they have to enforce the rules, but when the rules are wrong, that's when you run into issues," he says. "When you legalise a drug, and not its metabolites, that's a serious oversight. Unfortunately, the way the rules are created, they can't go back and change them after the fact."
Describing the reaction among his fans and peers as "incredible" (Zajicek says that out of 50 or 60 emails sent to him, he did not receive one negative response), the Tuscon, Arizona, resident realised after a couple of months in the doldrums that it was time to move on.
"When something like that happens, there's definitely a time where you step back, take a look, and ask yourself, 'Is this what I really want to be doing?' he begins.
"After taking a little bit of time for reflection, I realised this is what really makes me happy, and this is what I want to pursue, and at the heart of it, I realised I love bike racing."
Returning to Tuscon in November after spending the summer in Boulder, CO, Zajicek went back to what he knew: old roads and old friends, and fell back in love with riding his bike. With a bigger squad and 'Pro Continental Team' status (the rough equivalent of Division II status in the old UCI race language), 2005 bodes well for Navigators, and their week-long trip to Adelaide is designed to steer the ship in the right direction.
"I think every year, the program's getting more professional, bigger and better, and the racing programme in Europe definitely shows that, and that's great for the team," says Zajicek.
"I mean, the first race of the year's never easy, but it's very relaxed, and it's a good atmosphere for the first race of the year... I'm having a good time. Hopefully, I'll get in a break today - we've got some work to do."
Well, unfortunately that didn't happen - he'll have to wait at least until tomorrow. But in the overall scheme of things, Zajicek's main focus is the Tour of Georgia in April, along with the Settimana Ciclistica Internazionale Coppi-Bartali scheduled for March 22-26 this year.
"We have a fantastic program in Europe leading up to [Georgia], and with that combination, I have a chance to show myself," he says.
See also: An interview with Phil Zajicek - Higher and higher