7th Jacob's Creek Tour Down Under - 2.HC
Australia, January 18-23, 2005
News for January 18, 2005
JCTDU team presentation vox pop
The Grand Ball Room
Photo ©: CN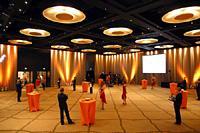 At the Jacob's Creek Tour Down Under team presentation in the Adelaide Hilton's Grand Ballroom on Monday afternoon, 12 teams (95 riders) were presented to the media, officials and invited guests. Along with compère Phil Liggett, Cyclingnews' Gabriella Ekström spoke to a number of riders about their current form and ambitions for the coming week.
Local favourite Stuart O'Grady (Cofidis) is raring to go after missing his home town event last year. But O'Grady couldn't complain about his 2004, which included a win in the HEW Cyclassics World Cup and a gold in the Olympic Madison. "I couldn't have had a better season last year," he said. "Today I'm glad the whole team wanted to come out with me and help me here. It's the first time for most of them in Australia, so they are all pretty geared up."
Gilberto Simoni (Lampre-Caffita)
Photo ©: CN

Two-time Giro d'Italia winner Gilberto Simoni (Lampre-Caffita) is under no illusions about the quality of racing he will get this week in his first trip to Australia. "Australia's certainly a long way from Italy, but there's important to me to get a good start on the new year," he said. "It's true there's no Alps here in Adelaide, but I've seen some hilly parts in training, and I'm sure I will suffer."
Kitted out in his new Credit Agricole colours, Estonian sprinter Jaan Kirsipuu is enjoying his annual sojourn in Australia. "I always look forward to this race," he said. "But again, my form is not so great. The Australians have got great form, and it's a bit early for me to be top fit."
South Australian Gene Bates, who will ride for the Uni SA team, said, "January's always the best time to have great form, and this time's no different. I've been spending a year as an amateur in Europe, and I had a good season so I got to finish it of with a stagiaire contract with Saeco. But unfortunately, after the merge with Lampre, there was no room for me on the team, so I'm back with the amateurs for another year."
His teammate Russell Van Hout will no doubt be on the attack as much as possible during the JCTDU. "I've had a good start to the year, as I won the [South Australian] state championship last Saturday, and then I finished third in the National Championships TT, but unfortunately that took a bit out of my legs for the road race the weekend after. I'll see how I have recovered."
Stuart O'Grady (Cofidis)
Photo ©: CN
Allan Davis (Liberty Seguros) looked bright and happy after racing well at the national championships last Saturday, where he finished sixth. "For the moment everything's going according to the plan, which is pretty much the same as it has been the last two years," said Davis. "The National's was my first race; up until then I had only been preparing. I hope to do well here, it's always great to have good form when you're racing at home, but the most important is how the team does."
Graeme Brown (Panaria) is hoping for some success during the week, despite injury problems. "I have won two stages in the past, but I've had some problems with my Achilles tendon for most of last year's season, so my form is not as good as it has been before," he said. "Tomorrow's criterium is the stage where I should have the best chance, so I'll give it a shot. That should only take about an hour."
The Jacob's Creek Tour Down Under
Photo ©: CN

Newly crowned Australian time trial champion Nathan O'Neill (Navigators) is definitely one of the more motivated riders. "Coming back home is fantastic, and my guys are fully psyched and ready to race," said O'Neill. "I've already had a fantastic day when I won the national championships TT last Wednesday. I had prepared quite specifically for that, and it worked out alright."
New pro for Ag2r Simon Gerrans didn't get a chance to wear the national champion's jersey that his team made up for him before last Saturday's race, but he still rode very well to finish 8th. "I've had a fantastic season last year, and to be able to finish it off as a stagiaire with Ag2r was a great chance. Entering 2005 with them, I have a new team to get to know, lots to learn and a lot of people to meet."