10th Telekom Malaysia Tour de Langkawi - 2.HC
Malaysia, January 28-February 6, 2005
Main Page Results Stage Details Previous Stage Next Stage
Stage 9 - February 5: Menara Kuala Lumpur - Putrajaya, 164.8 km
Panaria rules, OK!
Barloworld keep Cox in yellow
By Anthony Tan & Shane Stokes in Putrajaya
Graeme Brown (Ceramica Panaria-Navigare)
Photo ©: Cyclingnews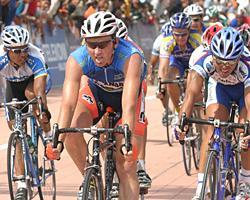 Over the last week and a half, Ceramica Panaria Navigare proved they're the best sprinting team in the race with a 71 percent stage-winning strike rate after seven road stages covered. Today, they would have gone from a high credit to a distinction if they had sat for their final year university exams, as Graeme Brown took his fourth win - and Panaria's sixth - on the penultimate stage of the Tour de Langkawi in Putrajaya.
With the aid of his loyal team-mates Sergiy Matveyev and Brett Lancaster, the 25 year-old Sydneysider overcame three difficult categorised climbs, short sightedness, and a quick change of plans to place himself firmly into the race's record books with the eight individual stage wins.
"The three climbs today, I was suffering a lot on, but thanks to my team, I didn't get dropped too much. I was always in reach of getting back on, and as it turned out, it all came back together. The finish was different to what was in the book, so it was a little bit of a shock and seeing the finish line where it was," chuckled Brown to the media at the post-race press conference.
Asked how the change of route at the finish affected his sprint strategy, Brown said to Cyclingnews it actually suited him better: "I saw the 500 metre to go sign, and expected to go left there and right at 300 to go. I'm actually short-sighted, and I saw in the background the finish was straight ahead; I thought, 'What's going on here?' - so I yelled at Lancaster to go. It worked out real well, and I actually thought it was a better finish anyway," he said with a smile.
Ryan Cox (Barloworld)
Photo ©: Cyclingnews

Meanwhile, earlier on in the day, Colombia Selle Italia unsurprisingly went on the attack in a last-ditch effort to try and wrestle the yellow jersey off Ryan Cox's shoulders. Unfortunately for Gianni Savio's mountain men, however, the climbs were too early and not long enough, and Barloworld were vigilant in keeping the lone breakaway of Marlon Perez in check.
"It didn't really phase us - he has been going well, but I don't think as well as last year," said Cox to Cyclingnews, who, barring disaster, will take the overall race honours after a 65 kilometre criterium in downtown Kuala Lumpur tomorrow. "When he went, we knew it was still far to go, and if we kept it within reach for the sprinters, they would come to the front to help us out, and that's exactly what happened."
Although describing the stage as a standard day in the office, Cox believed today to be the second hardest stage of the tour, coming off the back of the stage to Genting yesterday combined with the heat, where the mercury rose to 36 degrees Celsius.
Kuji Fukushima (Bridgestone Anchor)
Photo ©: Cyclingnews

"It was hard, and I didn't expect it to be so hot either today, so that also played a role," he said. "It was very hot today - probably the second hardest stage of the tour - just the climbs were too early for anyone to take control of the race, or attack to try and get the jersey from us. We're happy and now there's one more day."
Two riders not so content with the way things panned out were Koji Fukushima and Kristian House. The 31 year-old Japanese rider reverted back to what he knows best today, attacking from kilometre zero, again before the final KOM to bridge up to Perez - and again for a third time, 25 kilometres from the finish in attempt to take a second stage win, but it wasn't Koji-san's day.
"Yesterday, I couldn't answer to the job; my team-mates worked very hard for me for four days, and I was very sorry for them, because I couldn't keep my jersey," said Fukushima, who has a tendency for being a little too hard on himself. "Today, I tried my best for a stage win, but I couldn't do it against the great European professionals."
Kristian House (Great Britain)
Photo ©: Cyclingnews

The multitude of attacks from Colombia Selle Italia's Perez and Jose Rujano and the high speed chase by Barloworld also proved costly for mountains leader Kristian House. By no means a natural climber, the Brit was simply unable to match the accelerations on the climbs, which resulted in him dropping to third overall in the competition behind Cox and Fukushima, who will finish with 37 points each (Cox will win the classification on a count-back).
"Well, it was certainly a rough day for me today," said a despondent House. "I had to score points to keep the jersey, and when Rujano went three or four times on the climb, it's not really my style - I can go with him a couple of times, but not every time - so Ryan [Cox] took the jersey basically."
How it unfolded
No, it's base jumpers
Photo ©: Cyclingnews

Today's race saw the riders line out beneath the Menara Kuala Lumpur tower, a soaring structure in close proximity to the more famous Petronas Twin Towers. The action got underway a few minutes after four screw-loose base jumpers leap off the top, opening their parachutes and drifting down to land (fairly heavily!) close to the sign-on area. Riders, spectators and media were all left shaking their heads at the courage/daftness of the four, but it certainly made an interesting addition to the start.
Shortly after the flag dropped another entertaining daredevil put on a show, the former race leader Koji Fukushima ( Bridgestone Anchor) taking a trademark flyer from the bunch and scooting up the road. He was quickly brought back by the Barloworld Valsir - led peloton, but the move showed that his tenure in the yellow jersey had done little to curb his caution-to-the-wind approach. Barloworld and the Great Britain team combined to control things in the face of several attacks from other riders, driving the bunch along at speeds of up to 70 kilometres per hour as they sought to keep things together.
Marlon Perez (Colombia-Selle Italia)
Photo ©: Cyclingnews

A slight lull seven kilometres into the stage allowed Stefan Van Dijck (MrBookmaker.com) to jump away, the Dutchman following his tactic of recent days to try to overhaul Guillermo Bongiorno (Ceramica Panaria) who was second in the points standings. Van Dijck duly took the five points on offer, with Bongiorno's team-mate Graeme Brown, Mohammad Fauzan Lutfi (Proton T-Bikes) and Tiann Kannemeyer (Barloworld - Valsir) gobbling up the remaining bonuses.
Fukushima was at it again several kilometres later, setting off in pursuit of lone attacker Piotr Chmielewski (Action), but the Bridgestone Anchor rider was hauled back. Chmielewski stayed out in front for a while longer, being joined by Enrico Poitschke (Wiesenhof) and Ruggero Borghi (Domina Vacanze). At the 20 kilometre point a rider from Wismilak also jumped across, but he was dropped on the first slopes of the category two climb of Sg Tekali. Here Credit Agricole rider Christophe Le Mevel attacked the bunch, motoring past the three leaders in a bid to build a good lead while the others were absorbed by the Barloworld-led peloton.
The two chasers.
Photo ©: Cyclingnews

Le Mevel was himself caught and passed soon after when Leonardo Scarselli (Colombia Selle Italia) and Nuno Ribeiro (Liberty Seguros) blasted by. Ribeiro then dropped Scarselli but both were then caught by a fragmenting front group, with Scarselli's team-mates throwing down the gauntlet to race leader Ryan Cox and his Barloworld-Valsit team-mates. Cox and mountains leader House were both near the front as the group thinned down to about sixteen riders. Raffaele Illiano and Jose Rujano (both Colombia Selle Italia) were setting all the pace, but when Rujano attacked, Cox and his team-mate Tiaan Kannemeyer were both able to nail down the move, responding immediately.
Rujano led Cox and Kannemeyer over the top of the climb, a handful of seconds ahead of Ribiero and Cesar Grajales (Navigators Insurance). On the descent a partial regrouping took place with approximately 20 riders, Rujano, Cox and House included, and these opened up a lead of 35 seconds. However this group then sat up, with just Illiano (Colombia Selle Italia) and team-mate Marlon Perez persisting. The latter then set off alone to try to open up a decent advantage over the indecisive main field, riding strongly and fending off the chase of lone pursuer Erik Leblacher (Credit Agricole) for many kilometres.
At the KOM start he was 12 seconds ahead of Leblacher, with the yellow jersey group at 22 seconds and the peloton at 45 seconds. The sixteen riders in the yellow jersey group were Rafele Illiano and Jose Rujano (both Colombia Selle Italia), Saul Raisin (Credit Agricole), Tom Danielson (Discovery Channel), Sergio Ghisalberti (Domina Vacanze), Nuno Ribeiro (Liberty Seguros), Giuseppe Palumbo (Acqua & Sapone), Ryan Cox and Tiaan Kannemeyer (Barloworld-Valsir), Julio Alberto Perez Cuapio (Ceramica Panaria), Jurgen Van De Walle (Landbouwkrediet-Colnago), Cesar Grajales and Nathan O'Neill (Navigators Insurance), Tonton Susanto (Wismilak), plus Kristian House and Julian Winn (both Great Britain). Yet despite some serious firepower the lack of direction meant that these were soon caught by the peloton.
There was eventually four in the break
Photo ©: Cyclingnews

Perez took maximum points at the top of the first category climb of Bukit Hulu Beranang, with Leblacher, then Maxim Iglinskiy (Domina Vacanze) and two other chasers - Mirko Allegrini (Ceramica Panaria) and Geert Veheyen (Landbouwkrediet-Colnago) - spread out over a minute and 11 seconds behind. The peloton was at this stage just under two minutes back.
Going over the top, Iglinskiy joined up with Leblacher to make it two chasers. Further back, Michael Creed (Discovery Channel) jumped from the bunch and joins up with Veheyen, who had dropped Allegrini, making it two separate groups of two trying to reel in Perez. This second group swelled to three chasers when Dariusz Baranowski (Domina Vacanze) bridged the gap from the bunch. And yet, despite the reinforcements, Perez was doing a storming ride to stay clear.
At the 46 kilometre point he was 48 seconds up on Leblacher and Iglinskiy, with Creed, Veheyen and Baranowski 1 minute and 40 back. The peloton was at 2 minutes 17 seconds. Nine kilometres later the two chasing groups merged, making it five against one, and these odds improved even more when the ever-aggressive Koji Fukushima (Bridgestone Anchor) caught the five chasers at the 60 kilometre point. But with the peloton now just 20 seconds behind, all bar Fukushima gave up the ghost and went back to the bunch.
As expected, Lionheart Koji kept on going. He was joined a few kilometres later by Baranowski and David Kopp (Wiesenhof) prompting Perez to finally sit up and pool his strength with theirs. With four now riding as a cohesive unit their advantage started to go out again, from 40 seconds over the Barloworld Valsir-led peloton to 1 minute 20 seconds by the second HotSpot sprint at Kuala Klawang. Shortly after Fukushima won the prime the lead rose to its maximum of 1 minute and 26 seconds, proving enough of a buffer to survive attempts by riders such as Michael Barry (Discovery Channel) and Takashi Miyazawa (Bridgestone Anchor) to jump across.
Jose Rujano (Colombia Selle Italia) then attacked on the category 2 climb of Jeram Toi, but was quickly marked by Cox. They caught the other two chasers and eased back, being absorbed by the rest of the peloton once again. Perez took the points at the top of the climb from Fukushima, a sprint which would prove crucial in the race for the KOM jersey, while Christophe Le Mevel (Credit Agricole) tried and failed to bridge the gap. Shortly afterwards several riders fell on the twisting, dusty descent, with Jeff Louder (Navigators Insurance) and one of the Proton T-Bikes riders amongst those injured.
The four leaders were in the process of extending their lead to its maximum of 2 minutes and 5 seconds by the 111 kilometre point, but with points leader Graeme Brown (Ceramica Panaria) succeeding in regaining the peloton after the climb, the tide was set to turn. Brown's boys in orange went to the front of the bunch and started to hammer along, aiding the Barloworld-Valsir riders and making big inroads into the break's lead.
The finish was in grand surroundings
Photo ©: Cyclingnews

With 25 kilometres to go Fukushima decided it was another all-or-nothing moment, attacking the other three riders and opening up a 42 second lead. He kept the head down through the third HotSpot Sprint at Bangi, dragging out every last molecule of energy in an effort to stay away, but by the 150 kilometre point (14.8 kilometres to go) his lead was just 22 seconds. The pace behind was ballistic, the riders covering the final ten kilometres prior to his recapture in a scorching time of 11 minutes 23 seconds.
Brave Koji was finally gobbled up with 11 kilometres remaining, setting things up for a bunch sprint and yet another blistering gallop by the in-form Aussie Graeme Brown. He thundered across the line ahead of Antonio Salomoe (Barloworld-Valsir) and his own lead-out man Brett Lancaster (Ceramica Panaria), with Ryan Cox holding onto his race leaders yellow jersey and also taking the lead in the KOM classification from Kristian House. Fukushima retained the jersey as best Asian rider and also earned himself some more fans with what was a gutsy stubborn ride. No stage win this time, but he has further underlined that he is on a par with many of the European pros. And plays a mean harmonica too!
Photography
For a thumbnail gallery of these images, click here
Images by Mark Gunter/Cyclingnews.com
Results
1 Graeme Brown (Aus) Ceramica Panaria - Navigare                3.55.15
2 Antonio Salomone (Ita) Barloworld                                    
3 Brett Lancaster (Aus) Ceramica Panaria - Navigare                    
4 Antonio Cruz (USA) Discovery Channel                                 
5 Oleg Grishkine (Rus) Navigators Insurance                            
6 Steffen Radochla (Ger) Wiesenhof                                     
7 Antonio Bucciero (Ita) Acqua & Sapone - Adria Mobil                  
8 Giuseppe Palumbo (Ita) Acqua & Sapone - Adria Mobil                  
9 James Van Landschoot (Bel) Landbouwkrediet-Colnago                   
10 Stefan Van Dijck (Ned) Mr Bookmaker.Com-Sports Tech                 
11 Geoffroy Lequatre (Fra) Credit Agricole                             
12 Matej Jurco (Svk) Domina Vacanze                                    
13 Nico Sijmens (Bel) Landbouwkrediet-Colnago                          
14 Camille Bouquet (Fra) Mr Bookmaker.Com-Sports Tech                  
15 Maxim Iglinskiy (Kaz) Domina Vacanze                                
16 Mahdi Sohrabi (IRI) Iran                                            
17 David McKenzie (Aus) Wismilak                                       
18 Jens Renders (Bel) Mr Bookmaker.Com-Sports Tech                     
19 Houssein Askari (IRI) Iran                                          
20 Valery Kobzarenko (Ukr) Acqua & Sapone - Adria Mobil                
21 Piotr Chmielewski (Pol) Action                                      
22 Julian Dean (NZl) Credit Agricole                                   
23 Cesar Grajales (Col) Navigators Insurance                           
24 Daniele Di Biase (Ita) Colombia Selle Italia                        
25 Jesus Hernandez (Spa) Liberty Seguros                               
26 Eric Leblacher (Fra) Credit Agricole                                
27 Marlon Perez Arango (Col) Colombia Selle Italia                     
28 Julian Winn (GBr) Great Britain                                     
29 Nuno Ribeiro (Por) Liberty Seguros                                  
30 Ryan Cox (RSA) Barloworld                                           
31 Geert Verheyen (Bel) Landbouwkrediet-Colnago                        
32 Jose Rujano (Ven) Colombia Selle Italia                             
33 Mark Walters (Can) Navigators Insurance                             
34 Sergio Ghisalberti (Ita) Domina Vacanze                             
35 Tiaan Kannemeyer (RSA) Barloworld                                   
36 Fumiyuki Beppu (Jpn) Discovery Channel                              
37 Suhardi Hassan (Mas) Proton T-Bikes                                 
38 Ruggero Borghi (Ita) Domina Vacanze                                 
39 Christophe Le Mevel (Fra) Credit Agricole                           
40 Jurgen Van De Walle (Bel) Landbouwkrediet-Colnago                   
41 Tom Danielson (USA) Discovery Channel                               
42 Michael Barry (Can) Discovery Channel                               
43 Jens Heppner (Ger) Wiesenhof                                        
44 Nathan O'Neill (Aus) Navigators Insurance                           
45 Tonton Susanto (Ina) Wismilak                                       
46 Kurt Van De Wouwer (Bel) Mr Bookmaker.Com-Sports Tech               
47 René Joergensen (Den) Barloworld                                    
48 Saul Raisin (USA) Credit Agricole                                   
49 Koen De Kort (Ned) Liberty Seguros                                  
50 Shinichi Fukushima (Jpn) Bridgestone Anchor                     0.07
51 Stephen Gallagher (Irl) Ireland                                 0.08
52 Koji Fukushima (Jpn) Bridgestone Anchor                             
53 Bogdan Bondariew (Ukr) Action                                   0.11
54 Patrick McCarty (USA) Discovery Channel                             
55 Ghader Mizbani (IRI) Iran                                           
56 Rodney Green (RSA) Barloworld                                       
57 Yannick Talabardon (Fra) Credit Agricole                            
58 Jeffry Louder (USA) Navigators Insurance                            
59 Leonardo Scarselli (Ita) Colombia Selle Italia                  0.14
60 Nicolas Vogondy (Fra) Credit Agricole                               
61 Christopher Bradford (Aus) Wismilak                                 
62 Rene Andrle (Cze) Liberty Seguros                                   
63 Paul Griffin (Irl) Ireland                                          
64 Trent Wilson (Aus) Colombia Selle Italia                            
65 Ralf Grabsch (Ger) Wiesenhof                                        
66 Cristian Bonfanti (Ita) Domina Vacanze                              
67 Ahad Kazemi (IRI) Iran                                              
68 Jorg Jaksche (Ger) Liberty Seguros                              0.17
69 Md. Razali Shahrulneeza (Mas) Malaysia                          0.26
70 Kristian House (GBr) Great Britain                              0.28
71 Dariusz Baranowski (Pol) Liberty Seguros                        0.36
72 Joseba Beloki Dorronsoro (Spa) Liberty Seguros                      
73 Johan Verstrepen (Bel) Landbouwkrediet-Colnago                  0.37
74 Adam Wadecki (Pol) Action                                       0.56
75 Mirko Allegrini (Ita) Ceramica Panaria - Navigare               0.58
76 Michael Creed (USA) Discovery Channel                           0.59
77 Fortunato Baliani (Ita) Ceramica Panaria - Navigare             1.03
78 Martin Muller (Ger) Wiesenhof                                   1.18
79 David Kopp (Ger) Wiesenhof                                          
80 Julio Alberto Perez Cuapio (Mex) Ceramica Panaria - Navigare    1.49
81 Yasutaka Tashiro (Jpn) Bridgestone Anchor                           
82 Paul Manning (GBr) Great Britain                                2.12
83 Sergiy Matveyev (Ukr) Ceramica Panaria - Navigare               2.45
84 Sven Renders (Bel) Landbouwkrediet-Colnago                          
85 Tom Southam (GBr) Barloworld                                    3.14
86 Raffaele Illiano (Ita) Colombia Selle Italia                   13.48
87 Denis Bertolini (Ita) Acqua & Sapone - Adria Mobil             15.07
88 Roger Aitken (Irl) Ireland                                          
89 Vassili Davidenko (Rus) Navigators Insurance                        
90 Leonardo Moser (Ita) Acqua & Sapone - Adria Mobil                   
91 Hamad Md. Mahazir (Mas) Malaysia                                    
92 Md. Jasmin Ruslan (Mas) Proton T-Bikes                              
93 Dean Downing (GBr) Great Britain                                    
94 Md. Fauzah Lutfi (Mas) Proton T-Bikes                               
95 Wawan Setyobudi (Ina) Wismilak                                      
96 Alessandro D'Andrea (Ita) Acqua & Sapone - Adria Mobil              
97 Rosli Nor Effandy (Mas) Malaysia                                    
98 Enrico Grigoli (Ita) Domina Vacanze                                 
99 Abd. Nasir Md. Yusof (Mas) Malaysia                                 
100 Takehiro Mizutani (Jpn) Bridgestone Anchor                         
101 Guillermo Bongiorno (Arg) Ceramica Panaria - Navigare              
102 Russell Van Hout (Aus) Colombia Selle Italia                       
103 Takashi Miyazawa (Jpn) Bridgestone Anchor                          
104 Shinji Suzuki (Jpn) Bridgestone Anchor                             
105 Gregory Habeaux (Bel) Landbouwkrediet-Colnago                      
DNF Claudio Astolfi (Ita) Acqua & Sapone - Adria Mobil                 
DNF Marcin Osinski (Pol) Action                                        
DNF Dennis Kraft (Ger) Action                                          
DNF Kazimierz Stafiej (Pol) Action                                     
DNF David Plaza Romero (Spa) Barloworld                                
DNF Frederic Gabriel (Fra) Mr Bookmaker.Com-Sports Tech                
DNF Enrico Poitschke (Ger) Wiesenhof                                   
DNF Fallanie Ali (Mas) Proton T-Bikes                                  
DNF Yong Li Ng (Mas) Proton T-Bikes                                    
DNF Miyataka Shimizu (Jpn) Bridgestone Anchor                          
DNF Samai Samai (Ina) Wismilak                                         
DNF Robert Hayles (GBr) Great Britain                                  
DNF Chris Newton (GBr) Great Britain                                   
DNF Alireza Haghi (IRI) Iran                                           
DNF Moezeddin Seyed (IRI) Iran                                         
DNF Paidi O'Brien (Irl) Ireland                                        
DNF Sean Lacey (Irl) Ireland                                           
DNF Ramle Md. Rizal (Mas) Malaysia                                     
 
Points
 
1 Graeme Brown (Aus) Ceramica Panaria - Navigare                     15 pts
2 Antonio Salomone (Ita) Barloworld                                  14
3 Brett Lancaster (Aus) Ceramica Panaria - Navigare                  13
4 Antonio Cruz (USA) Discovery Channel                               12
5 Oleg Grishkine (Rus) Navigators Insurance                          11
6 Steffen Radochla (Ger) Wiesenhof                                   10
7 Antonio Bucciero (Ita) Acqua & Sapone - Adria Mobil                 9
8 Giuseppe Palumbo (Ita) Acqua & Sapone - Adria Mobil                 8
9 James Van Landschoot (Bel) Landbouwkrediet-Colnago                  7
10 Stefan Van Dijck (Ned) Mr Bookmaker.Com-Sports Tech                6
11 Geoffroy Lequatre (Fra) Credit Agricole                            5
12 Matej Jurco (Svk) Domina Vacanze                                   4
13 Nico Sijmens (Bel) Landbouwkrediet-Colnago                         3
14 Camille Bouquet (Fra) Mr Bookmaker.Com-Sports Tech                 2
15 Maxim Iglinskiy (Kaz) Domina Vacanze                               1
 
Mountains
 
Cat 2 at Sg Tekali
 
1 Jose Rujano (Ven) Colombia Selle Italia                            10 pts
2 Ryan Cox (RSA) Barloworld                                           7
3 Tiaan Kannemeyer (RSA) Barloworld                                   4
4 Nuno Ribeiro (Por) Liberty Seguros                                  2
5 Cesar Grajales (Col) Navigators Insurance                           1
 
Cat 1 at Bukit Hulu Beranang
 
1 Marlon Perez Arango (Col) Colombia Selle Italia                    15 pts
2 Eric Leblacher (Fra) Credit Agricole                               12
3 Maxim Iglinskiy (Kaz) Domina Vacanze                               10
4 David Kopp (Ger) Wiesenhof                                          8
5 Geert Verheyen (Bel) Landbouwkrediet-Colnago                        6
6 Dariusz Baranowski (Pol) Liberty Seguros                            4
7 Jose Rujano (Ven) Colombia Selle Italia                             2
8 Ryan Cox (RSA) Barloworld                                           1
 
Cat 2 at Jeram Toi
 
1 Marlon Perez Arango (Col) Colombia Selle Italia                    10 pts
2 Koji Fukushima (Jpn) Bridgestone Anchor                             7
3 David Kopp (Ger) Wiesenhof                                          4
4 Dariusz Baranowski (Pol) Liberty Seguros                            2
5 Christophe Le Mevel (Fra) Credit Agricole                           1
 
Sprints
 
HotSpot Sprint with bonuses at Pekan Batu 9
 
1 Stefan Van Dijck (Ned) Mr Bookmaker.Com-Sports Tech                 5 pts
2 Graeme Brown (Aus) Ceramica Panaria - Navigare                      3
3 Md. Fauzah Lutfi (Mas) Proton T-Bikes                               2
4 Tiaan Kannemeyer (RSA) Barloworld                                   1
 
HotSpot Sprint with bonuses at Kuala Klawang
 
1 Koji Fukushima (Jpn) Bridgestone Anchor                             5 pts
2 David Kopp (Ger) Wiesenhof                                          3
3 Dariusz Baranowski (Pol) Liberty Seguros                            2
4 Marlon Perez Arango (Col) Colombia Selle Italia                     1
 
HotSpot Sprint with bonuses at Bangi
 
PL  No.                                                                
1 Koji Fukushima (Jpn) Bridgestone Anchor                             5 pts
2 Mirko Allegrini (Ita) Ceramica Panaria - Navigare                   3
3 Sergiy Matveyev (Ukr) Ceramica Panaria - Navigare                   2
4 Fortunato Baliani (Ita) Ceramica Panaria - Navigare                 1
 
Asian rider
 
1 Mahdi Sohrabi (IRI) Iran                                      3.55.15
2 Houssein Askari (IRI) Iran                                           
3 Suhardi Hassan (Mas) Proton T-Bikes                                  
4 Tonton Susanto (Ina) Wismilak                                        
5 Shinichi Fukushima (Jpn) Bridgestone Anchor                      0.07
6 Koji Fukushima (Jpn) Bridgestone Anchor                          0.08
7 Ghader Mizbani (IRI) Iran                                        0.11
8 Ahad Kazemi (IRI) Iran                                           0.14
9 Md. Razali Shahrulneeza (Mas) Malaysia                           0.26
10 Yasutaka Tashiro (Jpn) Bridgestone Anchor                       1.49
11 Hamad Md. Mahazir (Mas) Malaysia                               15.07
12 Md. Jasmin Ruslan (Mas) Proton T-Bikes                              
13 Md. Fauzah Lutfi (Mas) Proton T-Bikes                               
14 Wawan Setyobudi (Ina) Wismilak                                      
15 Rosli Nor Effandy (Mas) Malaysia                                    
16 Abd. Nasir Md. Yusof (Mas) Malaysia                                 
17 Takehiro Mizutani (Jpn) Bridgestone Anchor                          
18 Takashi Miyazawa (Jpn) Bridgestone Anchor                           
19 Shinji Suzuki (Jpn) Bridgestone Anchor                              
 
Teams
 
1 Acqua & Sapone - Adria Mobil                                 11.45.45
2 Mr Bookmaker.Com-SportsTech                                          
3 Landbouwkrediet-Colnago                                              
4 Credit Agricole                                                      
5 Navigators Insurance                                                 
6 Domina Vacanze                                                       
7 Barloworld                                                           
8 Discovery Channel                                                    
9 Colombia Selle Italia                                                
10 Liberty Seguros                                                     
11 Iran                                                            0.11
12 Wiesenhoff                                                      0.14
13 Wismilak                                                            
14 Ceramica Panaria - Navigare                                     0.58
15 Action                                                          1.07
16 Bridgestone Anchor                                              2.04
17 Great Britain                                                   2.40
18 Ireland                                                        15.29
19 Proton T-Bikes                                                 30.14
20 Malaysia                                                       30.40
 
Asian team
 
1 Iran                                                         11.45.56
2 Bridgestone Anchor                                               1.53
3 Proton T-Bikes                                                  30.03
4 Malaysia                                                        30.29
 
General classification after stage 9
 
1 Ryan Cox (RSA) Barloworld                                    28.57.35
2 Jose Rujano (Ven) Colombia Selle Italia                          0.18
3 Tiaan Kannemeyer (RSA) Barloworld                                1.34
4 Cesar Grajales (Col) Navigators Insurance                        2.52
5 Tom Danielson (USA) Discovery Channel                            3.01
6 Jurgen Van De Walle (Bel) Landbouwkrediet-Colnago                3.44
7 Marlon Perez Arango (Col) Colombia Selle Italia                  4.07
8 Sergio Ghisalberti (Ita) Domina Vacanze                          4.08
9 Jesus Hernandez (Spa) Liberty Seguros                            4.17
10 Giuseppe Palumbo (Ita) Acqua & Sapone - Adria Mobil             4.49
11 Matej Jurco (Svk) Domina Vacanze                                5.13
12 Nathan O'Neill (Aus) Navigators Insurance                       5.25
13 Nuno Ribeiro (Por) Liberty Seguros                              5.46
14 Kurt Van De Wouwer (Bel) Mr Bookmaker.Com-Sports Tech           5.58
15 Michael Barry (Can) Discovery Channel                           6.00
16 Saul Raisin (USA) Credit Agricole                               6.14
17 Koji Fukushima (Jpn) Bridgestone Anchor                         6.17
18 Christophe Le Mevel (Fra) Credit Agricole                       6.19
19 Tonton Susanto (Ina) Wismilak                                   6.21
20 Valery Kobzarenko (Ukr) Acqua & Sapone - Adria Mobil            6.33
21 Eric Leblacher (Fra) Credit Agricole                            6.37
22 Mark Walters (Can) Navigators Insurance                         6.53
23 Yannick Talabardon (Fra) Credit Agricole                        7.02
24 Leonardo Scarselli (Ita) Colombia Selle Italia                  7.30
25 Jens Renders (Bel) Mr Bookmaker.Com-Sports Tech                 7.33
26 Patrick McCarty (USA) Discovery Channel                         7.49
27 Ahad Kazemi (IRI) Iran                                          8.14
28 Koen De Kort (Ned) Liberty Seguros                              9.02
29 Ghader Mizbani (IRI) Iran                                       9.25
30 Rodney Green (RSA) Barloworld                                       
31 Julio Alberto Perez Cuapio (Mex) Ceramica Panaria - Navigare    9.47
32 Geert Verheyen (Bel) Landbouwkrediet-Colnago                    9.50
33 Jeffry Louder (USA) Navigators Insurance                        9.51
34 Ruggero Borghi (Ita) Domina Vacanze                             9.54
35 Houssein Askari (IRI) Iran                                      9.58
36 Jens Heppner (Ger) Wiesenhof                                   10.16
37 Michael Creed (USA) Discovery Channel                          10.50
38 Fortunato Baliani (Ita) Ceramica Panaria - Navigare            11.28
39 Fumiyuki Beppu (Jpn) Discovery Channel                         11.36
40 René Joergensen (Den) Barloworld                               12.20
41 Kristian House (GBr) Great Britain                             13.22
42 Antonio Cruz (USA) Discovery Channel                           13.25
43 Piotr Chmielewski (Pol) Action                                 13.34
44 Julian Winn (GBr) Great Britain                                13.39
45 David McKenzie (Aus) Wismilak                                  13.45
46 Maxim Iglinskiy (Kaz) Domina Vacanze                           13.59
47 Geoffroy Lequatre (Fra) Credit Agricole                        14.08
48 Paul Griffin (Irl) Ireland                                     14.09
49 Shinichi Fukushima (Jpn) Bridgestone Anchor                    14.32
50 Md. Razali Shahrulneeza (Mas) Malaysia                         14.45
51 Ralf Grabsch (Ger) Wiesenhof                                   15.03
52 Camille Bouquet (Fra) Mr Bookmaker.Com-Sports Tech             15.04
53 Mahdi Sohrabi (IRI) Iran                                       15.15
54 Mirko Allegrini (Ita) Ceramica Panaria - Navigare              15.39
55 Johan Verstrepen (Bel) Landbouwkrediet-Colnago                 16.03
56 Christopher Bradford (Aus) Wismilak                            16.34
57 Antonio Salomone (Ita) Barloworld                              16.40
58 Rene Andrle (Cze) Liberty Seguros                              16.42
59 Martin Muller (Ger) Wiesenhof                                  16.58
60 Suhardi Hassan (Mas) Proton T-Bikes                            17.30
61 Graeme Brown (Aus) Ceramica Panaria - Navigare                 18.10
62 Stephen Gallagher (Irl) Ireland                                     
63 Tom Southam (GBr) Barloworld                                   18.13
64 David Kopp (Ger) Wiesenhof                                     18.17
65 Dariusz Baranowski (Pol) Liberty Seguros                       18.30
66 Antonio Bucciero (Ita) Acqua & Sapone - Adria Mobil            19.02
67 Nicolas Vogondy (Fra) Credit Agricole                          19.11
68 Steffen Radochla (Ger) Wiesenhof                               19.39
69 Brett Lancaster (Aus) Ceramica Panaria - Navigare              20.12
70 Daniele Di Biase (Ita) Colombia Selle Italia                   20.13
71 Stefan Van Dijck (Ned) Mr Bookmaker.Com-Sports Tech            20.28
72 Jorg Jaksche (Ger) Liberty Seguros                             20.43
73 Paul Manning (GBr) Great Britain                               21.06
74 Julian Dean (NZl) Credit Agricole                              21.25
75 Oleg Grishkine (Rus) Navigators Insurance                      22.10
76 Bogdan Bondariew (Ukr) Action                                  23.39
77 Nico Sijmens (Bel) Landbouwkrediet-Colnago                     24.06
78 Trent Wilson (Aus) Colombia Selle Italia                       25.22
79 Joseba Beloki Dorronsoro (Spa) Liberty Seguros                 25.28
80 Sven Renders (Bel) Landbouwkrediet-Colnago                     26.34
81 Adam Wadecki (Pol) Action                                      27.04
82 Cristian Bonfanti (Ita) Domina Vacanze                         29.09
83 James Van Landschoot (Bel) Landbouwkrediet-Colnago             29.23
84 Dean Downing (GBr) Great Britain                               30.18
85 Russell Van Hout (Aus) Colombia Selle Italia                   32.04
86 Sergiy Matveyev (Ukr) Ceramica Panaria - Navigare              32.16
87 Gregory Habeaux (Bel) Landbouwkrediet-Colnago                  33.42
88 Denis Bertolini (Ita) Acqua & Sapone - Adria Mobil             34.07
89 Yasutaka Tashiro (Jpn) Bridgestone Anchor                      34.57
90 Roger Aitken (Irl) Ireland                                     35.34
91 Alessandro D'Andrea (Ita) Acqua & Sapone - Adria Mobil         35.43
92 Md. Fauzah Lutfi (Mas) Proton T-Bikes                          36.11
93 Guillermo Bongiorno (Arg) Ceramica Panaria - Navigare          36.19
94 Leonardo Moser (Ita) Acqua & Sapone - Adria Mobil              36.20
95 Wawan Setyobudi (Ina) Wismilak                                 36.57
96 Rosli Nor Effandy (Mas) Malaysia                               37.11
97 Takehiro Mizutani (Jpn) Bridgestone Anchor                     38.18
98 Hamad Md. Mahazir (Mas) Malaysia                               38.45
99 Takashi Miyazawa (Jpn) Bridgestone Anchor                      39.34
100 Md. Jasmin Ruslan (Mas) Proton T-Bikes                        40.01
101 Enrico Grigoli (Ita) Domina Vacanze                           41.10
102 Raffaele Illiano (Ita) Colombia Selle Italia                  41.29
103 Vassili Davidenko (Rus) Navigators Insurance                  43.55
104 Shinji Suzuki (Jpn) Bridgestone Anchor                      1.03.40
105 Abd. Nasir Md. Yusof (Mas) Malaysia                         1.09.57
 
Points classification
 
1 Graeme Brown (Aus) Ceramica Panaria - Navigare                    114 pts
2 Stefan Van Dijck (Ned) Mr Bookmaker.Com-Sports Tech                75
3 Guillermo Bongiorno (Arg) Ceramica Panaria - Navigare              71
4 Oleg Grishkine (Rus) Navigators Insurance                          69
5 Antonio Salomone (Ita) Barloworld                                  59
6 Koji Fukushima (Jpn) Bridgestone Anchor                            50
7 James Van Landschoot (Bel) Landbouwkrediet-Colnago                 43
8 Brett Lancaster (Aus) Ceramica Panaria - Navigare                  42
9 Steffen Radochla (Ger) Wiesenhof                                   41
10 Geoffroy Lequatre (Fra) Credit Agricole                           36
11 Ryan Cox (RSA) Barloworld                                         34
12 Daniele Di Biase (Ita) Colombia Selle Italia                      31
13 Nico Sijmens (Bel) Landbouwkrediet-Colnago                        29
14 Denis Bertolini (Ita) Acqua & Sapone - Adria Mobil                29
15 David Kopp (Ger) Wiesenhof                                        28
16 Jose Rujano (Ven) Colombia Selle Italia                           27
17 Tiaan Kannemeyer (RSA) Barloworld                                 25
18 Julian Dean (NZl) Credit Agricole                                 25
19 Dean Downing (GBr) Great Britain                                  23
20 Cristian Bonfanti (Ita) Domina Vacanze                            23
21 Giuseppe Palumbo (Ita) Acqua & Sapone - Adria Mobil               21
22 Antonio Cruz (USA) Discovery Channel                              21
23 Enrico Grigoli (Ita) Domina Vacanze                               20
24 Takashi Miyazawa (Jpn) Bridgestone Anchor                         19
25 Antonio Bucciero (Ita) Acqua & Sapone - Adria Mobil               17
26 Nathan O'Neill (Aus) Navigators Insurance                         15
27 Tom Danielson (USA) Discovery Channel                             15
28 Maxim Iglinskiy (Kaz) Domina Vacanze                              15
29 Jurgen Van De Walle (Bel) Landbouwkrediet-Colnago                 13
30 Julio Alberto Perez Cuapio (Mex) Ceramica Panaria - Navigare      13
31 David McKenzie (Aus) Wismilak                                     12
32 Cesar Grajales (Col) Navigators Insurance                         11
33 Marlon Perez Arango (Col) Colombia Selle Italia                   11
34 Michael Barry (Can) Discovery Channel                             11
35 Jesus Hernandez (Spa) Liberty Seguros                             10
36 René Joergensen (Den) Barloworld                                   9
37 Bogdan Bondariew (Ukr) Action                                      9
38 Mirko Allegrini (Ita) Ceramica Panaria - Navigare                  8
39 Jens Renders (Bel) Mr Bookmaker.Com-Sports Tech                    8
40 Fortunato Baliani (Ita) Ceramica Panaria - Navigare                7
41 Fumiyuki Beppu (Jpn) Discovery Channel                             6
42 Mahdi Sohrabi (IRI) Iran                                           6
43 Christopher Bradford (Aus) Wismilak                                6
44 Gregory Habeaux (Bel) Landbouwkrediet-Colnago                      6
45 Alessandro D'Andrea (Ita) Acqua & Sapone - Adria Mobil             5
46 Nuno Ribeiro (Por) Liberty Seguros                                 5
47 Camille Bouquet (Fra) Mr Bookmaker.Com-Sports Tech                 5
48 Sven Renders (Bel) Landbouwkrediet-Colnago                         5
49 Russell Van Hout (Aus) Colombia Selle Italia                       5
50 Sergio Ghisalberti (Ita) Domina Vacanze                            4
51 Matej Jurco (Svk) Domina Vacanze                                   4
52 Kurt Van De Wouwer (Bel) Mr Bookmaker.Com-Sports Tech              4
53 Mark Walters (Can) Navigators Insurance                            4
54 Houssein Askari (IRI) Iran                                         4
55 Saul Raisin (USA) Credit Agricole                                  3
56 Suhardi Hassan (Mas) Proton T-Bikes                                3
57 Tom Southam (GBr) Barloworld                                       3
58 Takehiro Mizutani (Jpn) Bridgestone Anchor                         3
59 Abd. Nasir Md. Yusof (Mas) Malaysia                                3
60 Dariusz Baranowski (Pol) Liberty Seguros                           2
61 Joseba Beloki Dorronsoro (Spa) Liberty Seguros                     2
62 Sergiy Matveyev (Ukr) Ceramica Panaria - Navigare                  2
63 Roger Aitken (Irl) Ireland                                         2
64 Md. Fauzah Lutfi (Mas) Proton T-Bikes                              2
65 Valery Kobzarenko (Ukr) Acqua & Sapone - Adria Mobil               1
66 Eric Leblacher (Fra) Credit Agricole                               1
67 Julian Winn (GBr) Great Britain                                    1
68 Trent Wilson (Aus) Colombia Selle Italia                           1
69 Vassili Davidenko (Rus) Navigators Insurance                       1
 
Mountains classification
 
1 Ryan Cox (RSA) Barloworld                                          37 pts
2 Koji Fukushima (Jpn) Bridgestone Anchor                            37
3 Kristian House (GBr) Great Britain                                 33
4 Jose Rujano (Ven) Colombia Selle Italia                            32
5 Adam Wadecki (Pol) Action                                          26
6 Marlon Perez Arango (Col) Colombia Selle Italia                    25
7 Eric Leblacher (Fra) Credit Agricole                               19
8 René Joergensen (Den) Barloworld                                   19
9 David Kopp (Ger) Wiesenhof                                         18
10 Tiaan Kannemeyer (RSA) Barloworld                                 18
11 Julio Alberto Perez Cuapio (Mex) Ceramica Panaria - Navigare      16
12 Cesar Grajales (Col) Navigators Insurance                         11
13 Maxim Iglinskiy (Kaz) Domina Vacanze                              11
14 Nico Sijmens (Bel) Landbouwkrediet-Colnago                        10
15 Jesus Hernandez (Spa) Liberty Seguros                              8
16 Jurgen Van De Walle (Bel) Landbouwkrediet-Colnago                  6
17 Geert Verheyen (Bel) Landbouwkrediet-Colnago                       6
18 Dariusz Baranowski (Pol) Liberty Seguros                           6
19 Gregory Habeaux (Bel) Landbouwkrediet-Colnago                      6
20 Tom Danielson (USA) Discovery Channel                              5
21 Julian Winn (GBr) Great Britain                                    5
22 Giuseppe Palumbo (Ita) Acqua & Sapone - Adria Mobil                4
23 Nuno Ribeiro (Por) Liberty Seguros                                 4
24 Fortunato Baliani (Ita) Ceramica Panaria - Navigare                3
25 Mark Walters (Can) Navigators Insurance                            2
26 Fumiyuki Beppu (Jpn) Discovery Channel                             2
27 Dean Downing (GBr) Great Britain                                   2
28 Takashi Miyazawa (Jpn) Bridgestone Anchor                          2
29 Kurt Van De Wouwer (Bel) Mr Bookmaker.Com-Sports Tech              1
30 Christophe Le Mevel (Fra) Credit Agricole                          1
31 Rodney Green (RSA) Barloworld                                      1
32 Trent Wilson (Aus) Colombia Selle Italia                           1
 
Teams classification
 
1 Barloworld                                                   87.01.14
2 Colombia Selle Italia                                            2.30
3 Credit Agricole                                                  6.27
4 Navigators Insurance                                             6.34
5 Discovery Channel                                                6.49
6 Liberty Seguros                                                  8.33
7 Domina Vacanze                                                   9.42
8 Ceramica Panaria - Navigare                                     12.55
9 Iran                                                            16.16
10 Mr Bookmaker.Com-SportsTech                                    17.36
11 Landbouwkrediet-Colnago                                        18.57
12 Acqua & Sapone - Adria Mobil                                   21.14
13 Wismilak                                                       24.05
14 Action                                                         24.52
15 Bridgestone Anchor                                             25.45
16 Wiesenhoff                                                     29.01
17 Great Britain                                                  29.37
18 Ireland                                                        55.29
19 Proton T-Bikes                                               1.11.49
20 Malaysia                                                     1.20.54
 
Asian rider classificatoin
 
1 Koji Fukushima (Jpn) Bridgestone Anchor                      29.03.52
2 Tonton Susanto (Ina) Wismilak                                    0.04
3 Ahad Kazemi (IRI) Iran                                           1.57
4 Ghader Mizbani (IRI) Iran                                        3.08
5 Houssein Askari (IRI) Iran                                       3.41
6 Shinichi Fukushima (Jpn) Bridgestone Anchor                      8.15
7 Md. Razali Shahrulneeza (Mas) Malaysia                           8.28
8 Mahdi Sohrabi (IRI) Iran                                         8.58
9 Suhardi Hassan (Mas) Proton T-Bikes                             11.13
10 Yasutaka Tashiro (Jpn) Bridgestone Anchor                      28.40
11 Md. Fauzah Lutfi (Mas) Proton T-Bikes                          29.54
12 Wawan Setyobudi (Ina) Wismilak                                 30.40
13 Rosli Nor Effandy (Mas) Malaysia                               30.54
14 Takehiro Mizutani (Jpn) Bridgestone Anchor                     32.01
15 Hamad Md. Mahazir (Mas) Malaysia                               32.28
16 Takashi Miyazawa (Jpn) Bridgestone Anchor                      33.17
17 Md. Jasmin Ruslan (Mas) Proton T-Bikes                         33.44
18 Shinji Suzuki (Jpn) Bridgestone Anchor                         57.23
19 Abd. Nasir Md. Yusof (Mas) Malaysia                          1.03.40
 
Asian teams classification
 
1 Iran                                                         87.17.30
2 Bridgestone Anchor                                               9.29
3 Proton T-Bikes                                                  55.33
4 Malaysia                                                      1.04.38