Recently on Cyclingnews.com
10th Telekom Malaysia Tour de Langkawi - 2.HC
Malaysia, January 28-February 6, 2005
Wismilak team profile, February 9, 2005
Wish me luck: Wismilak's 10 year plan
Wismilak at the Tour de Langkawi
Photo ©: Cyclingnews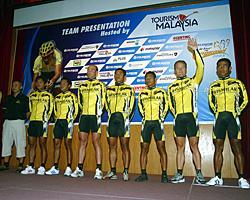 While certain teams like the Discovery Channel Pro Cycling Team use the Tour de Langkawi as a warm-up race to gain form and race fitness, others take the race far more seriously. Wismilak (pronounced wish-me-luck) falls into the latter group, and as Anthony Tan discovers, Indonesia's one and only professional cycling team has a 10-year plan of making it into the big time.
The tension at the start was palpable. It was a cloudy day, but being the dry season in Malaysia, there was no escape from the heat.
There was also no way out for the 129 riders left in the race, who were about to tackle the hardest stage of the 10th edition of the Tour de Langkawi, a 97.9 kilometre leg from Kuala Kubu Bahru to Genting Highlands. The 17 kilometre, 1716 metre ascent to Genting invariably decides the ultimate winner, so it was no surprise to see nervous chatter among riders, teams and the media.
Maybe it was nervous energy that led to Wismilak's Tonton Susanto attacking from the base of the climb the year before, staying away until five or six kilometres to go. "With Tonton, we've had to hold him back," says director Scott Guyton about his team's strategy for the day. "We've told him this year, he can't do anything until three k to go. We've told him to let the big boys play; if he can follow them, then that's great."
But when I speak with 30 year-old Susanto minutes before the start of the stage, it seems he hasn't quite got the message.
"I want to fight today," he says, his black steely-eyes showing a fierce determination. "I have been waiting and waiting [all week], but today, I will attack. I will stay in the front until the last five kilometres, and then go all out."
"They're not going to get any stronger with the advice from the Indonesian coach."
- Wismilak directeur sportif Scott Guyton on the need to bring foreign riders and staff to develop local talent
Little surprise then that 28 year-old Guyton, a New Zealander who rode with Wismilak in 2004 before taking the role of directeur sportif, has found his first few months with the team a challenge. But it's not to do with the language barrier - most of the Indonesian team management speak good English; it's more to do with trying to educate management on all things cycling.
"Once we get to the races, the knowledge within the team now is fine; we've got David McKenzie controlling race tactics as well as myself. It's the actual structure, trying to tell a sponsor he needs more than one director and manager, that we need all these people for a reason, and it all goes with the territory of a team to make it right," Guyton says with a certain sense of frustration.
It's Macca time!
David McKenzie
Photo ©: Cyclingnews

Six months ago, David McKenzie was thinking about leaving the sport he loves. Spending five months out of seven away from home in 2004, during which time he rode for the Navigators Insurance cycling team, became too much for McKenzie, who, along with his wife Susan, was now in the process of trying to raise a young family.
"Last year, we did it tough, and the three months we did in Europe, I thought, what's important here - not missing my kids grow up, or getting my butt kicked in Gent-Wevelgem, and finishing in the laughing group?" he says half-jokingly.
"Missing two months of my kid growing up, you can never get it back; Gent Wevelgem, maybe I can do that in two more years' time, whatever - the race is always going to be there. So I guess I decided to let go a little bit of my dreams as an athlete, going to do another Grand Tour one day."
Then along came Wismilak. The offer to stay at home in Oz, race for an team with an equivalent ranking in the UCI's eyes, and have team leader status (along with the perks that go with it) was a dream come true. "I never expected to have this scenario offered to me," says McKenzie, who was sitting at Kuala Lumpur airport, waiting for his return flight home the day after the final stage of the Tour de Langkawi.
"I like being a leader, but I didn't go out looking for that, either. I would've been happy to go to a smaller team, even on a smaller level, as far being put in the pecking order. But it's just worked out that way - really, it's the perfect scenario for me."
Performance-wise, McKenzie was hoping to go a little better than he did in Malaysia. Apart from the Asian rider and team classifications, a stage win was a big goal for Wismilak, but the closest he got was 4th place on Stage 6. Tonton Susanto missing out on the Asian rider classification by one second was hard to take, too.
It wasn't all bad though. In fact, the experience was all good, he says: "We worked well together as a team during the week, and we got to teach the Indonesian guys about tactics and racing as a real professional team. I guessed they've only raced at a much smaller level generally, but no, it's good, it's all good."
While the atmosphere within the team is casual and laid-back, it's not all about easy street. Both directeur sportif Scott Guyton and McKenzie were brought onto their team for their experience and to share the secrets of life as a professional cyclist, which ties in nicely with his development project back home. In a similar vein to that of Brad McGee's and Stuart O'Grady's involvement with developing young riders, McKenzie is now working with a young team based in Victoria called the HLT Group, which he does on a part-time basis.
Wismilak may be interested in development, but they also want to see results, which the 30 year-old Victorian is eager to show them. "I want to show to them it's not all take it easy, do stuff-all the next couple of years and then quit," he says.
"Y'know, I was really motivated this week; a couple of bunch sprints, I took some risks, and got up one day. You still take it seriously; otherwise for me, I'd rather quit. If I did it halfheartedly, I wouldn't do it at all."
Combining both interests, as well as having the flexibility to stay at home with his wife and kids Lulu (4) and Leeroy (19 months), is a dream come true for McKenzie, who can see himself riding out his final days as a pro with Wismilak.
"It's something I've dreamed of this year, and it's happened. I never thought this scenario would have happened - I actually thought I was going to have to quit. It gives stability, bread on the table, and a bottle of wine as well, so even better!" he chuckles, with smile reminiscent of a man who has the last laugh.
DS Scott Guyton
Photo ©: Cyclingnews

"Also, the general knowledge of cycling. I've never had to... one of the Indonesian managers, he knows what cycling is, but the sponsors really control the team, and that makes it really difficult."
It's not that the sponsors don't want to learn, but when a company appoints secretaries and staff with little to no knowledge of cycling to run the show, a long and steep learning curve awaits them. However, Guyton's frustrations aren't turning him away from the job.
"We always make do, they [Wismilak management] always know what's going on; we have a good laugh, they're a good bunch of guys," he says. "I'm always mucking around with them; it's good for us, because the Aussies [on the team] have the same mentality... it works really well."
And it's not an issue of money, either: Wismilak, ostensibly a stationery company that also owns a number of other subsidiaries under the same brand name, is one of Indonesia's largest. So big, in fact, that owner Willy Walla isn't particularly interested in having co-sponsors (at present, everything is paid for out of their own pockets), and when they do become interested, they only want to be associated with big brands - which in part explains their reason for choosing Colnago bicycles.
"If they want, they could go big straight away," says Guyton. "I've only met the head guy once, but he's told me he's got a 10-year plan for cycling, so they're not planning on sticking around for a year or anything - he's in it for the long haul."
Fact is, for the majority of Asia's top athletes, money is rarely an issue. Guyton recalls his days racing for Wismilak in Indonesia last year, where, among 80 or 90 starters, there was rarely a old clunker to be seen. "They were all pretty-well decked out," he remembers.
"In Asian countries, when it comes to sport, the government gets behind them; they get a lot of support, and if they get results, they get looked after like kings. If they get any result at a national, world, Asian Games [level], that means a lot to them. I think Tonton's been pretty well supported over the years by the Indonesians."
Tonton Susanto
Photo ©: Cyclingnews

However, one barrier - and a significant one - is traffic. Not in Tonton's home town of Bandung, where he's surrounded by beautiful roads and big mountains, but in major cities like Surabaya, where Wismilak's headquarters are found, Guyton says he's never seen anything like it - though not too surprising in a population of 200 million people. On the times he did train there, he came back black, covered head to toe from the smog and pollution.
Guyton believes the only way to nurture their young riders is to pull them out of the cities and into the country, and to recruit foreign help to develop talented amateurs into professionals. "They're not going to get any stronger with the advice from the Indonesian coach," he says. "They've got the right ideas - they just have to be more flexible with the [team] management to take control; that's all part of it, but I think that's coming."
Starting out life as a Division III squad in 2004, Wismilak is now referred to as a Pro Continental Team under the UCI's new ProTour/ Continental teams restructure, equivalent to Division II status in the old language. Along with the Tour de Langkawi, Wismilak's other main objective is the Tour of Qinghai Lake in China. A two-month European program is also on the cards, scheduled from August to September, but the priority is to keep the sponsor happy, and that means racing predominantly on the UCI's Asia Tour calendar.
For now, as we drive ever closer to the climb of Genting, Guyton talks about his hopes for the race, which mostly rest with Susanto.
"Well, we didn't set the goals too high," he begins, speaking with the necessary pragmatism required for such a young team. "Tonton is one of the best Asian riders, and barring crashes, which he's been behind one, he should be [in the] top three Asian [riders]. Hopefully, he can win it.
"One of his biggest rivals is [Ghader] Mizbhani of Iran, and that plus the Asian [teams] category was a goal; we've still got a pretty solid three riders finishing every day, so that was one of our goals - getting three riders up this climb today. We'll just see how long we can plug for David [McKenzie] and Chris [Bradford] - they'll be there to try and stay on as long as they can."
Describing Susanto as a "freak climber" who has the potential to go further with the right coaching, Guyton also mentions that at 30 years of age, "he's sort of getting a little old. But in saying that, he's still highly motivated," he says. "This is the first time he's been with a Division two team, so he's got a long way to go."
Another rider who Guyton says to watch out for is the team's sprinter, Samai Samai. "He's super fast. He's got a big turn of speed; it's only a small race, but he won a stage in the Tour of Sunraysia last year, but he could have easily won four if he positioned himself correctly."
As the riders hit the lower slopes of Genting, and the field begins to thin out, Susanto makes his way to the front of the lead group. So far, he's doing as he's been told, waiting, waiting, waiting...
But when the attacks begin for real, Tonton loses contact, as Colombia Selle Italia's Leonardo Scarselli, Marlon Perez and Jose Rujano make life uncomfortable for the flyweight Indonesian. It's obvious that Susanto's having an off day; we also pass McKenzie and Bradford, who need to finish well for the Asian teams competition, but the climb and the Iranians get the better of them in the end.
"A freak climber"
Photo ©: Cyclingnews

Tonton then finds a second wind. Although dropped from the lead group, he wrestles with his bicycle with all his might, and starts passing rider after rider inside the final five kilometres, finishing the stage just under four minutes in arrears of South African winner Ryan Cox in 20th place.
More importantly, Susanto is the first Asian rider, a minute clear of Ahad Kazemi and three minutes ahead of Ghader Mizbhani. However, he misses out on taking the Asian rider jersey from Koji Fukushima by six measly seconds.
The following two days, Tonton does everything he can to wrestle the jersey off Fukushima's shoulders - and almost does so - getting to within one second on the final stage in Kuala Lumpur, which probably hurt more than the climb to Genting.
One thing you can't say, though, is that the team didn't give the race their best shot, which is exactly what Wismilak wanted. "That's pretty much been the whole objective of the week, to much sure the sponsor's happy - that's more important than anything else," Guyton says.
Well, the boys certainly did that. Cheers to the future, Wismilak - we wish you luck!