Grand Prix of Wales - CDM
United Kingdom, August 20, 2005
Back to racing for the women in Wales
Wood leads the battle with four rounds to go
By Kristy Scrymgeour
Oenone Wood (Equipe Nurnberger)
Photo ©: Mitch Friedman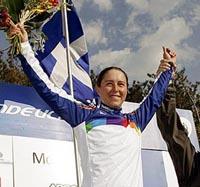 After what seems like a two month hiatus from major women's racing on the International circuit due to the cancellation of the Route de France Féminine and the sad accident in Germany, which turned the Thüringen Rundfahrt into more of a memorial ride, the women will be lining up again this weekend for Round Eight of the 2005 Women's World Cup series.
Instigated by the fact that Wales is home to one of the World's better female riders, Nicole Cooke, it is the first time a round of the World Cup will be held across the English Channel. Newport, Wales will do the honours of hosting the race, but injury will prevent the home town hero from competing this weekend. On her personal website, Cooke expressed her disappointment of not being able to start due to the ongoing knee problem that has plagued her season for most of this year and last. "The World Cup in Newport was one of my big target races this season and I am devastated to miss racing in front of my home crowd. I had hoped my knee would recover but the medical advice is that more recuperation time is needed."
The course, which starts outside the Celtic Manor resort is a 38km loop that will be completed three times for a total of 114km. Each lap consists of two difficult climbs; the first being at Wentwood and the second being the short sharp climb of Belmont Hill. Race organizers expect big crowds to welcome women's World Cup racing to British soil.
After Round Seven in Montreal, Canada, in late May, won by local Québécois rider Genevieve Jeanson, it is again defending World Cup champion Oenone Wood (Equipe Nurnberger Versicherung), who leads the series again this year. Wood, who took the lead back from Suzanne Ljungskog (Buitenpoort-Flexpoint Team) in Montreal, only narrowly leads over Ljungskog going into round Eight. The Swedish two-time World Champion told Cyclingnews in a recent interview that "although [the World Cup Series] wasn't one of my pre-season goals, it has become one. I have never won the World Cup before, and I'll give it my very best effort."
She added, that with the course this weekend being a lot like Plouay, it suited her much more than the flatter courses to come like Rotterdam and Nurnberger. Ljungskog and her teammate Mirjam Melchers-Van Poppel sit in second and third place in the overall standings and will be able to work off each other to try to take the lead from Wood.
Wood's Nurnberger team will be ready for that challenge however, bringing a strong team to the line including current World Champion Judith Arndt, Trixi Worrack and Olivia Gollan, who is finding her world class form again after a pre-season crash in Australia found her unconscious. Post concussion syndrome has hampered her season until now, but a win at last week's Scandinavian open road race proves that she is back up to speed.
Also up there on the leaders board, sitting in fifth place overall, is Holland's Suzanne De Goede (Van Bemmelen-AA Drink) who won the Dutch Time Trial Championships last weekend and has a strong team behind her. In eight place overall, but not starting this weekend is Rochelle Gilmore (Safi-Pasta Zara Manhattan). Rochelle was recently diagnosed with Lyme's disease and is on antiobiotics hoping to recover in time for the final two World Cups, which take place in September.
Women's world cup standings before GP of Wales
1 Oenone Wood (Aus) Equipe Nürnberger Versicherung                    242 pts
2 Susanne Ljungskog (Swe) Buitenpoort-Flexpoint Team                  223
3 Mirjam Melchers-Van Poppel (Ned) Buitenpoort-Flexpoint Team         196
4 Nicole Cooke (GBr) Safi-Pasta Zara Manhattan                        125
5 Suzanne De Goede (Ned) Van Bemmelen-AA Drink                        114
6 Judith Arndt (Ger) Equipe Nürnberger Versicherung                   109
7 Trixi Worrack (Ger) Equipe Nürnberger Versicherung                   89
8 Rochelle Gilmore (Aus) Safi-Pasta Zara Manhattan                     75
9 Geneviève Jeanson (Can)                                              75
10 Nicole Brändli (Swi) Team Bigla                                     72
11 Joanne Kiesanowski (NZl) Nobili Rubinetterie-Menikini Cogeas        59
12 Andréa Graus (Aut) Elk Haus-Tirol Noe                               54
13 Linda Serup (Den) Buitenpoort-Flexpoint Team                        52
14 Miho Oki (Jpn)                                                      50
15 Katherine Bates (Aus) Van Bemmelen-AA Drink                         46
16 Anita Valen (Nor) Vlaanderen-Capri Sonne-T Interim                  42
17 Tina Mayolo Pic (USA)                                               41
18 Theresa Senff (Ger) Van Bemmelen-AA Drink                           37
19 Tatiana Guderzo (Ita) Top Girls Fassa Bortolo Hausbrandt Caffe'     37
20 Monia Baccaille (Ita)                                               35
21 Monica Holler (Swe) Elk Haus-Tirol Noe                              30
22 Annette Beutler (Swi)                                               30
23 Regina Schleicher (Ger) Equipe Nürnberger Versicherung              30
24 Modesta Vzesniauskaite (Ltu) Nobili Rubinetterie-Menikini Cogeas    29
25 Sigrid Corneo (Ita) Nobili Rubinetterie-Menikini Cogeas             29
26 Sara Carrigan (Aus) Van Bemmelen-AA Drink                           27
27 Suzanne Ljungskog (Swe)                                             27
28 Jenny Macpherson (Aus)                                              27
29 Giorgia Bronzini (Ita)                                              27
30 Edita Pucinskaite (Ltu) Nobili Rubinetterie-Menikini Cogeas         26
31 Amber Neben (USA) Buitenpoort-Flexpoint Team                        25
32 Magali Le Floch (Fra) French National Team                          24
33 Melissa Holt (NZl) Team S.A.T.S                                     24
34 Erinne Willock (Can)                                                24
35 Luisa Tamanini (Ita) Team Bianchi-Aliverti                          23
36 Iturriaga, Eneritz (Spa)                                            21
37 Dorte Lohse Rasmussen (Den) Team S.A.T.S                            20
38 Madeleine Sandig (Ger) German National Team                         19
39 Sabrina Emmasi (Swi) Team Bigla                                     18
40 Joane Somarriba (Spa) Bizkaia-Panda Software-Durango                18
41 Christine Thornburn (USA)                                           18
42 Barbara Lancioni (Ita) Ss Lazio Ciclismo Team Ladispoli             17
43 Elisabeth Chevanne-Brunel (Fra) Team Pruneaux D'agen                15
44 Tanja Schmidt-Hennes (Ger) Buitenpoort-Flexpoint Team               15
45 Katie Brown (Aus) Ss Lazio Ciclismo Team Ladispoli                  13
46 Gunn-Rita Dahle (Nor) Safi-Pasta Zara Manhattan                     10
47 Edwige Pitel (Fra) Univega Pro Cycling Team                         10
48 Tatiana Shishkova (Mda) P.M.B. Fenixs                               10
49 Kate Nichols (Aus)                                                  10
50 Sarah Grab (Swi) Univega Pro Cycling Team                            9
51 Verena Joos (Ger)                                                    9
52 Trine Hansen (Den) Team S.A.T.S                                      8
53 Tammara Boyd (NZl)                                                   8
54 Lynn Gaggioli (USA)                                                  8
55 Maja Adamsn (Den) S.C. Michela Fanini Record Rox                     8
56 Susan Palmer-Komar (Can)                                             8
57 Loes Gunnewijk (Ned) Vrienden Van Het Platteland                     7
58 Veerle Ingels (Bel) Vlaanderen-Capri Sonne-T Interim                 7
59 Sarah Düster (Ger) Therme Skin Care                                  7
60 Dotsie Cowden (USA)                                                  7
61 Anna Zugno (Ita) Safi-Pasta Zara Manhattan                           7
62 Longhin, Katia (Ita) S.C. Michela Fanini Record Rox                  7
63 Fabiana Luperini (Ita) A.S. Team F.R.W                               6
64 Marianna Lorenzoni (Ita) A.S. Team F.R.W                             6
65 Patricia Schwager (Swi)                                              6
66 Evy Van Damme (Bel) Vlaanderen-Capri Sonne-T Interim                 5
67 Lada Kozlikova (Cze) Buitenpoort-Flexpoint Team                      5
68 Olga Slyussareva (Rus) Nobili Rubinetterie-Menikini Cogeas           5
69 Lynn Gaggioli (USA)                                                  5
70 Nathalie Bates (Aus) Van Bemmelen-AA Drink                           4
71 Alessandra D'Ettorre (Ita)                                           4
72 Bravo, Rosa Maria (Spa)                                              4
73 Lyne Bessette (Can)                                                  3
74 Josephine Groenveld (Ned) Van Bemmelen-AA Drink                      3
75 Sofie Goor (Bel) Vlaanderen-Capri Sonne-T Interim                    2
76 Daniella Fusar Poli (Ita)                                             
77 Emma Rickards (Aus)                                                  1
78 Sofie Creux (Fra)                                                    1
79 Natalyna Kachalka (Ukr) A.S. Team F.R.W                              1
80 Ana Paola Madrinan Villegas (Col)                                    1
81 Helen Kelly (Aus)                                                    1