2nd Women's Ronde van Vlaanderen - CDM
Belgium, April 3, 2005
Melchers-Van Poppel and Ljungskog give 'em the 1-2
Fight for third a farce as peloton sent wrong way
By Jeff Jones in Ninove-Meerbeke
The women's podium (L to R):
Photo ©: Jeff Jones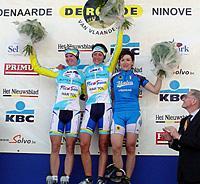 There was no doubt about who were the strongest two women in today's 2nd Ronde van Vlaanderen voor Dames, as Mirjam Melchers-Van Poppel accelerated away from her Buitenpoort-Flexpoint teammate and breakaway companion Susanne Ljungskog with 200m to go to win one of the toughest women's races on the calendar. These two had come together just after the Muur van Geraardsbergen with 16 km to go, and naturally cooperated perfectly to the finish as the chasing bunch of 20 couldn't get closer than 40 seconds.
"It's the Ronde van Vlaanderen and it's one of the most beautiful world cups to win," said a happy Melchers-Van Poppel. "But the best thing is that it was the team that won today. They rode a great race.
It was Melchers who made the first move, attacking with approximately 25 km to go on the run into Geraardsbergen, and the feared Muur. She had 15 seconds lead when her teammate and two time World Champion Susanne Ljungskog attacked in pursuit. "When Mirjam got a gap, it was super because Nürnberger had to work and I was just on the wheel," Ljungskog explained to Cyclingnews post-race. "On the Muur I attacked and caught Mirjam 200 metres after the hill. Then we just went together and we had 35 seconds, so it was good. In the end...of course [Mirjam] had to win because she's almost from here. So she took the victory and I'm very happy with that.
Susanne Ljungskog (Buitenpoort-Flexpoint)
Photo ©: John Pierce

"There were a lot of attacks from my team. Amber Neben was doing a great job today and all of my teammates were really strong. It was a hard race. There were a lot of small climbs and it hurt. The Muur is the hardest. But I had good legs today so for me it was OK."
Melchers added that Buitenpoort-Flexpoint took everyone a bit by surprise with the two-up attack. "I don't think anyone expected it," she said. "I think we controlled the race well, we always had someone up there. We made the race."
Unfortunately, the race for third ended in farcical circumstances, as the big chase group was sent the wrong way in the final two kilometres to cross the finish line in the opposite direction! That group contained the 'best of the rest', including World Cup leader Oenone Wood (Nürnberger), who was furious with what happened.
Judith Arndt (Nurnberger)
Photo ©: Jon Devich

"There were two out the front and they sent the bunch the wrong way," Wood told Cyclingnews afterwards. "It was in the last two kilometres, and we were following the car. There were about 20 girls in that bunch and we all came up here! I don't know what they'll do with the placings, but that's all the [World Cup] points. It's totally shit. It's not fair to give anyone points today."
Every rider in Wood's group was given a DNF, meaning that Italian national team rider Monia Baccaille finished third, after winning the bunch sprint from group 3 that came in a 1'23. But despite protests, it was decided to award World Cup points, meaning that Wood lost the jersey to Melchers.
Oenone Wood (Nurnberger)
Photo ©: Jeff Jones

"It was a really hard race," Wood explained. "Especially because they put the new sections in this year; we had two extra sections of cobbles...The conditions were better today [than last year]. They were beautiful conditions, but it was pretty tough still. It's pretty disappointing though, a big stuff up."
The next round of the women's cup is La Flèche Wallonne on April 20, and hopefully the women will be able to finish off the race properly this time.
Photography
For a thumbnail gallery of these images, click here
Images by Jonathan Devich/epicimages.us
Images by Jeff Jones/Cyclingnews.com
Images by John Pierce/Photosport International
Results - 112 km
1 Mirjam Melchers-Van Poppel (Ned) Buitenpoort-Flexpoint Team          3.13.00 (34.819 km/h)
2 Susanne Ljungskog (Swe) Buitenpoort-Flexpoint Team                      0.07
3 Monia Baccaille (Ita) Italian National Team                             1.23
4 Monica Holler (Swe) Elk Haus-Tirol Noe                                      
5 Giorgia Bronzini (Ita) Mixed 2 Chirio Forno D Asolo - Turbo                 
6 Magali Le Floch (Fra) French National Team                                  
7 Suzanne De Goede (Ned) Van Bemmelen-AA Drink                                
8 Sabrina Emmasi (Ita) Team Bigla                                             
9 Elisabeth Chevanne-Brunel (Fra) Team Pruneaux D'agen                        
10 Barbara Lancioni (Ita) Ss Lazio Ciclismo Team Ladispoli                    
11 Tatiana Shishkova (Rus) P.M.B. Fenixs                                      
12 Sarah Grab (Swi) Mixed 1Univega / Arbö Askö Graz                           
13 Luisa Tamanini (Ita) Team Bianchi-Aliverti                                 
14 Veerle Ingels (Bel) Vlaanderen-Capri Sonne-T Interim                       
15 Dorte Lohse Rasmussen (Den) Team S.A.T.S                                   
16 Lada Kozlikova (Cze) Buitenpoort-Flexpoint Team                            
17 Alessandra D Ettorre (Ita) Italian National Team                           
18 Josephine Groenveld (Ned) Van Bemmelen-AA Drink                            
19 Andrea Graus (Aut) Elk Haus-Tirol Noe                                      
20 Sofie Creux (Fra) French National Team                                     
21 Sara Carrigan (Aus) Van Bemmelen-AA Drink                                  
22 Silvia Parietti (Ita) Ss Lazio Ciclismo Team Ladispoli                     
23 Meredith Miller (USA) Team S.A.T.S                                         
24 Linda Serup (Den) Buitenpoort-Flexpoint Team                               
25 Sandrine Marcuz (Fra) Team S.A.T.S                                         
26 Amber Neben (USA) Buitenpoort-Flexpoint Team                               
27 Elodie Touffet (Fra) French National Team                                  
28 Magalie Finot-Laivier (Fra) French National Team                           
29 Clemilda Fernandes Silva (Bra) Mixed 2 Chirio Forno D Asolo - Turbo    2.56
30 Kirsten Wild (Ned) @Work Cycling Team                                      
31 Anna Gusmini (Ita) Nobili Rubinetterie-Menikini Cogeas                 5.02
32 Alessandra Grassi (Ita) Safi-Pasta Zara Manhattan                          
33 Daniela Fusar Poli (Ita) Nobili Rubinetterie-Menikini Cogeas               
34 Beatrice Thomas (Fra) French National Team                                 
35 Arenda Grimberg (Ned) Therme Skin Care                                     
36 Tanja Schmidt-Hennes (Ger) Buitenpoort-Flexpoint Team                      
37 Judith Arndt (Ger) Equipe Nürnberger Versicherung                          
38 Tatiana Guderzo (Ita) Italian National Team                            5.30
39 Sigrid Corneo (Ita) Nobili Rubinetterie-Menikini Cogeas                    
40 Modesta Vzesniauskaite (Ltu) Nobili Rubinetterie-Menikini Cogeas           
41 Miho Oki (Jpn) Mixed 2 Chirio Forno D Asolo - Turbo                        
42 Karin Thürig (Swi) Mixed 1Univega / Arbö Askö Graz                         
43 Edita Pucinskaite (Ltu) Nobili Rubinetterie-Menikini Cogeas                
44 Anna Zugno (Ita) Safi-Pasta Zara Manhattan                             6.00
45 Christiane Soeder (Aut) Mixed 1Univega / Arbö Askö Graz                6.08
46 Ine Wannijn (Bel) Vlaanderen-Capri Sonne-T Interim                     6.25
47 Sara Peeters (Bel) WC Oostende Noordzee                                9.23
48 Monika Schachl (Aut) Elk Haus-Tirol Noe                                    
49 Miyoko Karami (Jpn) Safi-Pasta Zara Manhattan                              
50 Sarah Düster (Ger) Therme Skin Care                                        
51 Minke Van Dongen (Ned) Vrienden Van Het Platteland                         
52 Laura Bozzolo (Ita) Italian National Team                                  
53 Alessandra Borchi (Ita) S.C. Michela Fanini Record Rox                     
54 Janneke Vos (Ned) Therme Skin Care                                         
 
Outside time limit (hors delai)
HD Nathalie Bates (Aus) Van Bemmelen-AA Drink                            10.37
HD Rochelle Gilmore (Aus) Safi-Pasta Zara Manhattan                           
HD Mette Andersen (Den) Team S.A.T.S                                     10.54
HD Sabine Fischer (Ger) German National Team                                  
HD Tiina Nieminen (Fin) Team Pruneaux D'agen                             13.26
HD Liesbet De Vocht (Bel) KSV Deerlijk Gaverzicht                        13.45
HD Ann Van Rie (Bel) Belgian National Team                               13.48
HD Costanza Martinelli (Ita) Ss Lazio Ciclismo Team Ladispoli            14.00
HD Bianca Knöpfle (Ger) German National Team                                  
HD Lorenza Morfin (Mex) Mixed 2 Chirio Forno D Asolo - Turbo                  
HD Katleen Vermeiren (Bel) Belgian National Team                         14.52
HD Ilse Temmerman (Bel) KSV Deerlijk Gaverzicht                               
HD Karen Steurs (Bel) Belgian National Team                                   
HD Claudia Häusler (Ger) Elk Haus-Tirol Noe                                   
HD Inga Cilvinaite (Ltu) Team Bianchi-Aliverti                                
HD Svetlana Pauliukaite (Ltu) Team Bianchi-Aliverti                           
HD Lien Verhaeghe (Bel) Belgian National Team                                 
HD Natacha Maes (Bel) WC Oostende Noordzee                                    
HD Kathy Ingels (Bel) Belgian National Team                                   
HD Kristy Miggels (Ned) Vrienden Van Het Platteland                           
HD Zita Urbonaite (Ltu) Safi-Pasta Zara Manhattan                             
HD Aukje De Koning (Ned) Vrienden Van Het Platteland                          
HD Letizia Giardinelli (Ita) S.C. Michela Fanini Record Rox                   
HD Iris Slappendel (Ned) Vrienden Van Het Platteland                          
HD Iosune Murillo Elkano (Spa) Bizkaia-Panda Software-Durango                 
HD Jaccolien Wallaard (Ned) @Work Cycling Team                                
HD Debby Mansveld (Ned) Vlaanderen-Capri Sonne-T Interim                      
HD Tania Belvederesi (Ita) Italian National Team                              
HD Luise Keller (Ger) German National Team                                    
HD Corine Hierckens (Bel) Therme Skin Care                                    
HD Anke Wichmann (Ger) Equipe Nürnberger Versicherung                         
HD Olivia Gollan (Aus) Equipe Nürnberger Versicherung                         
HD Loes Markerink (Ned) @Work Cycling Team                                    
HD Regina Schleicher (Ger) Equipe Nürnberger Versicherung                     
HD Ghita Beltman (Ned) @Work Cycling Team                                     
DNF Nicole Brändli (Swi) Team Bigla                                           
DNF Lidia Arcangeli (Ita) Team Bigla                                          
DNF Janildes Fernandes Silva (Bra) Team Bigla                                 
DNF Melanie Tunesi (Swi) Team Bigla                                           
DNF Oenone Wood (Aus) Equipe Nürnberger Versicherung                          
DNF Trixi Worrack (Ger) Equipe Nürnberger Versicherung                        
DNF Joanne Kiesanowski (NZl) Nobili Rubinetterie-Menikini Cogeas              
DNF Theresa Senff (Ger) Van Bemmelen-AA Drink                                 
DNF Katherine Bates (Aus) Van Bemmelen-AA Drink                               
DNF Priska Doppmann (Swi) Mixed 1Univega / Arbö Askö Graz                     
DNF Edwige Pitel (Fra) Mixed 1Univega / Arbö Askö Graz                        
DNF Hanka Kupfernagel (Ger) Vlaanderen-Capri Sonne-T Interim                  
DNF Anita Valen (Nor) Vlaanderen-Capri Sonne-T Interim                        
DNF Evy Van Damme (Bel) Vlaanderen-Capri Sonne-T Interim                      
DNF Nicole Cooke (GBr) Safi-Pasta Zara Manhattan                              
DNF Cristina Alcalde Huertanos (Spa) Bizkaia-Panda Software-Durango           
DNF Naiara Telletxea Lopez (Spa) Bizkaia-Panda Software-Durango               
DNF Maitane Telletxea Lopez (Spa) Bizkaia-Panda Software-Durango              
DNF Agurtzane Elorriaga (Spa) Bizkaia-Panda Software-Durango                  
DNF Chantal Beltman (Ned) Vrienden Van Het Platteland                         
DNF Loes Gunnewijk (Ned) Vrienden Van Het Platteland                          
DNF Christine Müller (Ger) Elk Haus-Tirol Noe                                 
DNF Karin Wieser (Aut) Elk Haus-Tirol Noe                                     
DNF Alexandra Nohles (Ger) P.M.B. Fenixs                                      
DNF Vanessa Saccomani (Ita) P.M.B. Fenixs                                     
DNF Julia Martissova (Rus) P.M.B. Fenixs                                      
DNF Sonia Rocca (Ita) P.M.B. Fenixs                                           
DNF Veronika Andreasson (Swe) Team Bianchi-Aliverti                           
DNF Ramune Lipinskaite (Ltu) Team Bianchi-Aliverti                            
DNF Maja Adamsen (Den) S.C. Michela Fanini Record Rox                         
DNF Katia Longhin (Ita) S.C. Michela Fanini Record Rox                        
DNF Kelly Campbell Rook (USA) S.C. Michela Fanini Record Rox                  
DNF Elena Guerri (Ita) S.C. Michela Fanini Record Rox                         
DNF Trine Hansen (Den) Team S.A.T.S                                           
DNF Christina Mos (Ned) Therme Skin Care                                      
DNF Irene Van Den Broek (Ned) Therme Skin Care                                
DNF Areke Hassink (Ned) @Work Cycling Team                                    
DNF Brigit Mulder (Ned) @Work Cycling Team                                    
DNF Marta Vilajosana Andreu (Spa) Ss Lazio Ciclismo Team Ladispoli            
DNF Emanuela Citracca (Ita) Ss Lazio Ciclismo Team Ladispoli                  
DNF Alexandra Le Henaff (Fra) Team Pruneaux D'agen                            
DNF Vicky Fournial (Fra) Team Pruneaux D'agen                                 
DNF Aude Pollet (Fra) Team Pruneaux D'agen                                    
DNF Madeleine Sandig (Ger) German National Team                               
DNF Claudia Hecht (Ger) German National Team                                  
DNF Oxana Kostenko (Rus) Russian National Team                                
DNF Irina Zemlyanskaya (Rus) Russian National Team                            
DNF Apollinaria Bakova (Rus) Russian National Team                            
DNF Elena Andreeva (Rus) Russian National Team                                
DNF Noemi Cantele (Ita) Italian National Team                                 
DNF Sonja Huguet (Fra) French National Team                                   
DNF Katleen Sterckx (Bel) Belgian National Team                               
DNF Lilliane Leenknegt (Bel) KSV Deerlijk Gaverzicht                          
DNF Grace Verbeke (Bel) KSV Deerlijk Gaverzicht                               
DNF Charlot Verhaeghe (Bel) KSV Deerlijk Gaverzicht                           
DNF Hilde De Meulemeester (Bel) KSV Deerlijk Gaverzicht                       
DNF Natacha Cordy (Bel) WC Oostende Noordzee                                  
DNF Natacha Nobels (Bel) WC Oostende Noordzee                                 
DNF Ilse Fiers (Bel) WC Oostende Noordzee                                     
DNF Lien Beyen (Bel) WC Oostende Noordzee                                     
DNF Francesca Castrucci (Ita) Mixed 2 Chirio Forno D Asolo - Turbo            
DNS Nadia Triquet-Claude (Fra) Team Pruneaux D'agen                           
 
Starters: 150
Classified: 54



World Cup standings after round 4

1 Mirjam Melchers-Van Poppel (Ned) Buitenpoort-Flexpoint Team