Recently on Cyclingnews.com
An interview with Henk Vogels, April 9, 2005
Coming full circle: Part I
2005 marks Henk Vogels eleventh year as a professional. It's a journey that has seen him begin in Belgium, move to France, head west to America, and now return back to Belgium, a place where he feels he belongs as a bike rider. On the eve of the 103rd Paris-Roubaix, Cyclingnews' Anthony Tan speaks with a man who has come full circle.
In returning to Davitamon-Lotto in 2005, Henk Vogels has come full-circle, back to the place where he started as a 21 year-old neo-pro in 1995.
Photo ©: Shane Goss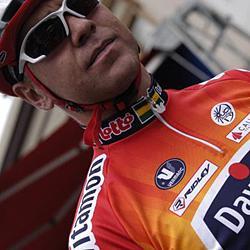 Two days before the biggest one-day classic of the year, how is Henk Vogels feeling?
"I feel great," he says in a sprightly tone to Cyclingnews, sprawled out on his bed at the Holiday Inn in Gent Expo. "I haven't had the ideal preparation as far as races go, but in Gent-Wevelgem, I felt quite strong - the crosswinds there were brutal, there was a lot of splitting in the peloton, and I seemed to be in every move, which you can't just fluke."
That morning, Vogels and his Davitamon-Lotto team-mates for Paris-Roubaix reconnoitred the new 'secteurs' that includes the removal of the Arenberg Forest but more undulating terrain, with many believing the 2005 Hell of the North parcours to be the toughest in years. "There are sections which are vicious and the climbs - but that I mean small rises in the roads that when you're on cobbles feel like mountains - in between sections are going to sort things out," Vogels predicts.
In excluding Arenberg - a place known for its history of bad crashes - from this year's race, Vogels applauds the move: "I think Arenberg is like a tree standing in the middle of a descent - it's just something you have to avoid," he says dryly. "You know with the history of my falls, I don't want to see anyone crash."
It's easy to forget that it was around two years ago that the 31 year-old Australian suffered the worst crash of his career, with some believing him to be dead at first. However, in the style of Museeuw, Pantani, Sunderland and O'Neill, Vogels has staged a courageous comeback to the highest level, earning a ride with one of the best teams in the world. "It's one of the reasons why I'm back here, in Europe, in the European pro peloton - because I love the Classics so much," he says.
In returning to Brakel, Belgium, Vogels' professional cycling career has now come full circle. Exactly one decade ago, he started out as a fresh-faced 21 year-old at Novell (now known as Rabobank), forging a reputation as one of the best Classics riders in spring, before a lucrative offer saw him migrate west for a successful five-year stint in America.
"all this talk of him winning the race by getting assistance from the cars and bikes is bullshit - he was the strongest rider on the day"
- Vogels defends team-mate Nico Mattan's win in Gent-Wevelgem last Wednesday
But during his time in the States, the Classics were always calling. Two top 10 places in Paris-Roubaix is hard to ignore. And it's one of the reasons why his name is on the eight-man list of riders in a team that holds the 2003 race winner.
"Riding over the cobbles with Van Petegem, Van Bon, with guys who have won it, been on the podium or are serious contenders - being part of that team, it was a good feeling," he says. "It gives me goosebumps just thinking about those stones..."
Cyclingnews: Like you said, you were reasonably strong in Wednesday's Gent-Wevelgem, making the first serious split with around 84k to go. Were you surprised that the break didn't stay away with so many Quick.Step riders?
Henk Vogels: Well, I was surprised the one before it didn't stay away, because we were with about 30 or 40 riders and it was a cross-tailwind - we averaged 47 for the first hour, so it was pretty incredible - so I was surprised it didn't stay away then. The second time, Quick.Step had quite a lot of men and Boonen was riding quite a lot on the front as well - which was surprising given that he'd just done Tour of Flanders, and for a time there, I thought they were working for Guido Trenti. But they stopped riding at one stage, and that's when the peloton closed in and how Pozzato got across, and he was one of their strongest boys.
Nico Mattan was incredible that day. I don't know if anyone knows, but when a Fassa Bortolo rider went down, he was on the side of the road, and he got across with one other rider on his own over the top [of the Kemmelberg]. So all this talk of him winning the race by getting assistance from the cars and bikes is bullshit - he was the strongest rider on the day, and I didn't think anyone could have done that, but Nico did on that day. He won quite convincingly in the end, and it was an amazing ride.
Henk Vogels at the 2004 Herald Sun Tour
Photo ©: Shane Goss

CN: You lost contact with the lead group on the first ascent of the Kemmelberg with around 50 kilometres remaining; are you still searching for that little bit extra needed at the end of a long Classic?
HV: Yeah, it's only competition - I feel strong in the legs - I just haven't got the top end at the moment. Everyone's done Paris-Nice or Tirreno [Adriatico], and I've only done three and a half one day races to get ready for Gent-Wevelgem and Paris-Roubaix. But even to get selection in the Davitamon-Lotto team goes to show I'm moving quite well in the team.
Paris-Roubaix suits me more, anyway; just because of my physique, I'm one of the bigger guys in the peloton - not in stature or palmares (laughs) - but weight-wise. In 2003, when I had more competition and a smaller team, I could go over [the Kemmelberg] with the front guys in Gent-Wevelgem, whereas this year, even in a bigger and better organised team, I'm not able to with not as much competition. But the signs are there, and I'm really looking forward to Sunday.
The course has changed; they've taken some sections like Arenberg out, but they've made some sections that are hard, if not harder than Arenberg. There is a climb there, which, if guys are riding in the big chainring, I think will be in big trouble. We looked at it this morning, and there's some serious cobblestone sections in there; if it's raining, there's going to be a lot of crashes and it's going to be a very difficult race, especially with the wind.
CN: It's been six years since you last rode Roubaix - riding over the cobbles today must have evoked some strange sensations inside of you?
HV: Mmm... well, it's one of the reasons why I'm back here, in Europe, in the European pro peloton - because I love the Classics so much. Riding over the cobbles with Van Petegem, Van Bon, with guys who have won it, been on the podium or are serious contenders... being part of that team, it was a good feeling. Even today, riding at 70, 80 percent over the cobbles, it's a good feeling... it's like for a climber, dancing on the pedals in a group of 10 with three k to go. Hopefully, I can be there.
I'm also short on kilometres - 250 may be a bit too long for me - but I'm not putting any expectations on myself whatsoever. I am part of a team who can most probably win this race; Van Petegem looks in great form and ramped it up really well this week, whereas Boonen has ridden Gent-Wevelgem and didn't look nowhere near as good as he did on Sunday... but having said that, he is a superstar, and will definitely be the man to beat.
CN: Last time we spoke [in October last year], you were still undergoing a fair bit of rehabilitation on your ankle, but were just starting to put in some good base kilometres in preparation for a long season ahead. How did the few months after that go for you before you left for Europe?
HV: Oh, it all went really, really well. In December, I did lots of kilometres and was actually in quite good shape for the national championships, but didn't have that extra punch that Robbie seems to come up with in January. Then first stage of the Tour Down Under, I had a raging fever; I still did the first stage and did the lead-out for Robbie, who won the stage there and took the yellow jersey, but from there, it got worse.
So I haven't had much racing up until this last block, but training-wise, I'm up to as many kilometres as I've ever done. I'm living in a house together with Nick [Gates] in Brakel, and we're training the house down with Van Petegem, McEwen... we've down many, many kilometres in the last couple of months, just due to our racing programmes. All I need now is racing, which is what we've got right now. My schedule is Paris-Roubaix, Scheldeprijs on Wednesday, Veenendaal-Veenendaal on Saturday, Niedersachsen-Rundfahrt, [Rund um den Henninger Turm] Frankfurt then the Tour of Italy, so I've got some good races coming...
It gives me goosebumps just thinking about those stones, so I'm going to try and stay sharp and at the front, because that's what it's all about - being at the front on those secteurs, looking after myself. 56 kilometres of cobbles, so it's all just taking it in...
Vogels spent much of the Australian summer
Photo ©: Michael Marston

CN: Speaking about being back in Europe, when do you get here?
HV: I flew in about five days before GP [d'Ouverture La] Marseillaise and [Etoile des] Bessèges. Because I didn't ride Tour Down Under, I was scheduled to race the Tour of Portugal, but I swapped with Nick Gates and went to GP Marseillaise and Bessèges where Tom Steels won two stages, and I was his lead-out man.
Things are going really well for the team - I think we're nearly up to 20 wins so far - so the team's riding really well and we've got a lot more to go. I should be Robbie's point-man for the Giro and we're taking Tom Steels as well to try and tackle Petacchi's train - so I'm not just really geed for Sunday, I'm really geed for the Giro, trying to mix it up with those boys as well, ready for some high-speed action.
CN: When you first stepped off the plane - and it wasn't America - how did that feel, knowing you were going to spend a full season here, something you haven't done since 1999 when you were with Credit Agricole?
HV: Mmm... it was really strange. I started my professional career in 1995 with Novell, a team with [Djamolodin] Abduzhaparov, Edwig Van Hooydonck, Erik Dekker, Michael Boogerd... and I was living in Brakel, in Belgium - where I'm living right now. 10 years later, I'm back in the same town (laughs), living with another cyclist, Nick Gates - which I might add is a lot easier than living with a Danish guy! - but it's been great. I've been enjoying the experience, and I'm going to have... how should I say... 'good company', living with another Australian. Also having Robbie down the road, too, training with guys like Van Petegem, Klier - that's the group we go training with.
When I landed, it was a bit surreal to come back, but it's a great feeling. I now know that I've missed the Classics, but having said that, I had the best time of my life in America; I had a great time, got some great results and made some great friends - having had those five years in the USA, I wouldn't change anything. But it's awesome to come back, to Europe; it's a great feeling, going to race the world's biggest - or at least most watched - Classic on Sunday. It's gotta be up there with Milan-San Remo and the Tour of Flanders - those three one-day races are incredible - and that's why I do these thousands of kilometres, to be part of it.
CN: You speak about training with the Davitamon-Lotto riders, some you already knew quite well, some very well - including a few of the staff - like being reacquainted with old friends. It seems like you've settling in quite nicely, then?
HV: Yeah, it's been good. I mean, it's part of a huge organisation, being part of a ProTour team, and being part of a cycling team is special in itself because you've got to fit in with everyone - the staff, the riders, the doctors, the sponsors - and everything runs so smoothly here in the team.
I mean, I've been in some dodgy organisations in the last decade (laughs), and this is one of the best organisations I've been in so far. We may not have won a World Cup classic, but we've made some great results, and I think with Peter in the team on Sunday, it's going to be a real spectacle to watch; he's got so much experience, and the riders around him absorb it. Being part of a team that has got Cadel, Nick, Robbie, Peter... some real big superstars, it's a good feeling.
In Part II: Vogels speaks about the effect of the ProTour on the early season races and being a little underdone himself, his impressions of the 2005 parcours, the contenders, the weather, and what it takes to win the Hell of the North.