Tales from the Tour de Georgia peloton, April 21, 2005
In the team car with CSC
Cyclingnews correspondent Eddie Monnier hopped in the CSC team car with directeur sportif Scott Sunderland as he followed Bobby Julich in the stage 3 time-trial at Tour de Georgia and found that watching your star rider in a wet, hilly time trial has its white-knuckle moments.
Bobby Julich (CSC) as seen from the team car
Photo ©: Eddie Monnier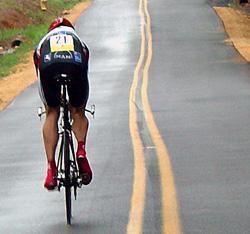 The Tour de Georgia will be Bobby Julich's final race before he begins his rest and rebuild for the Tour de France, and after a stellar spring campaign that included winning the Paris-Nice and Criterium International stage races, many picked him as the pre-race favorite. Georgia's 29.9 km time trial over a tough and technical parcours would provide the first glimpse of how well the contenders were really riding - a race of truth away from the shelter of the peloton and team tactics. The only split of the day would be taken at the top of the tough climb that summits just past the 20-kilometer marker. Riders who blew up on the climb could lose a lot of time between there and the finish.
I joined Julich's directeur sportif for Tour de Georgia, Scott Sunderland, in the team car that would foillow Julich and waited at the end of the start ramp straight as Julich was counted down. Sunderland didn't like being out of radio contact with his rider, but Julich had opted not to use a radio. However, he was using the elliptical chain rings made by O.Symetric that have been a feature of his time trial bikes since 2004.
As the Paris-Nice winner made a right turn off the starting stretch, Sunderland pulled in behind. Aside from scooting around on the seat a little in the opening few kilometers, Julich looked smooth and powerful as he ramped up his effort. As we approached the first turn, Sunderland and his staff seemed to hold their breath as Julich negotiated the wet turn. He slid a bit but made it through safely. Sighing with relief, Sunderland - a very recently retired pro rider himself as regular Cyclingnews readers will know - explained, "You don't mind riding it yourself, but sitting here, you always worry about your riders."
Julich's chainrings
Photo ©: Eddie Monnier

Julich hammers out of the start
Photo ©: Mark Zalewski

Mid-race and on for a good time.
Photo ©: Jon Devich

Rolling home
Photo ©: Alicia Frese

The radio crackled and the voice of race radio proclaimed that Nathan O'Neill (Navigators Insurance) had set the new fastest split of the day. O'Neill had told Cyclingnews before the start he hoped for a top five ride. Shortly thereafter we learned that CSC's Dave Zabriskie had set the new fastest finishing time of the day, with a 40'17". Sunderland smiled, but there were almost three dozen riders remaining, including all the big GC contenders.
Julich has experienced a startling resurgence since joining CSC, which Sunderland explained as being down to the way CSC boss Bjarne Riis inspires the riders to have confidence in themselves. "Bjarne believes in what he is telling the riders," said Sunderland. "He gives that confidence over onto the riders. If something is going wrong, they get sick or whatever, he still keeps them calm. Don't panic, we're still going to be there and be ready and meet the objectives."
As we made the left on to Mt. Alto, race radio proclaimed that O'Neill's time of 40'41" put him into second place behind Zabriskie. And we could see Julich's two-minute man, Mauro Santambrogio (Team L.P.R.). Scott smiled at the news. Julich smoothly and quickly powered by the Italian whose labored cadence provided a contrast in riding styles. Santambrogio made a mistake of trying to keep pace with Julich but either backed off or blew after a hundred meters. Julich left the Italian in his wake as he powered up the entire climb seated, even on the very steep pitches. Following the summit, Julich was second fastest of the day, just four seconds behind his teammate.
Sunderland had to floor the team car as Julich rocketed down the soaking wet descent. I shared Sunderland's apprehension. Though his wheel slid a few times, Julich never looked frazzled and remained smooth throughout the ride. Then we heard that Floyd Landis (Phonak) had scorched to a fastest time of 39'58", only six seconds shy of Armstrong's winning time last year, which was run in perfect weather.
As we approached the finish, we learned that Armstrong's split was about a minute down on Julich and Zabriskie. There was a short, stunned silence in the car. The final kilometer had a few turns and a slight uphill. Julich hammered out of the saddle on the last rise and turned onto the finishing straight to bring home a time of 40:26, fourth fastest of the day with only ten riders remaining. His time would hold, leaving him well positioned for the overall.
All-in-all, Scott Sunderland was pleased with the day, "We've got two up there. It gives us a joker to play with," said Sunderland. "[Julich] is disappointed. He thought he did a better time. Maybe he should have had the radio. It's also the weather. With the rain, it's hard to say where you are, really.
"Dave [Zabriskie] hasn't raced since Paris Nice. He's been home resting, getting ready for the Giro. Bjarne sent him home and he's just been getting ready for this. This is his race to get back into shape for the Giro... With Bjarne, he gives them a chance. You can go home and relax, but you must work hard. He's done the work. You can't do this with all riders. Only certain ones."
The riders have two very tough climbing days ahead of them. Today was just the initial shuffling of the general classification. Discovery certainly has the depth to shake things up, but they will have to contend with Phonak, CSC and Navigators who collectively control the top five and have a vested interest in keeping it that way. The next two days should make for some exciting racing.