An interview with the Amstel Gold Race podium, April 18, 2005
Confirmation for Di Luca, disappointment for Boogerd, satisfaction for Celestino
By Jeff Jones in Valkenburg
Danilo Di Luca
Photo ©: Sirotti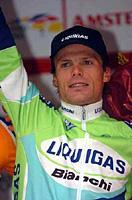 There were, as always, mixed emotions among the three place getters after Sunday's 40th Amstel Gold Race, which finished in an uncharacteristic 30 rider bunch sprint on the Cauberg. But there were some similarities to last year's race, where Michael Boogerd was outgunned by a very strong Davide Rebellin in a two man sprint after Boogerd had led out from a long way out. This year, eventual winner Danilo Di Luca came off Boogerd's wheel with 150m to go, after the Dutchman had led out from 300m, and again made it look easy as he crossed the line with a few bike lengths to spare on Boogerd. And last year, Di Luca was fourth, whereas this year it was Rebellin's turn to finish fourth.
"It was very strange because we had a bunch at the foot of the last climb," Di Luca explained post-race. "I was in a very good position, almost in the lead. Boogerd started to sprint with 300 metres to go, I was on his wheel and it was absolutely no problem for me to pass him."
Both Rebellin and Di Luca said that their respective Amstel Gold Race wins were proof that they were back in business after previous seasons of health problems. "Of course [this was special] because last year I had a very bad year," said Di Luca. "In the Tour of the Basque Country, I was in excellent condition - the time trial there was the best one I have done since I was an amateur. So it was already a new start in the Basque Country, but today is really the day. I hope now for my future that it's on again."
Di Luca explained that in 2004, "I was feeling good at the start of the year. I was fourth in Amstel, second in Flèche, but then I was sick before Liege-Bastogne-Liege so I couldn't start. After that, my team wasn't accepted for the Tour, I wasn't in the national team for the World's and the Olympic Games, so it was really bad for me."
Watching...
Photo ©: Elmar Krings

Going...
Photo ©: Elmar Krings

Although the results and the final 300 metres of the last two years looked similar, the lead-up to the finishes was quite different. Last year, Rebellin and Boogerd had escaped on the Fromberg with 17 km to go, and finished 18 seconds clear of the Bettini/Di Luca led chase group. This year, Boogerd, Di Luca (and Rebellin) were relatively sheltered by their teams until the foot of the last climb. Despite his good record here, Boogerd specified that he was working for the team's World Champion sprinter Oscar Freire.
After Dekker and Kroon had pulled the bunch up the first half of the Cauberg, it was Boogerd's job to launch Oscar to the line with a lead out. The first half of the climb went according to plan, but then Slovenian champion Uros Murn (Phonak) made a pre-emptive move at 500m to go, forcing Boogerd to accelerate after him and causing Freire to be dropped, with Di Luca taking his place on Boogerd's wheel. The Rabobank plan was contingent on Freire being able to finish it off, and on a rare occasion, he let the team down.
Sipping on a glass of the sponsor's product post-race, Michael Boogerd admitted there were similarities with his two second places in two years, adding, "Except this year I was stronger than last year...I felt very strong the whole day, but I had no possibility to break away even if I wanted to, because we had Kroon in the lead [Kroon was in a break that got caught with 4 km to go - ed.]. On the other hand, I was feeling very good at the foot of the final climb of the Cauberg because I just waited the whole race in the wheels.
"It was normal for the team that I had to lead out the sprint for Freire, because he's the World Champion and normally he's faster than me in the sprint. We didn't discuss it during the race, I just asked him how he felt and he told me 'good' so normally I had to lead the sprint for him because he seemed to be very sure of himself.
"At one moment, I didn't have to look behind me, I had the feeling that Freire was not on my wheel. That's why at that moment I just did my own sprint. I have nothing to say against the team today because we had a very great team, doing the whole race with Kroon in the lead, but it's a pity that I couldn't do my own race."
Disappointment
Photo ©: Sirotti

When asked if he had spoken to Freire post-race, Boogerd gave a round "No" in response, making it very clear that he was not that happy with the way things had unfolded. On paper, the plan looked perfect, but the steep Cauberg proved to be too much for the talented Freire.
Triple Di Luca?
Rebellin's win in last year's Amstel Gold Race marked the start of an unprecedented triple, where he also won La Flèche Wallonne and Liege-Bastogne-Liege in the following week. No-one had achieved this before Rebellin, and although Di Luca looked very strong at the finish on Sunday, the Italian played down any predictions that he could repeat Rebellin's feat.
"Maybe somebody will do that but I think we'll have to wait many years before seeing that again," said the Liquigas rider. "It's very difficult because what I saw today is that there are so many riders in top condition. What I want to do most of all is to win Liege-Bastogne-Liege. Because I won today, I will be very calm and I won't put any pressure on myself. It would really be a dream to win Liege-Bastogne-Liege, because from when I was a young rider, I thought it was the most beautiful of all the classics."
Di Luca was asked who his most dangerous rivals are: "If you asked me that yesterday, I would have answered 'Rebellin' and nobody else. But today it's completely different because Celestino is in form, so is Boogerd and so many other riders. I think there are at least seven or eight riders who are able to win in Liege."
Celestino satisfied
Mirko Celestino (Domina Vacanze)
Photo ©: Andrea Hübner

Although the battle for victory on the Cauberg was really down to Di Luca and Boogerd, Mirko Celestino (Domina Vacanze) showed glimpses of his best form by finishing in third place, which was a pleasant surprise for him. Celestino said that he had ridden on the track a lot after the Tour of Flanders, and that might have helped him sharpen his form.
"I wanted to attack but that didn't happen," he explained on his tactics today. "This was a finish that really suited me. But my confidence faltered in the last 300 metres. I was thinking more of improving my position than of winning. I wasn't really convinced I could win. I'm sorry that I didn't try harder, but maybe I couldn't have won anyway."
A philosophical Celestino concluded, "I'm satisfied with my result, it's a good result in such a big race. I hope to win one of the races this week."