An interview with Roger Hammond, April 10, 2004
Dreaming of Roubaix
British national champion Roger Hammond is known as a cyclo-cross specialist, but in the last few years he has come into his own as one the UK's top European-based pros, and a potential contender for the Classics. He's had his best form ever this year and while offering an insider's perspective on the contenders, he tells irishcycling.com's Shane Stokes how he's determined to improve on last year's seventeenth place in Paris-Roubaix, a race he has dreamed about riding since he was a boy.
Sprinter and mud-puppy, Hammond is a natural for Paris-Roubaix
Photo: © Delphine Page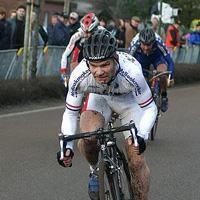 Roger Hammond is not yet a household name, but of late he has been finishing alongside some very good company in big one-day events. On Wednesday he was sixth in Gent-Wevelgem, sprinting for the win against 'heads' such as Boonen, Kirsipuu and Hincapie. Before that, finishing thirtieth in the Tour of Flanders, some 2 minutes and 10 seconds behind the race winner was a solid performance. And earlier this season, performances such as eighth in the E3 Prijs Vlaandren and third in both the Dwars Door Vlaandren and the GP Rudi Dhaenens showed the blossoming strength of the Mr.Bookmaker.com rider.
Hammond won the junior world cyclo-cross championship in 1992 and has taken six British cross titles since then, adding the national road championship to his palmares last year. The skill and confidence born out of off-road racing contributed to his fine debut ride in Paris-Roubaix last year. Hammond placed 17th in the Roubaix velodrome, finishing two minutes and 18 seconds behind the winner Peter Van Petegem. One year on, he's nervous but excited on the eve of his favourite race. He took some time out to talk to Cyclingnews.com about his spring season, his preparations for the Classics and why he hoping for slip-slidin' conditions this Sunday.
Cyclingnews: You seem in great form this spring, with good performances in a number of important races. On Wednesday you finished sixth in Gent-Wevelgem. How do you feel after that ride?
Roger Hammond: Well, it is taking a bit of recovering, to be honest with you. I crashed in Ostend during the race, after about 100 kilometres, and I have injured my left knee and ankle. It wasn't the ideal thing to do but I am hoping it is going to be okay for Sunday. I have been on my bike today (Thursday) so I was able to do that. But the injuries have added to the recovery time, which is not easy to do anyway.
CN: Were you happy with your ride? Was sixth place more than what you were expecting or was it on par with how you felt you could do?
RH: It is difficult to say. Going into the race I wanted to do better. If you have good form you go into every event trying to win but the circumstances just didn't allow it. I just had a little bit of bad luck, firstly with that crash at a fairly critical moment in the race. I had to chase for a long way, and then that split (the breakaway) didn't do me any favours with so many guys from Quick.Step. It was impossible to do anything against that sort of block of strength, really. I think they had five guys up front who could have won the event so it is very difficult to cover all of them.
Also, in the sprint I had a little bit of a tangle with Kirsipuu with 300 metres to go, which knocked the edge off my sprint as well. He came in to the group from the right and I was just getting forced out at the same moment, so there was actually nowhere for me to go at all. He was coming in on me and my front wheel was rubbing up against his back wheel.
I just thought "aww, this is it, I am coming down." I couldn't believe it, I had fought all this way, come back from the first crash, chased for thirty or forty kilometres and then, after all that, it suddenly looked like I was going to crash in the final couple of hundred metres.
To be honest with you, in a way I was just happy that I got the finish with what I am hoping is not too much damage, and still be raring to go for Paris-Roubaix at the weekend, which for me is a little bit more of an important race.
CN: Did Tom Boonen seem like the strongest guy in the race?
RH: Yeah, he was going well. It says it in itself that there were six guys in the front from the same team and they were all dedicated to one guy. They just rode on the front for him, they didn't attack at all. He must have been feeling very good. He was riding very well, actually.
CN: Given that Museeuw is retiring so soon, are you surprised he didn't have more of a go himself?
One of two UK champ jerseys
Photo: © Delphine Page

RH: I think in a tactical kind of way for himself it was a very good move. He has now handed Boonen a victory so if I was Boonen I'd been feeling a little bit in debt to Johan Museeuw. He has now got himself a very loyal lieutenant for Sunday, a lieutenant who has very good condition. Personally I think for his (Museeuw's) bid to win his last Paris-Roubaix, it was a very shrewd move, really.
CN: Looking at him in the races, how does he seem at the moment?
RH: He is good, he is good. He has come on a lot in the last few weeks. I saw him in the GP Waregem. We got away on the climbs and we were riding through and off. I saw Van Petegem in the same race and thought he looked better than Museeuw. But now, certainly, he has improved dramatically since then. It looks like he has timed his form quite well. I think he is going to come out all guns blazing on Sunday.
CN: You yourself seem to be in very good shape this season. Do you think this is the best form you have had?
RH: Yeah, definitely. It is really bizarre, I don't ever feel good. I just seem to be that little bit stronger. I think the thing is that I am a year older. I was quite a late starter in the professional ranks because I went to university. I am still in the formative years of my career, I am the equivalent of a 26 year old. I am starting my seventh year as a professional now, so I am still on that strength-building curve. Normally people who are thirty years old have been pro for quite a bit longer and they have a good few seasons under their belt in a lot of top class races.
But because I started late and built up in a small team, I haven't been exposed to many big races until the last couple of years. All of a sudden now I am getting in a few World Cup races in each year. Last season, I got in the Tour of Switzerland in, which was the longest stage race that I have done. All those things help you mature as a rider. I am also putting in quite a bit of hard work, just concentrating on the classics. I think cycling is getting more and more specific and you have to be more and more specialist in one thing rather than being consistent the whole year long.
I think it is a bit of mental change as well, making sure I am ready for the races that I can be good at rather than trying to be the model professional who is average the whole year long.
CN: You were a junior world champion in cyclo-cross. That discipline is obviously a big part of your season and it helps you in terms of the skill element needed for races such as Paris-Roubaix. But another benefit is that keeping your form and your condition in the winter, I guess you come into the classic season in good shape?
RH: Yeah, that is it. For me, I am looking at taking a break after the Amstel Gold, which is a week from Sunday. So the period from the start of training until now is not actually that long to keep motivated and keep in good condition.
Also, I am a rider who thrives on good results and success. It is not like I am winning every week - or winning very much at all, at the minute [laughs] - but if I can come out of a race feeling pleased with myself and feeling that I have good form, then you know, it is like a snowball effect. The momentum builds up as the season goes on and it helps with my confidence.
I find cyclo-cross a good way of keeping focus during the winter, so that in February I am competitive. Okay, I am not in super form on the road at the start because I have to convert the training. The slightly different preparation of cyclo-cross means that it takes a little bit of time to convert to the road, to adapt to the longer distances and the longer time on the bike. But the condition is still good after doing the cross racing. If I feel quite competitive already in February, it is good for my own self-belief. Besides, if I can do a few cross races at a good level it doesn't mentally tire me, so I don't think it is doing me any harm.
CN: You were eleventh in the world cyclo cross champs this year and took another UK 'cross title. You must have quite a few of the latter now.
RH: I have won it six times in all, including the last five in a row. I had a bit of a break in the middle when I lost myself, trying to change my ways! I had tried being the full time road rider and gave up cross, but it just didn't agree with me. That is why I went back to cross.
CN: Were you happy with your world's ride this year?
RH: Yeah, but obviously I was hoping to try to crack into the top ten. I was a little bit unfortunate in that I had a bit of a crash with Groenendaal on the third lap and lost the second group. From then on I was chasing.
The thing is, I came away from the race thinking about what I had achieved. I was eleventh in a world championships when I only do half a season of that sort of racing, so I can't really be too disappointed with that. Also, my ultimate goal from cyclo-cross is to go into the road season with good condition, so my goal was actually realised. It is just that having got so close to the top ten, it would have been nice to have cracked it! Especially when there are six Belgians roaring around in every race, it doesn't leave many places for the rest of the world. If I could have just sneaked into the top ten it would have been really pleasing.
The things is, if I had gone flat out, had no problems and finished eleventh, then what I could I say? I couldn't complain. But I crashed and rolled my tub and finished fifteen seconds off tenth place. Things could have been different. But that is part of cyclo-cross, it is motivation for next year, innit?
Part 2: The riders to watch, how to handle Roubaix and the rest of 2004