90th Liège-Bastogne-Liège - CDM
Belgium, April 25, 2004
2003 results Preview Start List Past winners
Climbers line up for La Doyenne
By Jeff Jones
2003 winner Tyler Hamilton
Photo: © AFP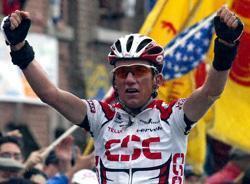 Liège-Bastogne-Liège, the oldest classic of all, will be held for the 90th time on Sunday, April 25, bringing an end to yet another interesting spring season. The 258 km out and back race through the Ardennes, in the French speaking part of Belgium, is considered am excellent opportunity for the climbers. It's expected that those who did well in the Amstel Gold Race and La Flèche Wallonne will be at the front in La Doyenne.
The race starts from Liège's Place Saint-Lambert and heads south in a fairly direct way (the first leg is only 98.5 km) to Bastogne, where the riders turn and come back via a longer (160 km) and hillier route to Ans, a fairly grimy suburb on the northern outskirts of Liège. Most of the ten climbs that characterise L-B-L are in the final 100 km, with the Côtes de Stockeu (km 170), Wanneranval (km 175), Rosier (km 194), la Redoute (km 223), Sart-Tilman - Tilff (km 244) and Saint-Nicolas (km 253) all contributing to the final selection. The final 1.5 km into Ans is also uphill, although certainly not as steep as the Cauberg or the Mur de Huy.
The defending champion in Liège-Bastogne-Liège is Tyler Hamilton, the slightly built but very powerful rider from Marblehead, Massachusetts. Tyler hasn't quite been in the same form as 2003, but he's close. "I felt like in Pais Vasco I was getting stronger as the race went on," he told Cyclingnews. "I was a hair off from last year, just a little bit below. A race like that is so hard that if you're a fraction off you're a little bit behind. For me it was good training. It would have been great to do better, but it was more for preparation for these races."
On the other hand, Hamilton is still very motivated to defend his title Liège and then the Tour de Romandie. "Yeah, why not? Even more for the Tour de Romandie. This year is probably more important, because being in a Swiss team it's a very important race for us."
Although the World Cup leader's jersey is on Steffen Wesemann's shoulders at the moment, the T-Mobile rider will have a very tough time keeping it on Sunday, even if he does finish in the top 20 as he hopes. Teammates Alexandre Vinokourov and Matthias Kessler are more likely to take on the T-Mobile captaincy on Sunday, and both are excellent prospects to win.
Rebellin and Di Luca
Photo ©: AFP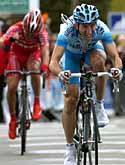 If recent form is anything to go by, then Italian Davide Rebellin (Gerolsteiner) will go into L-B-L as the top favourite. Winner of the Amstel Gold Race and La Flèche Wallonne, Rebellin excels in getting himself into the final selection, and he has very good sprinting form at the moment. His Gerolsteiner team will certainly be working for him on Sunday, and they could be rewarded with a new World Cup leader.
Danilo Di Luca (Saeco) has also shown good recent form, finishing fourth in Amstel and second in Flèche Wallonne. He too is climbing well, and it would only take a small drop in Rebellin's form for Di Luca to be able to pass his rival. Speaking of Italians, Paolo Bettini (Quick.Step) is the third strong candidate for L-B-L. After a podium place last Sunday, Bettini chose to drop out of Flèche Wallonne to save his legs for Liege, and on paper he is slightly better at Rebellin at the finish. Bettini has won this race twice, and certainly knows where to be at the right moment.
Michele Bartoli (CSC) has had lacklustre form this spring, but as a winner of L-B-L in 1997 and 1998, Bartoli is a rider who can pull off a big ride at any time. CSC fans and management alike are hoping that Sunday will be it. Finally for the Italians, keep an eye on Stefano Garzelli (Vini Caldirola, runner up in 2002) and Michele Scarponi (Domina Vacanze), who was fourth in Flèche Wallonne.
For the Belgians, who haven't had a win in Liège since 1999 when Frank Vandenbroucke beat Michael Boogerd and Maarten den Bakker, Vandenbroucke will once again be their favourite. The Fassa Bortolo rider is coming off a seventh placing in Flèche Wallonne, and is extremely motivated for L-B-L. Other Belgians to watch are Axel Merckx and Peter Van Petegem, the latter in very good form throughout the spring.
Rabobank will again line up with Michael Boogerd, Erik Dekker and Oscar Freire, all three very capable riders who could combine well in the finale. Boogerd will want to rid himself of any sprinters though, as the finish is less favourable to him than the Cauberg.
Finally, without Lance Armstrong or George Hincapie to ride for, US Postal-Berry Floor will look to Floyd Landis, Manuel Beltran and young talent Jurgen Van Den Broeck to do well in La Doyenne.
Live coverage
Cyclingnews will be covering the 90th Liège - Bastogne - Liège from start to finish. Coverage begins at 10:30 CEST/04:30 EDT, 01:30 PDT, 18:30 AEST).
Past winners
Year  First                         Second                      Third
2003  Tyler Hamilton (USA)          Iban Mayo Diez (Spa)        Michael Boogerd (Ned)
2002  Paolo Bettini (Ita)           Stefano Garzelli (Ita)      Ivan Basso (Ita)
2001  Oscar Camenzind (Swi)         Davide Rebellin (Ita)       David Etxebarria Alkorta (Spa)
2000  Paolo Bettini (Ita)           David Etxebarria (Spa)      Davide Rebellin (Ita)
1999  Frank Vandenbroucke (Bel)     Michael Boogerd (Ned)       Maarten Den Bakker (Ned)
1998  Michele Bartoli (Ita)         Laurent Jalabert (Fra)      Rodolfo Massi (Ita)
1997  Michele Bartoli (Ita)         Laurent Jalabert (Fra)      Gabriele Colombo (Ita)
1996  Pascal Richard (Swi)          Lance Armstrong (USA)       Mauro Gianetti (Swi)
1995  Mauro Gianetti (Swi)          Gianni Bugno (Ita)          Michele Bartoli (Ita)
1994  Evgeni Berzin (Rus)           Lance Armstrong (USA)       Giorgio Furlan (Ita)
1993  Rolf Sörensen (Den)           Toni Rominger (Swi)         Maurizio Fondriest (Ita)
1992  Dirk De Wolf (Bel)            Steven Rooks (Ned)          Jean-François Bernard (Fra)
1991  Moreno Argentin (Ita)         Claude Criquielion (Bel)    Rolf Sörensen (Den)
1990  Eric Van Lancker (Bel)        Jean-Claude Leclercq (Fra)  Steven Rooks (Ned)
1989  Sean Kelly (Ire)              Fabrice Philipot (Fra)      Phil Anderson (AUS)
1988  Adrie Van der Poel (Ned)      Michel Dernies (Bel)        Robert Millar (GB)
1987  Moreno Argentin (Ita)         Stephen Roche (Ire)         Claude Criquielion (Bel)
1986  Moreno Argentin (Ita)         Adrie Van der Poel (Ned)    Dag-Erik Pedersen (Nor)
1985  Moreno Argentin (Ita)         Claude Criquielion (Bel)    Stephen Roche (Ire)
1984  Sean Kelly (Ire)              Phil Anderson (AUS)         Greg LeMond (USA)
1983  Steven Rooks (Ned)            Giuseppe Saronni (Ita)      Pascal Jules (Fra)
1982  Silvano Contini (Ita)         Fons de Wolf (Bel)          Steffan Mutter (Swi)
1981  Josef Fuchs (Swi)             Steffan Mutter (Swi)        Ludo Peeters (Bel)
1980  Bernard Hinault (Fra)         Hennie Kuiper (Ned)         Ronny Claes (Bel)
1979  Dietrich Thurau (Ger)         Bernard Hinault (Fra)       Daniel Willems (Bel)
1978  Joseph Bruyere (Bel)          Dietrich Thurau (Ger)       Francesco Moser (Ita)
1977  Bernard Hinault (Fra)         André Dierckx (Bel)         Dietrich Thurau (Ger)
1976  Joseph Bruyere (Bel)          Freddy Maertens (Bel)       Frans Verbeeck (Bel)
1975  Eddy Merckx (Bel)             Bruno Thévenet (Fra)        Walter Godefroot (Bel)
1974  Georges Pintens (Bel)         Walter Planckaert (Bel)     3rd rider declassified
1973  Eddy Merckx (Bel)             Frans Verbeeck (Bel)        Walter Godefroot (Bel)
1972  Eddy Merckx (Bel)             Wim Schepers (Ned)          Herman van Springel (Bel)
1971  Eddy Merckx (Bel)             Georges Pintens (Bel)       Frans Verbeeck (Bel)
1970  Roger De Vlaeminck (Bel)      Frans Verbeeck (Bel)        Eddy Merckx (Bel)
1969  Eddy Merckx (Bel)             Vic Van Schil (Bel)         Barry Hoban (GB)
1968  Valeer Van Sweevelt (Bel)     Walter Godefroot (Bel)      Raymond Poulidor (Fra)
1967  Walter Godefroot (Bel)        Eddy Merckx (Bel)           Willy Monty (Bel)
1966  Jacques Anquetil (Fra)        Vic Van Schil (Bel)         Willy In 't Ven (Bel)
1965  Carmine Preziosi (Ita)        Vittorio Adorni (Ita)       Marten Vanden Bossche (Bel)
1964  Willy Bocklandt (Bel)         Georges Vanconingsloo (Bel) Vittorio Adorni (Ita)
1963  Frans Melckenbeeck (Bel)      Pino Cerami (Bel)           Vittorio Adorni (Ita)
1962  Jos Planckaert (Bel)          Rolf Wolfshohl (Ger)        Claude Colette (Fra)
1961  Rik Van Looy (Bel)            Marcel Rorhbach (Fra)       Armand Desmet (Bel)
1960  Abe Geldermans (Ned)          Pierre Everaert (Fra)       Jos Planckaert (Bel)
1959  Alfred De Bruyne (Bel)        Frans schoubben (Bel)       Frans de mulder (Bel)
1958  Alfred De Bruyne (Bel)        Jozef Zagers (Bel)          J. Theuns (Bel)
1957  Frans Schoubben (Bel)         Germain Derycke (Bel)       Marcel Buys (Bel)
1956  Alfred De Bruyne (Bel)        Richard Van Genechten (Bel) Alex Close (Bel)
1955  Stan Ockers (Bel)             Raymond Impanis (Bel)       Jean Branckaert (Bel)
1954  Marcel Ernzer (Lux)           Raymond Impanis (Bel)       Ferdi Kubler (Swi)
1953  Alois De Hertog (Bel)         Maurits Diot (Fra)          Raoul Remy (Fra)
1952  Ferdi Kubler (Swi)            Henri Van Kerkhove (Bel)    Jean Robic (Fra)
1951  Ferdi Kubler (Swi)            Germain Derycke (Bel)       Wout Wagtmans (Ned)
1950  Prosper Depredomme (Bel)      Jean Bogaerts (Bel)         Edward Van Dyck (Bel)
1949  Camille Danguillaume (Fra)    Adolf Verschueren (Bel)     Roger Gyselinck (Bel)
1948  Maurice Mollin (Bel)          Raymond Impanis (Bel)       Louis Caput (Fra)
1947  Richard Depoorter (Bel)       Raymond Impanis (Bel)       F. Mathieu (Bel)
1946  Prosper Depredomme (Bel)      Albert Hendrickxs (Bel)     T. Verstraeten (Bel)
1945  Jean Engels (Bel)             Edward Van Dyck (Bel)       Jos Moerenhout (Bel)
1943  Richard Depoorter (Bel)       Jos Didden (Bel)            Stan Ockers (Bel)
1939  Albert Ritserveldt (Bel)      Cyriel Van Overberghe (Bel) E. Vissers (Bel)
1938  Alfons Deloor (Bel)           Marcel Kint (Bel)           Felicien Vervaecke (Bel)
1937  Eloi Meulenbergh (Bel)        Gustaaf Deloor (Bel)        J. Heirnaert (Bel)
1936  Albert Beckaert (Bel)         Gilbert Levae (Bel)         K. Horemans (Bel)
1935  Alfons Schepers (Bel)         Frans Bonduel (Bel)         Louis Hardiquest (Bel)
1934  Theo Heckenrath (Bel)         M. Cardinaels (Bel)         Jos Moerenhout (Bel)
1933  Francois Gardier (Bel)        R. Dewolf (Bel)             A. Bolly (Bel)
1932  Marcel Hoyoux (Bel)           Leopold Roosemont (Bel)     G. Lambrechts (Bel)
1931  Alfons Schepers (Bel)         M. Houyoux (Bel)            J. Deschepper (Bel)
1930  Herman Buse (Ger)             Georges Laloup (Bel)        Francois Gardier (Bel)
1929  Alfons Schepers (Bel)
1928  Ernest Mottard (Bel)
1927  M. Raes (Bel)
1926  D. Smets (Bel)
1925  Georges Ronsse (Bel)
1924  René Vermandel (Bel)          Adelin Benoit (Bel)         Jules Matton (Bel)
1923  René Vermandel (Bel)          Jean Rossius (Bel)          Félix Sellier (Bel)
1922  Louis Mottiat (Bel)           Albert Jordens (Bel)        Laurent Seret (Bel)
1921  Louis Mottiat (Bel)           Marcel Lacour (Bel)         Jean Rossius (Bel)
1920  Léon Scieur (Bel)             Lucien Buysse (Bel)         Jacques Coomans (Bel)
1919  Léon Devos (Bel)              Henri Hanlet (Bel)          Arthur Claerhout (Bel)
1913  M. Moritz (Bel)
1912  Omer Verschoore (Bel)         Jacques Coomans (Bel)       André Blaise (Bel)
1911  Joseph Van Daele (Bel)
1909  Victor Fastre (Bel)
1908  A. Trousselier (Fra)
1894  Léon Houa (Bel)               Rasquinet (Bel)             Nullens (Bel)
1893  Léon Houa (Bel)
1892  Léon Houa (Bel)

Distance and time

Year  First                       km   km/h
2002  Paolo Bettini (Ita)         258  38.725
2001  Oscar Camenzind (Swi)       258  38.507
2000  Paolo Bettini (Ita)         264  40.769
1999  Frank Vandenbroucke (Bel)   262  41.079
1998  Michele Bartoli (Ita)       262  40.077
1997  Michele Bartoli (Ita)       262  36.650
1996  Pascal Richard (Swi)        263  37.700
1995  Mauro Gianetti (Swi)        261  39.305
1994  Evgeni Berzin (Rus)         268  36.838
1993  Rolf Sörensen (Den)         261  36.072
1992  Dirk De Wolf (Bel)          262  35.882
1991  Moreno Argentin (Ita)       267  36.627
1990  Eric Van Lancker (Bel)      256  35.560
1989  Sean Kelly (Ire)            268  36.243
1988  Adrie Van der Poel (Ned)    260  38.801
1987  Moreno Argentin (Ita)       258  38.700
1986  Moreno Argentin (Ita)       253  37.673
1985  Moreno Argentin (Ita)       245  37.021
1984  Sean Kelly (Ire)            247  36.366
1983  Steven Rooks (Ned)          246  35.516
1982  Silvano Contini (Ita)       244  34.033
1981  Josef Fuchs (Swi)           244  35.362
1980  Bernard Hinault (Fra)       244  34.716
1979  Dietrich Thurau (Ger)       242  36.713
1978  Joseph Bruyere (Bel)        242  36.464
1977  Bernard Hinault (Fra)       243  37.654
1976  Joseph Bruyere (Bel)        247  37.396
1975  Eddy Merckx (Bel)           247  38.247
1974  Georges Pintens (Bel)       246  38.537
1973  Eddy Merckx (Bel)           236  37.869
1972  Eddy Merckx (Bel)           239  36.488
1971  Eddy Merckx (Bel)           251  36.115
1970  Roger De Vlaeminck (Bel)    235  35.971
1969  Eddy Merckx (Bel)           253  37.024
1968  Valeer Van Sweevelt (Bel)   268  36.380
1967  Walter Godefroot (Bel)      256  35.971
1966  Jacques Anquetil (Fra)      253  36.164
1965  Carmine Preziosi (Ita)      253  36.051
1964  Willy Bocklandt (Bel)       245  34.615
1963  Frans Melckenbeeck (Bel)    237  37.179
1962  Jos Planckaert (Bel)        254  36.581
1961  Rik Van Looy (Bel)          251  37.224
1960  Abe Geldermans (Ned)        248  36.401
1959  Alfred De Bruyne (Bel)      240  35.511
1958  Alfred De Bruyne (Bel)      246  34.480
1957  Frans Schoubben (Bel)       255  34.386
1956  Alfred De Bruyne (Bel)      247  37.973
1955  Stan Ockers (Bel)           238  34.747
1954  Marcel Ernzer (Lux)         236  34.016
1953  Alois De Hertog (Bel)       236  34.215
1952  Ferdi Kubler (Swi)          229  35.400
1951  Ferdi Kubler (Swi)          211  37.124
1950  Prosper Depredomme (Bel)    263  35.427
1949  Camille Danguillaume (Fra)  256  36.775
1948  Maurice Mollin (Bel)        205  34.943
1947  Richard Depoorter (Bel)     218  36.286
1946  Prosper Depredomme (Bel)    205  33.974
1945  Jean Engels (Bel)           204  32.929
1943  Richard Depoorter (Bel)     211  37.679
1939  Albert Ritserveldt (Bel)    211  37.345
1938  Alfons Deloor (Bel)         211  37.051
1937  Eloi Meulenbergh (Bel)      211  36.188
1936  Albert Beckaert (Bel)       211  36.067
1935  Alfons Schepers (Bel)       240  36.219
1934  Theo Heckenrath (Bel)       213  34.171
1933  Francois Gardier (Bel)      213  34.975
1932  Marcel Hoyoux (Bel)         214  32.752
1931  Alfons Schepers (Bel)       213  28.435
1930  Herman Buse (Ger)           231  27.445
1929  Alfons Schepers (Bel)
1928  Ernest Mottard (Bel)
1927  M. Raes (Bel)
1926  D. Smets (Bel)
1925  Georges Ronsse (Bel)
1924  René Vermandel (Bel)        245  28.053
1923  René Vermandel (Bel)        218  29.376
1922  Louis Mottiat (Bel)         218  29.229
1921  Louis Mottiat (Bel)         209  28.306
1920  Léon Scieur (Bel)           245  28.710
1919  Léon Devos (Bel)            237  24.101
1913  M. Moritz (Bel)
1912  Omer Verschoore (Bel)       257  29.941
1911  Joseph Van Daele (Bel)
1909  Victor Fastre (Bel)
1908  A. Trousselier (Fra)
1894  Léon Houa (Bel)             223  25.150
1893  Léon Houa (Bel)
1892  Léon Houa (Bel)