59th Vuelta a España - GT
Spain, September 4-26, 2004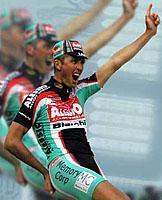 Scott Sunderland
Photo: © Memory Corp
Scott Sunderland's Vuelta Diary
Cyclingnews' longest contributing diarist Scott Sunderland is taking part in his fourth Vuelta a España in 2004 as part of the versatile Alessio-Bianchi team. Scott's role will be to help Pietro Caucchioli as well as having opportunities for stage wins. Once again, he'll be providing his highly experienced viewpoint on the Vuelta, its riders and anything else.
A dodgy finish
Stage 3 - September 6: Burgos - Soria, 157 km
After a reasonably slow start we got the first serious attack about 25 km into the race. From then on, things seemed to get more exciting. The break got caught back and a little later my teammate Martin Hvastija attacked with Kevin Hulsmans (Quick.Step-Davitamon) and Thorwald Veneberg (Rabobank).
Martin told me later he felt the breath of the peloton on his neck the whole time and he eased up at the moment they had only few seconds of their lead left. But just as he got swallowed by the peloton, the tempo dropped and only Benoît Joachim (US Postal Service p/b Berry Floor) and Andy Flickinger (Ag2R Prevoyance) jumped across.
The speed in the peloton went back to snail's pace and the break went out to over 9 minutes! At that stage Martin must have felt very disappointed about not having continued his attempt, but these kind of strange things happen in the Vuelta all the time.
Other years the Spanish teams tend to chase more when they haven't got a rider in the break - this year things seem to be different. But nonetheless the race has been flaming nervous so far. Even though we're on wide roads, it's been very hairy with the winds playing havoc in the peloton.
I decided it was safer and also less energy sapping to go and sit at the tail of the peloton. I wasn't feeling that shit hot and am still to find decent race rhythm. This is only the second stage and more than likely the nervousness will subside in the coming days. I'll be right to stick my nose out into the wind again by the weekend; well that's after the time trial on Saturday of course.
As things kept moving relatively slowly I had time to chat to some of the other Aussies in the race. Stuey's still riding the wave on a high after his success at the Olympic Games. It's been a great season for him and I could hear his ambition has not tempered yet, a stage win in the Vuelta and Paris-Tours are definitely set goals for him for this last part of the 2004 season. But he's pretty cool and collected about it all and even though the uphill finish today would produce his type of sprint - if the break ever got caught. He was very relaxed, we were casually yarning about holiday destinations and stuff.
USPS is controlling the race perfectly but they aren't carrying the weight at all. Their riders are ranked at the top of the GC and it's a perfect scenario for them; they just have to have one guy in the break of the day and keep control in that way. It's good to have a TTT to start with but when the gaps are quite substantial like they were now, it can create situations like this. It's not making this first week very spectacular.
So, finally Saeco started riding at the front to try and save the day. Kelme joined in the effort and even Cofidis put a few coals on the fire. I was kinda surprised we got that break back, but surely the very strong headwind gave us a hand. Martin wasn't unhappy to see them caught. It would have been pretty painful otherwise!
The last 3km were quite dodgy - a few corners and a narrow bridge paved with cobblestones leading to the uphill finish. At that point the peloton was stretched out already and it completely went to bits on that sort of parcours. The climb of 5% made the gaps even bigger. I got my butt to the finish and there's not much more I can tell about my day.
Except that some nutter threw a 20cm square stone onto the road, right in front of the peloton as we were doing 60km/h downhill coming into a town! Vinokourov hit it straight on and smashed both carbon wheels! The stone kept rolling and the whole of the peloton was skidding around trying to avoid it. Vino did an incredible job to keep it up; surely he'll be counting his blessings tonight. It could have been catastrophic. A police motorbike stopped on the side of the road but I don't know it the person was apprehended.
Tonight we're staying at a nice hotel, in a lovely authentic Spanish town, with a beautiful gothic church and a very impressive stone wall to guard the old town centre. Nice little place.
I'm eager enough to put another good ride in but tomorrow we have a downhill stage to Zaragoza. It's going to be a very fast day, with the only climb a third cat at 74km. Guess you won't spot my name in the top five in tomorrow's rankings, but then again, I might get tinny for once!
Until tomorrow,
Scott