Tour de France News for May 24, 2004
Edited by Chris Henry & Gerard Knapp
Armstrong satisfied
Lance Armstrong (USPS-Berry Floor)
Photo ©: AFP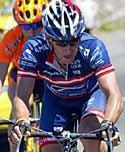 By winning the final stage of the Tour du Languedoc-Roussillon in southern France, Lance Armstrong achieved exactly what he said he hoped to achieve, just over a month before the start of the Tour de France. Armstrong and his US Postal Service team arrived at the tour with ambitions of testing the machinery in the final build-up to the Tour, but despite his status as defending champion of the race formerly run as the Midi Libre (Armstrong won in 2002, the race was not held in 2003), the American maintained overall victory was not important.
US Postal did indeed prove the "blue train" was on the right track, taking the race by the scruff of the neck in a windy and tactical stage 2, and the indefatigable Russian Viatcheslav Ekimov came within a bike length of victory in stage 4.
"I came to win a stage, so I'm satisfied," Armstrong said after the race. "I was disappointed with my legs on Saturday, but things went very well today."
"I'm also quite satisfied with my team, particularly my new teammate José Azevedo," he added. "Yesterday, Eki came close to winning a stage but Christophe Moreau was too strong. Today it was up to me..."
Moreau surprised
La bonne surprise
Photo ©: AFP

"I came to the Tour de Languedoc-Roussillon to get my head back on my shoulders," explained overall race winner Christophe Moreau (Crédit Agricole). "Winning here was more than I hoped for."
Moreau claimed his second win of the season when he muscled past US Postal Service's Viatcheslav Ekimov in the closing metres of stage 4, maintaining his advantage in the general classification on the race's final stage Sunday, won by Ekimov's team leader Lance Armstrong. For Crédit Agricole the race was a total success. Moreau's teammate Thor Hushovd won the first two stages, only losing the early race lead to Moreau on the fourth day.
"Saturday [stage 4] I only made the effort to get into the early break for the fun of it, and I went all the way," Moreau said happily. "I won, and the overall victory at the Tour du Languedoc-Roussillon, for me, was a bonus."
Moreau faced a difficult early season, sidelined as he has been in recent years by an injury, this time a knee injury sustained in one of his team's first training camps. After abandoning most of his early racing efforts this spring, the Frenchman found winning form for the first time at the Trophée des Grimpeurs at the beginning of the month.
Serge Beucherie, Moreau's directeur sportif, shared in his leader's satisfaction with this latest victory. "Coming here, I told Christophe he couldn't abandon because he needs these races to be competitive at the Tour de France," Beucherie told Reuters. "I also told him to take advantage and enjoy himself rather than worry about an unlikely final result."
Moreau wants Tour podium
Christophe Moreau, whose best Tour de France performance remains a fourth place overall in 2000, believes the final podium in Paris is within his grasp. Thanks to overall victory at the Tour du Languedoc-Roussillon, a key Tour tune-up for many of July's likely protagonists, the Crédit Agricole leader is brimming with confidence after a disappointing spring season plagued by injury.
"At 33 years old, I feel like I'm still progressing, that I've finding myself every day," Moreau commented in l'Equipe. "I've already finished fourth in the Tour de France but I believe I can reach the podium. I've learned how not to be dropped, particularly mentally."
Moreau won his first race this season at the Trophée des Grimpeurs at the beginning of the month, but difficulty in the subsequent Four Days of Dunkirk, which he won the year before, kept his confidence in check.
"I had moments of doubt right after my win at Grimpeurs," he explained. "To win a race like the Tour du Languedoc-Roussillon, that gives you wings and boosts the morale.
"Next, the Dauphiné becomes an objective, even if I know I'm a bit behind physically. It's a race that really counts before the Tour... It's really an enormous satisfaction to have kept the yellow jersey [at Languedoc-Roussillon]. I've rediscovered some serenity."
Chavanel wants a stage
Sylvain Chavanel
Photo ©: Luc Claessen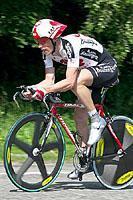 Sylvain Chavanel (Brioches La Boulangère) has reclaimed his position as one of France's top young talents with successive stage race victories in this year's Four Days of Dunkirk and the Tour of Belgium. About to turn 25, Chavanel has struggled with illness through much of the early season, but has turned a corner with his two victories this year and the experience that leading (and winning) a stage race can bring.
"Nobody came up to help us, not one turn of the pedal," Chavanel commented after a difficult defense of his leader's jersey in the animated final stage of the Tour of Belgium. His young Brioches La Boulangère team managed to reel in a dangerous break, featuring potential winner Rik Verbrugghe (Lotto-Domo), and Chavanel emerged victorious, "on my own little cloud".
"At the beginning of the season, I was always struggling with a cold or bronchitis," Chavanel said. "I could never really reach 100%, but my first win at the Four Days of Dunkirk helped get things going."
As for the Tour de France, Chavanel now has a unique team leader, Joseba Beloki. However the young Frenchman still expects to have some opportunities of his own in addition to helping Beloki in the general classification.
"A stage win would be great, but in the mountains I'll be there to help Beloki," Chavanel explained. "After that, the general classification comes on its own."
Confidence grows for Phonak
Martin Elmiger (Phonak), winner of stage 3 at the Tour du Languedoc-Roussillon, received the confidence boost he needed with the team's first participation in the Tour de France approaching quickly. Elmiger, 25, could be a key lieutenant for teammate Tyler Hamilton, who this year for the first time in his career will ride as sole leader at the Tour. Elmiger's victory was his first of the season and number eight for Phonak, which dramatically improved its roster in the off-season.
"I have shown repeatedly that I'm capable of great things," Elmiger commented on his team's website. "If my morale is right, everything goes much better. As long as I have good legs, I can take the lead. That applies to a classic or a tour stage."
As for the Tour, Elmiger added simply, "If my condition continues to improve, nothing is impossible."
Another man showing great confidence is Phonak CEO Andy Rihs, who has placed his faith firmly on the shoulders of team leader Hamilton. Rihs says without hesitation that victory Paris is within the realm of possibility.
"The chances of that are very good, at the very least," he said. "I believe that, barring bad luck or accidents, two Americans will be standing on the winners podium in Paris. We are preparing meticulously. All we have to do now is 'dot the i'. It will be a gigantic test of strength."
(All rights reserved/Copyright Knapp Communications Pty Limited 2004)