Tour de France News for May 5, 2004
Edited by John Stevenson and Chris Henry
Cofidis reshuffles
Cofidis CEO François Migraine
Photo: © AFP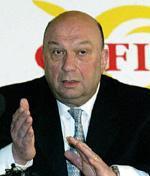 On the eve of the Cofidis team's return to competition at the Four Days of Dunkirk, the company's director François Migraine announced the departure of team manager Alain Bondue and doctor Jean-Jacques Menuet. Migraine and the team presented a series of anti-doping measures Tuesday, announcing at the same time that Médéric Clain has been released in light of his implication in the ongoing drug investigation headed by French judge Richard Pallain.
Cédric Vasseur, who was also placed under investigation and suspended from competition along with Clain, remains a member of the team. A counter-analysis of Vasseur's hair sample, which originally revealed the presence of cocaine in his system, was returned negative this week.
"We have listened to Cédric Vasseur, who told us that he has nothing to hide," Migraine commented. "Médéric Clain didn't say the same thing."
While Vasseur's standing may be slowly improving following the latest negative result for cocaine, he expressed his frustration at not being selected to the roster for Dunkirk.
"I'm shocked not to participate in the Four Days of Dunkirk," Vasseur told Reuters Tuesday. "It was an objective for my season. Nothing should have prevented me from doing the Four Days. It's a decision made by Cofidis but I don't understand it."
As for Bondue and Menuet, the decision to part ways with the team coincided with Clain's release, and followed nearly a month of introspection for the team, which decided to withdraw from competition on the eve of Paris-Roubaix as it tried to come to terms with widening allegations of doping within its ranks.
"Alain Bondue and Jean-Jacques Menuet decided that they could no longer exercise their responsibilities in ideal conditions and have asked to be released from their responsibilities," Migraine explained. "The team will be headed for the moment by directeur sportif Francis Van Londersele."
The team intends to implement drug testing more stringent than the tests currently required by the French federation, including six new tests per year and hair/blood samples. Dr. David Riabi replaces Dr. Menuet in the team, while Stéphane Champetier will assume management responsibilities.
Back to racing
In an interview with cyclismag.com, directeur sportif Francis Van Londersele explained that Cofidis' riders had not actually stopped riding for very long. "The interruption only lasted four or five days," he said. "Our coaches encouraged them to stay in shape. Our riders are the heart of the team. They are keen to go racing and rediscover the spirit of the sport."
Cofidis chose to return to racing at the Four Days of Dunkirk because it's a local event for the team's sponsor. "It's a race in the north [of France]," said Van Londersele. "It's in our back garden."
After the brush with scandal, Van Londersele said Cofidis was determined to show "zero tolerance" for doping. "Rider who cannot comply with our code of conduct will be excluded. We cannot be more serious about our return to racing."
Perhaps the most damaging fall-out has been the departure from the team of world champion Igor Astarloa to Lampre. "It's sad that he left us," said Van Londersele, "But Igor is world champion. He needs to ride. He was upset that he could not ride the Amstel, Flèche Wallonne and Liège-Bastonge-Liège. He should not have had to suffer for certain people's mistakes. The separation was amicable, though."
(All rights reserved/Copyright Knapp Communications Pty Limited 2004)