Tour de France News for May 1, 2004
Edited by Chris Henry
Cofidis returns to competition
Cofidis out of the dark?
Photo ©: Cyclingnews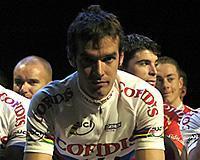 The self-imposed suspension from competition will come to an end for the Cofidis team on May 5 as the top French team plans to field a line up for the Four Days of Dunkerque stage race. Cofidis has been out of action since April 9, just two days before Paris-Roubaix, in an effort to reflect on the doping scandals surrounding the team and how best to proceed and renew its efforts.
The team will race once again, but a heavy toll has already been taken since the first wave of accusations began in January. Two riders, Cédric Vasseur and Médéric Clain, remain under investigation by French police for possible involvement in the doping affair, and thus have been suspended by the team. World champion Igor Astarloa, who joined Cofidis this season, was released from his contract after being denied the opportunity to race the Ardennes classics, his primary objectives of the first half of the season. Astarloa has since signed a contract to ride for the Italian Lampre team beginning this weekend.
Paris pharmacy searched
French police searched a pharmacy in the 16th arrondissement as part of the ongoing investigation into doping cases surrounding past and current members of the Cofidis team. The police seized a number of substances which have been submitted for analysis. The pharmacy was mentioned by ex-Cofidis professional Robert Sassone as a source of products "normally given by prescription", including corticoids and growth hormones.
On Wednesday, April 29, Judge Richard Pallain convened Philippe Gaumont, Robert Sassone, and Médéric Clain, as well as ex-Oktos-Saint Quentin director Oleg Kozlitine, who has admitted to providing EPO and other doping products to Gaumont and Clain. Gaumont has admitted his use of EPO and other substances in competition. Clain, who did acknowledge that he received certain doping products, but never used them. Clain maintains that he only accepted the substances to gain acceptance in the sport.
(All rights reserved/Copyright Knapp Communications Pty Limited 2004)
Recently on Cyclingnews.com