Tour de France News for June 30, 2004
Edited by John Stevenson
Jörg Jaksche out of CSC Tour team after crash
Jörg Jaksche
Photo: © Russell Standring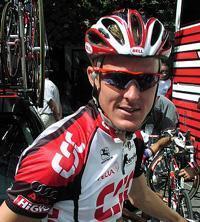 Team CSC has had to make a last-minute change to its Tour de France roster after German rider Jörg Jaksche crashed and broke his elbow during a training ride yesterday. The winner of this year's Paris-Nice back in March, Jaksche will be replaced in the Tour line-up by Italian Andrea Peron.
While the loss of Jaksche is a blow for CSC, the Denmark-based team run by 1996 Tour winner Bjarne Riis still has plenty of strong riders. Ivan Basso is a potential top five place-getter if he continues to build on his 2002 performance as best young rider in the Tour, while Carlos Sastre, 2003 stage winner Jakob Piil, and the revitalised Bobby Julich are all expected to be in the thick of the action.
"It's seriously bad luck for Jörg and for the team," said team manager Bjarne Riis in a statement announcing the change. "Luckily we have had Peron ready and on hold the whole time, in case an accident like this should occur. I really feel for Jörg, because I know how well prepared he was for this year's Tour de France. He had a very important role to play on the team, and obviously he will be sorely missed. You can never be sure to escape such bad luck, but it's of course a big shame to have to replace him. This was not part of the plan, but I still believe, we will do a great Tour de France."
Nevertheless, Riis believes Peron is ready for the challenge. "He was close to getting selected in the first place, and this is why, I'm sure, we have the best possible replacement for Jörg," said Riis. "In Andrea we have a strong and very experienced all-round rider, who is also a good team player, which remains a top priority for us. Last year he was an extremely valuable rider on the Tour team, and undoubtedly he will be again this year."
Jaksche is disappointed but philosophical. "It can't be helped," he said. "My elbow is broken, and I have a strong pain in my back. I crashed in a turn during training and landed precisely the same way as when I crashed the day before Amstel Gold Race. Only this time the fracture is more serious, and I'm unable to ride with it."
Related story: March 2004 interview with Jörg Jaksche
Ullrich: "I have been second often enough"
Jan Ullrich is convinced that this year he can finally add another Tour de France victory to his palmares. "I have been second often enough; this year I have put everything on getting back to the top," he told Yahoo Sport Germany. "Everything else has been subordinate to this. I am convinced I can beat [Lance Armstrong.]"
Ullrich is confident that not only is he ready, but so is the T-Mobile team that he returned to after a year on the team that started 2003 as Coast and ended as Bianchi. "If we have the yellow jersey, this team is capable of defending it," said Ullrich. But he knows the ultimate responsibility lies with the team leader. "Without strong helpers you cannot win, but in the end you have to prove yourself to be the strongest rider."
Despite some pundits concerns about his weight in the first half of the season, Ullrich says he has never prepared so thoroughly as for this Tour, starting training last November. He thinks he nevertheless returned to racing too early with March's Tour of Murcia. "I should have waited two weeks for my first race," he said.
His somewhat ignominious DNF at the Flèche Wallonne and non-start at Liège-Bastogne-Liège followed. "It would have been unreasonable to fully attack those races," he said, "I wasn't in the zone yet."
But Ullrich surprised even himself with his return to form and victory for the Tour of Switzerland. "I knew I was on the right track, but I didn't think I was capable of winning," he said. And with the mountains coming late in this year's Tour Ullrich expects his climbing form to be honed by the time they arrive. "I know my body and believe that the final few percent for the mountains is still to come."
With seven mountain stages in the second half of the race and a moderately hilly penultimate stage time trial, Ullrich believes the Alps is where the 2004 Tour will be won, and that's what he has been preparing for. He spent some of May with adviser Rudy Pevenage reconnoitering the Alpine stages and especially the time trial up l'Alpe d'Huez. "I've prepared myself well and last week went over the highlights of that stage again. It's very clear that is where victory will come," he said.
Lamour's tempered expectations
French minister of sport Jean-François Lamour has declared himself neither "naively optimistic nor fundamentally pessimistic" concerning the doping the problems of doping facing cycling on the eve of the Tour de France. Lamour has been outspoken on the subject and has been the driving force behind legislation in France aimed at fighting doping. He was also the impetus behind recent decisions on the part of the Tour de France and French cycling federation to ban athletes under police investigation.
"My frustration is not with cycling," he insisted in a l'Equipe interview Wednesday. "I like this sport and I appreciate it. But it's defining itself through a succession of [doping] affairs: Cofidis in France, others in Spain and in Italy. This doesn't help the sport's progression and it doesn't help the ambiance that pervades cycling in France and elsewhere."
As for Lamour's sentiment as the Tour prepares to kick off in Liège, Belgium, "It's not serenity, that's the last I can say," he commented. Tour director Jean-Marie Leblanc has already accepted that police raids on the Tour may be all but inevitable, while Lamour seems to fear more for the future of the sport, still popular on the roadside but facing a crisis in the form of ongoing doping scandals.
"I think this feeling is changing," he said, referring to the notion of the sport's enduring popularity among fans. "I think we're seeing a fracture in the sport, a sport that's inherently popular and free. We're asking ourselves if this could all come to an end one day."
Leblanc confident in Armstrong
Tour de France director Jean-Marie Leblanc remains an admirer of five-time winner Lance Armstrong, who this year embarks on a bid for an unprecedented sixth win in Paris. Leblanc, who declares himself 'skeptical' concerning allegations of doping revealed in the recent book "L.A. Confidential", prefers to offer his confidence to the majority of riders, Armstrong included.
"He works hard and leaves nothing to chance," Leblanc said of the US Postal Service leader in a recent AFP interview. "He's the one who started systematically testing the crucial stages, something now done by all of his rivals. Perhaps he's not as physically gifted as Jan Ullrich, who people call a real motor. But Armstrong has won five Tours de France thanks to his mental strength, his character, and his preparation.
Leblanc, a former rider-turned journalist, will direct the Tour for the sixteenth time this year. During his tenure he has seen two five-time winners, Miguel Indurain and Lance Armstrong. This year he could see the five win record broken, but Leblanc prefers not to make comparisons between Tour champions from different eras.
"Comparisons can't be made only with their palmarès," he said. "There are other factors: the quality of competition, whether or not they were present all year long... Specialisation. I think cycling has changed. It's a different era."
Liberty Seguros completes its lineup
With Roberto Heras in the Tour de France leader's role for the first time since he left Kelme, Liberty Seguros' nine man Tour team looks to be very strong. With Igor Gonzalez de Galdeano, Marcos Serrano and Isidro Nozal as henchman for the hard mountain stages, the team also boasts sprinters Allan Davis and Angel Vicioso. Time triallists Jan Hruska, Dariusz Baranowski and Christian Vandevelde complete the lineup, which will be favoured for the team time trial.
Cyclingnews Tour de France fantasy game is go

The Cyclingnews Tour de France fantasy game is under way for the second year running. The latest rider list has been announced and uploaded. Register your team today and win some great prizes including a Giant TCR Advanced Frameset, CycleOps - One Electronic Trainer worth USD$799, Bontrager wheels, Salsa - Competidort six panel shorts and Rudy Project's new Tour de France edition glasses. Rudy Project is sponsoring a daily stage winner prize this year, so you have 21 more opportunities to win something this year. Each day the winner of the stages competition will win a pair of their new Tour de France edition glasses. More prizes will be announced shortly.
All you need to do is pick a team of 15 riders to race and select 9 riders each day during the tour. It's a great way to follow the tour. To register go to fantasy.cyclingnews.com. Good luck!
(All rights reserved/Copyright Knapp Communications Pty Limited 2004)