Tour de France News for June 28, 2004
Edited by Chris Henry
Roberto Heras: Liberty, Egalité, Fraternité
Roberto Heras (middle): Back with the brotherhood at Liberty Seguros
Photo ©: Javier Soriano-STR/AFP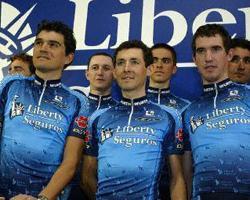 One of a handful of contenders that can seriously challenge Lance Armstrong at the upcoming Tour de France, Roberto Heras is back with the 'brotherhood' at Liberty Seguros, and has quietly been preparing himself in his attempt to win the Grand Boucle. Can he do it? Cyclingnews' Martin Hardie investigates.
Cyclingnews: When you won the Vuelta in 2000 you were a leader of a team in your own right. Why did you change from being a leader and a winner to being a domestique for someone else?
Roberto Heras: Well it was because of the point I was in my career. In the end, after various offers, I decided that it was time to leave Kelme. I had five very good years with Kelme and I thought, 'Well, my contract with Kelme was at an end,'; after winning the Vuelta in 2000, things and opportunities were different and I needed a change. USPS had a good looking project and that was that, nothing more. I could of stayed with Kelme but I felt like a change.
CN: When you joined USPS did you think at times that you might become the leader after Lance retired?
RH: No, I never thought that. When I joined USPS nobody was thinking about when Lance might retire. So I never thought about being leader because the leader was Lance.
CN: But for the Vuelta a España?
RH: Yes, for the Vuelta, yes of course I was the leader. That was clear; I had won the Vuelta and I would be the leader for the Vuelta. But nothing more than that.
CN: At times did you ever think that USPS didn't give you enough support in the Vuelta?
RH: No, not really. The situation was pretty clear. You have to remember that for USPS the main objective always is that Lance Armstrong wins the Tour. The Vuelta was an objective but not the grand objective of the team. Thus many times many riders would come to the Vuelta after putting in big efforts at the Tour, having done a lot of very good, hard work and so it wasn't a question of support, it was just the fact that people were just very, very tired. It was normal that people couldn't respond 100 percent in the Vuelta because they had done so much good work in the Tour.
Click here for the full interview
Rogers aims for top ten
2003 Tour prologue
Photo: © Jeff Tse

By mid-June last year, Australian Michael Rogers had announced his presence at the top of the sport with three stage race victories underlining his promise as one of the peloton's young talents to watch. Rogers went on to finish 42nd overall in the Tour de France, sixth overall in the young rider classification. At 1 hour 17 minutes behind winner Lance Armstrong, it was a perfectly respectable performance by the big Quick.Step-Davitamon rider, but with age comes maturity and this year Rogers has changed his approach to the Tour.
The change in Michael Rogers' program for 2004 is most evident in his rather quiet spring. No defense of his victories in the Tour of Belgium, Tour of Germany, or Route du Sud stage races, just steady racing and training with the Tour in view as the first major objective of the year. A top ten place at Paris-Nice in March, along with the young rider classification, did at least show that the year had started well for the twenty-four year old Rogers.
Rogers this year has had time to enjoy some rest and a period of no racing between the Dauphiné Libéré and the Tour, kicking back in his home in Gorla Minore, Italy, before heading to Liège, Belgium for the Tour start.
"Last year I went to the Tour a bit tired, I think," Rogers told Cyclingnews after the conclusion of the Dauphiné. "Halfway through I was still performing rather well, but I was tired.
"The change in build-up [for the Tour] has been good for me this year," he explained. "We've changed a lot of things. In talking with the team we decided to focus more on the Tour and do a steady preparation."
Quick.Step-Davitamon does not have one designated leader for the Tour, but alongside the Spaniard Juan Miguel Mercado, Rogers is the man for the general classification this year and he's eager to see how far he can go.
"If things go well I'd certainly like to do top ten or top fifteen," he said. "I've had quite a lot to do to improve my climbing, and I've been working hard on that this year and it seems to be working. How much, we'll see at the Tour..."
Click here for the full interview.
Ullrich calls Armstrong's bluff
Jan Ullrich
Photo ©: Sirotti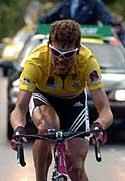 The battle of the bluff has begun once again with the 2004 Tour de France just around the corner. Although this Tour will see what could be one of the deepest fields in recent years, including contenders such as Tyler Hamilton, Iban Mayo and Roberto Heras, attention is focused once more on the anticipated battle between five-time winner Lance Armstrong and 1997 winner (and five-time runner up) Jan Ullrich.
The two Tour champions share a healthy amount of respect for one another, and the guessing game of who is in better form, or who believes he is in better form, provides constant fodder for speculation. While Ullrich struggled to shed his winter weight and looked to be eternally behind schedule in his spring preparations, Armstrong was showing his usual tenacity, performing solidly in early season time trials and affirming his status as number one favourite for the Tour.
Tables turned somewhat as Ullrich sprung into form with a promising ride at the Tour of Germany, followed by overall victory at the Tour de Suisse. Armstrong, while still racing well and showing that his own preparation was on track, surprised some by only finishing fifth best on the tough Mont Ventoux time trial at the Dauphiné Libéré. Ullrich says he won't be fooled.
"I'm convinced that Lance bluffed on the Mont Ventoux," Ullrich said at a press conference announcing the T-Mobile Tour roster. "Believe me, he's a lot better prepared than he lets on. And [Johan] Bruyneel's comments about his form not being as good don't convince me either. That's Lance's style, to try to fool his rivals."
Ullrich knows Armstrong is the favourite for the Tour, and Armstrong and his US Postal team have always considered the German to be their number one rival. Where does this leave Ullrich when assessing his chances for a second Tour win this July?
"I'm convinced I can beat Lance, man against man," he said confidently. "I know his weaknesses and I'll do everything I can to exploit them in this Tour."
One weakness Ullrich will contend with is the loss of right hand man (and 3rd place in the 2003 Tour) Alexandre Vinokourov, who sustained a shoulder injury in a crash at the Tour de Suisse.
"Losing Vinokourov is a big blow for the team since, with him, we could have adopted a much more aggressive tactic," Ullrich explained. "But that doesn't mean I'll now adopt a more defensive plan. On the contrary, I'll try to take time from Lance every time I have the chance."
Alessio-Bianchi names Tour team
Sport directors Bruno Cenghialta and Fabrizio Fabbri will field an experienced nine man Alessio-Bianchi team for the Tour de France, confirming the final names today. With Pietro Caucchioli as the team's spearhead for the mountains and GC, the squad also boasts Paris-Roubiax winner Magnus Bäckstedt, the super experienced Fabio Baldato, consistent GC rider Andrea Noé and Cyclingnews diarist Scott Sunderland, who will be filing reports from the Tour. The remainder of the squad is Alessandro Bertolini, Martin Hvastija, Marcus Ljungqvist and Claus Møller.
Illes Balears-Banesto for the Tour
The Illes Balears-Banesto team will boast Spanish national champions Francisco Mancebo (road) and Jose Ivan Gutierrez (TT) in its Tour line up, which was named today. Along with Russian climbers Denis Menchov and Vladimir Karpets, Illes Balears should make a good impression on the GC.
The full squad is Francisco Mancebo (Spa), Denis Menchov (Rus), Jose Iván Gutiérrez (Spa), Vladimir Karpets (Rus), Daniel Becke (Ger), Aitor Osa (Spa), Chente García (Spa), Mikel Pradera (Spa) and Xabier Zandio (Spa).
Lotto-Domo names Tour squad
Not surprisingly, Lotto-Domo has built its Tour de France squad around former green jersey winner Robbie McEwen. "The aim is to win stages," said team director Marc Sergeant to Sport.be. "We have McEwen in the team so that he can compete in the bunch sprints. The green jersey? Let's first start with a stage win."
Sergeant specified that the GC is not an objective for the team, and all rounders Axel Merckx and Rik Verbrugghe will have their own chances to go for stage wins. Sergeant is still suffering from a hernia will be staying at home in July, leaving the DS duties to Hendrik Redant and Claude Criquielion.
The full team: Axel Merckx (Bel), Christophe Brandt (Bel), Rik Verbrugghe (Bel), Thierry Marichal (Bel), Wim Vansevenant (Bel), Robbie McEwen (Aus), Nick Gates (Aus), Aart Vierhouten (Ned) and Koos Moerenhout (Ned).
Click here for more Tour teams
T-Mobile protecting Evans
T-Mobile team manager Walter Godefroot responded to surprise, not least of which that of the rider himself, following the announcement of a Tour de France roster which does not include Cadel Evans. Winner of the recent Tour of Austria, Evans has found good condition in time for the Tour, which he expected to be the focal point of his season.
According to Godefroot, the decision was made in light of Evans' injury-plagued season last year, notably his three collarbone fractures. Leaving Evans out of the Tour was evidently a decision for Evans' own good.
"Evans is a strong climber," Godefroot commented on the team's website. "He would of course be very important to us had we selected him, but we are protecting Cadel by not including him in our line up for the Tour. Last year Cadel had three serious crashes, breaking his collarbone each time.
"The first week of the Tour is going to be very hectic, therefore, the risk is too great that Cadel might crash and be forced out of the Tour through injury," Godefroot explained.
Beloki talks to Saunier Duval
Joseba Beloki, who ended his relationship with Brioches La Boulangère mid-season, has been in contact with Spanish teams for a possible transfer back to home turf. Notably, the Saunier Duval-Prodir team has emerged as a possible destination with interest in Beloki as a leader for the Vuelta a España this September. Beloki's agent Pablo Arregui has begun preliminary discussions with the team, according to a Marca report.
Beloki has expressed his desire to return to a Spanish team after his failed experiment on French soil with La Boulangère. While interested in returning to the roost with his former ONCE director Manolo Saiz, who now runs the Liberty Seguros team of Roberto Heras, Beloki may find his options limited at this time of year since most team budgets have long since been closed.
Saunier Duval has found ample success already this season, but still lacks a big leader for the grand tours. In addition, a possible increase on sponsorship involvement could offer the team prospects for entry in the Pro Tour in 2005 with Beloki at the helm for the Tour de France and Vuelta a España.
Vasseur denied
Cédric Vasseur and his lawyer were successful in their bid for a court injunction against the Cofidis team, overruling the decision to leave Vasseur off the roster for the French national championships Sunday. The injunction did not arrive in time, however, and Vasseur was still kept from the race. French cycling federation officials opted to prevent his entry in the championships following the Tour de France decision to exclude any riders subject of a police investigation.
While they were able to avoid a legal confrontation, race organisers and the French federation maintained their position concerning Vasseur.
"When [minister of sport Jean-François Lamour] doesn't want any rider implicated in an investigation selected for the Olympics, we prefer to take the same attitude," FFC president Jean Pitallier commented.
Although the Cofidis team has expressed its desire to count on the presumption of innocence in cases like Vasseur's, the team has in the interest of politics accepted the decision of the Tour de France and the FFC to prevent the participation of implicated riders. For Cofidis that currently means David Millar and Cédric Vasseur are both out of the Tour de France.
(All rights reserved/Copyright Knapp Communications Pty Limited 2004)