Tour de France News for June 27, 2004
Edited by Chris Henry & Jeff Jones
Tour decision provokes reactions
Following an announcement from the Société du Tour de France that riders implicated in a legal procedure or police investigation would not be welcome at this year's race, reactions have come from some of those directly affected. Notably Danilo Di Luca (Saeco), who has himself been placed under investigation along with a number of other cyclists in Italy. Di Luca, with the support of his team manager Claudio Corti, has spoken out against Jean-Marie Leblanc's decision to prevent riders in his position from riding the Tour.
"What matters is that I have the support of my team, but something incredible is happening: I may not be able to ride the Tour because Leblanc doesn't want people under investigation," Di Luca commented in La Gazzetta dello Sport.
"My house has been searched and nothing was found," he added. "I've never tested positive, and the phone taps that involve me have not revealed anything... I'm under investigation because they have nothing else to do. But at the same time I wonder if those who were targeted in the Sanremo 'blitz' three years ago at the Giro will be kept out of the Tour. That's an investigation we've heard nothing more about.
"I also wonder if Armstrong will take the start after the revelations in the book in France, in which it's said that he has used banned substances and which the French courts allowed to be published."
On the side of Cofidis, whose riders David Millar and Cédric Vasseur have both been prohibited from taking the start due to their implication in judge Richard Pallain's ongoing investigation, Vasseur has (through his lawyer) expressed his own disappointment at the Tour mentality.
"The decision made by [Amaury Sport Organisation] is completely illegal," Vasseur's lawyer, Bertrand Wambecke, commented in Saturday's edition of l'Equipe. "The presumption of innocence, based on the most sacred texts of democracy, is put in place to prevent this sort of public stoning. If they do this, it would mean we're in complete anarchy, and I intend to study the possible recourse."
Vasseur remains under official investigation in Pallain's case although he has had his team's suspension lifted. His trouble continued Saturday with an announcement from the French cycling federation (FFC) that he would be prohibited from starting in the national championship road race on Sunday. According to l'Equipe, Cofidis has agreed with the FFC's decision, which came as a result of the Tour's adopted stance issued Friday.
Moreau wants the jersey
Moreau chases his demons
Photo ©: Cyclingnews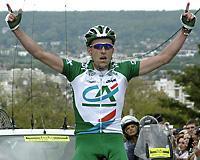 Christophe Moreau has had his share of success in the professional peloton, but the 33 year old Crédit Agricole leader has yet to win a national title and is anxious to earn his first tricolore jersey Sunday in the Hautes-Alpes region of France. Moreau will take on his compatriots over ten laps of a tough 22.4 kilometre parcours around Pont-du-Fossé.
Eddy Seigneur already deprived Moreau of his closest bid for a national jersey this week, winning the national time trial championships by barely one second. For Seigneur the win was his fifth national title. For Moreau the defeat was tough to swallow.
"It's a demon I can't seem to get rid of," Moreau said this week of his search for the national title. "I've been dreaming of this jersey and I've failed every time. One second... That's hard to take."
Reigning French champion Didier Rous will, along with his Brioches La Boulangère teammates, retain a favourite's role. La Boulangère can count on several riders capable of claiming victory, including Sylvain Chavanel, Jérôme Pineau, and recent Route du Sud stage winner Thomas Voeckler.
Phonak's Cyril Dessel has been quietly collecting a series of top performances, and showed good form in the Dauphiné Libéré, including a second place in stage 2 behind his teammate José Enrique Gutierrez. Dessel has revenge as additional motivation, hoping to earn the French title to show his team that he should have been selected for the Tour de France as he expected he would be.
Other contenders for the French title include the usual suspects, notably Laurent Brochard (Ag2r-Prévoyance), Patrice Halgand (Crédit Agricole), Sandy Casar (FDJeux.com), and David Moncoutié (Cofidis), to name a few.
(All rights reserved/Copyright Knapp Communications Pty Limited 2004)