Tour de France News for June 26, 2004
Edited by Chris Henry
Cofidis to meet with Millar
David Millar
Photo ©: Cyclingnews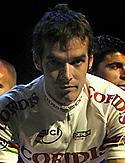 The Cofidis team announced Friday that it planned to meet with its rider David Millar, said to have confessed to the use of EPO during nearly 48 hours of interrogation by French police in Biarritz, where he lives most of the year. Millar's questioning is a continuation of the ongoing doping investigation led by judge Richard Pallain, who first brought the case to light with the arrest of ex-Cofidis rider Marek Rutkiewicz and ex-soigneur Boguslaw Madejak in January. Since then eight people have been placed under investigation in connection with what is fundamentally a question of trafficking.
Millar's implication is ostensibly the result of statements made by former teammate Philippe Gaumont, himself a subject of investigation, fired by Cofidis following his own revelations of drug use during his career. Gaumont pointed the finger at Millar, Cédric Vasseur, and former Cofidis team doctor Jean-Jacques Menuet, who resigned his post during the team's hiatus from competition in April.
Gaumont is said to have told investigators that Millar instructed Dr. Menuet to give him and Vasseur remnants of a banned substance he says Millar used before the final time trial in the 2003 Tour de France. Both Menuet and Millar (who has never tested positive for a banned substance) have denied Gaumont's accusations. Gaumont's implication was that Millar's status as team leader would have been sufficiently influential on Dr. Menuet.
"Ten days before the Tour, this clearly is a problem," said Cofidis president François Migraine. "We'll dispose of anybody found guilty, but as long as the investigation is ongoing, new information can always come out."
Meanwhile, the team issued a statement of its position prior to meeting face to face with Millar.
"Following information revealed in the press concerning the possible admission of doping by David Millar during his questioning, the Cofidis team will call the rider so he can explain himself on these declarations," the statement read."
"Cofidis Competition, which maintains its firm position on the subject, awaits information pertaining to the content of David Millar's interrogations. If it is revealed that he admitted to doping, Cofidis Competition will apply its principle of zero tolerance and impose immediately the appropriate sanctions."
Could keep rainbow jersey
Although any admission of drug use by Millar would be seen as a positive doping offense per UCI regulations, the Scot could keep his world time trial championship title on the condition that he did not use banned substances during a certain period prior to that event. Millar tested negative after his World's win in Hamilton last October.
Under investigation? No Tour for you
Millar and Vasseur out
The Société du Tour de France issued a statement Friday, in the wake of David Millar's implication in the ongoing drug investigation surrounding the Cofidis team, indicating that no rider who is subject of a legal procedure or police investigation will be permitted to start the Tour de France. Even if Millar's Cofidis team has yet to make its own determination about Millar's status, the Tour policy rules out his participation in this year's Tour. Millar's teammate Cédric Vasseur also remains under investigation by judge Richard Pallain, though he has been allowed to return to competition by the team.
Similar investigations ongoing in Italy also implicate a number of Italian riders, though in the case of riders such as Fabio Sacchi (Fassa Bortolo), Eddy Mazzoleni (Saeco), Alessio Galletti and Mario Scirea (Domina Vacanze), they have either been suspended by their team or at a minimum kept off the Tour roster. Saeco's Danilo Di Luca, who also finds himself under investigation in Italy, was scheduled to ride the Tour.
"We were in contact with the directors of the teams concerned to tell them that we didn't wish to have riders implicated in doping investigations [at the Tour]," said Tour de France director Jean-Marie Leblanc. "I should add that some of them had already taken steps in this direction."
(All rights reserved/Copyright Knapp Communications Pty Limited 2004)