Tour de France News for June 20, 2004
Edited by Chris Henry
Bernaudeau's sponsor search
With cycling tackling the problem of doping on several fronts just weeks before the Tour de France, Brioches La Boulangère director Jean-René Bernaudeau faces an uphill battle in his search for a new sponsor to take over in 2005. Brioches La Boulangère announced recently that it would not sponsor the team beyond 2004, citing the financial burden of joining the UCI's Pro Tour as the primary reason for its withdrawal.
"Our sport is fabulous, it brings out the crowds, and enjoys a sizeable audience," Bernaudeau commented in Saturday's l'Equipe. "And I'm sure of my sporting plan. But the problem is that cycling is suffering from the comportment of some irresponsible people.
"Doping, that's the number one question for potential sponsors," he noted.
Bernaudeau suffered an additional setback when a series of events, not least of which the surprise announcement that the title sponsor would not continue beyond 2004, led to the departure of Joseba Beloki, recruited to be the team's leader at the Tour de France this season.
Bernaudeau, who in recent weeks has been in contact with roughly fifty potential sponsors, confessed to having fewer than five serious contacts at the moment. The tightly knit Vendée U development team, from which the professional team was formed, appeals to sponsors even if no company has yet been sold on the sponsorship plan. For Bernaudeau, the issue of doping in the sport remains the hurdle he must clear before finding a new sponsor.
"The business leaders who don't know the sport consider it a good promotional vehicle, but one whose support is not professional," Bernaudeau explained.
Pevenage sees turnaround
Ullrich almost ready
Photo ©: Franklin Tello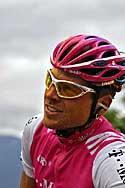 "There were moments when I was pretty worried," Rudy Pevenage said of his pupil Jan Ullrich's less than perfect early season. Pevenage, who acts as Ullrich's coach and adviser, though not formally part of the T-Mobile team, commented in l'Equipe that the 1997 Tour de France winner has started to show some of his summer condition at the Tour de Suisse, even if things have not gone perfectly up to this point.
"For example, in the beginning of April. We had set the Flèche Wallonne and Liège-Bastogne-Liège as races to show that everything was going well," Pevenage said. "But everything wasn't going well. You had to be blind not to see that Jan was still too heavy."
Insisting that Ullrich had trained diligently in the off-season, Pevenage noted that the German shared his frustration with the recurring battle of the bulge following the winter months.
"He too was upset, because he was putting in the kilometres but he wasn't seeing the results and wasn't seeing the winter weight come off," Pevenage explained. "But from mid-April to the beginning of the Tour of Germany in June, he really doubled his effort."
Ullrich sat in second place overall in the Tour de Suisse on the eve of the final stage time trial, 41 seconds behind Fabian Jeker. After victory in stage one, a lengthy stint in the leader's jersey, and limited losses in the high mountains, Ullrich could still emerge on top with a perfect time trial. If not, he knows that his Tour preparation has kicked into high gear, something noted by more than one of his rivals in Switzerland.
"The Tour de Suisse wasn't really an objective, but if he can win it he'll be very happy Sunday night," Pevenage concluded. "It's important for the morale."
No cakewalk at Tour de Suisse
Jan Ullrich may be using the Tour de Suisse to finalise his Tour de France preparation, but the nine stage race is not being run as a training ride for the remainder of the peloton. As many of Ullrich's Tour rivals used the Dauphiné Libéré to prepare, a number of other riders in top condition have set the Tour de Suisse as a major objective, and the racing speed has reflected the level of competition.
Most stages have reached the finish over 15 minutes ahead of the fastest schedule, with average speeds well over 40 kilometres per hour, even on stages featuring multiple climbs. Through the rain and over three categorised climbs, including the Cat. 1 climb to Lukmanier mid-stage, Paolo Bettini covered Saturday's 191 kilometres at an average of 42.5 km/h.
Common consensus has also shown that race organisers have been rather lenient in their definition of the climbs including in this year's tour, leading riders to face a bit of surprise when the going got vertical.
"I think the guys who categorized the climbs here in the Tour of Switzerland must have felt off-colour the evening he labeled yesterday's climb a second category!" Jan Ullrich's coach Rudy Pevenage commented on Belgian Sporza television, referring to Friday's stage finish climb to Malbun.
"It wasn't second category at all, more like an hors catégorie!" he added. "It's the same [Saturday]. That Cat. 4 climb really is a bit harder than what it looks on paper. It's got an average percentage of 8% with a maximum of 13%."
Indeed, one rider to lose ground on the final Cat. 4 climb was Ullrich, who conceded additional seconds to race leader Fabian Jeker in the general classification.
No Tour for Freire
Former world champion Oscar Freire (Rabobank) will miss this year's Tour de France, his team announced. Freire, winner of Milan-San Remo this spring, underwent surgery "on his backside" Saturday in Amersfoort, Holland, the team announced Saturday. The procedure will require ten days off the bike for Freire before he can begin training again. Rabobank is expected to announce its final Tour roster in the next week.
(All rights reserved/Copyright Knapp Communications Pty Limited 2004)