Special Edition News for June 16, 2004
Discovery lands Armstrong & US Postal through 2007
By Ed Felker in Washington
Lance Armstrong will roll out in new colours in 2005
Photo: © CN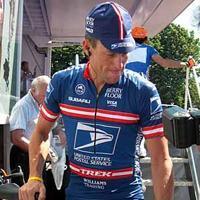 U.S.-based television programmer Discovery Communications, Inc., on Tuesday announced a three-year deal to sponsor Lance Armstrong and the team currently known as the U.S. Postal Service Cycling Team presented by Berry Floor. Though exact financial details were not revealed, the multimillion dollar contract clears the way for Armstrong to seek his sixth consecutive Tour de France victory next month without sponsorship distraction. It also led him to declare his intention to ride the 2005 Tour de France and possibly race in 2006, with an eye toward the Giro d'Italia and the spring classics.
The team will be renamed the Discovery Channel Pro Cycling Team in January, and will race the remainder of the year with the company's logo on the Postal Service jersey.
"I just didn't want to go away. I still love what I do, I still love the bike," Lance Armstrong told a cheering audience at the company's suburban Washington headquarters. Dressed in black slacks, black leather jacket and gray t-shirt, Armstrong looked relaxed and fit despite the flight from Brussels and planned same-day return. "I had many, many nights where I thought, well, what if we don't find a partner. Do you want to retire, Lance? I didn't want to retire. I'm glad I'll be back for at least a year, maybe two," he added.
In addition to the scores of Discovery employees looking on, the audience included his team manager, Johan Bruyneel; his girlfriend, singer-songwriter Sheryl Crow; and the management of Tailwind Sports, which owns the team.
The contract adds to ties Armstrong has already made with the television industry in North America. The team is partially sponsored by the Outdoor Life Network, which owns the North American rights for coverage of the Tour de France and has closely tied itself to Armstrong. OLN issued its own statement affirming that it will continue co-sponsorship of the team and that it was "pleased the U.S. team will have the support it needs to continue racing."
Discovery will not cover racing, officials said, but plan to employ Armstrong "as an on-air personality across Discovery's networks in the United States and around the world," according to a company statement. Billy Campbell, company president for its United States networks, said Armstrong would participate in projects on its health and fitness channels, and possibly others.
Armstrong had previously said he would continue racing next year if a new sponsor took over for the U.S. Postal Service, which decided not to renew its nine-year affiliation with the team.
In comments to reporters later, Armstrong described himself as relieved that the team found a new title sponsor before the July 3 start of the Tour de France. He did not want his riders looking to other teams for new contracts during the tour, and while he professed his confidence in them, Armstrong nonetheless wanted to assure their future employment before the prologue in Liege, Belgium. "It's very important to have it done now," he said.
Dan Osipow, vice president for Tailwind Sports, said the team had more than one interested suitor, but finalized the deal with Discovery due to its worldwide reach and its ability to support the team's role in the new Pro Tour league. He was unsure, however, whether Berry Floor will retain its title sponsor status or continue as a co-sponsor. The Pro Tour will require the team to expand its European ridership to 25 professionals and three under-23 racers, as well as ride all three grand tours and the World Cup races.
Armstrong was asked a number of questions related to the new book in France questioning whether he has used performance enhancing drugs during his Tour de France victories, all of which he calmly but sternly dismissed. "I can absolutely confirm that we don't use doping products," he said. He expanded on his decision to file lawsuits against authors David Walsh, of the Sunday Times, and Pierre Ballester, and the publishers of the book and magazine excerpts. While stressing that doping allegations are nothing new, he said the time to let such words pass was over.
"We've sort of reached the point where we really can't tolerate it anymore. We're sick and tired of these allegations. We're going to fight them, they're absolutely untrue... enough is enough."
Armstrong allowed that he is "very frustrated" by the timing of the book, coming just before the Tour de France. He said, however, that he is approaching the race in his traditional way, by focusing on individual stages and trying not to focus on the historic nature of a sixth victory, which has eluded all four of the other "five times" club members. He said he had dinner Monday night with Eddy Merckx, who talked about being punched by a fan during his try for a sixth. "OK, that's enough!" Armstrong recalled telling Merckx.
In terms of fitness, Armstrong said he sought to come into the Tour de France this year "a little cooler," because in years when he has had a strong June, he has suffered during the Tour, and vice versa. He sidestepped the question of what role he will play on the team after 2006, if he races that year at all. Osipow said he will stay with the team in some capacity, but was not specific.
In a lighter note, Armstrong credited the U.S. Postal Service with his Tour de France victories, and recalled it was the only team sponsor willing to take him in 1997 after his cancer treatment.
The move to privately held Discovery means Armstrong and the team will no longer be subject to criticism by Postal Service critics who decried the multimillion dollar annual contract at a time when mailing rates were on the rise. Discovery is owned primarily by cable television companies Liberty Media Corporation, Cox Communications and Advance/Newhouse Programming and by John S. Hendricks, founder and chairman of Discovery. Hendricks was the founder of the now-defunct Women's United Soccer Association in 1999. The company broadcasts to 160 countries and territories covering some one billion subscribers. It owns 60 networks and broadcasts 19 separate channels including Animal Planet, TLC and the Travel Channel, among others.
The new Discovery Channel team will mark the fifth professional association for Armstrong. He entered the pro ranks with the Subaru-Montgomery team in 1991, and enjoyed early success in the United States and in Europe with Motorola. He was signed and then dropped by Cofidis in the wake of his cancer diagnosis before ever racing in a Cofidis jersey.
Bruyneel said in comments later that the Discovery Channel sponsorship will be a natural fit in Europe, where it is seen on satellite television networks. "I have it on my TV," he said.
(All rights reserved/Copyright Knapp Communications Pty Limited 2004)