Tour de France News for June 15, 2004
Edited by Chris Henry & Jeff Jones
Tough week in store at 84th Volta a Catalunya
By Martin Hardie
2003 champion Jose Antonio Pecharroman
Photo: © AFP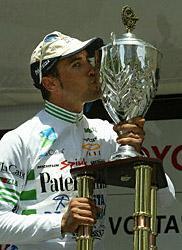 The 84th Volta a Catalunya/Tour of Catalonia starts on Monday, June 14 with what seems to be becoming a traditional team time trial over 18 kilometres. The TTT acts as a prelude and GC sorter for the week's mountainous encounter.
The Volta has been for many years one of the final encounters in which Tour de France aspirants come out and test their wares before the big one. The list of past winners is testament to its stature in this regard including as it does Heras, Beloki, Zülle, Indurain, Kelly, Moser, Lejarreta and Merckx. This year the Volta returns with its testing parcours but with many big names taking the week off or seeking to ride themselves into form in the alternative meeting of the week, the Tour de Suisse. As such, other than being a venue for some Tour domestiques or stage specialists to find their legs it should provide an opportunity to see some of the up and coming riders of the peloton.
On paper in this year's edition, the decisive stages seem to be Stages 3 and 4. Stage 3 finishes in the tiny Pyrenean state of Andorra climbing two first category climbs, the Coll de Montaup and the mountain top finish at the ski station resort of Pal. The next day's stage 4 is a time trial which climbs around 700 meters in altitude over its 12 kilometre course. It was in last year's equivalent stage that José Antonio Pecharroman, then of Paternina-Costa del Almeria, stormed to the lead and eventual victory. In doing so Pecharroman outflanked the attempt of Roberto Heras to win the Volta in consecutive years.
Neither rider has come back this year for a rematch. Another rider who isn't here this year and has become known more for his mouth than his legs since is Jesus Manzano. 2003 saw the then Kelme rider solo to victory in stage 4. However, Kelme do return for this edition and having paid the outstanding salaries, they will be led by Alejandro Valverde. Amongst the riders to watch - Valverde (the Spanish Jalabert?), anyone from Paternina, Saunier's Leonardo Piepoli, a steadily improving Aitor Gonzalez, Baque's Peio Arreitunandia, Alberto Martinez of Relax, a man with a point to prove wearing orange by the name of Laiseka, and after his Giro performance supporting Gonchar, De Nardi's Brit Charly Wegelius.
The rest of the week is sure to sap the legs of many. Stage 2 climbs up towards the Pyrenees and plateaus out for a rolling finish. Stage 5 includes a first and second category climb before descending towards a flattish finish. The penultimate and ultimate stages combine a succession of third category climbs that offer no respite on the flats.
Unlike the Dauphine or the Tour de Suisse, we may not see a prospective Tour winner on display, but we will see a tough, testing week that touches the high mountains of the Pyrenees and terminates in the splendour of down town Barcelona.
Armstrong fires back
Defending Tour de France champion Lance Armstrong has wasted no time providing a stern response to the arrival of a new book which casts doubt over the integrity of his career and specifically his five victories in the Tour de France. "LA Confidential: The Secrets of Lance Armstrong", which is due to be published this week, seeks to link Armstrong with the use of banned substances. Armstrong has threatened a costly legal battle in return, maintaining that he has never used any performance enhancing drugs.
"Lance Armstrong has reacted with concern and dismay at the false allegations made by David Walsh, Chief Sports Writer of the Sunday Times," the US Postal Service announced Monday in a written statement.
Armstrong has instructed his lawyers to immediately institute libel proceedings in London against the Sunday Times and David Walsh seeking an injunction and substantial damages, and in Paris against David Walsh, Pierre Ballester, the publishers of "LA Confidential" and the publishers of L'Express, in which excerpts of the book were published Monday.
No Tour for Vinokourov
Initial fears in the T-Mobile team that Alexandre Vinokourov's Tour de France could be in jeopardy have been confirmed. The Kazakh, a stage winner and third overall in 2003, will undergo surgery for injuries sustained in a crash Sunday in the Tour de Suisse and is now officially off the team roster for the Tour de France.
Vinokourov has been diagnosed with several torn ligaments in his right shoulder which will require surgery.
"He'll have to wait three weeks before getting back on the bike," team spokesman Olaf Ludwig commented Monday. "It's too early to say whether his second objective of the season, the Olympic Games, will be in danger. The race is in eight weeks, so it should be OK."
Vinokourov, aside from his own potential in the Tour, was to be Jan Ullrich's top teammate for the Tour. This is the second time in three years that Vinokourov has had his Tour de France derailed by a crash in the Tour de Suisse. T-Mobile's Paolo Savoldelli also remains a question mark for the Tour after a serious crash in April, though Cadel Evans, who missed last year's Tour due to injury, has returned to top form after his overall victory at the Tour of Austria last week.
McEwen: "Talk is cheap"
With a stage victory already in the bag at the Tour de Suisse, Australian sprinter Robbie McEwen (Lotto-Domo) is unconcerned about the hype surrounding top speedster Alessandro Petacchi as the heavy favourite for the upcoming Tour de France. McEwen was asked by Belgian TV1 commentator Michel Wuyts if he minded the fact that he didn't figure among the list of sprinters tipped for big success at the Tour.
"No, it doesn't bother me. Talk is cheap," he said. "The prizes are given at the finish, and then we'll see."
McEwen's recent successes have come in the Tour de Suisse and at the Giro d'Italia, where he was one of only two sprinters (along with Fred Rodriguez) to disrupt the string of victories by Petacchi and his Fassa Bortolo train. McEwen left the Giro early to recover and train specifically for the Tour, which he believes has been a wise decision.
"After the Giro I worked mainly on power and sprints; I didn't do the long hard kilometres," McEwen explained. "[Monday] I could already feel the benefit of it. I'm just lacking a bit of racing rhythm but that was already better than the day before also. It's something that comes back quickly."
McEwen has finished in the green jersey of points winner at the Tour de France in the past, but says this year he will focus first on stage wins, then worry about the jersey competition.
"The first stages of the Tour de France are ridden close to where I live (in Everbeek in the Flemish Ardennes)," he said. "I definitely want to go and scout all the cobblestone sections and the finishes. The first nine stages give plenty of opportunities for the sprinters."
Armstrong in USA
New employer for The Boss?
Photo ©: AFP

US Postal Service leader Lance Armstrong has returned to the United States following the Dauphiné Libéré to participate in a team press conference outside Washington, DC. Tuesday at 3pm (EDT) an announcement will be made at the Silver Spring, Maryland headquarters of Discovery Communications, a global media company which owns several cable television networks including the Discovery Channel, TLC, and Travel Channel.
US Postal Service team officials declined to comment on the nature of the announcement, but the location and timing suggest that Discovery Communications could be taking over as title sponsor for the team after the postal service's contract expires at the end of 2004. Armstrong himself has commented in recent weeks that if a new sponsor were found to continue the team in its current structure, he would continue racing in 2005.
John S. Hendricks, founder and CEO of Discovery Communications, is an avid sports fan and in 1999 formed the Women's United Soccer Association (WUSA), the premier women's soccer league in the world. Hendricks has served as Chairman of the Board of Governors of WUSA.
Cyclingnews will have full coverage of the announcement on Tuesday.
See also: Cyclingnews' interview with Lance Armstrong.
Tough break for T-Mobile
The announcement Monday that Alexandre Vinokourov, third place in last year's Tour de France, would be unable to race this July deals a serious blow to the German team's preparations and plan of attack against defending champion Lance Armstrong and other top rivals. Jan Ullrich, currently leading the Tour de Suisse, remains the team's leader for the Tour. Vinokourov, however, was to be not just a key teammate, but another card to play in the general classification and part of T-Mobile's strategy to assemble a team of GC riders as opposed to US Postal Service's 'all for Lance' team composition.
"Our whole strategy suddenly fell apart," confessed team manager Walter Godefroot, quoted in l'Equipe. "Even if I was not counting on [Vinokourov] for the overall victory... I was confident he was arriving in form at exactly the right time.
"They say that's life," Godefroot added, "but sometimes it's truly hard on us."
Ullrich shared the frustration of losing his right hand man and good friend for the Tour, expressing the pain of thinking Vinokourov as 'just a spectator' in July.
"It's terribly to see what can happen so suddenly," he said. "Obviously it's bad for the team, for me, but most of all for him. He had really prepared well for the Tour and for us it was a perfect scenario.
Vinokourov undergoes surgery today to repair torn ligaments in his right shoulder and is expected to be off the bike for three weeks, a lengthy recovery which prompted the decision to abandon hope for the Tour.
Walsh: "Circumstantial evidence"
With his new book "LA Confidential: Les Secrets de Lance Armstrong", cowritten by Pierre Ballester, hitting shelves in France, Sunday Times writer David Walsh has sought to implicate Lance Armstrong in the use of performance enhancing drugs throughout his Tour de France reign.
Armstrong has categorically denied the use of any banned substances and Tuesday began legal proceedings against Walsh and Ballester, as well as the Sunday Times and French news magazine L'Express, which published excerpts from the book in a cover story.
Walsh quotes former teammates and staff members associated with Armstrong throughout the book, but himself acknowledges that concrete proof that Armstrong has ever used performance enhancing drugs has not been revealed.
"It's all circumstantial evidence," Walsh said in an interview with the International Herald Tribune's Sam Abt. "We don't actually prove anything. We just set out the facts and let the reader decide for himself who's telling the truth.
"But we do give names for every accusation," Walsh added.
Basso hones TT form
Ivan Basso, one of Team CSC's two leaders for the general classification in the Tour de France alongside Carlos Sastre, will hone his time trial form at the Italian national time trial championships on June 22. Basso traveled to the United States for wind tunnel testing at MIT but has yet to put the results to the true test. Basso's teammate Andrea Peron, CSC's first alternate for the Tour, will also take part in the time trial.
"I very much want to test myself in this discipline ahead of the Tour, and I'm extremely determined to do well," Basso commented. "So far I've only done prologues on my time trial bike after I did the tests in the wind tunnels in Boston. I need to compete in a longer time trial in order to be prepared properly."
"It's important, that [Ivan] has the opportunity to do a long time trial ahead of the Tour, so he can get used to the bike at a longer distance," team director Bjarne Riis added. "I'm sure, Peron is also motivated to do the time trial. He's our first reserve for the Tour, and he definitely want to show that he's totally ready for this task, should it become necessary."
Beloki in the Alps
Joseba Beloki continues to prepare for the Tour de France, though his run-up to the Tour this year has been plagued by injury, difficulties with allergies, and strained relations with his Brioches La Boulangère team after the recent announcement that the title sponsor would not continue in 2005. Beloki is currently riding in the Alps with teammates including Jérôme Pineau, Didier Rous, and Sylvain Chavanel.
Artetxe in doubt for Tour
Euskaltel-Euskadi's Mikel Artetxe could lose his place at this year's Tour de France following a fall and injuries sustained. Artetxe landed heavily on his elbow and suffered serious contusions, which could jeopardize his Tour participation if he does not recovery quickly. He would likely be replaced by Gorka Gonzalez.
(All rights reserved/Copyright Knapp Communications Pty Limited 2004)