Tour de France News for June 14, 2004
Edited by Chris Henry & Jeff Jones
Armstrong sweats the details
Three weeks to go before the Tour de France
Lance Armstrong is a worried man, but not because the Tour is around the corner and Iban Mayo just took almost two minutes out of him in the Dauphine's Mont Ventoux time trial. As he tells Cyclingnews European Editor Tim Maloney, he's always worried about the Tour, even in January.
In good spirits for stage 5
Photo ©: AFP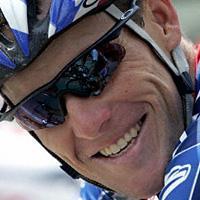 With only three weeks to go before he attempts to win a sixth Tour de France, Lance Armstrong sat down with Cyclingnews to discuss his quest to complete a unique winning streak. We were brought into the exclusive confines of the USPS-Berry Floor team bus by team media manager Jogi Muller and suddenly Lance bounded in the door. Despite being tired from almost a week of hot, hard racing in the Dauphine Libéré, Armstrong was full of energy. After he offered us some liquid refreshment, we got down to business with the man they call The Boss in the Tour de France peloton.
Cyclingnews: How do you like being a Jeopardy answer?
Lance Armstrong: [Laughs]
CN: The other day on Jeopardy, the answer Alex Tribek read was "Strong enough to be Sheryl Crow's man" and the question the contestant said was...
LA: (groans) Awww... I hope that was only a hundred dollar question! I've heard over the years that there have been some cycling related questions (about me) related to the Tour, so that's not the first time that's happened. Wow! I guess I'm honoured.
CN: So if the next Jeopardy answer is "winner of six straight Tours de France", it's clear you want the question to be "Who is Lance Armstrong?" In Thursday's le Mont Ventoux time trial, you lost more time than you expected, even though you went through the first split at St. Esteve fastest to that point. What happened after that?
LA: Well... I was probably a little faster than most people because I rode with some clip-ons [aero handlebars] for that first rolling section. Maybe, perhaps I went out a little bit fast, but I felt like I was in control. The point was that I expected to go a little bit faster, I expected to feel a little bit better but I obviously didn't go fast enough.
[Editors Note: Armstrong's 2004 time of 57:49 was still his fastest ever, three seconds faster than his time in the 1999 Dauphine' Libéré' Ventoux TT.]
Focused at the start of the Dauphine prologue
Photo ©: velofotopro

I'm always worried [about the Tour]) in June. Christ, I'm worried in January... that's my nature, to be worried. This is my job, to race and to win the Tour and the day that I don't show up worried about the competition, about myself, about my team, about the equipment, about the budget, about the sponsors, that's the day I have to go home. So I'm still the same person; I'm still stressed about it and nervous I that may not be ready.
But now, looking back [on Thursday's Mont Ventoux TT] and analyzing everything, analyzing the performances of [Iban] Mayo and Tyler [Hamilton] and everybody that raced as well as my own performances, I think I'm on schedule [for the Tour].
Click here to read the full interview.
Next stop: Tour de France
Tour favourites finish Dauphiné dress rehearsal
By Chris Henry
Mayo's ready
Photo ©: AFP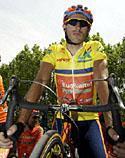 For the principal actors in the Dauphiné Libéré, particularly those tipped as the top favourites for the Tour de France general classification, the week-long race was the final major test before the "Grande Boucle" in France. Three points of reference were provided in the performances of Iban Mayo, Lance Armstrong, and Tyler Hamilton, while other riders like Oscar Sevilla and Juan Miguel Mercado showed solid condition well worthy of causing a Tour de France stir.
Iban Mayo (Euskaltel-Euskadi) came to the Dauphiné to win. After a hard-fought battle with Armstrong last year, when he put the American in difficulty but ultimately missed the final step of the podium, Mayo was intent on stamping his authority on this year's Dauphiné. That he did. With a victory in the prologue, a resounding triumph on the slopes of the Mont Ventoux, and nary a moment of weakness throughout the week, Mayo and his Euskaltel teammates achieved exactly what they aimed for.
"I like this race a lot," said a typically subdued Mayo before climbing the podium after the final stage. "This is a great victory. My biggest win is perhaps still at Alpe d'Huez in last year's Tour, but this is important too.
"Every rider likes to be in a yellow jersey, but I know that the Tour de France will be different. But for the moment I'm very happy with my race and this victory."
Armstrong quiet pre-Tour
Photo ©: AFP

Lance Armstrong (US Postal Service) came to the Dauphiné to train and prepare for the Tour. The Dauphiné's two-time defending champion made it clear he did not want to dig too deep into his pre-Tour reserves and repeat the struggle against Mayo et. al. Even if Mayo expected the US Postal leader to come out fighting anyway, most realized Armstrong was firm in his intentions and would only focus on the two tests against the clock.
Third place behind Mayo and Hamilton in the prologue was acceptable. On Mont Ventoux, Armstrong's fifth place incited more speculation about his condition but by no means was worthy of great concern for his Tour de France potential. He expected to go faster up the mountain, but showed no sign of panic after losing so much time to Mayo. He finished the Dauphiné in fourth place in the classification, two minutes behind Mayo. The two minutes were lost in the time trials, but Armstrong showed no weakness during the climbing stages and even sprinted to finish the final stage first among the Mayo/Hamilton group.
"It was an interesting week," Armstrong commented on French television Sunday. "It was a tough week. I didn't feel as good as I thought I would, but we also saw a super Iban Mayo, and a super Tyler Hamilton."
Armstrong conceded without hesitation that he still had work to do in training before the Tour de France, but the five-time winner remains as ever the man to beat this year as he has been the last four. And his rivals know this.
Hamilton strong
Photo ©: AFP
Tyler Hamilton (Phonak) also provided his own story. More than ever Hamilton is a contender for the Tour de France title this year, riding as sole leader for the Swiss Phonak team which in recent weeks has burst onto the scene with a number of riders in excellent condition. Hamilton took Armstrong's approach to the Dauphiné, testing himself in the two time trials but not concerning himself with his final place in the classification. The difference between the two was that the 'other' American came out ahead, finishing second overall just 36" behind Mayo. Hamilton was second in both time trials and turned out to be Mayo's greatest threat.
For these three, and many others, the stage is set for another exciting Tour de France. Armstrong could be facing more serious rivals than he has throughout his Tour de France reign, and the odds are against him as he tries to become the first man ever to win a sixth Tour. Arch rival Jan Ullrich may be returning to his best form once again, but Armstrong knows that he has more than just the German to worry about come July. "This will be the hardest Tour for me," he admitted.
Ullrich does it his way
Jan Ullrich
Photo ©: Reuters

Unlike the other Tour de France candidates Lance Armstrong, Tyler Hamilton and Iban Mayo, Jan Ullrich has opted to race the Tour de Suisse instead of the Dauphine Libéré in preparation for July. During the early part of this season, Ullrich has often been criticised for being out of condition and overweight, but with the Tour of Germany and Tour de Suisse in his legs, he is starting to look like a real Tour contender again. After winning the first stage of the TdS in surprising fashion, Ullrich now wears the golden leader's jersey, but will face his first tough challenge to defend it in today's Stage 3 uphill finish.
Ullrich has been paying attention to the Dauphine Libéré, where Iban Mayo surprised Lance Armstrong and everyone else by winning the Mont Ventoux time trial, putting two minutes into Armstrong in just 21.6 km [incidentally, it was still Armstrong's fastest ever ride up Ventoux]. In an interview with Zeitung Sonntag , Ullrich responded to the comment that Armstrong was carrying a "couple of extra pounds" with dismissal: "Nonsense. I know the story with the kilos from personal experience. It's always overexaggerated, especially as concerns the effect. But you hear about Lance being overweight. I think when his coach says it, it's purely tactics. I don't read anything into it. At the Tour, he will be fit, I am sure of that."
Ullrich said that he was "genuinely surprised" by his form in the Tour of Germany, where he finished second in the opening time trial and was good, but not brilliant in the mountains, eventually ended as 7th overall. "I didn't expect that I would be so far ahead. With this good form I could take the victory in the opening stage of the Tour de Suisse. I am thus on the right track."
In Germany it was clear that Ullrich was not at his top level in the mountains, which are typically his weak point in the Tour. But he said it would have been wrong to be in top shape then. "My planning is aimed so that I reach the end of the second week of the Tour de France at 100 percent. Then we are in the Pyrenees. I will certainly not go for the final classification in the Tour de Suisse, despite the good result in the first stage. The tough finish on Thursday in Malbun (13 km of climbing) is probably still too hard for me at the moment. But I feel good, fit for the Tour and I also have a few reserves. And that's all that counts for me."
Ullrich described himself as "satisfied" with his season up until May, as he only had to abandon two races. He called the media's reaction "overexaggerated" but was not concerned at the time. "I had and have my own way in my head, and simply determined that my base training wasn't perfect. That was no reason to panic. It was then simply better for me to abandon two races and train again in peace to make my base stronger. My season is not kaput for long. If by October I have no successes on my account, then I have made an error. Previously that's not been the case."
Often called one of the most talented riders but without the ability to use his capabilities optimally, Ullrich commented that, "I can live with that because I know what's true. I have to go my own way, which doesn't bring me in top form until summer. Of course everything didn't go perfectly this spring, but my season really begins in July. And it's also not true that I just ride on talent, like I always hear. Iron training is also part of it, but just suited to my own type...Fundamentally, I think: If I can prepare on the basis of how I feel, I can also win the Tour."
The 30 year old said that he won't be changing his way of doing things in a hurry. "The people that are important to me, trust me and don't try to change me, which would be impossible anyway. I have to go my own way. I can't be everything, that's just how I am. Some say that us Rostockers have an elephant skin. That helps sometimes."
Ullrich doesn't think about the Tour 12 months of the year, and takes time out to celebrate with family and friends. "Discipline and ambition are important, but not for the whole year," he said.
Last year, the gap between Armstrong and Ullrich in Paris was a mere 1'01 - the smallest margin of victory by Armstrong in any Tour. When asked if Armstrong was beatable, Ullrich responded, "Yes, we saw last year that he had problems, when Beloki, Vinokourov, Mayo and I attacked him. In 2003 we saw his physical limits, which was never the case in the past. And he was a little nervous. Nevertheless, he will be the man to beat this year."
Vino out for three weeks
After his crash in the Tour de Suisse yesterday, T-Mobile's Alexandre Vinokourov will be out of action for three weeks due to his injuries. The team reported that his Tour start is in "grave danger"
New image challenge for Armstrong
Lance Armstrong prefers not to speak about specifics when admitting to a certain degree of stress before the Tour de France. With reports of a new book challenging his reputation due to be published this week, the five-time Tour de France winner will likely be on edge as he prepares for a new battle to protect his image against allegations of doping.
The book, entitled "L.A. Confidential: The Secrets of Lance Armstrong", is written by Sunday Times sports reporter David Walsh and Pierre Ballester, a cycling writer formerly with French newspaper l'Equipe. In pre-release publicity, this week's edition of the French magazine l'Express contains allegations included in the book.
Not just doping
The article in the French news weekly l'Express also alleges that Armstrong had bought off the Coors Light team in 1993 West Virginia, part of the the Triple Crown series which offered a million dollar prize for the winner of all three races (Thrift Drug Classic in Pittsburgh, K-Mart Tour of West Virginia, First Union USPRO Championships).
Former Coors Light team director Len Pettyjohn, reached by phone in Colorado Sunday, told Cyclingnews, "At the time, Mike Engleman (currently a coach with USA Cycling's women's program) was in second in West Virginia and he was getting tired. We didn't think we could beat Lance, so we agreed not to attack him so we could win team classification and he could win the overall.
"But when we got to Philly, there was no deal," Pettyjohn added. "And our guys didn't race like there was a deal. On the ninth time up the Manayunk Wall, Roberto Gaggioli attacked and made a selection. But he came back to the car after and said 'I hope (Lance) doesn't attack... I'm toast.' But Lance attacked on the last time up the Wall and there was nobody who could cover his move.
"I never saw any money change hands nor heard any of the guys talk about it," he said.
Vinokourov out
Although his T-Mobile teammate Jan Ullrich retained the Tour de Suisse golden leader's jersey today, defending champion Alexandre Vinokourov came to grief on the finishing circuits, crashing with 47 km to go and abandoning the race. It was a hard blow for Ullrich, who was counting on having Vino with him in the mountains later this week, but fortunately the Kazakh did not break any bones.
The crash happened when Vinokourov hit a traffic island at 50 km/h. The 30 year old sustained concussion, facial abrasions and shoulder and hand injuries, and will have to rest for at least two or three days before riding again. Doctors are investigating the possibility of torn ligaments in his shoulder, which could put his Tour de France in danger. "Vinokourov plays an important part in our Tour plans," said T-Mobile's spokesman Olaf Ludwig on the team's website. "We are counting on him and Ullrich very heavily in France."
Although Ullrich was happy to have maintained the leader's jersey, he was critical of the organisers for what he thought was a dangerous finishing circuit. "After this fast stage I don't understand why the finishing circuit was not properly marshalled like it should be for an top level international tour. Alexandre became a victim of the chaos. Instead of being able to attack with me in the coming stages, he is now lying in hospital. That is annoying."
T-Mobile's team director Mario Kummer said that "To defend [this jersey] without Vinokourov now becomes rather tough. We will nevertheless keep fighting. We'll defend the lead for as long as possible."
CSC Tour team
Team CSC director Bjarne Riis has announced his selection for the Tour de France. This year the team enters the Tour without Tyler Hamilton (4th in 2003), but is reinforced with Ivan Basso and Jörg Jaksche. Carlos Sastre returns as co-leader for the general classification alongside Basso. Kim Andersen and Alain Gallopin will act as directeurs sportif.
"It has been a hard decision, and again this year we have had a problem of luxury," Riis commented on the team's website (team-csc.com), "because there are several strong riders who didn't make it."
Team CSC has selected the following nine riders for this year's Tour: Carlos Sastre, Ivan Basso, Jörg Jaksche, Jens Voigt, Bobby Julich, Nicki Sørensen, Jakob Piil, Kurt-Asle Arvesen and Michele Bartoli.
"With Sastre and Basso we have two riders who are able to finish among the 10 best in Tour de France," Riis said. "At the same time we have riders who can go for victory in almost any of the stages. The team time trial is a very big goal, and it would be a huge success if we could win this stage, which in my opinion is one of the most prestigious in our sport."
Tour veteran Andrea Peron has been named as first reserve.
"He has been unlucky because of an injury in the spring, but has bounced back strongly," Riis said of the Italian. "He has been told to prepare himself, as if he was to ride in the Tour, so we can be sure to have a perfect replacement, should bad luck occur."
(All rights reserved/Copyright Knapp Communications Pty Limited 2004)