Tour de France News Extra for July 9, 2004
Edited by Jeff Jones
Petacchi and Cipollini out
The Tour de France has lost two of its highest profile sprinters - Alessandro Petacchi and Mario Cipollini - neither of whom will take the start of today's sixth stage. Despite being hopeful last night that his shoulder would be OK following his crash in Stage 5 yesterday, Fassa Bortolo's Alessandro Petacchi was in too much pain to consider starting today.
"I'm really sorry I can't continue," he said. "It's a big disappointment to me, and basically it's because I just cannot raise my arm. Last year I came here and I was in worse condition but I managed to be a protagonist in the Tour. Now I'll just have to see what happens."
Mario Cipollini (Domina Vacanze) was also a victim of a crash, his problems stemming from the fall he had during the third stage to Wasquehal. There he crashed on his left side and opened up a cut in his left leg that hadn't healed from the Giro. It has become infected, he has a light fever and is in a lot of pain, which was why he was in trouble during stage 5. Cipollini decided that he didn't want to risk his condition and has left the race.
Post-stage 5 comments
Jan Ullrich (T-Mobile)
"It was a hard day for everyone," said T-Mobile's captain. "That being said, once the break got far ahead the race became a lot less nervous."
Iban Mayo (Euskaltel-Euskadi)
"With the rain it was a dangerous day but it went OK. I recovered very quickly from my crash. For the rest of the Tour, my tactic is to attack in the mountains. I believe that Armstrong could have some difficult days, but I think he knows that."
Roberto Heras (Liberty Seguros)
"I had a moment of panic because I crashed but thankfully nothing happened. Yesterday the crash happened at the front. Because of the weather and a nervous race, there isn't any one good position to be in."
An interview with Mark Scanlon
Settling in quite nicely
Five stages into his first Tour de France, Mark Scanlon is sitting sixth overall in the best young rider classification, and can be more than satisfied with his showing thus far in the world's biggest bike race. Irishcycling.com's Shane Stokes reports.
A contemplative Mark Scanlon before the start of Stage 2 in Charleroi
Photo ©: Shane Stokes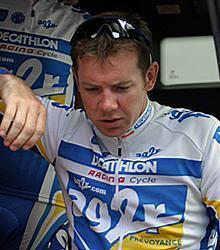 Former world junior champion Mark Scanlon has had a fine start to his first Tour de France. Going on the attack on two consecutive stages and helping his team-mates Jaan Kirsipuu and Jean Patrick Nazon to stage victories in the opening week, Scanlon has played the perfect team role so far.
The 23 year-old is clearly thriving in his surroundings, a welcome showing after a long absence of Irish riders in the Tour de France. It has been a full eleven years since Stephen Roche bid farewell on the Champs Elysees, but with home interest now soaring once more, things are looking a bit rosier for Irish cycling.
"The race has been fine so far," said Scanlon before the fourth stage team time trial. "I've felt pretty good - I did a solid enough ride in the Prologue and then was able to help Jaan in the final few kilometres of Stage 1. I went up and down the bunch to bring both himself and JP [Jean Patrick Nazon] to the front, and then did a big pull inside the final two kilometres. I was surprised at being able to do that; I thought it would be harder up the front at that stage."
Click here for the full interview.
Riis and Julich on the TTT
By Tim Maloney in Chartres
CSC comes through
Photo ©: Jon Devich

For Team CSC, the team time trial is an important exercise in team unity. After Wednesday's TTT, Bjarne Riis explained to Cyclingnews how the new rules at the Tour impacted their race. "There are too many rules," he said. "It was too confusing and even in general, apart from the loss by Carlos (Sastre) these rules helped us to have a better time, but I don't like rules like that. Especially when Sastre lost important seconds because the finish was very dangerous. That was obvious to everyone. Like (Gilberto) Simoni...the situation was a little bit crazy. It was a strange system."
Riis continued his discourse on the TTT by saying "we worked for six months on this event and one of our leaders lost fifty seconds. It's not very nice."
CSC's Bobby Julich crashed in Wednesday's TTT, but he suffered no real injuries. "Yeah, I'm OK, just a little sore...I think we just ran too much tire pressure. There was so much stress before the team time trial, maybe that was one of the things we overlooked. But the team was super-strong. We finished with nine guys and I know that if we didn't have to wait for the crash, but also we stopped again for Basso's bike change, I think we would have done a really good time. The new rules seemed to help us, except for Carlos. That was really, really a big misunderstanding. We finished on cobblestones in the rain and of course everyone is going to be prudent in that situation. It was a real bummer that he lost time, but Sastre is only two minutes behind, the Tour is long and we'll see. Day by day.
"I'm feeling good and so far this year, I'm really good in shorter stage races so now at the Tour it's my chance to test myself in a longer stage race."
(All rights reserved/Copyright Knapp Communications Pty Limited 2004)