91st Tour de France - July 3-25, 2004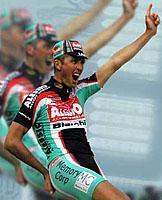 Scott Sunderland
Photo: © Memory Corp
Scott Sunderland's Tour Diary
Cyclingnews' longest contributing diarist Scott Sunderland is taking part in his second Tour de France in 2004 as part of the versatile Alessio-Bianchi team. Scott's role will be mainly to help Pietro Caucchioli, but he also hopes to have a few opportunities for stage wins. Once again, he'll be providing his highly experienced viewpoint on the Tour, its riders and anything else.
Stage 19 - July 24: Besancon - Besancon ITT, 55 km
Nothing to prove
The rain was bucketing down when I went out of the blocks for the 55km time trial. I knew I had to be careful, well, as far as that is possible in this type of stage! In the last five kilometres the roads started to dry and I was happy to have made it to the finish okay.
It's not like I had to prove anything today. As Caucchioli's lieutenant, my GC is of no importance. Also, everyone knows I'm not the hottest time triallist around and to be honest, I don't like the discipline that much. I suppose it's like school, if you don't like one of the subjects, generally that's the one with the lowest grade... and when you're not good at something, it normally doesn't get much of your attention either.
Today's rankings are no surprise. The strongest man won, again. I guess the sprinters left in this Tour were saving their energy for tomorrow, and we're expecting a big show on the Champs-Elysées. The intermediate sprints will be contested fiercely this time and that rush for the finish should be a bloody good fight.
I don't think the sprinters' teams will allow a break to get away too far, so I'm not sure what I will do tomorrow, sit back and enjoy this last stage or try my luck in the final kilometre.
As all the Italians in the team are really starting to miss the familia, it will be only the Northern riders of the team left for the traditional night out on the town. The Italians are going home right after the finish tomorrow. That's why we sort of celebrated the finish of this Tour already this evening.
We enjoyed a few glasses of red with diner. The atmosphere was positive and we sure are a good group; there have been no struggles or misunderstandings at all over the last three weeks.
It's not that obvious, you know. Living in each others' pockets like this sometimes can cause a bit of irritation here or there, but nothing like that occurred.
I won't be filing an update tomorrow, hope you don't mind, but I'll be checking in on Monday, with a bit of a yarn about the stage to Paris.
Thanks heaps for all the advice concerning the Mexican restaurants in Paris. I haven't had the time to look at all the mails, but Sabine arrives tomorrow lunch time and she'll try and pick out the most popular place from the dozens of suggestions!
Oh, by the way, for those who really seemed to be wondering: no, we don't have a nutritionist nor cook working for the team! Not all teams work in the same way and have the same infrastructure as US Postal, CSC, T-Mobile, Phonak, etc.
It's not a big problem for me really as I'm experienced enough to know what a proper diet entails and make sure I get it. It's just having to worry about the access to the right nutrition which has been an extra task over these three weeks. It does make life easier if that sort of stuff is taken care of for you, that's all. For example, the "snack" after each stage was one or more packets of dry biscuits and a bottle of water, and an odd sandwich during a long transfer in the bus... judge for yourself if that would help you recuperate after a stage in the Tour de France.
Also, thanks for all the fantastic support, the funny mails and the great comments on everything that happened to me in this Tour the France. It has been a great experience to ride it again, it was fantastic to receive your appreciation and admiration. I had no idea I had so many fans worldwide!
Be safe and hope you'll spot me in the front on the Champs Elysées tomorrow!
Ciao,
Scott