91st Tour de France - July 3-25, 2004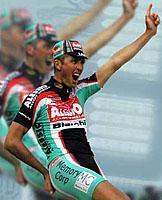 Scott Sunderland
Photo: © Memory Corp
Scott Sunderland's Tour Diary
Cyclingnews' longest contributing diarist Scott Sunderland is taking part in his second Tour de France in 2004 as part of the versatile Alessio-Bianchi team. Scott's role will be mainly to help Pietro Caucchioli, but he also hopes to have a few opportunities for stage wins. Once again, he'll be providing his highly experienced viewpoint on the Tour, its riders and anything else.
Stage 18 - July 23: Annemasse - Lons le Saunier, 166.5 km
Dreaming of Mexican
Rain wasn't mentioned on the program for today; but two hours before the start we got some anyway. The roads were wet and the start village looked kinda sad today. It wasn't crowded and buzzing with activity as usual. People were trying to get out of the rain and the overall feel this morning was different.
I did a few interviews and had a long talk to VTM, a Belgian TV channel. Also, I met up with Jill and Marty Jemison (ex US champion); they've been great friends since Marty's racing days. Marty and Jill are now running a great business organising trips to the come and see the European races, in particular the Tour de France.
The weather didn't affect my morale. The drive to try and go for that successful break was still there and I jumped with a few of the initial attacks. But the rope never broke and we were pulled back again and again. Riders were diving toward the wheels of those trying to get away and as I felt my legs swelling, I got shuffled back by the constant counterattacks coming from behind in the bunch.
I actually saw the break of the day happening right in front of my eyes, and I damn well knew that this one was to one to go with. My head called on my legs to start moving, but they just left the phone ringing, ringing, ringing... no contact... game over.
This evening, the masseur commented on how empty my legs felt. The muscles are soft and loose, nothing wrong at first glance, but there's no more power in them, very unlike the previous weeks.
One factor causing this lack of energy is the immense workload I have put in during this Tour. Especially yesterday, by trying to be there for Pietro the whole day; that just zapped what was left out of the system.
Another contributing aspect is the eating habits which come with riding a three week stage race. I just haven't been able to put the right amount of nutrition in my body. The late dinners mean everyone has to be flexible and although to some it might seem I can eat anything, I'm quite particular about what I eat and drink, just like I make sure I get a generous sleep every night. The food during and right after the race hasn't supplied me with what I need and I have been forced to look for alternative energy sources.
"First week you feel good, the second week you lose strength. Third week, f**ked," Per Pedersen once said about the Tour de France. Well, I am tired, but mentally still strong; and I hope to be physically recuperated by Sunday to be part of the action on the road to Paris.
But as far as today went, I was very happy about the cruisy tempo that the peloton held right to the finish. Everyone was cool about it I reckon, it actually turned out to be one of the nicest rides of the whole Tour.
The final TT
Tomorrow is pretty much just going through the motions for most of us. The best TT-riders should cover the 55km in about an hour and ten minutes, keeping in mind the wind factor of course. Don't be mistaken, it's definitely not a flat course, it's got a few small hills. For myself it is a matter of getting down on the bars and get the job over and done with in the most comfortable and quickest way possible.
For the sake of the race; to stir up some excitement, it would be nice to see Ullrich get up there. He's got half a chance but of course the favourite for the day is Lance Armstrong. Most of the intense competition will situate itself between second and about tenth to twelfth position on GC. For Kloden to jump over Basso it will take a hell of a ride, but nothing's signed and sealed for those places yet.
Help!
After the stage today, on our way back to the hotel Marcus and I were discussing the eating routine of this Tour. We're fed up with the cereal at breakfast time and the plain tasteless foods we're been served. So Marcus and I decided that on Sunday evening we'll have to take Carina and Sabine out for some Mexican tucker. Surely a few Coronas and margaritas should help relax the sore muscles. But, as we don't have a clue where to go and look for a great Mexican restaurant in Paris, I'm hoping Cyclingnews readers can help. If any of you happen to know of a good one, please email me the name, address and phone number!
Hoping to hear from you soon,
Ciao Scott