91st Tour de France - July 3-25, 2004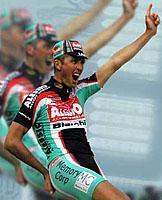 Scott Sunderland
Photo: © Memory Corp
Scott Sunderland's Tour Diary
Cyclingnews' longest contributing diarist Scott Sunderland is taking part in his second Tour de France in 2004 as part of the versatile Alessio-Bianchi team. Scott's role will be mainly to help Pietro Caucchioli, but he also hopes to have a few opportunities for stage wins. Once again, he'll be providing his highly experienced viewpoint on the Tour, its riders and anything else.
Stage 16 - July 21: Bourg d'Oisans - Alpe d'Huez ITT, 15.5 km
No hiding
It's lucky we didn't get the bad weather that was predicted.
It was bloody tough today. There's no hiding in a TT like that. I rode okay - I did 47 minutes for the climb, which was 7'20 slower than Lance. It was nothing super but I'm fine with that. I didn't do any special training beforehand and I was a bit underdone in the warm up.
I don't think anybody anticipated such big crowds and traffic problems. It was really unbelievable the number of people up there on the climb. I had a lot of fans up there. There were so many Australian supporters with blow up kangaroos and flags, the whole works. Also there were English, Irish, Brazilian, South African fans calling out my name. Even some people from my town of Zottegem in Belgium. That was really nice.
It was a pretty awesome day. Sometimes people call this a bit of a circus. But when you see this, it's phenomenal. I don't think the organisers foresaw how big it was going to be.
Armstrong, well what can I say? He put them all down. Now he's pretty well unbeatable, barring any incidents. If anything his rivals will lose more time. Ullrich put in a good challenge today but Lance is even stronger than last year. He seems to be fresher and he's able to fight right to the line. He's still very aggressive. He's really staked a claim on the Tour for the sixth time.
From my team's point of view, Caucchioli did a good job to finish 27th. He had to pull out a big ride and he did, so he's still in ninth place. He needs to get through tomorrow alright, so let's hope he's okay. I'm frightened his cold is going down to his chest. Last night he was coughing all night and was still coughing on the massage table. I hope he's got enough to get him through the Tour.
Otherwise not much else is happening. Looking outside from the top of the mountain I'm seeing it's camping car city. It's everywhere in the mountains, lining the roads for kilometres. If you flew over in a helicopter you'd go 'bloody hell!' from Grenoble to the start is unbelievable. It will take 2-3 days to clear it all I reckon.
The day went smoothly and we're all in a big hotel on top of l'Alpe. It'll be a shitfight to get down tomorrow for the start. I'd say we're going to have to leave really early.
Until then,
Scott