91st Tour de France - July 3-25, 2004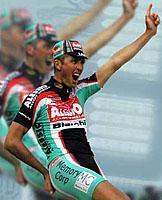 Scott Sunderland
Photo: © Memory Corp
Scott Sunderland's Tour Diary
Cyclingnews' longest contributing diarist Scott Sunderland is taking part in his second Tour de France in 2004 as part of the versatile Alessio-Bianchi team. Scott's role will be mainly to help Pietro Caucchioli, but he also hopes to have a few opportunities for stage wins. Once again, he'll be providing his highly experienced viewpoint on the Tour, its riders and anything else.
Stage 14 - July 18: Carcassonne - Nimes, 192.5 km
Rest day - July 19
A few hours' escape from the Tour
Stage 14 was just an out of control start. Finally once the break did get away and it settled down, I found it quite funny (not in a disrespectful way) when I started talking to Garcia Acosta from Illes Balears. I asked him how he was going, and he replied, "Good, good," but then he said, "I remember when you won the Vuelta a Bidasoa twice as an amateur. You were one of the guys I really looked up to when I was this high."
That took me a bit by surprise, as Garcia Acosta isn't exactly a little bloke and he was telling me about when he was a kid. Oh well, I guess it means I've been doing this for a few years now. But I've looked up to my idols like Sean Kelly, Phil Anderson, Stephen Roche, Greg LeMond, and I got to race with them. I still have the same admiration for them. The other day, Sean Kelly just stopped to say g'day to me and he's still one of my heroes, one of the hard men, so I was quite chuffed. . Now it's turning around with the same thing happening to me!
The only other interesting part of the stage was a pinch there with about 30 km to go. I think it was at the second sprint. I tell you what, everybody was moaning on that climb. It wasn't much of a climb, maybe only a couple of km, but it hurt. Everybody was glad to see the end of yesterday.
Kicking back
The rest day was okay. It basically began when the stage finished yesterday. I rode from the finish to the hotel, which was about 5 km, then had a nice long bath. I stayed with my wife Sabine and son SaŰn yesterday evening, and the team director was fine with that. I even skipped the massage yesterday, as I just wanted to relax, kick back and go and have dinner.
I had a lovely dinner with my family and friend David the osteopath. I finally ate something else other than pasta. And for a moment I thought I was away from the Tour de France. It was a great escape for four or five hours. No soigneurs, no team, just the restaurant. It was a really lovely evening.
Early start
This morning we were woken by a knock on the door for blood controls. We half expected that because we weren't tested on the first rest day. So we all donated some blood to a good cause, then had some brekky and headed out for a bit of a ride. I just cruised out for an hour. My legs didn't feel like I had to do any more. I had some lunch then I really got tired and was flat for the rest of the afternoon. Those were the hours that we normally start and finish the race, so it must have been something to do with the system breaking the routine. But by 5:30 I felt good again and the energy levels went up.
Basically I just passed a nice easy afternoon. Did a few interviews and kicked back. We had pizza tonight, so that's two evenings away from pasta. I also had a visit from my old team director when I was an amateur, Jean-Pierre Mazza.
Losing a shoe
I went out for a ride with Marcus Ljungqvist and Claus M°ller. We were on some small roads and Marcus said that he had to stop to adjust his shoe plate. So he sat down on the wall, took one shoe off...and the thing slid off the wall and into the water 5m below! He had to walk around in the wheat field to get at it, but lucky for him it was shallow where his shoe landed or he could have lost his shoe.
Caucchioli sick
Caucchioli was hurting pretty bad yesterday. He's had a few sleepless nights and his cold is getting worse. He was using a mask to try and break up the congestion, so I hope he gets better. And besides that I'm rooming with him so I hope he doesn't get me sick as well!
Looking ahead
We're into the third week and Jan Ullrich and all the other favourites have said it: the third week is the most important week, definitely for the classement riders. The day after the rest day can be a bit of a hard day because the legs can feel otherwise. It's not a flat day either. It'll be interesting to see what happens but I think the GC riders will keep quiet and it'll be another attacking day for the rest of us. All eyes are going to be towards the Alpe d'Huez TT. Armstrong, Basso, Kl÷den, Totschnig, Ullrich, Mancebo - all of them are very close and it's going to be quite a battle for these guys over the next couple of days. Ullrich hasn't been looking so good but he's a guy who you can't write off.
Tomorrow I put my money on it that we're going to go out of the blocks. I haven't been disappointed yet. I'll just see how I'm feeling. If it is possibly I'll try and go in a break. Or I might just end up staying close to Caucchioli, depending on how he wakes up tomorrow. We'll know more then.
Cheers,
Scott